This week's catwalk: Henry Street, Dublin 1.
We took to the streets of Dublin to find out what trends are catching on for Autumn/ Winter '18. Expect cosy knit jumpers, faux fur and hoop earrings.
Shannon Tiernan
23, Architecture Graduate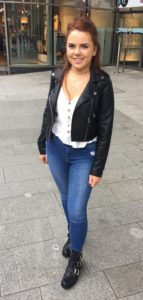 Outfit: Biker jacket Pull & Bear, top Penneys, jeans River Island, boots TK Maxx, jewellery Topshop
Advertisement
Favourite trend: Leather and biker boots
Wardrobe staple: Anything black
Style icon: Rosie Connolly
Go-to shops: Zara and Topshop
Sinead Kelly
28, Stylist
Advertisement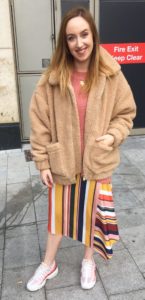 Outfit: Teddy jacket I.AM.GIA x Urban Outfitters, jumper Stradavarius, skirt Zara, runners Nike, jewellery Chanel
Favourite trend: I'm loving the wild animal print, I can't really get enough of it. I always love a bit of leather as well
Wardrobe staple: Oh god, everything's a wardrobe staple! If I had to pick one then coats
Style icon: Aimee Song ('Song of Style' blogger)
Go-to shops: Zara and vintage shops. I'm a lover of Folkster.
Advertisement
Kaedie Farrell
18, Deli Worker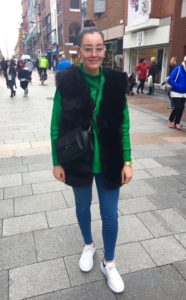 Outfit: Jumper Penneys, faux fur gillet Liberty Clothing, jeans Penneys, runners Liberty Clothing, glasses Specsavers, bag Penneys, watch Michael Kors
Favourite trend: I kinda like the tracksuit trend
Wardrobe staple: Love this (her gillet)
Style icon: No one really, whatever's in
Advertisement
Go-to shop: Penneys, definitely
Rebecca Warren
19, Arts Student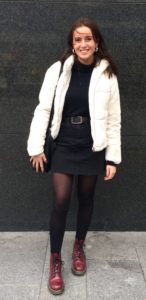 Outfit: Jacket Zara, jumper H&M, skirt Zara, boots Doc Martins, accessories Penneys
Favourite trend: Faux fur coats
Advertisement
Wardrobe staple: Docs
Style icon: I can't think of one right now
Go-to shop: Zara
Sarah Wallis
27, PhD Political Science Student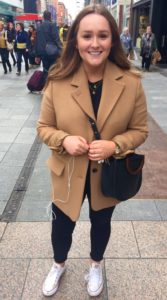 Advertisement
Outfit: Coat & Other Stories, top Penneys, jeans Topshop,  runners Converse, accessories Topshop
Favourite trend: I was a massive fan of mom jeans, but I'm going back to the Jamie jeans (by Topshop) for sure. I like the way they look with ankle boots. So I'm digging that right now and I love bomber jackets. I'm getting into those more now for the winter.
Wardrobe staple: A blazer
Style icon: Oliva Palermo - whatever she wears I try to find the cheaper option of in Penneys, every time.
Go-to shops: Topshop and Zara are favourites of mine
Katelyn Duffy
Advertisement
22, Retail Worker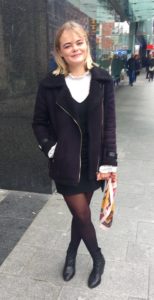 Outfit: Jacket New Look, pinafore Penneys, top Penneys, boots Topshop, accessories Reiss
Favourite trend: I like the silk scarves in at the minute
Wardrobe staple: Faux fur
Style icon: Pippa O'Connor
Go-to shops: Zara and Topshop
Advertisement