Lifestyle & Sports
18 Jun 21
George Nkencho's family call for independent public inquiry ahead of RDS protest
A GSOC inquest is scheduled to begin into George Nkencho's death on Monday, June 21st.
The family of George Nkencho have renewed their calls for an independent public inquiry ahead of the formal opening of an inquest into his death.
They have also called for a protest on Monday, June 21st outside the RDS where the inquest is scheduled to begin. The inquest will be a GSOC investigation, which the Nkencho family have repeatedly criticised as inept and lacking in transparency.
Gardaí shot George Nkencho multiple times outside his home in Clonee, Co Dublin at the end of December last year. He was in possession of a knife during the incident.
Since his death, his family, their supporters and ethnic minority communities have reiterated calls for greater racial equality in Ireland and an examination of police racial bias and brutality.
Gloria Nkencho, George's sister, has appealed to the public to support the Nkencho family by gathering at the RDS when the inquest into George's death opens at 9.45am on Monday morning.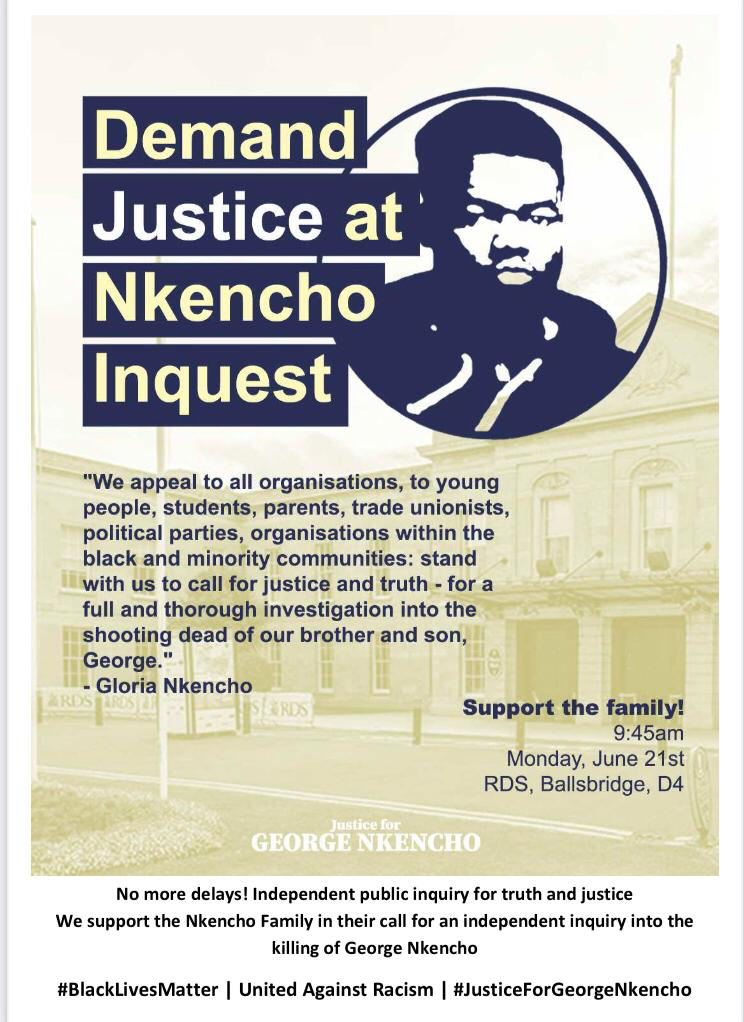 Advertisement
Speaking on behalf of her family, Gloria said: "We appeal to all organisations, to young people, students, parents, trade unionists, political parties, organisations within the black and minority communities: stand with us to call for justice and truth – for a full and thorough investigation into the shooting dead of our brother and son, George". She also encouraged people to bring banners, signs and flags to show "support for the family and demand justice for George Nkencho".
To facilitate people attending the protest, YARI (Youth Against Racism and Inequality) is organising a 'Bus for George' which will depart from Blanchardstown Centre at 9am sharp to bring people to the RDS in Ballsbridge. A GoFundMe has been set up to raise money for it.
YARI will also be hosting a public meeting with Gloria Nkencho this Friday, June 18th at 7pm. The Zoom registration link can be found here. Also speaking at the online event will be former Dublin West TD Ruth Coppinger and YARI activist Myriam Poizat.
RELATED
Lifestyle & Sports
17 Aug 22
Lifestyle & Sports
16 Aug 22