There are some designers whose work is instantly recognisable, and the stunning designs of Tipperary-born Helen Hayes fit that definition.
Helen Hayes' sophisticated modern designs are known for their exquisite tailoring, unique textures and intricate signature ribbon finish. Her love of design and textured textiles started early.
"I think without realising it, fashion and the craft of it were always there," she says. "I was lucky enough to go to a national school where knitting and sewing featured prominently. We all had to knit ourselves jumpers in 5th class and while some hated it, I just loved it."
Hayes' love of design initially led her to study graphic design in the Limerick School of Art & Design: "It was only when my daughter started national school I went back and began studying fashion design at the Grafton Academy."
It was there that Hayes developed her signature aesthetic, which combines classic silhouettes with detailed embellishment, and often features geometric patterns to give a crisp, modern feel. Hayes' use of ribbon allows her to create stunning texture and flow, as the ribbon can be layered or knotted to create patterns on the garment, or allowed to flow to create shape and movement.
"I have a keen interest in couture finishes and traditional hand-crafted techniques," she notes. "I strive to combine them to create garments that are tailored, elegant with a contemporary edge, and which have a beautiful tactile quality. I usually start by looking at the textures and details, and how I might best manipulate them to achieve the finish I'm aiming for. With this collection, I used a lot of ribbon, folding it and pleating it to suit. The skirt shown uses over 70m of ribbon. There are over 280 individual strips in the cream dress, and each one is finished by hand. I also like making the hats – they really can be the embellishment to an outfit."
Hayes' beautiful designs and polished finish were noticed even as a student. While studying at the Grafton Academy of Fashion Design, she was a finalist in many of the student fashion competitions, and won the UCD Student Fashion Designer of the Year in 2016.
Advertisement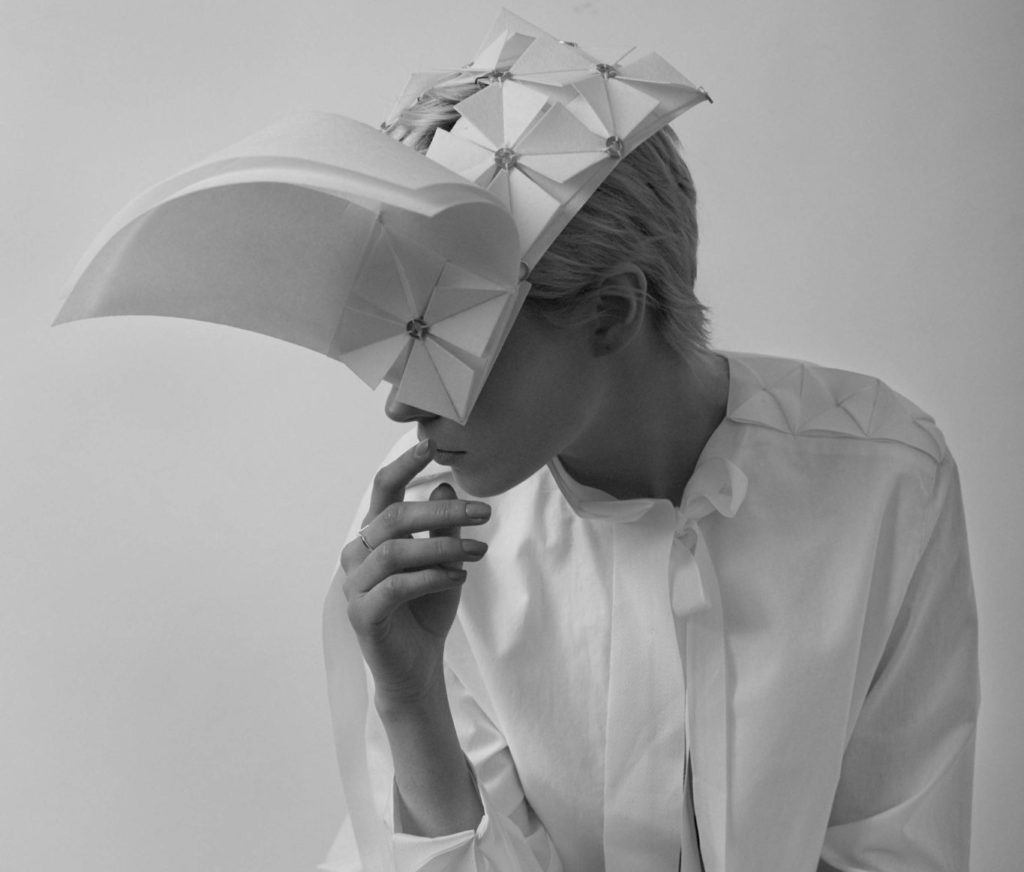 Hayes finds inspiration in her textiles but also in architecture, which explains the carefully considered structure and occasional art deco touches in her work. Her recent collection was inspired by an ornamental architectural feature.
"I based it on a lattice window that I had seen," she explains. "The way the light catches the individual panes of glass and bounces off them. The repetition and pattern of the small panes – the folded ribbon is intended to reflect that. In addition, I looked at stone sculptures and the way they are hand-carved. I like the way that each of the marks are visible. There is a repetition and flow that is subtle yet very tactile. I really wanted to capture that feeling."
While Hayes is becoming a fierce favourite among Irish fashionistas, she is aware of the challenges facing new fashion graduates.
"After graduating it can be difficult to take that next step," she says. "Interning is a good idea I think. I also joined the Irish Council of Fashion Designers and I have found it invaluable. It is wonderful to feel that you have the support and encouragement that the council provides."
To see more of Helen Hayes' designs, visit her Instagram at @helenhayesclothing. You can contact her at [email protected]
RELATED
Lifestyle & Sports
25 Nov 19
Lifestyle & Sports
23 Sep 19
Lifestyle & Sports
16 Jul 19