Let's get physical. A brilliantly versatile sportswear collection, Diesel's new collaboration with model Thalia Heffernan is perfect for those who want to work out in style.
Let's be honest: few mortals on earth will ever come close to looking like the Irish stunner Thalia Heffernan. But thanks to her new collaboration with Diesel, we can at least rock the same sportswear, while desperately trying to keep our New Year's resolution of working out more. Or, you know, at all.
Thalia has already proven herself to be multi-talented. Her modelling career has seen her travel the world, as well as front leading Irish brands including Brown Thomas. Elsewhere, she has also done some TV presenting on Xposé; wowed Ireland with her moves on Dancing With The Stars; and used her platform to support charities like the DSPCA and the Irish Hospice Foundation.
Now, the 23-year-old can add fashion designer her already intimidating CV, as she has just launched her highly anticipated fitness collection for Diesel. Over a year in the making, the 12-piece capsule collection comprises easy-to-wear pieces in neutral core colours like black, grey and white, with pops of sky-blue that can all be mixed and matched while still looking co-ordinated - a must for busy women like Thalia, who want working out to be as stress-free and effortless as possible.
"Being a model, keeping fit is my 9-5, so naturally I've always found myself searching for the perfect gear," she notes. "I wanted this range to be fit for purpose, comfortable but also transcend the gym. With Diesel's help, we've done just that."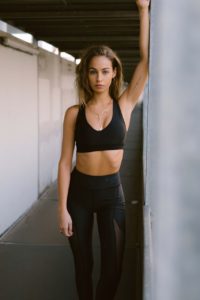 Advertisement
The conscious effort to make this collection transcend gym clothes is one of its most appealing aspects. While all of the pieces are assembled from comfortable fabric perfect for intense workouts, the tops in particular are made from breathable cotton and cotton jersey, and cut to perfection. The long-sleeved crop tops, oversized hoodies and flattering wrap tops are the kind of pieces that you would easily wear with a pair of jeans and some statement jewellery for a stylish, on-trend streetwear look, before you change into the flattering leggings and head to the gym.
The mix also means that you can customise your gym outfit to your individual style. The subtly shiny, almost wet-look leggings and matching crop top bring a touch of edge to the woman who means business in the gym, while the grey cropped jumpers evoke the edgy athleisure trends that have been all the rage the past two years - no-one would be surprised to see Ariana Grande rocking the Diesel x Thalia oversized hoodie with a pair of thigh-high boots.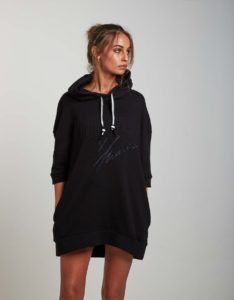 Meanwhile, the grey flecked leggings and ruched crop top have a tactile comfortable style to them, and the cotton v-neck shirts in white or sky-blue bring a classic '90s sportswear vibe, which will perfectly transition from doing errands to working out. Finally, the wrap cardigans are a gorgeous addition to the collection, evoking a ballerina-style sense of sophistication, while also offering a bit more coverage for those who prefer to keep their abs under wraps. Teamed with a pair of jeans, these cardigans look effortlessly chic, and when worn with leggings to the gym, you're going to be giving off some seriously Goop vibes (just don't claim that you invented yoga, you'll only embarrass yourself). Diesel x Thalia is available online now at diesel.ie.
RELATED
Lifestyle & Sports
17 Nov 23