Zoe Kravitz and Colin Farrell excel in absorbing – and notably Irish-influenced – extravaganza.
The Batman presents a truly fascinating test case for superhero movies. Like Todd Phillips' 2019 box office smash Joker, it's a gritty, moody and often powerful trip through the mean streets of Gotham. In a further parallel, it takes huge influence from cult '70s cinema – most notably the triptych of masterpieces Klute, Chinatown and The Conversation – to successfully reinvent the Caped Crusader for a new decade.
Unlike Phillips' movie, though, it's also three hours long and dials up the brooding noir atmosphere (complete with Chandler-style voiceover) to unprecedented levels. Will it prove a massive commercial hit like Joker and last year's Spider Man: No Way Home? That remains to be seen, but what is certain is that director and co-writer Matt Reeves has creatively left nothing on the table, as he seeks to capture the imagination of a mass audience with a new Gotham tale, in the manner Phillips, Christopher Nolan and Tim Burton did before him.
Taking inspiration from the classic graphic novels Year One and The Long Halloween, the basic storyline is inspired. As outlined in a bravura opening suspense sequence, The Riddler (a wonderfully unhinged Paul Dano) is picking off targets amongst the Gotham establishment. With his cryptic messages suggesting a web of corruption that implicates the Wayne family, Batman (played by Robert Pattinson as Kurt Cobain-style haunted recluse) springs into action.
In cahoots with police lieutenant Jim Gordon (the always-excellent Jeffrey Wright) and nightclub hostess Selina Kyle, aka Catwoman (Zoe Kravitz), he sets out to take down a group of villains that, in addition to The Riddler, also includes The Penguin (Colin Farrell) and gangster Carmine Falcone (John Turturro). As is often the case in Batman movies, the central protagonist is regularly left to play straight man to a memorable cast of friends and adversaries.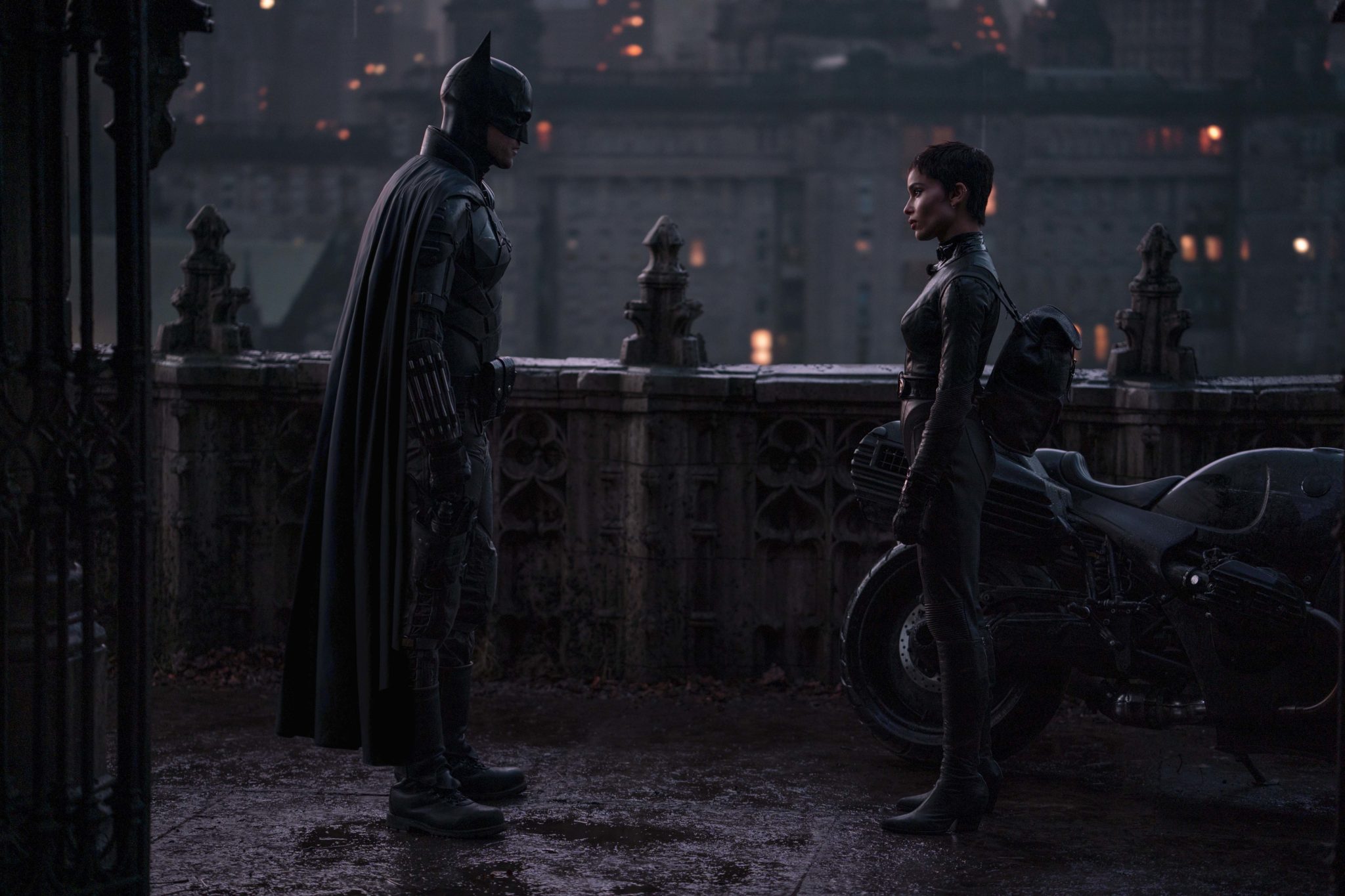 Advertisement
Thus, the acting honours are firmly taken by Kravitz, who channels Jane Fonda's unforgettable performance in the aforementioned Klute; an unrecognisable Farrell, who – in the best possible way – chews the scenery until it's reduced to sawdust; and the ever-sublime Turturro, unquestionably one of the greatest American actors of the last 40 years.
There's also a truly electrifying car chase in a downpour, and Reeves even manages some neat satirical political commentary, with The Riddler's public pronouncements attracting the obligatory moronic – and dangerous – online following. Indeed, the exciting denouement takes place at a rally for reforming Gotham mayoral candidate Bella Real.
As a side bar, there is a remarkable Irish influence on The Batman: aside from Farrell, viewers may find themselves realising that the Gotham police officer bearing a striking resemblance to Irish screen veteran Peter McDonald is, in fact, Peter McDonald. And as for the rumour that the Joker is portrayed by a certain well-known young Irish actor… let's just say the Joker's accent suggests he was tweeting his dismay about the Dessie Farrell era following Dublin's NFL loss to Kildare at the weekend.
Even if – in the classic Chandler tradition – the plot does get ludicrously convoluted, and Batman indulges in a bit too much fascinated self-analysis ("I don't fear that shadows, for I am the shadows" etc etc), no matter: The Batman is a hugely enjoyable romp that remains absorbing from start to finish.
The Batman is released on March 4 following its premiere at the Virgin Media Dublin International Film Festival.
Read Hot Press' interview with stars of The Batman in our latest issue:
Advertisement
RELATED