Marc Maron on Respect: "It's a fascinating time in music, with rock and roll, blues and politics all together"
One of the world's most successful podcasters, Marc Maron, discusses his role as producer Jerry Wexler in the stunning Aretha Franklin biopic, Respect.
It's been a strange two years for all, difficult for most, tragic for many – and all of the above for Marc Maron. The actor, podcaster and stand-up comedian is celebrating his return to stand-up around the States, as well as the release of Respect.
Lisel Tommy's highly anticipated Aretha Franklin biopic stars Jennifer Hudson in the lead role, with Maron as Jerry Wexler, Franklin's producer. But it's been an incredibly difficult time for Maron, too.
His partner, director Lynne Shelton, died unexpectedly in 2020 and Maron has been open on social media and his podcast WTF With Marc Maron about the depths of his grief, and his struggles to emotionally stay afloat during Covid. But like much of Maron's career, his openness and desire to talk about what is difficult and uncomfortable, has provided both him and his audiences with a sense of connection – a connection he has come to value even more.
"I've had some tragedy over the past two years," he says, "and somehow or another continued to do a podcast twice a week.
I've figured out how to adapt to interviewing in the modern world, and I was very compulsive about doing Instagram Lives in the mornings, just to stay engaged with humans in terms of creating and thinking out loud.
Advertisement
"Despite Covid and personal tragedy, I've survived. I exercise, I'm back on the road doing comedy, I'm trying to manage."
Making observational comedy has been a challenge during a time when we have been so restricted, and many comedians would be forgiven for struggling to write new material right now. But Maron's stand-up has always been marked by a streak of darkness, even as he strives to provide insight and relief.
As he notes, certain comedy audiences are embracing his humour as a way to process the uncertainty of the world around us, and so business is going fine.
"We're still operating within a cultural and global Post-Traumatic Stress Disorder where things are not stable," he says. "We don't know what's going to happen with the disease and climate, and there's a weird kind of electric hopelessness in the air, which for my type of comedy, is pretty good, sadly!
"I can provide a certain amount of horrifying release from hopelessness, if you're into that type of thing. If you want just straight-up distraction, I'm not your guy."
Advertisement
Growing up, Maron always wanted to act and perform, and had success doing stand-up, but it was the runaway success of his podcast WTF With Marc Maron that pushed his career to new heights and opened up doors for him in Hollywood. First launched in 2009, the podcast has garnered more than 600 million downloads, over more than 1,200 episodes, and his guests have included Barack Obama, Robin Williams, Keith Richards, David Letterman, Paul McCartney, Eddie Murphy, Amy Poehler and Sarah Silverman, to name but a handful. Now many of these film professionals aren't just his guests, but his peers, as Maron's acting career has really taken off over the past few years.
"I now have an audience, I can do stand-up for people who appreciate me, people genuinely know who I am as a person and a creative person," he says, "so the acting thing started happening. Because of my specials, and Glow and Easy on Netflix, I have become known as a guy who can handle the job.
"So I have been focusing on doing the job and trying to take roles that aren't exactly me. Because I want to appreciate acting, and if I can just walk through a role that is kind of like me, it would quickly become very tedious."
Admittedly, as other critics have noticed, Maron's roles have often fallen under the category of 'Aggravated Guy Close To Rock and Roll', a descriptor that fits Jerry Wexler nicely, but in Respect, Maron's challenge was playing a real person.
"I was familiar with his work," he says. "I collect a lot of records so I was aware of him, but I also read his biography – I researched and spoke with his biographer, to get a sense of how he talked and thought, and what his past was. So it was more immersive. But I really do want to be emotionally available for acting and to immerse myself, so playing a real person was an interesting way to do that."
Maron was fascinated by Wexler's career, noting that he was the man on the ground for Atlantic Records for years, travelling around the country looking for talent – and Wexler did not care who they were or where they came from.
"He would often go down to Louisiana and down South in the 1960s when segregation was happening in a big way – he was always championing Black artists and hustling the radio stations to play their songs. It's a fascinating time in music, with rock and roll, blues and politics all together."
Advertisement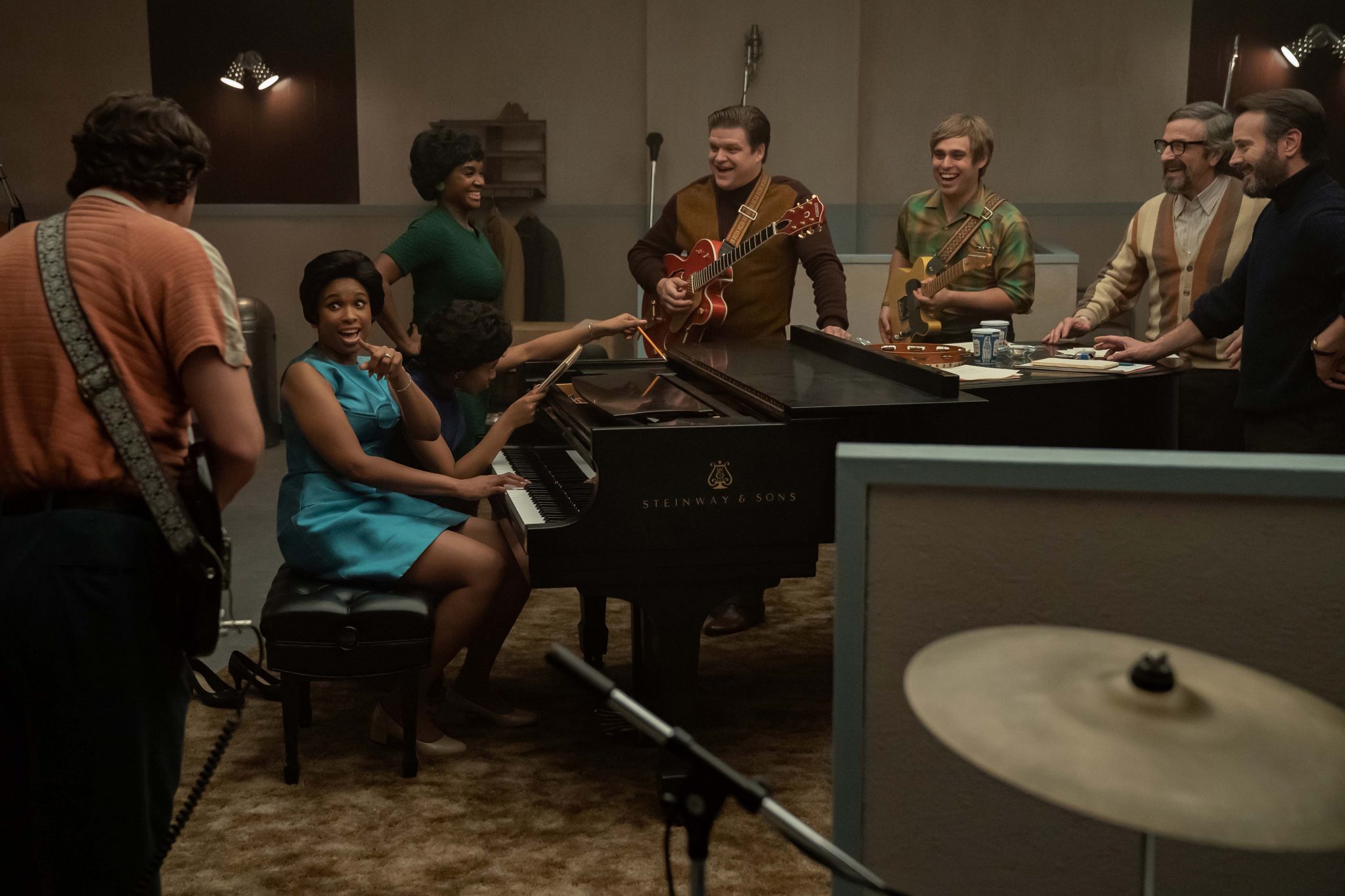 Wexler played a vital role in Aretha Franklin's career, which is explored in the film Respect, the cinematic directorial debut of Broadway director Liesl Tommy. The film shows Franklin's upbringing in Tennessee and Detroit, where her home constantly hosted incredible singers. Her father, pastor Clarence LaVaughn Franklin (Forest Whitaker), was friends with Duke Ellington, Billie Holiday and Dinah Washington (the latter played by a scene-stealing Mary J. Blige) – not to mention Martin Luther King Jr (played by Gilbert Glenn Brown).
The film shows how this mix of incredible musicians, activists and church folk was formative for Aretha Franklin (played as a child by the talented Skye Dakota Turner, before Hudson takes the lead), who was always incredibly talented, but struggled to find her authentic sound.
After years trying to make it big, releasing records with no clear identity or any major hits, it's Atlantic Records producer Jerry Wexler who encourages Franklin to embrace her love of gospel and blues, and arranges her to record 'I Never Loved A Man (The Way I Love You)' in Muscle Shoals studio in Alabama.
The scene where Franklin records with a group of rowdy session musicians, directing them to create a sultry, soulful version of the song, is electric, and marks the film's transition from the story of a struggling singer, into the story of one of the world's most famous and successful singers – whose inner struggles would continue to plague her.
Advertisement
Franklin's father was an oppressive force in her life; she was abused and became pregnant at age 12 by an unnamed man; and her husband and manager, Ted White (Marlon Wayans), was an abusive bully who repeatedly beat and belittled the singer. To cope with all of this trauma and her rising fame, Franklin developed an alcohol addiction, and hit many low points in her life, which the film explores empathetically.
However, she was also a champion of the Civil Rights Movement, performing at masses and rallies and maintaining a close relationship with Martin Luther King Jr. until his assassination, when she sang powerfully at his funeral, a scene the film captures.
Franklin was a brilliant, complex, traumatised woman, and for Maron, playing Jerry Wexler became a balancing act not unlike the one he performs himself on his podcast – being an incredibly talented professional in his own right, whose job is also to handle big personalities and celebrities, and all the issues, traumas and neuroses they hold when the microphones are off.
"Oh, interesting," muses Maron. "What I knew about Jerry Wexler was that he loved the collaborative process, he loved getting the best of his artists and helping them to do that – but he was no pushover. And I don't know if I really thought about that link between his role and mine as a podcaster. But I suppose that yes, I've talked to a lot of big stars on the podcast, and some are more charming than others, but they all become pretty human quite quickly when you're sitting across from them.
"And that was probably in my brain, that without disrespect, you approach these people as people, and you learn pretty quickly what their obstacles are and who is handling them. When you focus in on the artist, you're inherently focusing in on their egos and thoughts and patterns, and Jerry intuitively knew how to do that, and I guess I do as well."
The film shows that Wexler was crude and blunt, but also incredibly decent and a real champion of Aretha Franklin, supporting her and her ambition – which, the film reveals, was the opposite of many men in her life. In a sea of men espousing their upstanding morals and love for Franklin while abusing her in private, Wexler becomes a beacon of hope for the singer – a man who will curse and joke but ultimately fight for her.
Respect is in cinemas this Friday, September 10
Advertisement