Graham Norton and the cast of Holding: "We discussed those bleak, small town dramas like Fargo in an Irish context"
The new TV adaptation of Graham Norton's novel  Holding  is a rip-roaring whodunnit set in West Cork. Hot Press talk to the celebrated author about the series' creation, as well as meeting the showrunners and star-laden cast. 
A heartwarming comedy with an acerbic edge, the television adaptation of Graham Norton's 2016 debut novel, Holding, gets its Irish debut on April 12, having impressed ITV audiences last month.
Set in the remote West Cork village of Duneen, the show follows three troubled protagonists as they each find themselves caught up in a mysterious murder: Sergeant PJ Collins, Bríd Riordan and Evelyn Ross. When human remains — suspected to be those of Tommy Burke, a former lover of Brid and Evelyn — are discovered on an old farm, the village's dark past begins to unravel.
The four-episode series has an all-star cast, with Olivier award-winning actor Conleth Hill (Game Of Thrones) taking on the leading role as Sergeant Collins. Elsewhere, Oscar-winner Brenda Fricker makes her return to television as Lizzie Meaney; Derry Girls' Siobhán McSweeney stars as Bríd Riordan; Peaky Blinders' Charlene McKenna portrays Evelyn; and Helen Behan (This is England '90) appears as Abigail Ross. Also in the mix are Father Ted's Pauline McLynn, and Normal People's Clinton Liberty and The South Westerlies' Amy Conroy, with the latter duo respectively playing Linus Dunne and Florence Ross.
Author and broadcaster Graham Norton, showrunners Dominic Treadwell-Collins and Karen Cogan – plus director Kathy Burke and members of the cast – have assembled to chat to Hot Press about the much-anticipated adaptation.
"I knew Dominic from EastEnders," recalls Norton. "We did a chat show and stayed friends because of our West Cork connection. We both have homes there. Early on, Dominic said he was interested in adapting the book, and there was nothing to make me say 'no'! I made it clear that I didn't want to write the adaptation myself. That's a skill other people have. I'd enjoyed those characters, but it was time to hand them over. I've loved this experience because I've had nothing to do! Seeing the direction the story has gone in with these actors is incredible. This world I made has opened up massively."
Advertisement
Treadwell-Collins acknowledges Holding belongs to a genre he particularly enjoys.
"I've always loved a 'whodunit'," he enthuses. "To suddenly read this book that was so brilliant, and was set in an area that I knew… it was a no-brainer. I drove out to Ireland, auditioned for Graham and it worked. That was around six or seven years ago. I've had this book with me for a long time – I was in a different company and fought to bring the it with me on that journey. I tried different people adapting it and then my uncle told me to just do it myself. I wrote the first episode and then met Karen Cogan while working on a different project. We jumped into the script together before spending a year on Zoom."
"Because I wrote the book so long ago, when it came to it, I didn't even remember what the characters were called!" Graham laughs. "Anyone who has read the book will be able to follow the thrill of their story through it. There's also all these other great adjuncts, and subplots and red herrings, that Karen and Dominic have added so brilliantly."
Treadwell-Collins' fellow showrunner, Karen Cogan, was keen to explore the protagonists at the heart of Holding.
"Dom and I wanted to be bold when it came to the nuances of these characters," she says. "You need a plot, but the joy of this book is the people. It was really important to us that we spend time with them in smaller moments, as well as the big beats that are vital to drive us along. We spend time in people's kitchens and bedrooms, because you don't always get the luxury of those private moments in telly. They were vital for us."
Advertisement
Sergeant Collins, played by Conleth Hill, is at the centre of life in Duneen. However, the town's set way of doing things is upended by outsider policeman Linus Dunne, brilliantly played by rising English star Clinton Liberty.
"Karen, Dominic and Graham were the ones who did all the hard work," says Hill. "When Kathy became involved, it was just such an easy 'yes'. It was the best piece of writing I'd been given in my career, so it wasn't a hard choice. The combination of the experience of the older actors and the promise of the younger actors was a great advantage. It was brilliant to work with all those people."
PJ's scenes with Linus provide endless layers of comic relief, but also highlight the differences between between small communities and major cities.
"When Linus initially arrives in West Cork, he has this mentality of just going straight to the job and getting it done," says Clinton. "He doesn't care about opinions or trying to cater to anybody – he just does what's best for the investigation. When he comes into town, it's the complete opposite of his approach. It's a beautiful, tight-knit community where everyone loves each other. They don't take too well to his straightforwardness. Seeing that Duneen isn't just a place where he can get ahead in his career is a tough pill for Linus to swallow."
The chemistry between Liberty and Hill is truly special.
Advertisement
"The relationship between Linus and PJ starts off in a very precarious situation, because Linus is younger but he's in charge," smiles Clinton. "PJ is the subordinate in this situation, so it's not the healthiest relationship. They both have such different modes of operation. Linus is headstrong and jumps straight into the chaos, whereas PJ coasts. Linus starts to open up to the community and to relationships far more when he learns to relax. In turn, PJ learns from Linus about having more confidence in himself. He's got knowledge about the community that Linus doesn't have access to."
When we meet PJ, to some extent, the sergeant is hiding from the world in plain sight.
"He doesn't feel like he belongs here, even though he's been in Duneen for years," Conleth notes. "He's not part of the town, but he does come from a small community up north, so he knows how to deal with them more diplomatically than his younger superior. He's holding onto something, like most of the characters. He's another pair of eyes on this group of people, because he knows he'll never be part of them and is quite happy with that.
"A bit like myself, he's waited all his life and suddenly, in his fifties, this amazing case comes up. Right when he thinks he's going to take off with it by himself, the superiors are sent down to oversee everything he's doing. I wouldn't say he's a deliberate ad for Garda recruitment, but he's definitely real and flawed and human. It's that sense of everyone having their own problems, no matter how sure of themselves they look on the surface."
"I'm not being modest, but when you've got that writing, that source material and that director, you just learn how to step into that character's skin. The dialogue is so beautifully crafted. It's when we get to the non-verbal scenes – stories are told without words – that we see the more special aspects of PJ."
Though Norton's source material was tweaked, the core elements of the novel's plot and characterisation remain the same.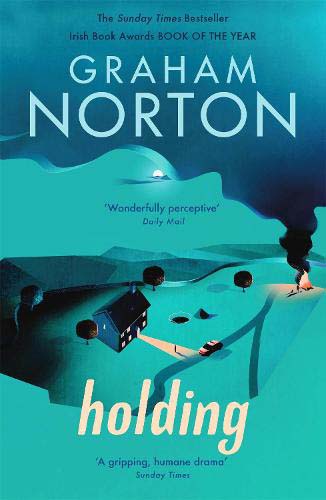 Advertisement
"The biggest change, and the best example of finding depth, was the Ross sisters," Graham posits. "My Ross sisters were so much more constrained. Those three women have been fully developed – each one of them could have their own show. We know them so well. My book is a genre novel. It's cosy crime. There are a lot of books like mine, and yet Karen and Dominic have made a television show that isn't like any other; its tone and feel is entirely its own. That is so hard to achieve. It is totally itself, which has elevated the source material."
Treadwell-Collins drew from his own poignant personal experiences for the script, which is, in part, why it connects so deeply with the audience. Loss is built into the foundations.
"Karen and I said from the beginning that if you're going to adapt anything, you've got to put yourself into it as much as possible," Dominic offers. "That's how these big themes of grief and holding onto the past came to be explored. My dad was from West Cork. He died very suddenly when I was 15 as a result of an accident and it affected my family massively. In good ways and bad ways. I felt like now was the time to put that into a show and talk about grief and what it does to people.
"Holding onto that loss can be so detrimental to you. I was living on the farm that my dad grew up on with my brother, and on the first day of filming, we walked to dad's best friend's farm. It felt a bit cathartic for me, and quite warm, quite painful. The best things are like that. Everything Karen and I want to do is authentic. Kathy Burke also understands grief. The alchemy of us all together has made something personal."
The links to the location only enhance the emotional aspects of the tale. Filming took place amidst the beauty of Skibbereen, Drimoleague and Castletownshend.
"Graham's understanding of place was so engrained in the book," Karen explains. "It was just a case of making sure we filmed there. The position of light and dark is also inherently Irish, but undoubtedly Cork as well. The place has tons of contradictions. It's very progressive and cosmopolitan and global, but at the same time quite traditional. Every new location was so exciting to walk into. The first day in the shop, I got particularly thrilled by it. Everywhere we went felt like a little tick that we were in the right physical place to do this story."
"We did talk about the Coen Brothers a bit, but a huge amount of that is Graham," Karen concedes. "That idea of not being afraid of the darkness was all there. It's an acerbic mood immediately followed by a hug. We definitely discussed those bleak, smalltown dramas like Fargo in an Irish context. The warmth always wins out over shadows in Holding."
Advertisement
"In terms of the Irishness, the only note I ever gave them was that we've got Irish actors, you're filming it in West Cork, so it's Irish enough. We get the message," Graham laughs.
"The town we ended up using actually is very busy," Dominic starts.
"I told you that!" Graham interjects.
"I know!" Dominic continues. "We were always told that traffic was going to be diverted. In real life, it's not the quiet city village that everyone thinks it is. When we were looking at some towns, Graham was always going, 'Just make sure it's all a little bit crap.' We also gave the note not to have ladies in headscarves looking wistfully off cliffs! Kathy Burke took her vision to a whole new level. She brings a punk mastery to everything she does. I've never experienced a director who's so connected with the cast and crew. We had this little community of actors and crew in West Cork, all swimming together at the end of every day."
With the showrunners, author, cast and crew all singing Burke's praises, it's time to talk to the London-Irishwoman herself. After rising up the TV and film ranks in the '80s and '90s, Burke spent most of the 2000s concentrating on her work as a theatre director.
"Usually I say 'no' to television directing," she notes. "Because of lockdown, I'd listened to Holding as an audiobook. I really enjoyed it. Then my manager got in touch and said, 'Dominic Treadwell-Collins wants you to have a look at this TV project'. I said 'no' immediately until he told me it was Graham Norton's book. The curiosity got me! There's great love there, plus a 'taking the piss' element, that I couldn't deny.
"Having Siobhan McSweeney and Conleth Hill as leads, even though it's very much an ensemble piece, was also special. They're what we're following on a romantic level, and people like Siobhan and Conleth are not usually leading actors. With Holding, it finally happened. It's just wonderful. That pulled me in. Plus my dear departed mother was from West Cork and I'd never been back. It took a long time for someone else to pay for me to go, so then I was off!"
Advertisement
Adding frustrating aspects to Evelyn Ross in a way that retained her charm, was simple once charismatic Monaghan actor Charlene McKenna was cast.
"I think Evelyn Ross is five-dimensional! She's got the normal dimensions of people and then a few extra, just for the craic," McKenna grins. "She's mad but she's not without merit. Life has knocked her down and she's wrapped her heart in barbed wire. Our main thought was to encourage people to peer through the fence and see her for who she really is. She runs away from her pain by using tempestuous relationships as medicine for the hurt in her heart. What she gets from them is short highs, but she's going to hit the wall. The root of her wounds become clear in the later episodes."
"Evelyn was a gift to portray because she's hateful, loveable, ordinary and you want to choke and hug her at the exact same time. To meddle in that on screen is the dream, but you can't go to the far realms that Evelyn goes to without the backbone of Helen Behan and Amy Conroy. Then with the safe hands of Kathy directing you. Dom and Karen were there every day, which you don't always have, so you were so safe to go bananas. The craic was 90."
Burke picks on McKenna's theme.
"Like Charlene said, it's about trust," she says. "I'd like to think the actors felt safe in my hands, basically. I've got 40 years in this business behind me now, so I know how to communicate with actors in a way that another director might not. Charlene used to get freaked out because she thought I could read her mind at times, but it's just sort of understanding an actor's instinct. If the actor doesn't believe it, then I don't believe it as a director. What was very important was our leading man, Conleth. He's the company leader. He was always on time, always polite, always knew his lines. If anyone else starts acting the dick, it would be embarrassing because our leading man isn't doing that."
Advertisement
"And we tried to act the dick!" Charlene confirms, jesting.
"We were lucky to have a couple of rehearsal days, because I wanted everyone to get to know each other," concludes Burke. "That's how I rehearse for plays, because we're in the business of storytelling. So when I'm in a room with people, I ask them who they are and what they feel. It's also about allowing actors to talk about characters that aren't their own. Only talking about your own part is boring. An hour of chats in a room can give you two minutes on screen that is so fizzy and spicy and exciting, just from an open conversation. I loved being allowed as a director to have that time with these wonderful people. "
• Holding airs on Virgin Media More on April 12.
Pre-order the new issue of Hot Press, starring the Derry Girls cast and a tribute to Taylor Hawkins, below.
Advertisement
RELATED