Film Review - Questlove's Summer of Soul is "a hidden history turned instantly iconic festival film"
The 'Questlove'-directed film features the likes of Stevie Wonder, Marilyn McCoo, Billy Davis Jr., Al Sharpton, Mavis Staples, Gladys Knight, Greg Errico, Greg Tate, Musa Jackson and Darryl Lewis.
History has always been whitewashed, and in Summer Of Soul (The Revolution Will Not Be Televised), Ahmir 'Questlove' Thompson is determined to reclaim and celebrate a vital part of cultural history that has been overlooked for too long. In his feature directorial debut, Thompson uses archive footage and interviews to showcase the historical joy, irrepressible exuberance and sheer musical excellence of the 1969 Harlem Cultural Festival.
Thompson uses news footage to set the political and cultural scene of 1969: the moon landing, Chappaquiddick, Woodstock, the Manson murders, the Altamont Free Concert. But while history has endlessly documented this year of political, musical and countercultural events from the perspective of white musicians and music lovers, as in films like Woodstock and Gimme Shelter, the sizzling atmosphere and barnstorming musical performances from blues, gospel, soul and rock and roll artists was overlooked – and inexplicably.
Taking place over six consecutive weekends in Mount Morris Park in Harlem, the concerts featuring Stevie Wonder, Mahalia Jackson, B.B. King, Nina Simone and others were filmed brilliantly by veteran television director Hal Tulchin, who used five video cameras to create a fully immersive experience, complete with intimate close-ups of the performers and atmospheric shots of the crowd. Tulchin intended to sell the footage for a television special – however, no producer ever took on the task of turning them into the type of documentary or film that immortalised other music festivals of the era.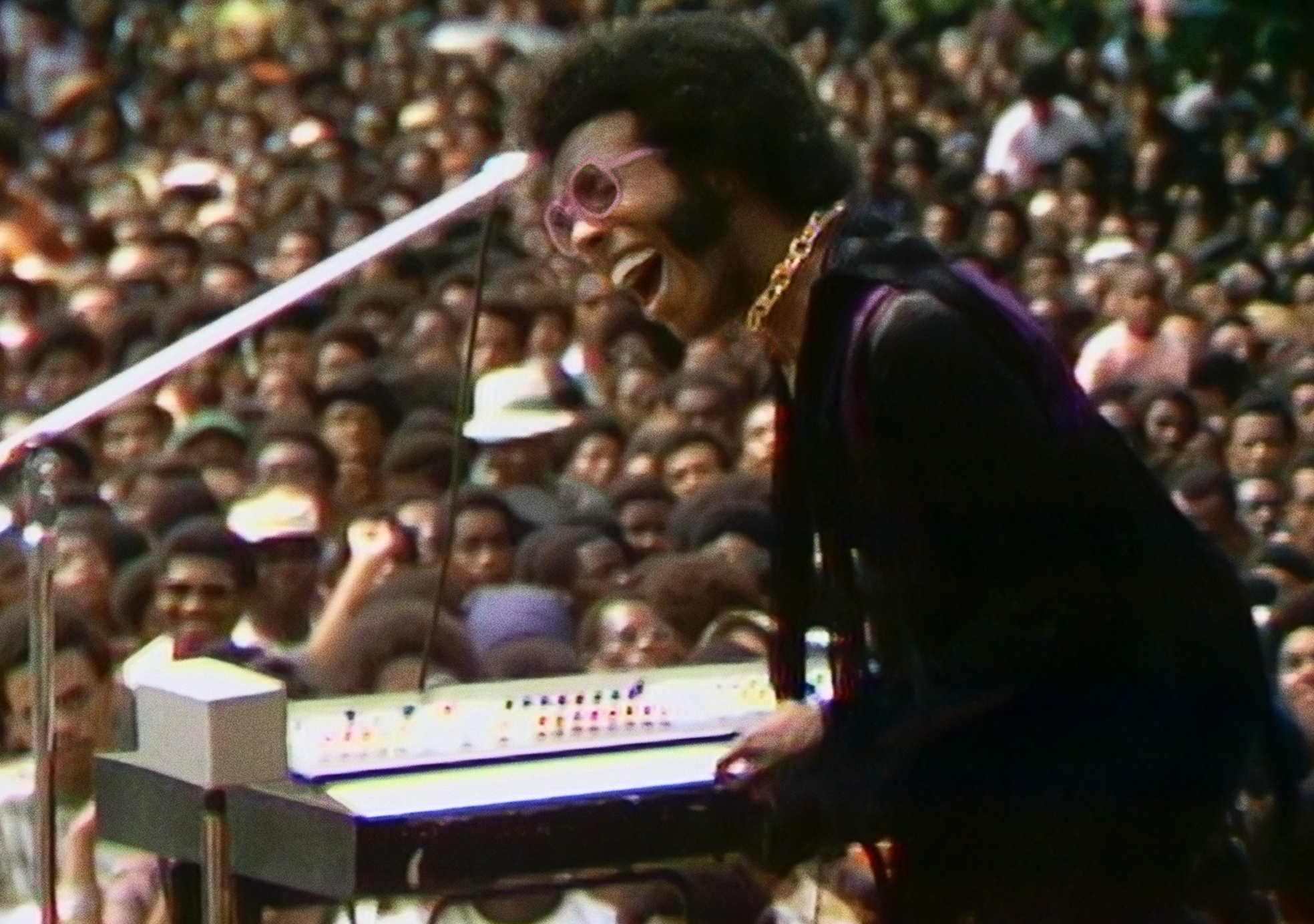 After forty hours of footage sat unseen in a basement for fifty years, Thompson not only brought them to light, but brought them to life. He has transformed the footage into a rousing, electric festival film; a fascinating portrait of Black like in America at a transformative time; but also a revolutionary project itself. "The fact that 40 hours of footage was kept from the public is living proof that revisionist history exists," Thompson has said. "I want to make sure that Black erasure doesn't happen during my lifetime anymore."
Advertisement
The message is vital - and the film is superb. Thompson contextualises the festival elegantly. Of course, amidst what mainstream culture was immortalising about 1969, the year was also about the aftermath of the Civil Rights movement, the impact of Martin Luther King Jr.'s life and assassination the year before, and Thompson puts the festival in the context of this moment of unrest and change. He also nods to the ways Black lives and history have always been overlooked and oppressed, contrasting footage of the moon landing with images of Harlem, left in a state of ruin, with crumbling buildings and serious drug issues.
"Never mind the moon," says one festival attendee, "let's get some of that cash in Harlem." But amidst the astute interviews and intelligent analysis, there is an irrepressible sense of joy that captures the new sense of radicalism, hope and liberation that the festival epitomised. Nina Simone performs a new song, 'To Be Young Gifted And Black', with a tone that the Reverend Al Sharpton describes as "somewhere between hope and mourning." As Gladys Knight remarks, "it wasn't just about the music; we wanted progress."
The performances are sublime and essential, with even well-loved songs holding such an arresting, chest-swelling energy, and are elevated further by Thompson's astute framing of nearly every musical number as an anthem to part of Black history and experience. The Edwin Hawkins Singers singing 'Oh Happy Day', Gladys Knight and the Pips singing 'Heard It Through The Grapevine', and The 5th Dimension singing 'Aquarius/Let The Sunshine In' all become anthems to joy, freedom and change.
A truly sublime, joyous, inspiring festival film that has gone from unseen to instantly iconic. Get ready to rethink history and dance in the aisles at the same time.
5/5
Summer of Soul is now showing in Irish cinemas (including the IFI & the Stella Theatre) and exclusively on Star on Disney+ from 30th July.
Advertisement
RELATED