Colin Farrell & Zoë Kravitz on The Batman: "It's a very powerful thing to be so deeply hidden behind a mask like that..."
The Batman stars Colin Farrell and Zoë Kravitz talk about portraying two of Gotham's most famous characters, The Penguin and Catwoman.
Having grown up a Batman fan, 45-year-old Irish star Colin Farrell didn't need to be asked to twice when the franchise came calling. That he would get to work with a filmmaker he admired, Matt Reeves, and undergo a physical transformation to play the iconic figure of The Penguin, aka Gotham crime figure Oswald "Oz" Cobblepot, was the icing on the cake.
"I'm an actor for a living, but I also have a very robust child inside me that's still alive and well," notes Farrell, "and seeking out the comfort of entertainment at times – and still, as a man, relates to things that I loved as a child or as a teenager. And I grew up watching Adam West in the TV show and Burgess Meredith, and what have you, playing The Penguin. And I also loved Tim Burton's first Batman, and his subsequent Batman Returns, with Danny DeVito as Penguin and Michelle Pfeiffer as Catwoman.
"So, when I heard, I got terribly excited at the thought of being able  to approach a character as iconic as Penguin. And I had known Matt Reeve's work from Cloverfield and from Let Me In, and then the Ape films, and Matt's an extraordinary filmmaker. He is one of those rare filmmakers that really, I feel, mixes altruistic brilliance with a sense of commercial entertainment as well. And he makes films for the masses, but not to the concession of any kind of emotional or psychological specificity, so I was delighted when I heard that."
Celebrated for her roles in the like of HBO hit Big Little Lies and George Miller's landmark blockbuster Mad Max: Fury Road, 33-year-old Zoe Kravitz was similarly enthused about the prospect of playing Selina Kyle, AKA Catwoman. The actress also relished the opportunity of uncovering new layers to the character.
"I had this superficial idea of Catwoman," she reflects. "It's iconic. It's sexy. It's cool. We like her. It was those kinds of ideas. What was special was getting to read the script and actually allowing all of those ideas to fall away. It's a very complex story that Matt's written, and he was talking about Chinatown and Klute, and some of the most fascinating female characters that I've ever seen on screen.
"Also, what was so cool and helpful was that I was really able to forget about Catwoman and who she is in culture. It was interesting to forget about all of that and just focus on this incredibly complex female character he'd created. To play someone so strong and yet really vulnerable at the same time… it's really nice and refreshing to be able to play a female character who's strong, and yet doesn't have to be masculine in any way, but is still able to be tough. That's a really interesting space, I think.
"It was also really important to me and Matt not to victimise her and not to turn this character into any kind of stereotype or fetishise her, because she is this icon in so many ways. I thought, 'I want to strip all of that away, and I want to really understand who she is.' There'd be moments where I would be reading the script, and my heart would break for her. Really, this person's been through so much pain, and I'd allow that to be my way in to telling her story."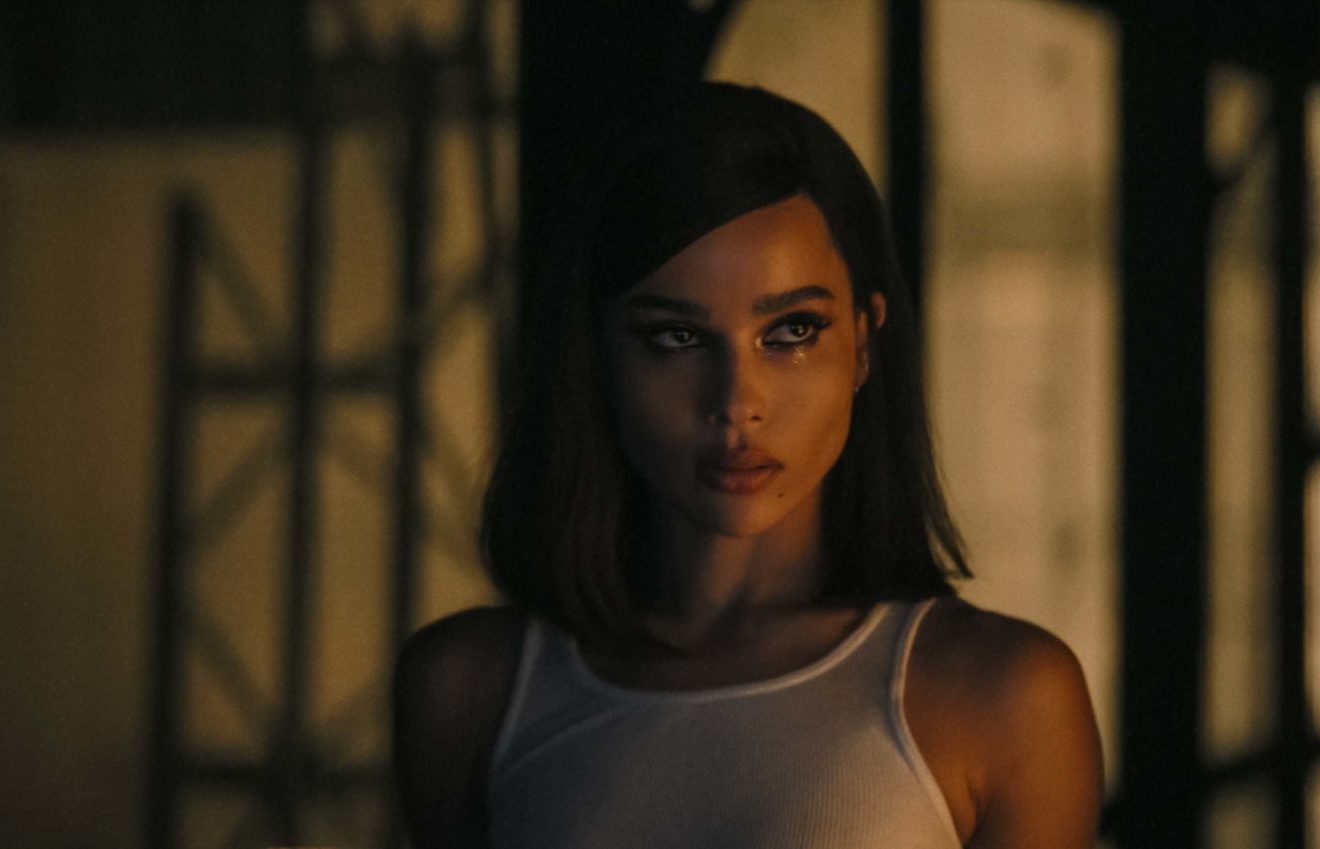 As The Batman explores the titular heroes early days, so too does it examine The Penguin's beginnings in Gotham's criminal underworld. As such, it gave Farrell a chance to present a version of the character we haven't seen before.
"He's referred to in the film as Penguin," he explains, "but it was expressly articulated in the script that he's not particularly happy with that moniker. It's not something that he's embodied yet. It's not something that he's stepped into. I don't know if he's never okay with it. I don't know if it's ever something that he adapts to and is okay with, because he understands that it can instil fear in people.
"But here he's Oz and he's somebody who's on the rise – at least that's how he sees himself. He's working within a criminal organisation, but he's not at the top. I mean, he's close to the man who is the top, Falcone, played by John Turturro. I don't know if he's his right hand man, but if not, he's pretty close to being his right hand man.
"Pursuant to my conversations with Matt, he's a complex character who has his own fears and his own hopes and his own deeply burning ambitions to make a success of himself. He comes from very humble origins and is dangerous, like anyone who exists in a world of violence that has a deep ambition. He's a dangerous man, I suppose."
For Kravitz, meanwhile, one of the classic Batman comics proved a valuable means of getting further insight Catwoman.
"I wasn't a comic book reader before," she says. "I'd seen all the Batman films. I was a really big fan of the Universe. Once we started, I went to Matt and I said, 'What should I read?' Because there's so much information out there that I was actually afraid to get overwhelmed, and almost have too many ideas or directions to go in.
"We ended up focusing on the Year One comic, which was really his biggest reference in terms of the comic books. I ended up reading it a million times and focused on it, because I was a little bit nervous about doing the deep dive, and liking too many things and wanting to do them all. I actually decided to be quite strict with myself, even though it was so tempting to read everything I could get my hands on."
The actress also hugely enjoyed working such a star-laden cast, including Farrell.
"The cast is incredible," she enthuses. "For example, with Colin, I don't have a lot of scenes with him, but the first time I saw him on-set in his prosthetics and everything, I was just blown away. I couldn't believe it was him. I went up to his face and just stared in his eyes, because I was trying to see if I could see Colin and I couldn't. It freaked me out.
"And I mean, John Turturro… Matt and I would geek out. I live in New York. He's the New York actor. He's just the nicest man and so funny and loves to tell stories. I had a lot of fun with him, and Paul Dano, too, who's an old friend of mine. We don't have very many scenes together either, but it was just nice to see him around. I've now seen what he's done in the film, and he's just an incredible talent. So yes, I was in very good company."
Farrell found that when he finally got to perform as The Penguin in make-up and costume, it was a magical moment.
"I had done a bit of work with my dialect coach Jessica Drake," he says. "Then when we had a day at Warner Bros. on the lot, where Mike Marino – who did the make-up – and his team, and the wardrobe team came. And my sister my son came. It was actually, in 20 years of doing films, it was one of the most magic days I will ever have.I've been seeing behind the curtain, behind the veil for 20 years now. You get used to it a little bit. You try not to get inured to it and you don't take advantage of it, but you get used to it.
"It becomes somewhat familiar and thereby, it loses a bit of its magic. This day, it was magic. I was transported and it was... We were all there and we were all a little bit nervous,, I was one of 20 people there. I mean, there's no character I'll ever play, I don't think, certainly not to this point, that I can claim less total ownership over than this character, which I'm fine with (laughs). But that day, when the stuff went on, was the first time that the voice came out and it was fun. The mask, it's a very powerful thing to be so deeply hidden behind a mask like that.
"It's really powerful, and I would've thought that it'd be somewhat constricting or limiting, but it was the total opposite. It was an absolute liberation. So, that was the first time I heard it, when the voice came out and I was walking around, and it felt good. It all just went from being an idea and an abstraction to being Oz."
Finally, what does Kravitz hope audiences get from The Batman?
"I hope they're surprised," she says, "and I do hope it feels like something new because we, as a culture, obviously love superhero movies. That's why we make them over and over again. That being said, I don't want to leave the theatre and see the movie I thought I was going to see. I want to go to a movie and go, 'I had no idea what I was walking into.'
"I want to be on the edge of my seat. I want to be surprised. I also want to be satisfied. I think The Batman really does check all those boxes. When I saw the film for the first time, I was by myself, and I could feel the moments where I would be yelling at the screen, 'Whoa!' It's a really communal experience. I hope people go to the theatre and watch it, because it is the kind of thing you want to go to with your friends and family, and you want to interact with this movie. It really is so exciting."
The Batman is in cinemas on March 4.