King Rory Celebrated In Style By Ireland's Finest Cultural Periodical!
Though he would probably have guffawed at the very notion, Rory Gallagher was cool. Blues hero, Rock N' Roller, one of the greatest guitar players that ever struck a string - the dude just had it. I'll tell you what else is cool, the Hot Press Rory Gallagher 25th Anniversary Special Edition, that's what! Here, at last, forged by the finest design team known to woman or man, is the pretty rockin' cover art.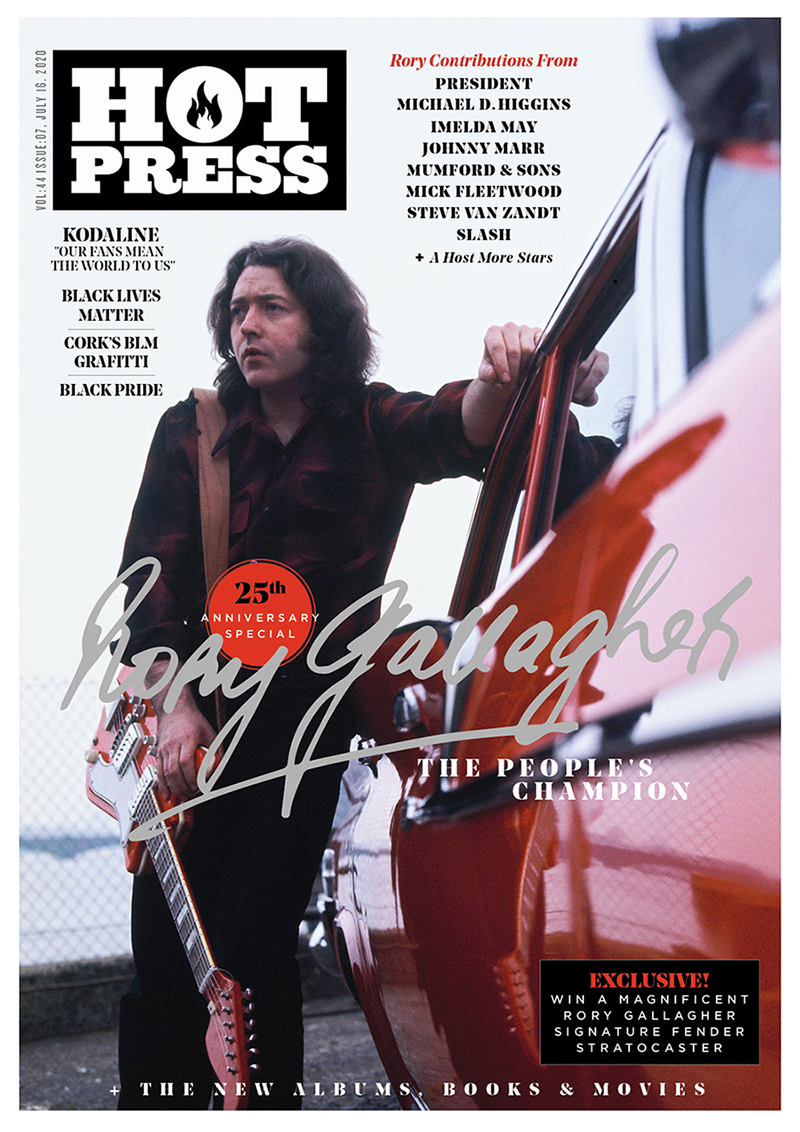 Eagle-eyed fans will note that Rory seems to be sporting some class of Danelectro axe - that's a best guess - rather than his usual battered Strat, "stood" as he is beside a red sports car, the way that rockers are wont to do. It's an outtake from the same session that provided the cover of the Defender album in 1987, marvellously shot by Donato Cinicolo III - there's a moniker for ya!
What's in it, you ask? What about this lot? Join us as we:
• Recall the key musical moments in a career that was littered with extraordinary highs.
• Talk to his brother Dónal Gallagher about Rory's extraordinary legacy
• Hear from Slash what inspired his life-long obsession with Rory's music
• Johnny Marr talks in depth to Pat Carty about why he loved Rory so much
• Delve into the back pages of Hot Press for superb original material on Rory's music – including a superb, in depth interview carried out by the legendary, late rock writer, Bill Graham.
• Publish in full the special oration delivered by Hot Press editor Niall Stokes at the memorial service for Rory, held in London in 1995.
• Recall the moment before the Lisdoonvarna Festival in 1982 that Rory occupied the legendary Mad Hatter's Box for Hot Press!
• Bring dramatically to life the qualities that made Rory Gallagher the ultimate People's Champion.
• Remember what The Edge (you know, U2) had to say when he was the first ever recipient of the Rory Gallagher Rock Musician Award at the Hot Press Awards in 1996.
• The Special Issue will also include contributions from a range of other artists, including Steve Van Zandt, Mick Fleetwood, J. Mascis (Dinosaur Jr), Imelda May and many more...
Plus – EXCLUSIVE
• Read all about the brilliant competition we'll be running for a Rory Gallagher Signature Fender Stratocaster, worth €5,300.
PICK THE BONES OUTTA THAT!
The magazine is set to "drop" on Thursday, 18th June. Whatever you do, don't miss out like a fool. Remove all risk from the equation by getting the good word directly from the horse's mouth, allowing the magazine to "drop" through your letter box, which is, after all, what the word "drop" really means! And that's not all! By buying direct from the source, you'll be entered into a draw to win a Glenn Matthews Rory Print which price cannot be put on! Here, quick! click on this!
Need more Rory? Of course you do! Here's The Rory Gallagher: 25 Hot Press Playlist. Strap on the air guitar and turn it all the way up.
https://open.spotify.com/playlist/7o57QFfJkJeGmNvTt8Ww4U?si=JD7KSHWXTEulo5AxcrVu_w
RELATED
Lifestyle & Sports
01 Sep 22