Steve Wall, NGOs, Palestinians ask Rodrigo y Gabriela to cancel show in apartheid Tel Aviv
The Mexican duo are set to perform for the first time in apartheid Israel at the Tel Aviv Culture Center on August 10th.
Irish musician/actor Steve Wall, prominent NGOs and Palestinians are urging Rodrigo y Gabriela to cancel their planned concert at the apartheid Tel Aviv Culture Center, officially known as the Charles Bronfman auditorium, after its major funder.
Bronfman is also co-founder of the Taglit Birthright programme. More than 1,000 young Jewish Americans have pledged to boycott the scheme, reasoning that "it is fundamentally unjust that we are given a free trip to Israel, while Palestinian refugees are barred from returning to their homes. We refuse to be complicit in a propaganda trip that whitewashes the systemic racism, and the daily violence faced by Palestinians living under endless occupation."
Palestinian oud virtuosos Le Trio Joubran, who previously worked with Rodrigo y Gabriela, issued a heartfelt appeal to the Mexican duo to cancel their apartheid show.
"Please Rod and Gabi, take the right decision," they wrote. Irish musician and actor Steve Wall joined Irish human rights activists in urging them to "reconsider" the choice. The Mexican pair spent eight years of their career on Irish soil.
It was in Dublin where they met singer-songwriter Damien Rice, who invited them to open his concert, and they never looked back. Since then, they have performed around the globe. They have released five studio albums, three live albums and one EP.
Advertisement
Steve Wall first found fame as a singer-songwriter in The Stunning and The Walls. The actor starred in Ridley Scott's Raised by Wolves, Netflix series The Witcher and BBC/Amazon series The English.
The Ireland-Palestine Solidarity Campaign issued a statement two days ago condemning the band's decision to book a show there, adding that "You must have seen that the Palestinian people hold a dear place in the hearts of people in Ireland who deeply empathise with the struggle for freedom, justice and equality."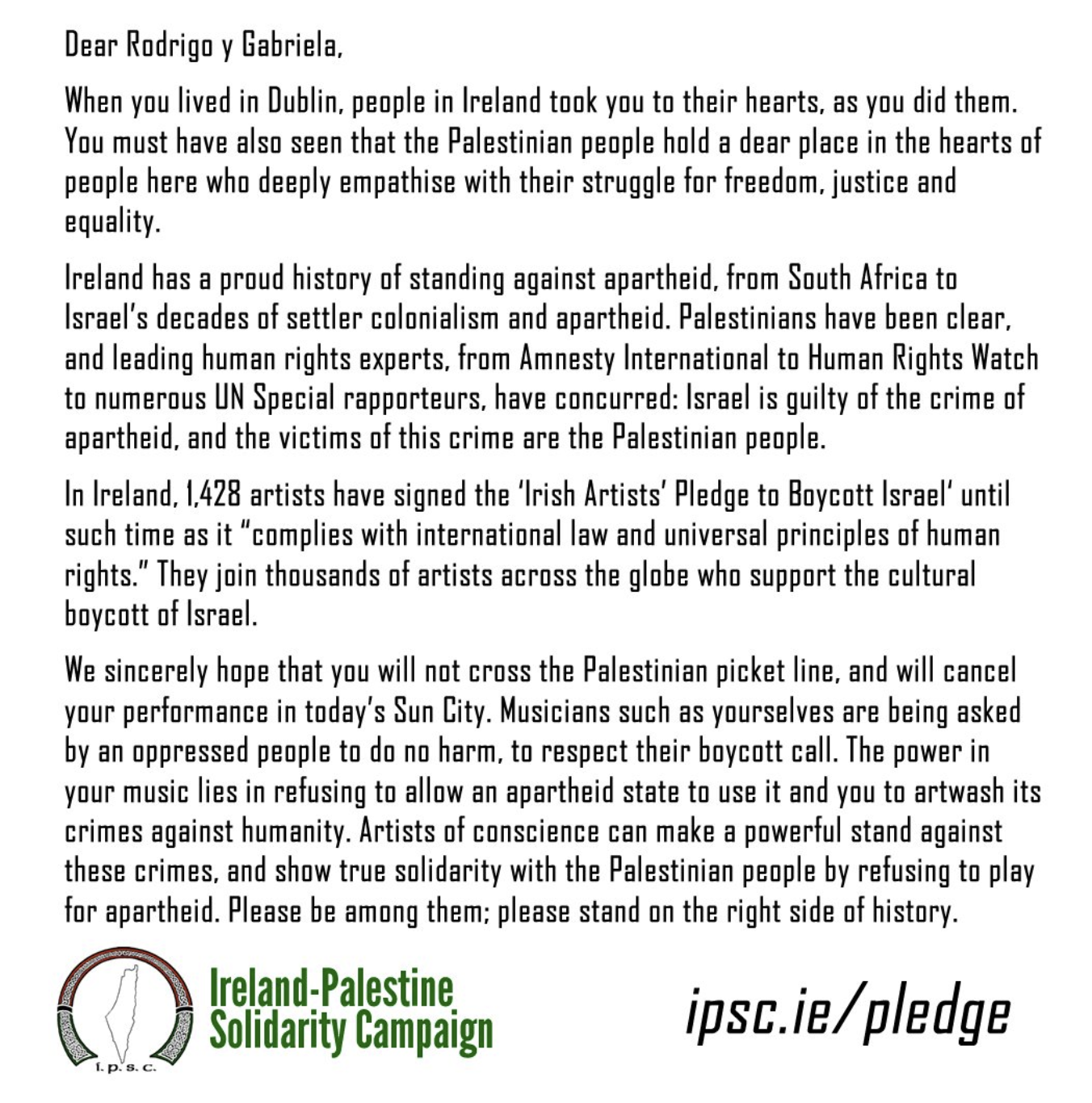 The BDS Movement released a statement condemning the decision to perform in apartheid Israel.
"Regardless of intentions, performing in apartheid Israel – as leading human rights groups such as Amnesty International have designated it – can only contribute to artwashing its regime of oppression and therefore delaying justice, freedom and equality for all," their website states. |For this reason, more than 500 Latin American artists have endorsed the cultural boycott of apartheid Israel."
"All progressive artists, with notable exceptions, refused to perform in apartheid South Africa, recognising above all else their profound moral obligation to the oppressed," the BDS Movement added. "Likewise, thousands of artists, including many influential and innovative musicians, have pledged to refuse offers from Israel's complicit cultural institutions, despite the best efforts of Israel's lobby groups."
Rodrigo y Gabriela to play apartheid Israel. I believe boycott should happen across all industries & disciplines. Artists can help spread the word that apartheid & human rights abuses are not acceptable. Please reconsider @rodgab @BDSmovement @ipsc48 @Art4PalestineUK @hotpress https://t.co/08IqWzKHlU

— Steve Wall 🇵🇸🇮🇪 (@stevethewall) July 30, 2022
Advertisement
Last week, the South African government expressed concerns that Israel's continued occupation of "significant portions of the West Bank" and the development of new settlements there "are glaring examples of violations of international law" as the Israel-Palestine conflict rages on.
"The Palestinian narrative evokes experiences of South Africa's own history of racial segregation and oppression," Naledi Pandor, South Africa's minister of international relations and cooperation, said at the second meeting of the Palestinian Heads of Mission in Africa, held in the capital Pretoria.
"As oppressed South Africans, we experienced firsthand the effects of racial inequality, discrimination and denial and we cannot stand by while another generation of Palestinians are left behind," she said.
Pandor said Pretoria believes Israel should be classified as an apartheid state and that the United Nations General Assembly (UNGA) should establish a committee to verify whether it satisfies the requirements.
According to a recent report by the Al-Mezan Centre for Human Rights, a civil organisation with headquarters in the Gaza Strip, approximately 5,418 Palestinians have been killed by Israeli military operations in the embattled Gaza Strip during the past 15 years, including 1,246 children and 488 women.
A recent UN commission of inquiry to investigate violations in the occupied Palestinian territory, including East Jerusalem, determined in its report that Israel is responsible for severe human rights violations against Palestinians.
Advertisement