Fennell is nominated for Best Director at this month's Oscars for the gripping thriller, which is also up for Best Picture and Best Actress.
The 93rd Academy Awards take place on April 26, with one of the most highly anticipated films of 2021 up for five awards. Thankfully, it's available to watch exclusively on Sky Cinema and NOW from April 16.
Written and directed by Emerald Fennell, Promising Young Woman is an explosive, blackly funny, bitingly incisive film about toxic masculinity and rape culture. Carey Mulligan gives a blazing performance as Cassie, a 30-year-old former medical student whose life has been derailed by the rape of her best friend, Nina.
After dropping out of school to care for Nina, Cassie is left living at home with her parents, haunted, adrift and without much faith in the world – but plenty of rage. Her life mission becomes to wreak revenge on men who hurt women, and she finds plenty of them. Cassie doesn't even have to seek abusive men out; she merely frequents bars and nightclubs pretending to be more drunk and vulnerable than she really is, and predatory men appear.
But they get far more than they were bargaining for, including the inescapable realisation that they are not, as they invariably protest, "a good guy".
Despite its dark premise and socially astute observations about rape culture, Promising Young Woman is fun as all hell. Drenched in candy coloured hues and an unapologetically poppy soundtrack – when was the last time you heard Paris Hilton's 'Stars Are Blind' featured in a film? – the film constantly subverts expectations, blending elements of rom-coms and thrillers to create a truly genre-bending film.
Advertisement
This subversion was intentional. Writer and director Emerald Fennell has worn many different hats and worked across different genres, acting in the drama series The Crown, where she plays Camilla Parker Bowles; serving as a screenwriter-producer on Killing Eve; and writing several books, including the horror novel Monster.
Fennell was familiar with "rape revenge" films, the often sleazy genre that gained prominence in the 1970s where (usually male) directors would summon images of a battered and traumatised woman taking violent revenge on her attackers. In Promising Young Woman, Fennell wanted to play with this idea, and look at what revenge could actually look like for women.
"I am of course aware of rape revenge films, and was interested in revenge movies in general, particularly with female protagonists," she says. "I love a lot of them and find them incredibly cathartic – I love seeing women go and slay a bunch of bastards, I'm never going to complain about that movie!
"But I wanted to make something that had the kind of catharsis and pleasure of those movies but that also had a real woman at the centre, behaving in a way I thought a real woman might behave. I was determined that the consequences of this kind of behaviour, her quest for revenge, might be examined.
"I don't know any woman who would be able to don a trench-coat and AK-47 down a bunch of men. It's not possible - and it's also not wise, which is also what this film is about. I wanted to be clear that there's a reason why these movies are not real."
Advertisement
Promising Young Woman pays homage to and subverts many film tropes, but it also feels inspired by Greek myths around female revenge - specifically, the Furies, who were infernal goddesses who drove men mad by confronting them with all the cruelty and injustice they had inflicted on others.
"Yes!" Fennell exclaims. "Cassie is also named after Cassandra from the Greek myth – she's the person who knew the truth, but who no-one believed. Again, with this movie, there's something we love about these vengeance tales, because they're such a part of our storytelling culture. I was really desperate to make a film that was very specifically about one woman's life, but that also felt allegorical, like the parables we all grew up with."
The idea of seeking revenge by holding a mirror up to someone and making them confront their actions is certainly less blood-splattered than many revenge films, but it's somehow more unsettling, which is what Fennell is relying on.
"I would rather someone punch me in the face than show me that I'm not a good person," she says bluntly. "All of our identities are pretty precarious anyway, but the idea of being unquestionably told that we are not good is so troubling, and to me that is the power of what Cassie is doing.
"It was important to me that we get to see these men, that they're not faceless henchman. These are very normal guys who genuinely believe they're good people. And seeing their sense of identity be shaken is what interested me."
At many points during Promising Young Woman, people refer to Cassie with a label that many women have faced when expressing anger about the violence and disrespect they are expected to silently endure: 'crazy.' I note to Fennell that I'm now inherently suspicious of anyone who calls an ex-girlfriend 'crazy'; that most often, women who are called 'crazy' are reacting to the bad behaviour of others – but it is their reactions that are judged, not the actions that caused it.
"Exactly. That's why Cassie is so furious and so tired," agrees Fennell. "What she's asking is very simple: she's literally just asking that the people involved acknowledge that something happened. Like, it's not hard. But people don't. And this movie is about the culture of seduction that I grew up in, where it was completely normal, even encouraged, to find drunk girls at parties, to pursue girls who were vulnerable.
Advertisement
"There was so much trivialising language for the disgusting behaviour that went on. It was in every movie, every TV show. It was the norm. And that means that so many people who think of themselves as good, men who even think of themselves as being feminist, have done something that they've never really interrogated, because they've never had to."
At first glance, Promising Young Woman is about revenge, but it's also about forgiveness, in several different guises. Many characters, including Cassie, harbour deep regrets and are genuinely seeking forgiveness – from others, from themselves. But other characters assume that forgiveness is a right that must be bestowed upon them immediately.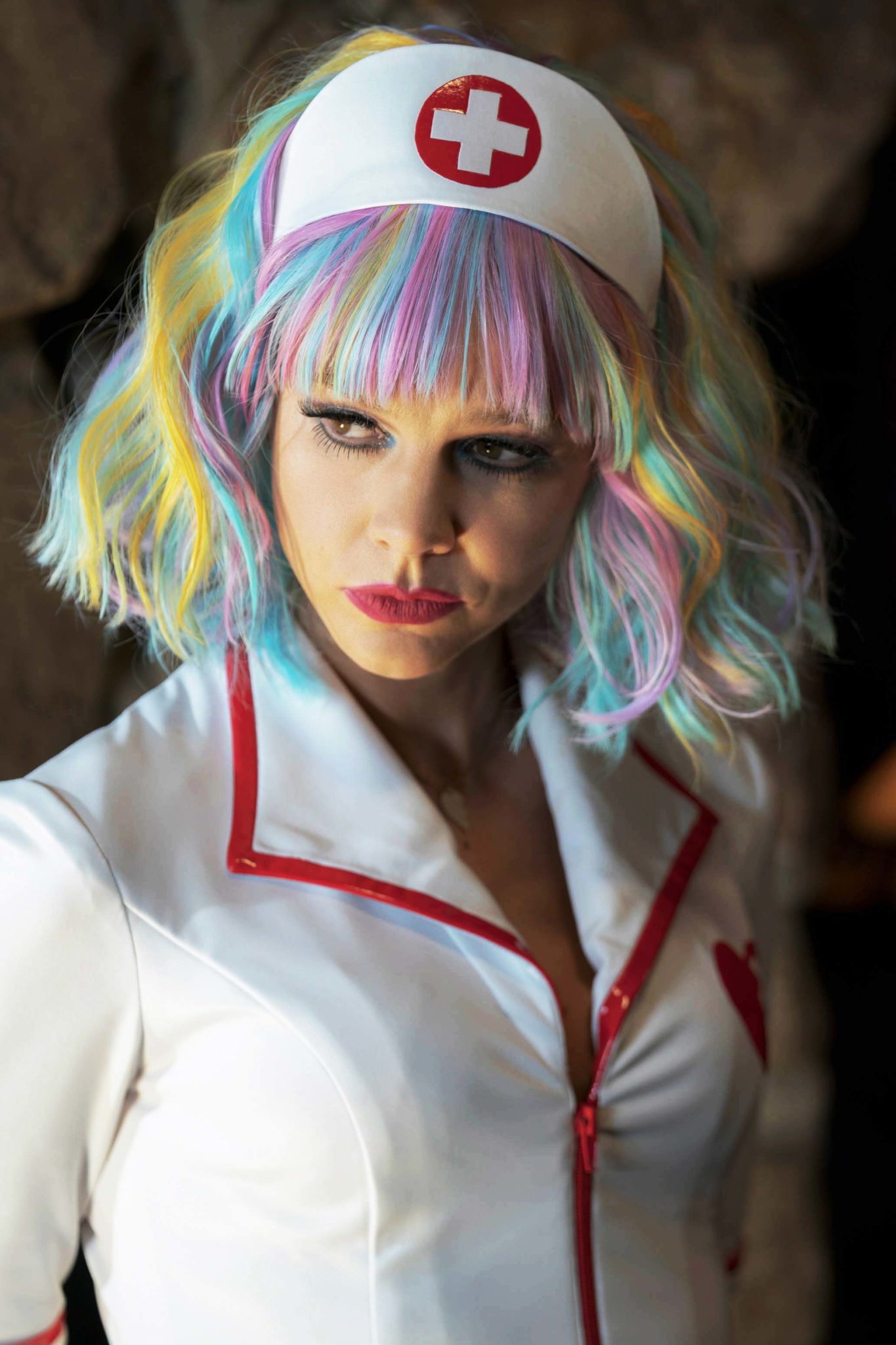 "You have to forgive me," is a line Cassie hears repeatedly - not as a request, but a demand. I remark to Fennell that for such an important emotional and cultural idea, it's bizarre that there is no one universal definition of forgiveness. Some people speak of forgiveness as something you must bestow on others for your own emotional release, others believe forgiveness must be bestowed so that perpetrators can move on, and there's no one consensus on how people can earn forgiveness. I ask Fennell what forgiveness means to her.
"In terms of the movie, Cassie is absolutely looking for forgiveness; there's a reason she's replaying this story over and over and over in her head, hoping that some different outcome will happen. The difference for me, is that I feel that everyone is deserving of forgiveness – but there are conditions. And the first condition is acknowledgement, the second is an apology, and the third is some kind of penance or attempt to make amends.
"That sounds religious, and I'm not a religious person – I actually think there's something troubling about that religious framework that has become the norm, that confession equals forgiveness. We see that a lot now with public apologies, the 'I'm sorry if' followed by the 'and now I'm going to move forward with my life.' There's an expectation of forgiveness, without the work.
"I do feel strongly that we really are all trying our best, and sometimes failing. And some people fail much more profoundly than others, and that failure really impacts someone much more. But in general, you've got to own up to your shit to be forgiven. Really own up to it. And some people in the film do that, some people go through the existential horror of recognising what they've done and are genuinely sorry - and some people do not do that work."
Advertisement
I'm not a religious person either, I tell Fennell, and have always found the Catholic framework of confession troubling; the idea that a priest gets to declare that your sins are forgiven, even though they were not the person affected by your actions.
This idea of complicity and unaffected bystanders declaring that violence against women "wasn't that bad" is a recurring theme in Promising Young Woman, and Fennell wanted to explore this complicity on a societal level. Fennell is 35, and is very aware of the role complicity played in the culture around sex that she grew up with; how rape culture was normalised as acceptable drunken antics and gendered ideas of 'seduction', where men were encouraged to pursue, never taking 'no' as an answer.
"In the film, other people are forgiving people for abuses not done to them, but there's also more there. There's a failure of understanding and a failure of empathy – in general, even. Complicitly is cultural," declares Fennell. "We've all been complicit. If all of us told our friends to go to the police every time something like this happened, it might have been different – but that simply didn't happen, because it had been made normal, and culturally acceptable.
"That's how complicity comes into the film. Nobody's saying the rape didn't happen – everyone's saying it happened, but only two people are saying it was deeply wrong, and most people are saying it was fine, because they want to remember it as fine.
"You see this all the time. So often in court cases – on the rare occasions rape cases get to court – you see people saying 'Yeah I did that, but she was drunk or wearing this or whatever.' There's an idea around sexual violence that if you don't think it was bad, then it wasn't. But we don't think like this around anything else, if you steal someone's card and say, 'Oh, but it was in a bar and I enjoyed myself.'
"But when it comes to women's bodies, arguing that violation was justified has become so normal. On an individual level, it is entitlement; 'I want it.' But on a cultural level, our problem is enabling that entitlement and protecting it. And then I think complicity is so different for women, because so much of it is survival mechanism."
I have seen Promising Young Woman twice now, and utterly adored it. It's sharp, funny, heart-breaking, empowering, terrifying and wildly entertaining. But I admit I'm not sure if many men will volunteer to watch a film about rape culture and complicity, no matter how brilliantly made it is. But I may just be more cynical than Fennell.
Advertisement
"I am optimistic that men will go see it," Fennell says assuredly. "It's for everyone, including and especially people who haven't thought that deeply about this stuff. I didn't want to make a film that was only for an echo chamber. One film I think about is Get Out, and how it was so confronting to white liberals and people who think they're good, because it examined behaviour that we shamefully hadn't thought about, or hadn't thought was being looked at.
"So that is what I hope with this movie; I hope that it is, in its own right, just a good movie that people want to watch. But I also hope that we want to talk about these topics, we want to be challenged, we want films to unsettle is, we want to re-evaluate things. And I hope we do."
Promising Young Woman is available to watch exclusively on Sky Cinema and NOW from April 16.