"Openness is the album's most important message; being transparent with people you care about": Aussie indie act Courtney Barnett on Things Take Time, Take Time
Sydney indie-pop star Courtney Barnett on creating her latest opus Things Take Time, Take Time during Covid, articulating the anxieties of Gen Y, and hitting the road with Foo Fighters. Photography: Mia Mala McDonald
Thirty-four year-old Sydney musician Courtney Barnett first rose to international prominence after the release of her 2013 EP, The Double: A Sea Of Split Peas. Barnett touched on everything from mortality and gentrification to mental illness, all underpinned by her mordant humour. She continued to explore those themes on her first two LPs, Sometimes I Sit And Think, And Sometimes I Just Sit (2015), and 2018's Tell Me How You Really Feel.
Barnett's latest album Things Take Time, Take Time steps back, and asks the listener not to sweat the little things in life. Across ten open-hearted vignettes, it's quieter than you might expect from Barnett. Ultimately, it's a love letter to friendship.
After the Tell Me How You Really Feel cycle ended in 2019, the Aussie was close to burnout, and flew to Melbourne to live alone for the first time in her life. In March 2020, she was afforded time to do the things that the life of a touring musician mostly can't allow: reflection without interruptions or conflicting schedules. The songs which resulted are ultimately kinder to herself and others.
Zooming with Hot Press from California, Barnett's low-key demeanour contrasts with the hyped-drenched hard sell artists are often encouraged to bring to new releases. Is that a side of the business she dismisses?
"Yeah, maybe, she considers. "I hadn't really thought about the fact that I can take space. It's just age and time and experience, and figuring out when I feel uncomfortable or overworked, or whatever it is. It just comes with time – it's so hard to know what the public's perception of me even is. Sometimes trying to understand or decipher it is a waste of energy, because you never know what people are thinking."
Advertisement
The musician strikes me as someone who's never thought to read a review of her work.
"Sometimes I read my reviews, because I'm only human," replies Barnett. "I'm curious to know how people are feeling or how they're interpreting the songs. For the most part, I try to keep away from that side of things: social media scrolling and opinions. In terms of fame, I wouldn't be worried at all about walking down the street in Sydney. Every now and then someone says something nice if they recognise me, but nothing to be concerned about. A couple of friends have heard the album, but most haven't."
Is Barnett's work under strict lock and key?
"I had a night where myself and a bunch of other songwriters, who had all just finished an album at the same time, had a little cute listening party. I've never really done that, strangely enough. I don't know why, something about it feels kind of terrifying. It also feels a bit self-centred. I think that, because we all had something to share, it was this really vulnerable process. I liked it."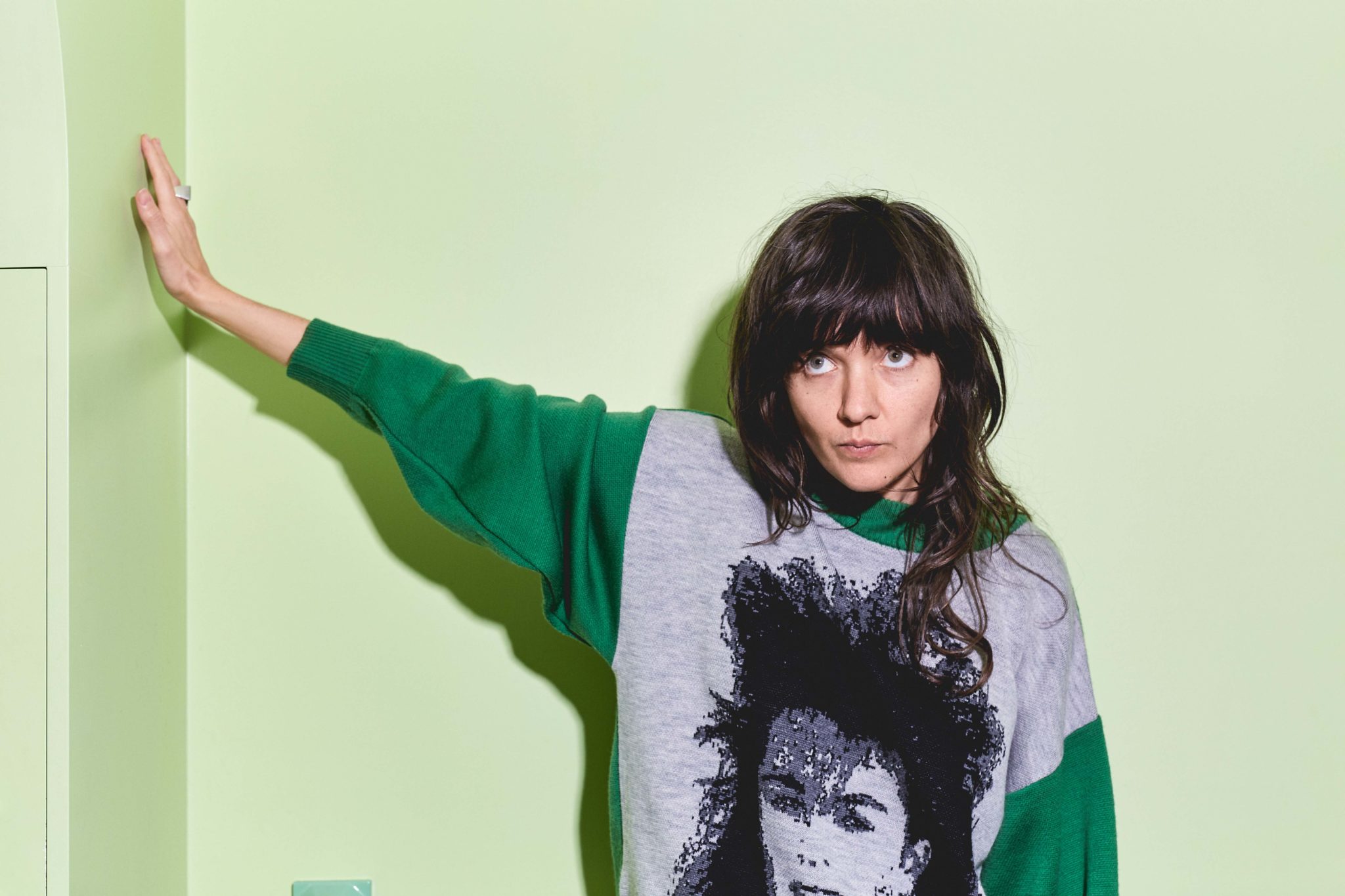 Notably, with 2013's by turns folky and scuzzy 'Avant Gardener', Barnett delved into the doubts and fears that define Gen Y..
"From what I've seen over the years, based on the people I've met, my audience is made up of thoughtful and kind people," reflects the singer. "A few have shared stories with me of how they've made lifelong friendships from meeting people at one of my shows, or through mutual appreciation of my music. It's a really nice thing: music bringing like-minded souls together and finding your tribe. That's pretty special."
Advertisement
Considering Courtney is used to playing gigs with additional musicians, a solo show after a break from the bright lights must have been overwhelming.
"It's nice but so strange to be back on stage," she acknowledges. The singer performed a sold-out gig in Auckland Town Hall, New Zealand – marking her first gig in nearly two years. "I was nervous. It was like having a muscle memory of remembering how to stand; how to talk; how to sing the songs. It was a special tour, though. The audiences were really sweet and they hadn't seen too much live music since the pandemic, so they seemed excited. It felt like quite an intimate back and forth.
"Playing older tracks is always fun. I haven't reached the stage yet where I see a track on my setlist from years ago and sigh. There's normally something really nostalgic. But also, it's great to look back at songs from the past and see how they've changed. It shows me how I've evolved as a person compared to when I was writing the songs. It's a little document of that time in your life. When you sing it again, you can see how different things are now. Hopefully in a good way.
"A lot of my personal changes are small things that don't seem significant. They are to me, though. The main one would be that I'm a bit calmer, I would say. That feels like it's more internal. It's hard to know how it's interpreted from the outside."
Having returned to the States recently, she's doing most of her promo from Joshua Tree.
"I got to America a couple of weeks ago, so I'm basing myself here for a minute to do some pre-album stuff," explains Barnett. "The next tour starts in a few weeks, it's creeping up. I'm happy to be where I am. I had just gotten used to it in the last six years, being based wherever it makes sense instead of Australia. But of course I miss my friends."
Things Take Time, Take Time was written in Melbourne, after Barnett relocated from LA in the early stages of Covid. Her friend's lease was up, so the chance to live alone in a flat appeared.
Advertisement
"It's where I've grown up and lived all my life, so without a doubt Australia creeps into my work," she concedes. "A lot of the stuff I write is kind of dependent on wherever I am at the time. One song might be written over the span of two years when I'm visiting many different places. It gets technically confusing, even though it might sound like I'm singing about one place or person.
"A mood will shift through that time so it becomes less linear. Even the title song of the album – it was written in late 2019 when there were real bushfires at home. Lyrics about flames just happened to be included, but the meaning evolved."
On the title-track, Barnett croons, "Sit beside me and watch the world burn" over sunny, upbeat chords.
"You could also listen to 'Things Take Time, Take Time' and it could be about metaphorically watching the world burn in a very different way. A lot of people have interpreted that song to be about the climate crisis and end of the world, because it sounds quite Covid-y. That last year-and-a-half, it was so hard to plan for the future. I like it when songs adapt and evolve with time, depending on how people see or feel them."
Barnett's third solo album has decidedly less anger and turmoil than previous offerings. "Shine those shoes and mow those lawns/ Let's get back to normal," she croons on first cut 'Rae Street', an ambient indie-rock tune."Lay it all on the table/ You seem so stable/ But you're just hanging on. Let go of that expectation/ Change the station, find what you want."
Ironically, it works perfectly for a post-Covid mindset. Now's the chance to redefine your life, realise what you truly desire, switch off and switch back on when you're ready.
"I love that," Courtney grins. "That's the dream as a songwriter, to have people interpret it however it works for them – to suit whatever they're looking for. Everyone is subconsciously searching for something unique when listening to music.
Advertisement
"Living alone during Covid was a new thing for me, but I don't mind my own company. It was all about changing your perspective and state of mind. That sudden change of schedule and losing the distractions we're so used to was jarring, but for the most part it was great."
Barnett describes Things Take Time, Take Time as being about finding "some sort of joy and gratitude, out of some sort of pain and sadness" — a new morning after a dark night. She'd begun writing new songs shortly after the release of Tell Me How You Really Feel, but ended up discarding most of them. 'Write A List Of Things To Look Forward To' was one of the ones she kept.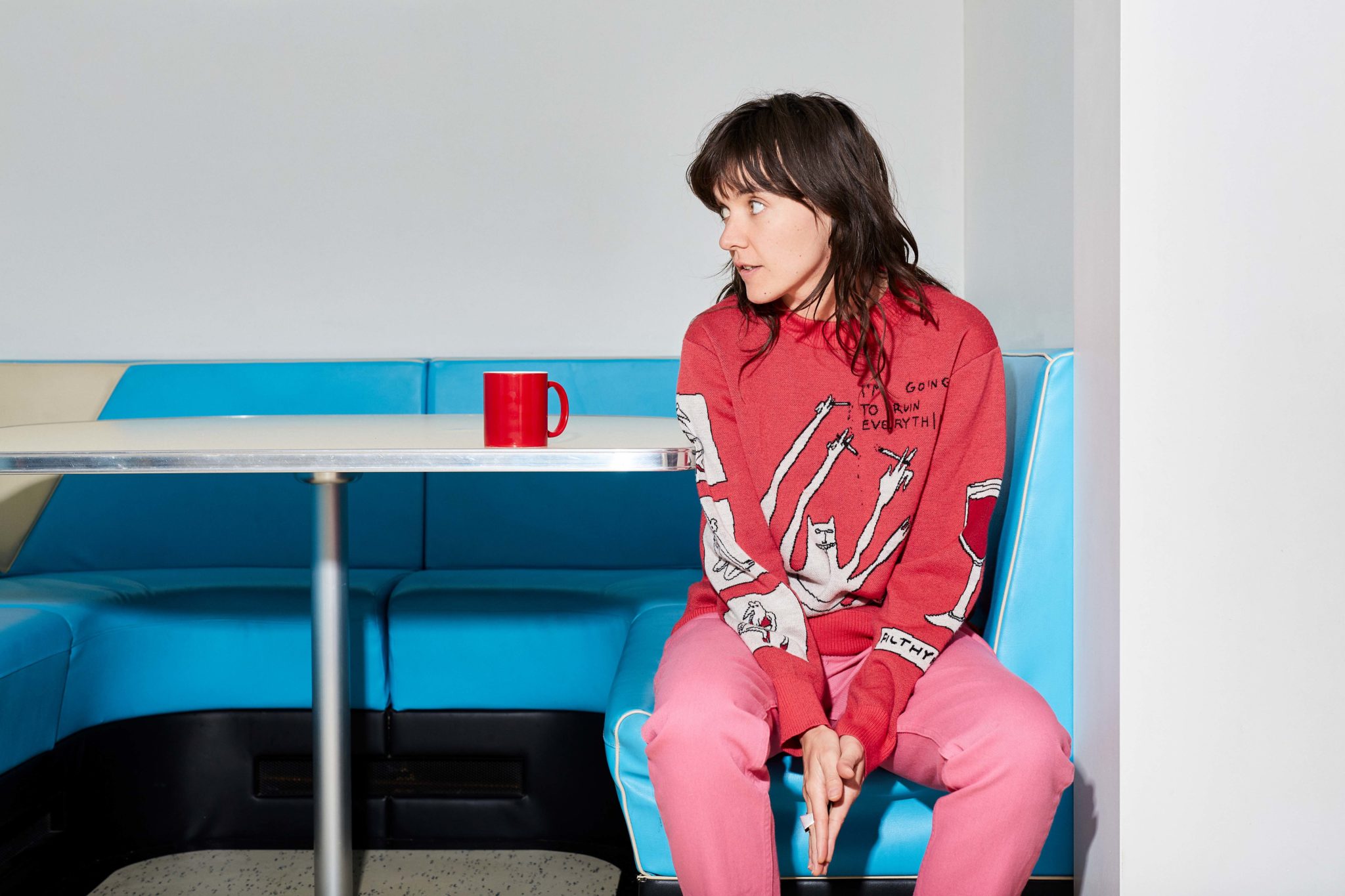 The video for the single is startlingly similar to what lockdown was for many: cooking, exchanging letters, sending care packages, tending to plants, walking in the outdoors. Despite penning these tracks before Covid, Barnett accidentally unveiled Things Take Time, Take Time at an opportune moment. Nature is as intrinsically linked to the project as Warpaint's Stella Mozgawa who the Australian describes as her "perfect musical match."
"Early 2020 was when I really started to collect all these songs or collect the thoughts – I was outside a lot," Courtney recalls. "Then for the next year-and-a-half, I was in my flat and couldn't do anything except go on walks. We had a five-kilometre radius in place, so I couldn't be amongst anything too big in nature, apart from a local park.
"It was probably a combination of seeking that out and also the filming restrictions. We had to have small crews and social distancing in place, so the videos are set in a kind of dreamland, but also totally adaptable to the restrictions."
Barnett appears to no longer be delivering jokes as a deflection technique in her music, as lyrics from 'Oh The Night' suggest: "Sorry that I've been slow/ You know it takes a little time for me to show how I really feel".
Advertisement
"I've probably learnt different coping mechanisms to life, and humour as a defence is one of them. Trying to find the best in a situation is another way we deal with these things – that kind of hope-fuelled realism in 'List Of Things To Look Forwards To'.
"This is my problem when I look at something too vast: I get overwhelmed. The way I've learnt to deal with things is to focus on small timelines. For the most part, it's keeping that gratitude list as simple as possible. Openness is probably the album's most important message, through being transparent with people you care about. Maybe I was hanging onto that fear of saying something, but telling people how you feel is always beneficial."
Things Take Time, Take Time is Barnett's most joyous album to date, helped along by the Arthur Russell, Brian Eno, Pharoah Sanders, Mort Garson and (of course) Joni Mitchell records she listened to during lockdown.
Assisted by longtime friend and colleague Mozgawa, with whom she worked on the 2017 Kurt Vile collaborative album Lotta Sea Lice, Courtney's walls were broken down. Their work on Sharon Van Etten's epic Ten compilation sealed the deal with regard to their creative chemistry. Stella, as a drummer first and foremost, pointed out new entryways hiding within songs Courtney presumed she knew well.
"Writing and making this album was such a beautiful process," she enthuses. "I'm very lucky in terms of all the amazing people I've worked with over the years. The best way to look at choosing the right collaborators is staying open to whatever the energy is for each project. Different songs sometimes require different people."
When she wasn't in the warehouse of her label, MILK! Records, Barnett took a group of younger female musicians like Julien Baker and Jay Som on tour in the US last year. It seems she's drawn to the types of people who aren't seeking fame, only artistry.
"Yes, I think I must be," she admits. "I respect and look up to that trait of no bullshit. It's probably because of a mutual admiration, but I've never really thought about it. I've got loads of people in mind for collaborations, but the list is long and I don't want to jinx it.
Advertisement
"I've got touring on my mind, first of all. I'll hopefully be playing Irish shows in 2022. Everything has been pretty much guesswork up until now, but I am coming over to your side of the world. I just announced two Foo Fighters support slots in London, but we'll do a bunch of shows in Europe around that time if everything goes to plan."
Cautious and cool until the end, at least there's a near-guarantee of seeing Courtey Barnett on Irish shores soon. No one does a deadpan drawl quite like her.
• Things Take Time, Take Time is out now via Matador Records.
Read the Hot Press verdict here.