Tickets from €27.40 including booking fees on sale Friday, May 26th at 10am.
Having unveiled their highly anticipated feature film at Cannes Film Festival's Great8 showcase, Kneecap have announced their biggest Dublin headline show yet.
Taking place on 12th December 2023, the Irish hip-hop trio are fresh from releasing their newest single 'It's Been Ages', planning their big screen debut and UK tour.
"Condemned by politicians, beloved by fans, kicked out of their own gigs", and packing festival tents to the brim, Kneecap are a cultural phenomenon.
Since they emerged from a squat in West Belfast, Kneecap have created their own genre of Irish punk rap, melding the Irish and English language with electrifying energy, and spearheading a cultural revival. With shows and tracks that flip between satirical performance art and rampageous raves, meet Móglaí Bap, Mo Chara, and DJ Provaí.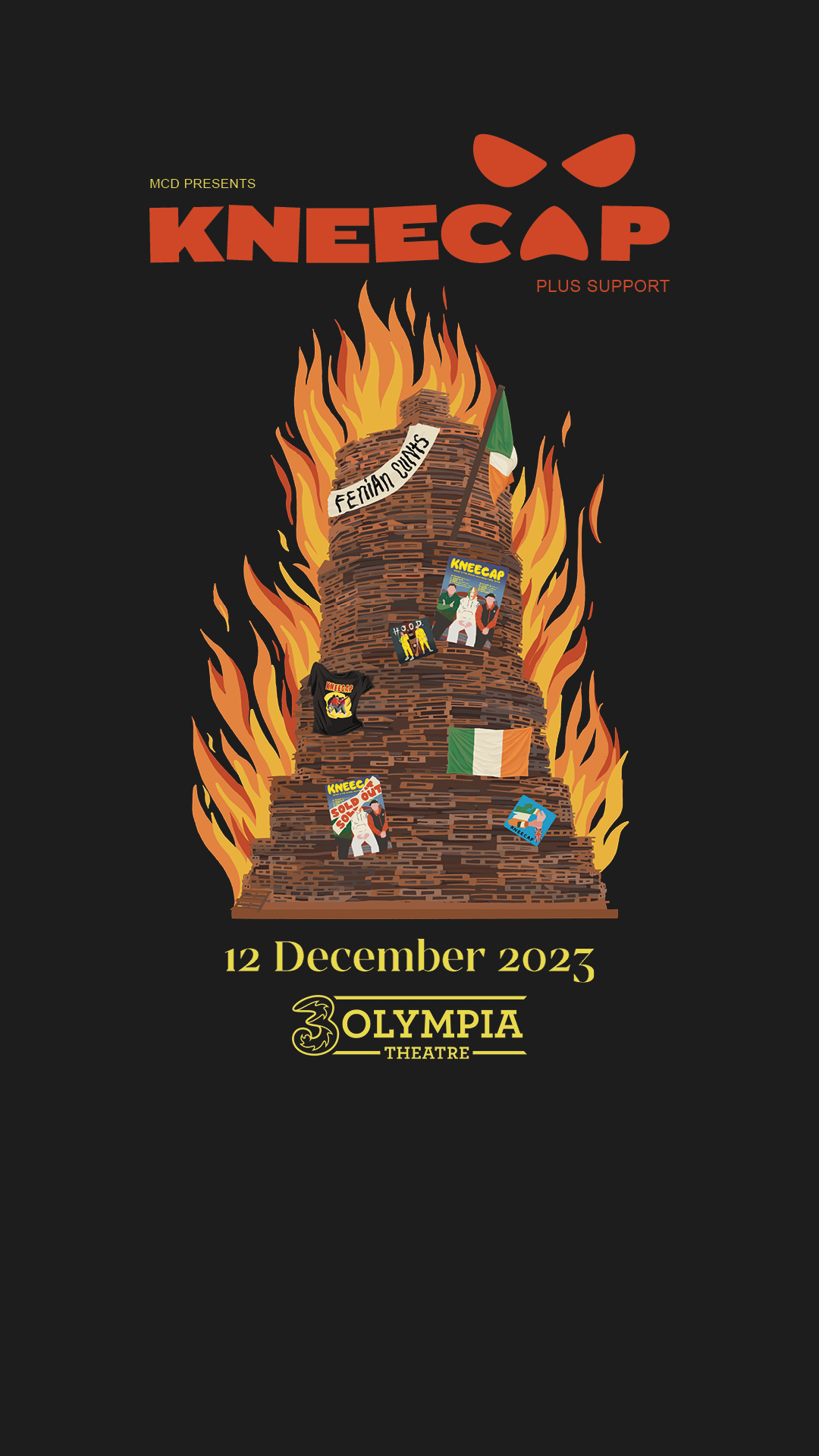 Advertisement
Kneecap's irreverent, complex, and potent lyrics speak to a time of political upheaval, youthful rebellion and discontent. With North American tour dates announced for October, as well as sets their debut Iceland set at Iceland Airwaves; Kneecap are going international.
Earlier this month, it was announced that a dark comedy based on the bands formation, written and directed by Rich Peppiatt ("One Rogue Reporter") has just wrapped shooting in Northern Ireland and will be screened at the GREAT8 showcase at Cannes Film Festival 2023.
Paris-based sales and co-production company Charades will be representing the film in international sales. Curzon and Wildcard, meanwhile, are covering distribution in the UK and Ireland. Charlotte Wells' Aftersun – for which Paul Mescal was nominated for an Oscar for Actor in a Leading Role – was among the films that were showcased at Great8 last year.
"We're buzzing to show people a side of Belfast that isn't about guns, bombs and death," Kneecap said of the film, "To give an insight into the youth culture that has been born out of that madness – we all needed a break from it and there's revenge in our laughter."
As part of their Hot Press cover story last year, KNEECAP spoke about the upcoming film, in which the members of the group will be playing themselves.
Advertisement
"That's happening hopefully this year or next year," Móglaí Bap told Lucy O'Toole at the time. "It's not our own personal stories – our characters have their own fictional stories – but it's the KNEECAP timeline, which is all true. The bits about being in the news will all be in the movie, and the back-stories will be intertwined in that. It will be something different!"
Michael Fassbender was spotted wandering around the set of the film earlier this year, while Simone Kirby (Jimmy's Hall, His Dark Materials, Hidden Assets, Dating Amber) has been listed as part of the cast. Fans are also participating in rave scenes as extras.
Kneecap as a movement is about upending preconceptions about language and place, and reimagining what rap can be as a creative and cultural force, rooted in community, craic, and defiance.
Tickets from €27.40 including booking fees on sale Friday 26th May at 10am.