Even with Covid restricting theatrical releases, there are still plenty of mouthwatering movies to anticipate this year.
As Covid disrupted film release schedules and cinema openings throughout all of 2020, the pandemic has ironically set up 2021 to be an incredibly exciting year for movies, as streaming platforms like Netflix and Amazon plan to release big budget movies directly on their services, and many of 2020's biggest titles have scheduled new release dates throughout the year.
Huge releases originally slated for 2020 but pushed to this year include the James Bond thriller No Time To Die; horror sequel The Quiet Place II; MCU's Black Widow; Denis Villeneuve's epic adaptation of Dune; Nia di Costa's horror Candyman produced by Jordan Peele; and Wes Anderson's The French Dispatch – but what other films do we have to look forward to in 2021?
Here are just a few highlights to keep an eye out for, both on streaming services and in your local cinema when it opens up.
NOMADLAND (Dir. Chloe Zhao)
Adapted from journalist Jessica Bruder's 2017 non-fiction book Nomadland: Surviving America In The Twenty-First Century, Chloé Zhao's film follows Fern (Frances McDormand), a woman who, after the death of her husband and losing her job to the economic collapse of a company town in rural Nevada, packs her van and sets off on the road.
Advertisement
Subsequently, she explores life outside of conventional society as a modern-day nomad. The film features real nomads Linda May, Swankie and Bob Wells as Fern's mentors and comrades in her exploration through the vast landscape of the American West. Overall, it's a powerful a tale of empathy and connection.
PROMISING YOUNG WOMAN (Dir. Emerald Fennell)
After seeing this film last February before its release was delayed due to Covid, I have been obsessing over it for a year and cannot wait for it to be seen. Carey Mulligan puts in a powerhouse performance as Cassie, an isolated woman who has taken a tragic event and turned it into her life mission to get revenge. At night, she goes out to clubs, pretends to be wasted, and waits for "nice" men to take the bait.
This dark, insightful, blackly funny story about rape culture is constantly surprising and subversive, with a wickedly clever script and a thoughtfully inventive aesthetic. This one's going to provoke more conversation than any other film of 2021, and rightly so.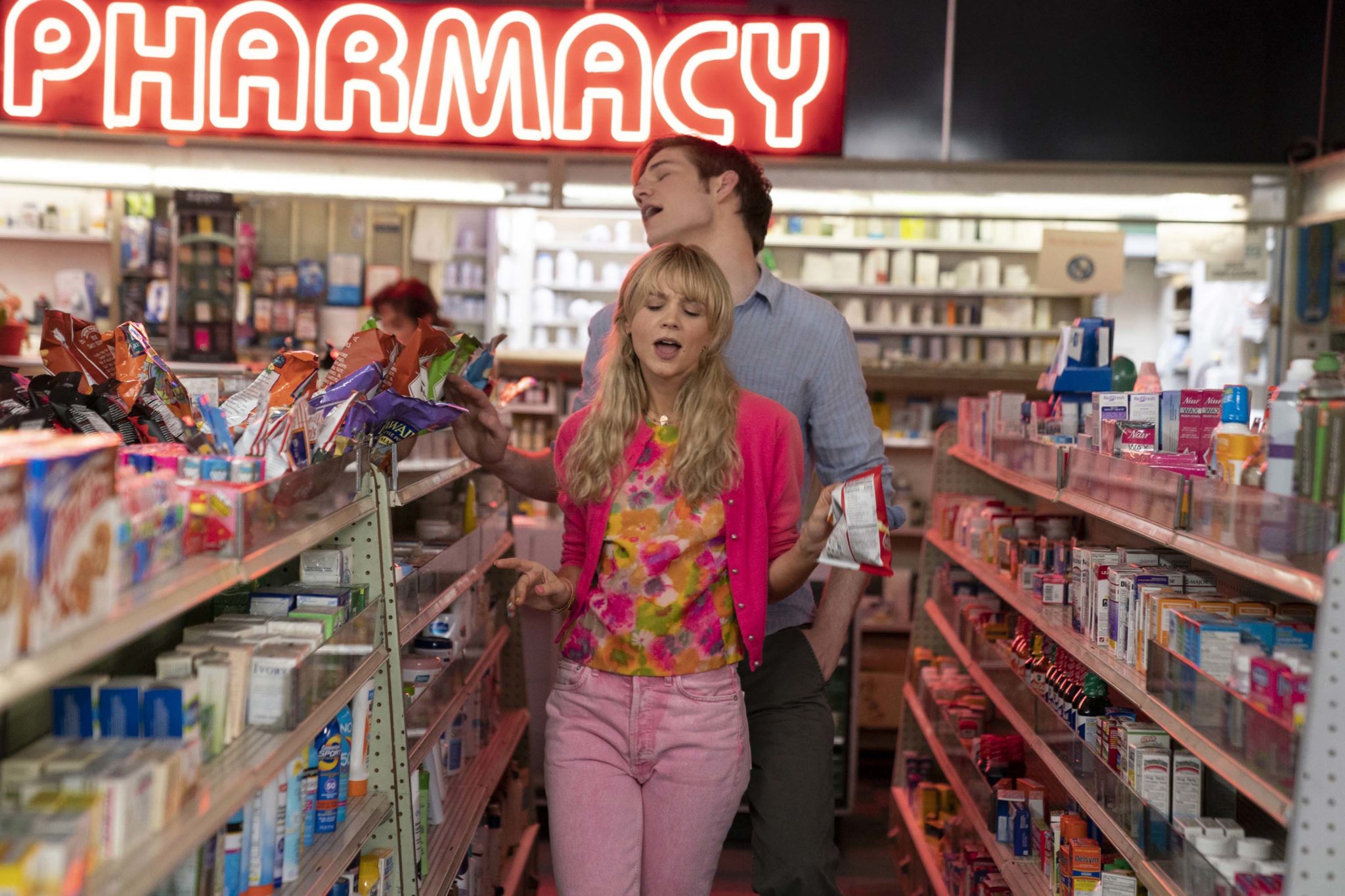 Carey Mulligan (front) stars as "Cassandra" and Bo Burnham (back) stars as "Ryan" in director Emerald Fennell's PROMISING YOUNG WOMAN, a Focus Features release. Credit : Merie Weismiller Wallace / Focus Features

JUDAS AND THE BLACK MESSIAH (Dir. Shaka King)
Produced by Black Panther director Ryan Coogler, Shaka King's new drama follows FBI informant William O'Neal (LaKeith Stanfield), who infiltrates the Illinois Black Panther party when J. Edgar Hoover (Martin Sheen) fears charismatic leader, Chairman Fred Hampton (Daniel Kaluuya), will emerge as a Black Messiah. O'Neal lives in fear of discovery and cannot escape the deadly trajectory of his betrayal.
Advertisement
Will he align with the forces of good? Or subdue Hampton and the Panthers by any means ? Also starring Jesse Plemons, Dominique Fishback, and Lil Rey Howery, this story of America's historical fear of Black empowerment feels depressingly prescient.
ARRACHT (Dir. Tomás Ó Súilleabháin)
The release of Tom Sullivan's famine drama Arracht has been repeatedly delayed due to Covid and is now set for  2021. The film has already gained acclaim and anticipation, having been selected as Ireland's entry for the Oscars' Best International Feature Film category (formerly Best Foreign Language Film.)
Set in 1845 at the height of the Great Hunger and told entirely through Irish, it follows Cólman Sharkey (Dónall Ó Healaí), who must leave his home after being accused of a crime. Layer in themes of family, redemption, colonisation and traditional thriller elements – as well as striking cinematography - and you have a film well worth waiting for.
THE MAURITANIAN (Dir. Kevin Macdonald)
After a year that revealed so much of America's belief in itself as a country valuing freedom, diversity and justice to be utterly ludicrous, The Mauritanian will again highlight the country's hypocrisy. Based on Mohamedou Ould Salahi's New York Times best-selling memoir, documentarian Kevin Macdonald directs this legal drama that centres on a Guantánamo Bay detainee.
Captured by the US Government, Salahi (Tahar Rahim) languishes in prison for years without charge or trial. Losing all hope, he finds allies in defence attorney Nancy Hollander (Jodie Foster) and her associate Teri Duncan (Shailene Woodley). Together, they face countless obstacles in a desperate pursuit for justice.
Advertisement
Their controversial advocacy, along with evidence uncovered by formidable military prosecutor, Lt. Colonel Stuart Couch (Benedict Cumberbatch), eventually reveals a shocking and far reaching conspiracy.

PINNOCHIO (Dir. Guillermo del Toro)
This has been one of Guillermo del Toro's long in-development passion projects, and it will also be his first foray into animation. The stop motion-animated adaptation of the classic tale will reportedly be a tad darker than we may be accustomed to, with del Toro calling it a "brutalist fable."
Based on the classic Carlo Collodi story, the feature follows the extraordinary journey of a wooden boy magically brought to life by a father's wish. Set during the rise of fascism in Mussolini's Italy, del Toro's Pinocchio is a story of love and disobedience, as Pinocchio struggles to live up to his father's expectations.
Like The Power Of The Dog, this was picked up by Netflix and given a 2021 release date; whether or not the streaming giant will put it in theatres remains to be seen.
Advertisement
THE POWER Of THE DOG (Dir. Jane Campion)
In her follow up to Top Of The Lake: China Girl, Jane Campion joins forces with Netflix to direct The Power Of The Dog, based on the 1967 novel of the same name. The plot centres on a pair of wealthy Montana brothers, cruel and brilliant Phil (Benedict Cumberbatch) and gentle George Burbank (Jesse Plemons).
Together they are joint owners of the biggest ranch in the valley. When George secretly marries local widow Rose (Kirsten Dunst), a shocked and angry Phil wages a sadistic, relentless war to destroy her entirely, using her son Peter as a pawn. A drama exploring masculinity, family and greed in rural America.
BLISS (Dir. Mike Cahill)
With a Matrix-meets-Black Mirror premise, Owen Wilson and Salma Hayek star in the new Amazon Prime mind-bender from writer-director Mike Cahill (Another Earth).
A love story, a father-daughter story, and a sci-fi tale about life in a simulation, Bliss sees deadbeat Dad Greg (Wilson) meet Isabel Clemons (Hayek), the doctor who reveals the truth about his life: she has been creating ugly, drab simulations that people can escape into – allowing them to appreciate the beauty of real life when they return to it.
But when the lines between real life and simulation begin to blur, Greg has to choose which reality he wants to live in. Is it just me or is this sounding like a metaphor for Covid, and how we're never going to take the sweaty crowdedness of an obnoxiously loud bar for granted again?
Advertisement
THE HAND OF GOD (Dir. Paolo Sorrentino)
Paolo Sorrentino will return to his hometown, Naples, for this Netflix feature. Sorrentino, whose film The Great Beauty won an Academy Award in 2014 for Best Foreign Language Film, will both write and direct, though further details about the project remain sparse. However, the director has remarked that it is a very "personal" film, and the film's title seems to be a reference to Argentinian footballer Diego Maradona, who was a character in Sorrentino's 2015 film Youth.
In an interview with Variety in 2015, Sorrentino said of the football legend: "Aside from all the things I've said before about Maradona, he involuntarily saved my life. I lost my parents when I was 16 in an accident with the heating system in a house in the mountains where I always used to go to with them. That weekend, I didn't go because I wanted to go watch Maradona and Napoli play a match in Empoli, and that saved me."
DON'T LOOK UP (Dir. Adam McKay)
Don't Look Up is written and directed by Adam McKay, who's responsible for movies such as Vice, The Big Short, Anchorman and Step Brothers. McKay has a talent for razorsharp satire and assembling stellar casts, and Don't Look Up seems to be combining all his greatest strengths.
The political satire stars Leonardo DiCaprio and Jennifer Lawrence as two low-level astronomers, who must go on a giant media tour to warn mankind of an approaching comet that will destroy planet earth. The film also features Jonah Hill, Tyler Perry, Timothee Chalamet, Ron Perlman, Cate Blanchett and Meryl Streep, with cameos from Ariana Grande, Kid Cudi, Melanie Lynskey, Himesh Patel, Matthew Perry and Tomer Sisley.
It's the first time DiCaprio has starred in a movie produced by Netflix, and undoubtedly the subject matter attracted him, given his decades-long passion for environmentalism.
Advertisement
RELATED