Sacha Baron Cohen's Borat skit was met with a mixed reaction as he targeted Donald Trump and Kanye West for their antisemitic comments on Sunday night.
Sacha Baron Cohen took take to the stage at the 45th Kennedy Centre Honours on Sunday night, in the guise of his infamous character Borat – and used the platform to call out disgraced former president Donald Trump and rapper Kanye West on their anti-semitism.
Borat, Cohen's alternative identity as a Kazakh television journalist, began with Trump. "Where are you, Mr Trump?"
With the audience on his side in fits of laughter, Borat spotted current president, Joe Biden, and continued, "You don't look so good. Where has your glorious big belly gone? And your pretty orange skin has become pale."
With a wide grin spreading from ear-to-ear, President Biden and his wife Jill listened to Cohen's risque stand-up as he went on to question if Trump's changes in physical appearance were due to Russian leader, Vladimir Putin, and the nerve agent novichok.
The comedian – who is himself of Jewish background – then turned his attention to the recently publicised instances of anti-semitism involving Kanye West. The rapper – who recently brought Holocaust denier Nick Fuentes to dine with Trump at his Mar-A-Largo estate – has been banned from twitter for praising Adolf Hitler and posting a picture of a swastika.
Advertisement
"Before I proceed," Borat complained, "I will say I am very upset about the antisemitism in US and A. It not fair. Kazakhstan is No 1 Jew-crushing nation. Stop stealing our hobby. Stop the steal! Stop the steal!"
Some of the audience burst into laughter; others sat in uncomfortable silence.
"Your Kanye," Borat continued, "he tried to move to Kazakhstan and even changed his name to Kazakhstanye West. But we said: No, he too antisemitic, even for us."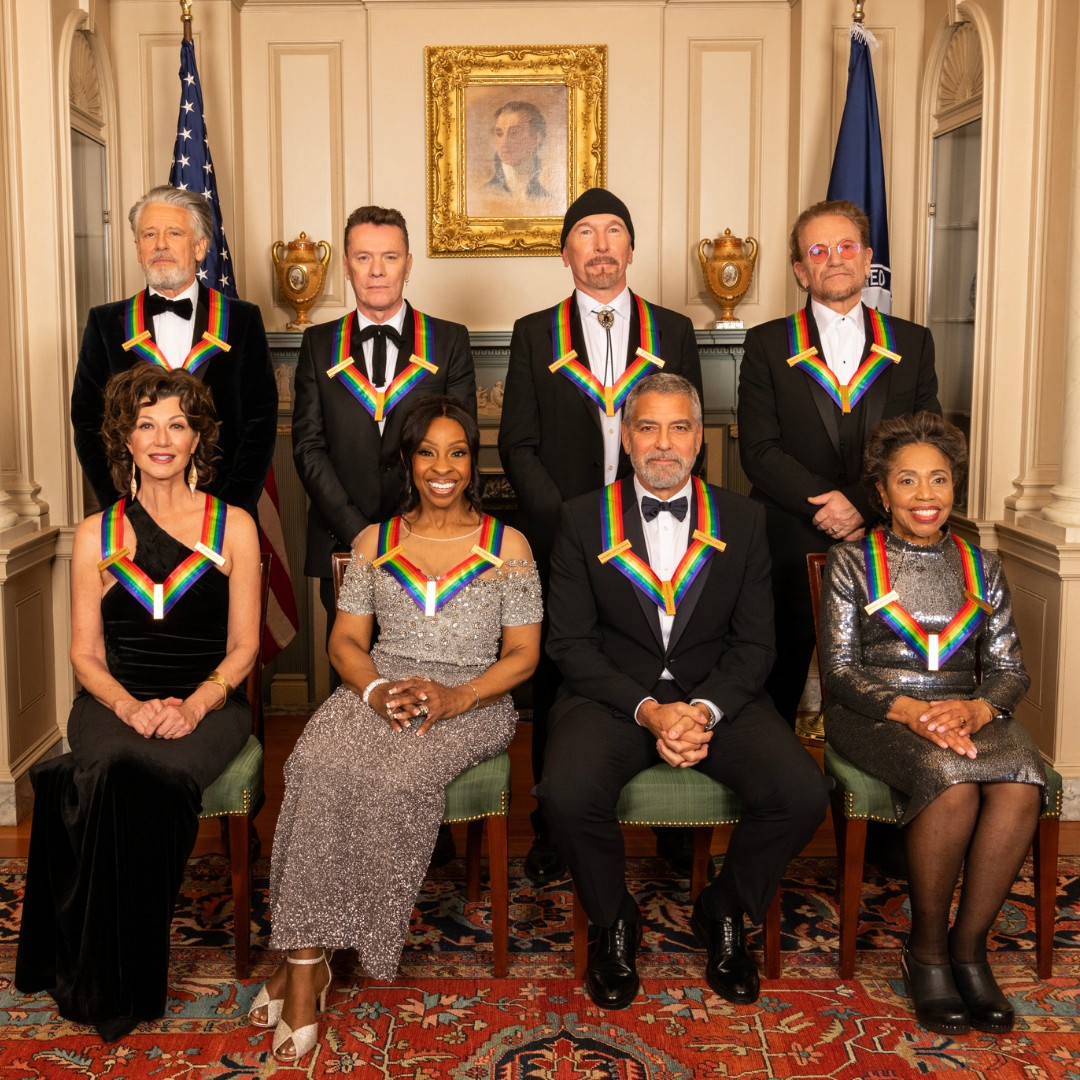 Going on to sing a rendition of U2's 'With or Without You'– and with the band members themselves present at the ceremony – the 51-year-old comedian changed the lyrics, and the title, of the well-known U2 hit 'With or Without You' to 'With or Without Jews'. Breaking off mid-song, Cohen asked the audience "What's the problem? They loved this at Mar-a-Lago. They chose Without Jews."
The night's final tribute was to Dublin's own U2, who – since they formed in 1976 – have won 22 Grammys, among hundreds of other awards. In tribute to the rock group, Eddie Vedder performed 'Elevation' and 'One', while the Ukrainian singer Jamala joined Hozier and Brandi Carlile to perform 'Walk On', to close the evening's proceedings.
Actor Sean Penn, described the legendary Irish group as "four scrappy Dublin punks" who were also "great musical poets of the ages."
Advertisement
In addition to U2, George Clooney, Gladys Knight, singer-songwriter Amy Grant and composer Tania Leon were also honoured at the awards ceremony.
Julia Roberts, who has co-starred with Clooney in several movies, wore a floor-length gown with framed pictures of the honoured actor, calling him a "Renaissance man."
From within the political sphere, Paul Pelosi, husband of the House of Representatives speaker, Nancy Pelosi, received a standing ovation, in what was his first public appearance since being attacked in October at his San Francisco home.
RELATED
Lifestyle & Sports
01 Feb 23