EMERGE music festival with run Saturday 27th and Sunday 28th of August across multiple stages - with a range of ticket options available.
It's less than one month to go 'til Eric Prydz, Disclosure, Peggy Gou, Patrick Topping, and many more take to the stage at EMERGE Music Festival, Belfast.
EMERGE will take place for the first time on the bank holiday weekend of August 27th to August 28th at Boucher Road Playing Fields, with the organisers hoping to make it an annual event.
The brand new festival is a two-day multi-stage outdoor event, ran by the same teams behind long-running Belfast club brand Shine and Belsonic Festival.
The festival will see some of electronic music's biggest acts coming together with Eric Prydz, Peggy Gou and Michael Bibi headlining on day one, and Disclosure, Patrick Topping, Kettama and Mall Grab taking to the main stage on day two.
Also performing are the likes of DJ Seinfeld, Dusky, Special Request, FJAKK, Rebekah and many others.
Advertisement
With less than a month to go before the festival, the organisers have announced through a press release, that a VIP stage has been added to the event.
The press release read: "A bespoke VIP stage has now been added due to phenomenal demand, and a very limited number of VIP Tickets & Upgrades are on-sale now. The stage will feature a huge lineup of all Irish talent, with full details to be announced in the coming days."
Stages will have bespoke sound, lighting, and AV installations, showcasing a high-quality production and immersive audience experience.
Alan Simms, Co-Promoter and Director of EMERGE Music Festival spoke about the growing electronic scene in Belfast. Simms explained: "The electronic music scene is one that has grown steadily in Belfast over the 30-odd years that I've been promoting in the city with my Shine brand, and it's grown exponentially over the last few years.
"Belfast is one of the most fertile and dynamic scenes of its kind in the UK or Ireland. We've promoted many large scale outdoor electronic events in recent years but always wanted to do a huge multi stage event of this kind.
"Feedback from our audience suggested that a huge appetite exists for a unique production of this kind in Northern Ireland. We're lucky to have some of the world's biggest names in dance music on our inaugural lineup of EMERGE Music Festival, most of whom we've been working with since their very first club shows in the country."
With a capacity of 20,000 each day, EMERGE will be the biggest event of it's kind in Ireland.
Advertisement
Tickets for EMERGE Music Festival are on-sale here, with day tickets, weekend tickets, and VIP tickets/upgrades available.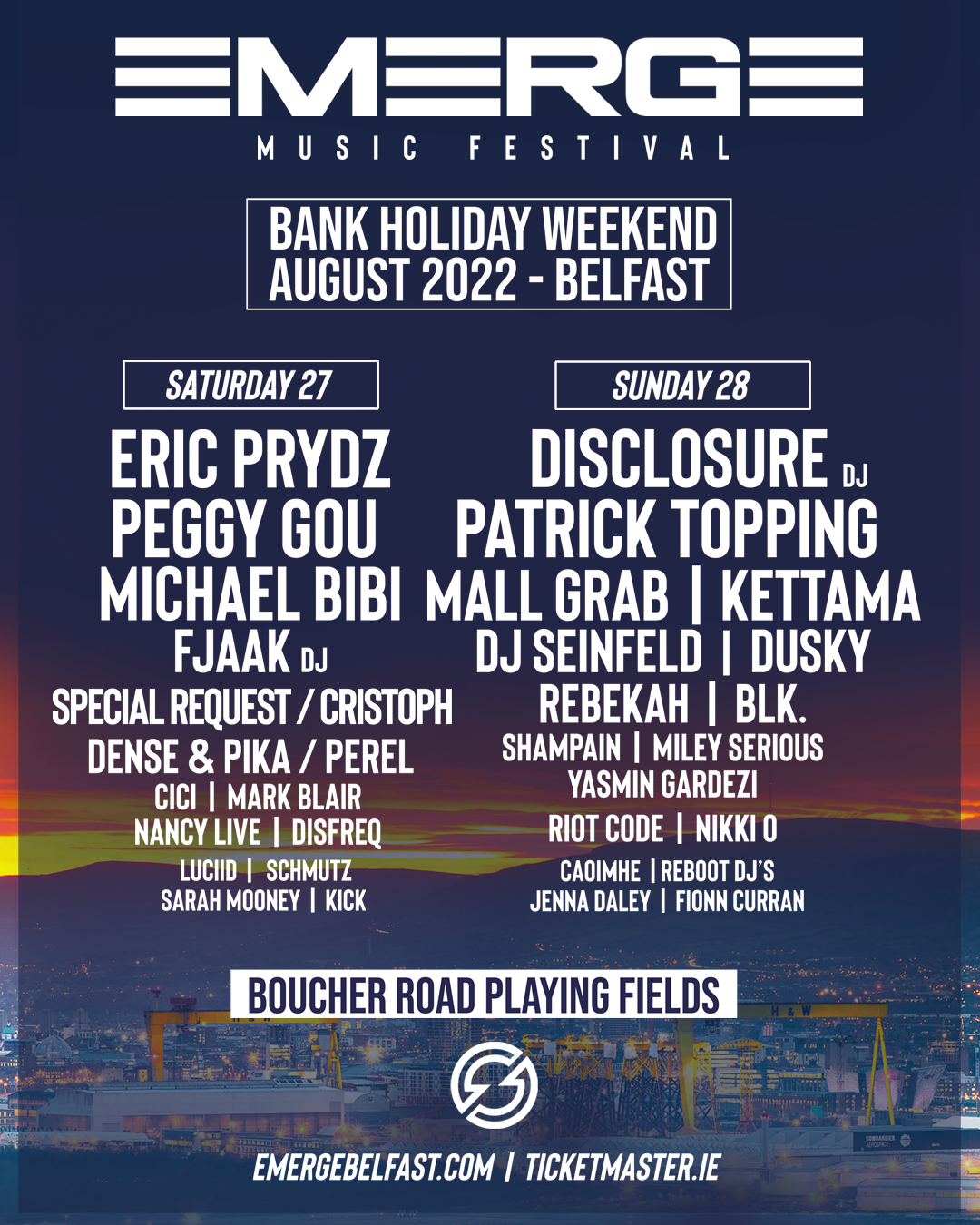 RELATED