Baby Queen: "Gen Z is a lot of things that my music also is: funny, self-deprecating, satirical, witty, honest"
Fresh from touring with Olivia Rodrigo, and basking in the success of procrastination anthem 'Lazy', anti-popper Baby Queen reflects on her Gen Z super-fans, being part of Netflix's Heartstopper and dealing with writer's block. 
"Keep writing music. Write as much as you can as often as you can, don't feel hopeless and just keep believing in yourself. Also, find better friends and drink more water."
That's 25-year-old anti-pop songstress Baby Queen's advice – to herself. The version of herself who moved from her native South Africa at just 18 to London with a naive dream of pursuing music.
It's a tell-tale narrative, but Baby Queen's story involves a bright plotline. After signing with Polydor Records in 2020 and releasing her debut mixtape the following year, The Artist Also Known As Arabella Latham's star is most definitely in the ascendant. What's more, her fans aren't just fans – they're super-fans.
"Funny, intelligent, passionate, deep-thinking and brave," says Baby Queen of her followers. "They are the best."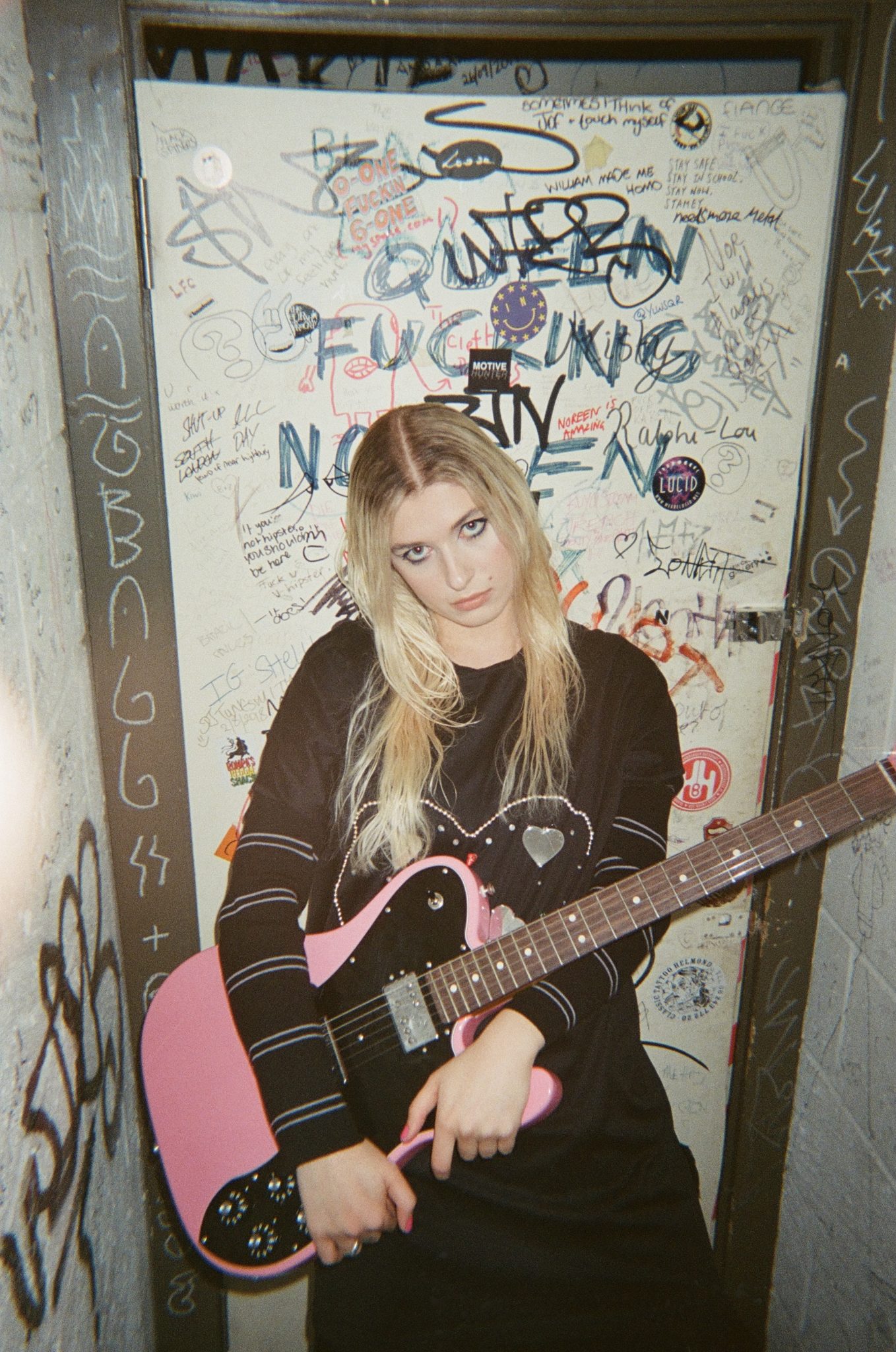 Advertisement
Her songs aren't just songs – they're anthems. Soundtracks crafted for a generation that finds solace in the product of relatable turmoil.
"I think Gen Z is a lot of things that my music also is: funny, self-deprecating, satirical, witty, honest," Baby Queen says, reflecting on her appeal in the age of the internet. "I really do share the mindset of this generation, and I've just been saying things that other people are feeling or thinking."
It's that particular aspect of her confessional songwriting that has amassed such a loyal fanbase for Baby Queen.
"My favourite lyrics are in a song I wrote for the mixtape called 'I'm A Mess,'" she reflects. "It goes, 'I know that pain can take me places that love has never been… I know instead of getting wasted, I should be getting clean/ Cause when I try to drown my sorrows, the fuckers learn to breathe underwater'."
WAIT FOR INSPIRATION
Since her out-of-the-blue emergence in 2020, Baby Queen has released Yearbook, a 10-track mixtape laced with catchy, gritty hooks. But it was the artist's debut single, 'Internet Religion', with its quippy, modernity-loathing lyricism, that truly announced the arrival of a special talent.
How would Baby Queen define her sound? "Scuzzy, witty grunge-pop," she suggests.
Advertisement
As a queer artist herself, the South African singer-songwriter's involvement in the LGBTQ+ drama series Heartstopper, based on the Alice Oseman graphic online book, was a perfect match.
"I loved this show after five minutes of the first episode," she enthuses. "I can't believe that young people have access to such a beautiful and important story. I identify and relate to so many of those characters."
Written specially for the series, Baby Queen's 'Colours Of You' boasts over 15 million streams since the premiere. Heartstopper brought together young people around the world who felt seen by its celebration of queer romance.
"There was something really serendipitous about Heartstopper coming into my life," Baby Queen says. "It was the most natural fit and I feel really proud to be a part of it."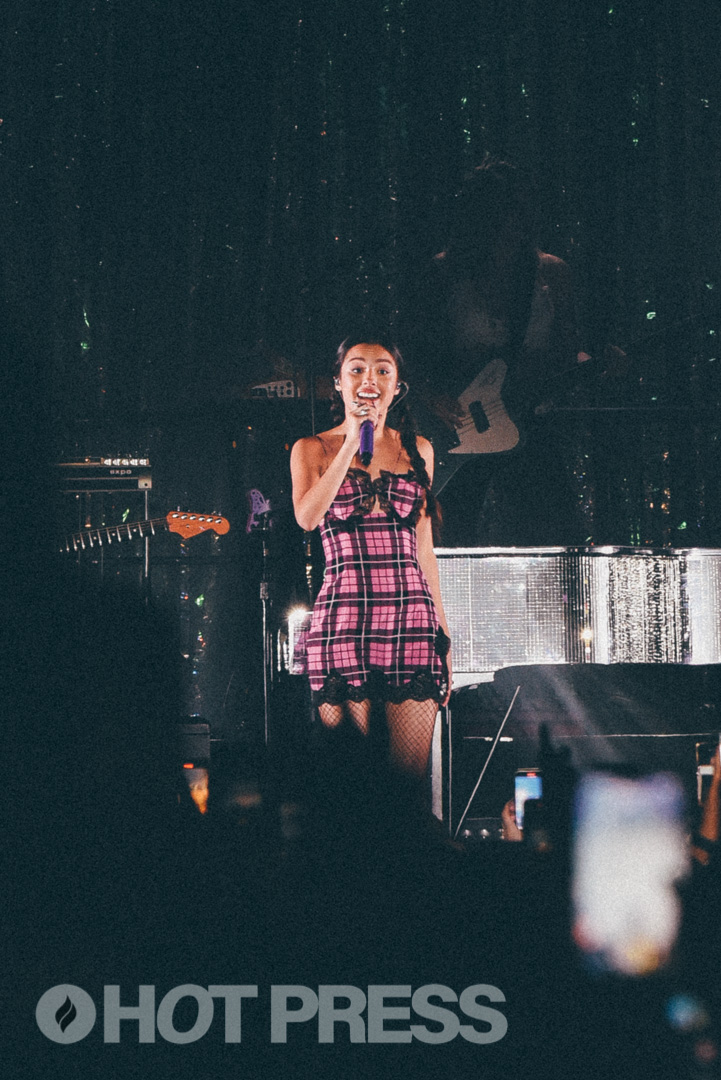 Creating is an art best done in isolation – at least that's been the case for Baby Queen. That realisation dawned on her when she went on the road as support to pop sensation Olivia Rodrigo.
"I'm more introverted than I thought," she notes. "I actually find it really hard to write and be creative when I'm touring. I'm my most creative self when I'm bored and I haven't been bored for a while, so it's definitely been difficult. Playing shows and being on social media requires a different headspace than creativity."
Advertisement
When it comes to songwriting Baby Queen doesn't have a formula.
"It's always different," she considers. "I like to wait for inspiration to strike, but it only strikes one day a year, so it's not very rewarding. I try to find something I feel strongly about. If I can get a strong feeling, whether it's lyrically or in the music, I can see something through. I just have to be obsessed enough to finish it."
A WORK IN PROGRESS
Such was the case with her most recent single 'Lazy', a kind of love letter to procrastination, which Baby Queen debuted to Irish fans earlier this year in Whelan's, Dublin.
"I made the instrumental track in the studio with my producer," she elaborates. "It was really clear what it wanted to become. I've always loved the idea of a slacker anthem – it's just the laziest sounding piece of music. At the time of writing the song, I was experiencing bad writer's block and couldn't bring myself to get anything done. I was frustrated and ready to rip myself to shreds I guess!"
As for touring, for Baby Queen, the roses outnumber the thorns.
Advertisement
"There were a lot of really magical moments," she says of the Olivia Rodrigo tour. "Being on stage in front of 8,400 people in Brussels was incredibly surreal for me. There was this really good day where my band and I stopped off by the river in Switzerland and I found loads of cool stones. The night out after the Cork show was pure madness too! Irish fans are the loudest."
Baby Queen has taken on the mantle of Gen Z anti-pop hero.
"It makes sense, I write about life in the age of the internet, or in the age of right now," she says. But the singer-songwriter also carries an intergenerational appeal, attracting the approval of rock icon Courtney Love.
"I've been a fan all my life," she says of Love – her favourites also include Stevie Nicks, Matty Healy, Taylor Swift, Billy Corgan, Annie Clark and Damon Albarn.
As for her current artistic status, Baby Queen is happy to consider herself a work-in-progress.
"I'm still trying to figure it all out."
• The Yearbook and 'Lazy' are out now on Polydor.
Advertisement
Read more interviews in the new issue of Hot Press, out now.