WIN: Basecamp Tent, Sleeping Bags and Sleeping Mats worth €280 for festival season
Sign up to become a Basecamp Member for 10% off!
Just in time for festival season (see you soon, Electric Picnic, Sea Sessions, Indiependance, All Together Now & Body & Soul), Hot Press are giving away a superb prize from one of Ireland's best outdoor stores: Basecamp.
A brilliant array of events taking place all across the country over the weeks and months ahead. After two years away from live music, even the seasoned veterans among us might be a little rusty when it comes to preparing for a big weekend away...
The company was built for adventures by adventurers, so you can put your trust in their brilliant products. With tickets flying out the door for the country's biggest music festivals, you'll need your best gear at the ready for the experience. Located on Jervis Street in Dublin 1, they've got something for everyone, whether you're trekking in the hills, going on holidays – or, in our case, heading off to a festival. With their extensive knowledge of all things camping (including festival camping!) Basecamp's team of expert staff are there to offer advice on the best gear for you.
Of course, with quality comes high prices. Instead of saving every penny, why not try to win €280 worth of camping equipment, be it for Electric Picnic or a weekend in the woods? Basecamp are offering you the opportunity to win a Blazar 300 Tent from Easycamp worth €120; two Campion Sleeping Bags from Outwell, retailed at €50 each and two Siesta Sleeping Mats from Easycamp at the price of €30 each!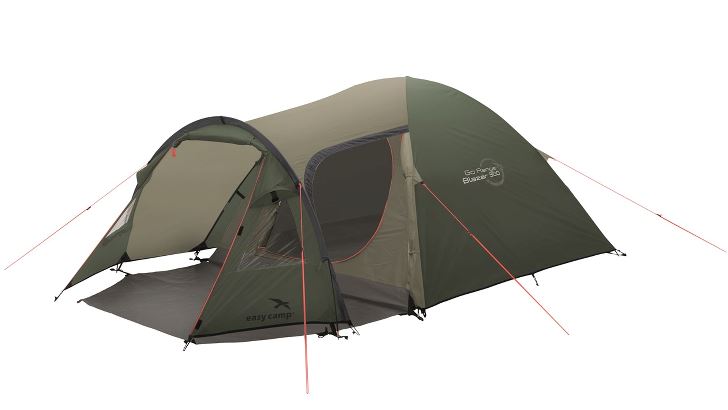 The Blazer 300 the ideal festival tent, complete with a large front door and even a porch for chilling with friends in the sun between gigs. It sleeps three people, with a side door flanked by windows and rainproof air vents matched by a large vent at the tent rear.
Sign up to become a Basecamp Member for 10% off, with the company also offering free shipping on orders over €30. Visit basecamp.ie for more information.