JOIN IN AND WIN: Kick off St Patrick's Day with a Limited Edition Nowhere FC Jersey and Jameson Cocktail Kits
To be in with a chance of winning these fantastic prizes, simply fill out the form below.
To kick off the St. Patrick's Day celebrations, Jameson are inviting you to connect and join in – by giving away a limited edition Nowhere FC jersey and a Jameson Cocktail Kit  to one lucky winner. A further two winners will also be walking away with a Jameson Cocktail Kit each.
Earlier this month, Nowhere FC, the internet-based "artificial football club" loved for its real-world hand-dyed jerseys, unveiled this season's home-away-goalkeeper shirts, with Jameson as the official shirt sponsor. A limited supporter collection – featuring scarves, bucket hats, badges and pins – is being released to celebrate this borderless collaboration.
Football fans might recognise that much of the inspiration for this collaboration between Jameson and Nowhere FC was taken from the golden era of Irish football, Italia 90.
The design strikes the balance between futuristic and heritage just right. Each of the three shirts feature bespoke hand-dyed patterns in bright colours and is adorned with Jameson heraldry and the lucky number 7 – as well as elaborate jacquard taping, woven patches, commemorative labels and flocks.
So give the 'Kiss Me I'm Irish' t-shirts and shamrock suits the boot this year – and get yourself kitted out with this limited edition Nowhere FC jersey instead.
If that's not exciting enough, the Jameson Cocktail Kit has everything all you budding master mixologists need to impress your mates with your cocktail skills. The kit is rolled up in a canvas map of Smithfield – the home of the original Jameson distillery.
Along with the canvas roll-up, the kit contains a Boston Shaker with two tins, a Hawthorn Strainer, Bar Spoon, Wooden Muddler and a Jameson jigger (50ml/25ml).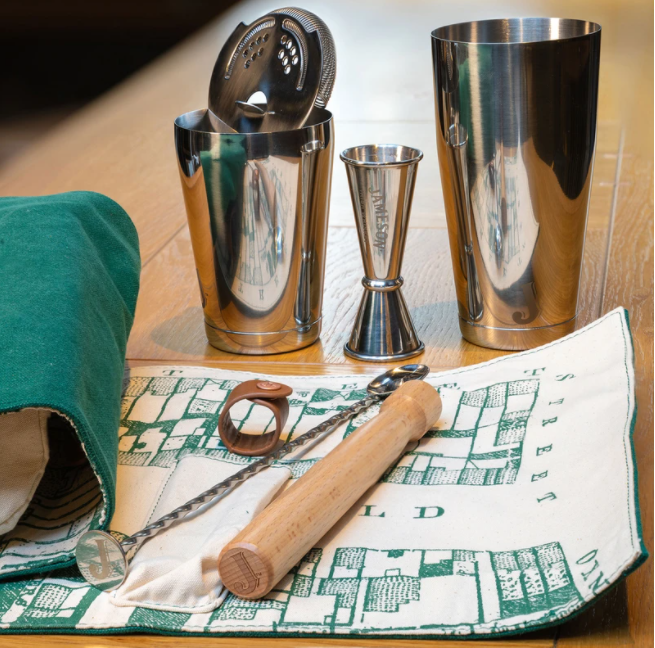 To be in with a chance of winning these fantastic prizes from Jameson, simply fill out the form below:
This St. Patrick's Day, on the most untraditional traditional day there is, Jameson Connects is bringing together some of the most thrilling names in R&B, hip-hop and spoken word for a unique global celebration – featuring Irish artists Denise Chaila, Kojaque and Unorthodox Coolock, as well as Canadian acts Jessie Reyez, Junia-T and Savannah Ré. So join in, wherever you are!
• Jameson is about connection. Connecting you to your favourite artists. Local scenes to global communities. And everything in between. Join in wherever you are this St. Patrick's Day at Jameson Connects.
• Register to Join In for this Global Live Stream of Jameson Connects Jessie Reyez and Friends, kicking off tomorrow, March 17 2021, at 8 PM GMT at Jameson Connects.
Please enjoy Jameson responsibly. Visit drinkaware.ie