WATCH: We meet the star of ANNE+, a Dutch coming of age drama that is making international waves
Hanna van Vliet talks to Stuart Clark about the need for more positive lesbian representation on TV; how everybody on the show initially worked for free; and the Orange Is The New Black icon who's joined the cast!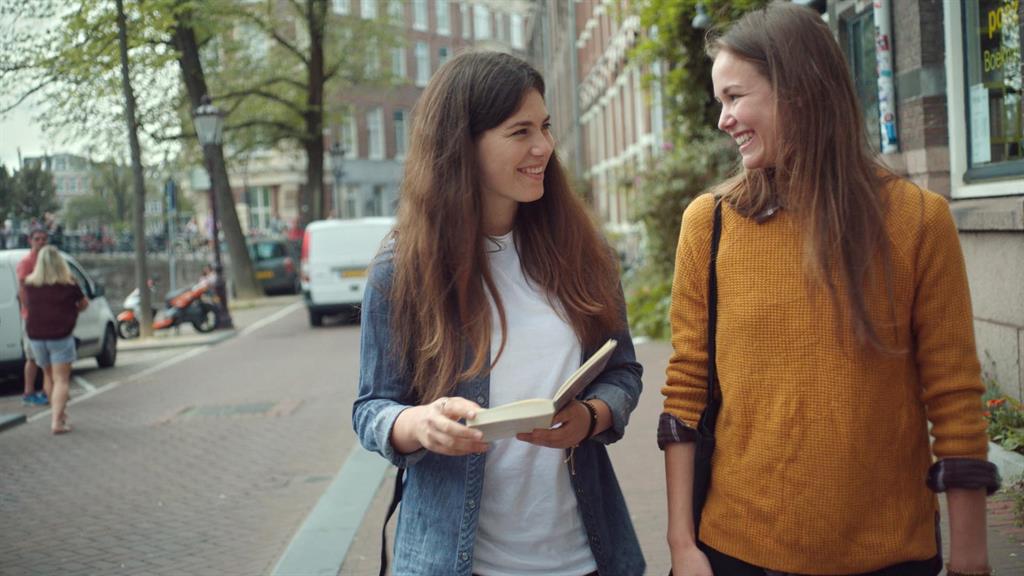 I don't know if there's anyone on the radio in Holland called Johan Van Der Duffy, but if there is I'm sure his listeners are apoplectic about ANNE+, a drama series documenting the turbulent lesbian love life of the titular Amsterdammer.
The 24-year-old Anne is played with much panache – and no little allure – by Hanna van Vliet who is also one of the show's co-creators.
Having already caused a major stir back home, seasons one and two are now available for freeview binging courtesy of the Walter Presents strand of Channel 4. The episodes are short – twenty minutes – and extremely sharp.
"I created it with the director, Valerie Bisscheroux, and writer, Maud Wiemeijer, because we knew that there are so many teenagers and other queer people around the world craving for something that relates to them directly," Hanna reflects. "There's a big lack of positive lesbian representation. Normally the characters are having struggles with their sexuality or they're being bullied or are generally unhappy. Often it's a 'forbidden love.' There aren't many examples of people just happening to be gay and leading their lives."
Forget low, the first few episodes of ANNE+ were zero budget.
"We couldn't get backing at first because we were three unknowns and it was considered niche, so we started off by crowd funding," Hanna resumes. "Everyone who worked on ANNE+ early on did so voluntarily. They understood the importance of the project. Then we were approached by a company called Millstreet Films who understood that this isn't a series about being queer – it's about love and work and relationships. They managed to involve a big Dutch broadcaster so we got the mainstream audience we always wanted."
Advertisement
Holland has a reputation for being über liberal but, stray beyond the big cities, and there's a still a deep vein of conservatism.
"You're right," Hanna agrees. "Coming out in Amsterdam is probably different to coming out in some rural parts of the country. We don't always live up to our reputation as being the number one queer-friendly country in the world. You have to keep working at it."
Before lockdown kicked in, Hanna clocked up serious air miles promoting ANNE+ internationally.
"Last autumn I attended a screening at a festival in San Paolo," she recalls. "I was a bit nervous at first because all the other films were very political, and we're more of a happy show from a privileged place, but people were moved and touched by it. They were saying, 'It was fun to watch. No one died. Thank you for making my day a little bit lighter because as a queer person in Brazil most of my days are not so light.' It's a scary time for them – their President is not very kind – and there's a lot of violence.
"We've had a similar response from countries like Kenya and India where, again, being visibly queer can be difficult and dangerous. Despite that, there's a lot of activism and determination to change things."
Something amazing happened when ANNE+ screened in Bangkok.
"Yeah, at the end a woman stood up at the end and came out," she beams. "Valerie was there and said it was an incredible moment."
Hanna, Valerie and Maud are so struck by this international sense of solidarity that they're willing to let other people make their own versions of ANNE+.
Advertisement
"It would be very interesting if there were a filmmaker in, say, Kenya who would like to use our concept to make their own ANNE+ in what is a very different culture. We're open to offers in that respect."
ANNE+'s international fan club also includes Orange Is The New Black star Laura Gómez who cleared her schedule to guest in the second series, which has gone worldwide.
"Our first season was shown at the Tribeca Film Festival in New York, which of course was amazing," Hanna enthuses. "After seeing it, Laura, who was there with another project, came up and gave Valerie and Maud a hug and told them how wonderful she thought it was. She joked about whether she could play a tree in the second season. We were like, 'Yeah, you could play a tree or do a little bit more…' and wrote the part of Cecilia for her. We weren't sure if this was really going to work out but then she flew to Amsterdam and was just amazing."
Asked for a final reflection on why ANNE+ has struck such a global chord, Hanna says: "It's made by queer people who really understand what it's like. We're telling our stories. At first I was a bit hesitant about it, but being the lead in this lesbian show – and, of course, being lesbian myself – I've become a role model for a lot of young girls. I take that position seriously whilst still having a lot of fun making the series."
Watch ANNE+ for free at https://www.channel4.com
Advertisement