Live Report: Amadou & Mariam with The Blind Boys Of Alabama at the National Concert Hall, Dublin
Malibama Sing Song. Pictures: Colm Kelly
This is a good idea, whoever dreamt it up. Malian husband and wife team Amadou and Mariam and Talladega Knights The Blind Boys Of Alabama have more in common than it might seem at first glance. The infectious music that Mr and Mrs Bagayoko produce has been described as "Afro-blues", although there's a lot more going on in it than that, and what is gospel music but the blues in a shirt and tie with its hair combed down for Sunday service? Alright, I may be over-simplifying there but as the theologian James Hal Cone put it "the blues and the spirituals flow from the same bedrock of experience, and neither is an adequate interpretation of black life without the other." It's all coming from the same source.
People are in good form outside the National Concert Hall, the steps swarmed with happy faces, enjoying a drink in the sunshine, and they bring that atmosphere inside with them come showtime. "I'm at home tonight, I'm in Dublin!" beams Jimmy Carter, the last man standing from the original Blind Boys era, an act who released their first single three years after the last world war ended. Alongside their guitar player Joey Williams, the four Blind Boys form a phalanx across the front of the stage, chaired in a row in matching red jackets. Carter tells us to sit back and relax and Williams picks out the opening chords of Curtis Mayfield's 'People Get Ready' which cycles through their vocal ranges and allows the beautiful falsetto of Paul Beasley to shine for the first time this evening. 'Spirit In The Sky' doles out some of the resurrection boogie, there's just bass and drums playing along with Williams but that, as Mavis Staples proved a few weeks back, is all you really need.
The Chi-Lites' 'There Will Never Be Any Peace (Until God Is seated At The Conference Table)' gives Beasley another excuse to properly go for it, his clear-as-a-bell, pleading vibrato earning him his own round of applause. From smooth seventies R&B back to a spiritual that has been recorded by everyone from Charlie Patton to Johnny Cash: "I'm on my way to heaven, I shall not be moved."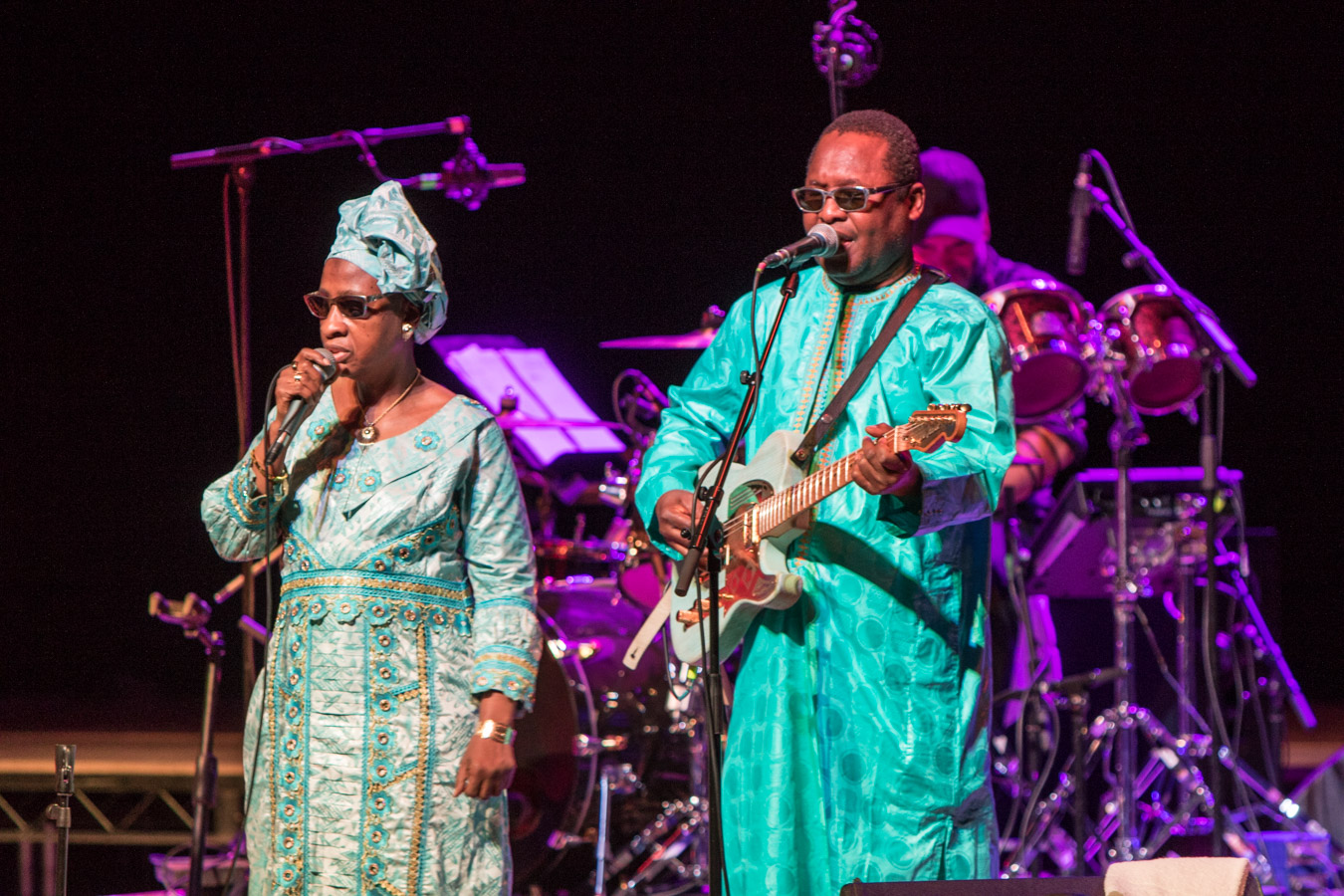 "Let's bring out my friends from Africa" Amadou and Mariam look glorious, their nearly matching outfits a riot of turquoise and glitter. The title track from their 2008 album Welcome To Mali is a good fit for this inter-continental supergroup, the Blind Boys offering vocal support to the song's groove before Amadou throws out his first, effortless-looking, guitar break. You can feel it building in the air, toes are being tapped, arm rests are being drummed on, The National Concert Hall isn't exactly designed with audience-based shape-throwing in mind, but something is going to give. They manage to stay seated during the new collaboration 'Bamako To Birmingham' – after which the Blind Boys depart the stage -  but once the opening riff of 'Mon Amour, Ma Cherie' morphs into that undulating desert groove, people just can't take it anymore and move out to the aisles to start seriously getting down. I expected them to be quickly told to cut it out but, and fair play to the NCH staff, they were left to enjoy themselves. They weren't doing anyone a bit of harm as the song kept swaying even when it broke down to just bass and drums before Amadou put his guitar through a flanger. The pace then quickened only to stop suddenly to a huge roar.
Advertisement
The bassist has now switched over to a ngoni, and Williams - as fine a guitarist as he is - is sat on a stool, concentrating to keep up with Amadou's nubile fingers during 'Dogons' wherein they swap solos – the desert blues and its more urban descendant. 'Mokou Mokou' begins slowly, a mix of gently picked guitar and ngoni notes, but two snare clatters and the beat changes, Amadou using this as an excuse to step on the wah-wah pedal. Mariam sings the possibly helium-powered 'Sabali' to her husband, declaring her love several times, and then things speed back up again, More brave souls rise from their seats to shake it, they're up at the front and the other side now, it's like a gentle but unstoppable wave, rolling back from the stage .
Jimmy Carter returns to knock the crowd back into their seats with the Tom Waits penned theme tune from The Wire, 'Way Down In The Hole'. Amadou and Mariam are helping out but this belongs to Carter, hollering louder and louder as the song reaches its conclusion, pleading for help, "don't pay heed to temptation, for his hands are so cold, you gotta help me keep the devil, way down in the hole". It's a voice driven by an enviable faith, a voice with Jesus behind it, a voice that's ready to stand up to whatever the man below is planning to throw.
'Two Cultures' One Beat' – a new song they've recorded together – couldn't really stand up to what went before it, although the harmonies and the playing are of course terrific, and it's accepted politely. The stage is now the Blind Boys' and the power of 'Amazing Grace' would have Richard Dawkins bending the knee to testify. It's Benjamin Moore's turn in the spotlight, showing Bill Withers how to really hold a note, spinning around, nearly missing his chair, and giving out a James Brown "HEY!" to finish before letting us know that he's "beginning to feel good." 'If I Had A Hammer' transforms the NCH into some class of joyous revival meeting, the crowd up and clapping as one, and the bluesy shuffle of 'I Can See' keeps them at it. Amadou and Mariam rejoin the fray for a celebratory finish, with 'Wily Kataso' from the Folila album, Mariam insisting the we join her of the "Ah-Ha!" refrain.
There's a lot of warm grinning going on as the crowd file back out the door. On the surface The Blind Boys Of Alabama and Amadou & Mariam might seem worlds apart but whether you're from Mali or Mobile, Birmingham or Bamako, or even Dublin town, everyone knows that all the best music springs from the same source. The Soul.
Advertisement