'Rory played and sang completely from the heart.' Slash of Guns N' Roses and Velvet Revolver fame (and a whole lot more besides), hails the genius of Rory Gallagher. "It's the only interview I've done in a while, but I definitely wanted to talk about Rory," he tells Pat Carty.
If aliens were to crash land in your front yard and demand you show them what these "rock n' roll guitar players" they've heard so much about actually look like, you could do worse than to pull out a photo of Slash with his trusty Les Paul, the big curly head on him, his be-silvered top hat, and the gasper sticking out of his gob. The man who, as much as anyone else, is responsible for the world-eating sound of Guns N' Roses, is the definition of iconic, and that's before you've even heard him play a note.
Saul Hudson was born into a musical family, his mother Ola J. Hudson was a costume designer who worked, and went out, with David Bowie, and his father, Anthony Hudson, created cover art for the likes of Neil Young and Joni Mitchell – he was the art designer for Court And Spark. No surprise then to discover this was where he first got wind of Rory Gallagher.
"My parents, probably my dad, had a couple of records lying around," he recalls, down the line from his California home. "I definitely remember seeing them, but I didn't get into Rory until I got into guitar. I remember buying a record, I think it was Calling Card, when I was fifteen, sixteen years old, and I just went from there - Blueprint, Top Priority, this all happened pretty quickly, I got one record, then another, and then another, but what really made me a big Rory fan were the live records - Irish Tour and Live In Europe. I didn't have any money when I was fifteen, so I used to steal all my records – actually, cassettes – and, rather than risk stealing an entire catalogue, I would just get artists' live records, and if that was really good, then I would go and risk my ass for the whole catalogue! As a kid, that's how it was, not that I condone it!"
See, kids? We made our own sport back in the days before the internet. As Slash says, this was around the time he first started his life-long love affair with his chosen instrument.
"Yeah, I had just picked up the guitar," he continues. "I was just a sponge for anything rock n' roll that had guitar. I was completely obsessed, living and breathing it, 24/7. For me what was always most exciting was live rock n' roll, and Rory just turned out to be this amazing fucking live performer. That was it, he was just one of my favourite rock guitarists from that point on."
Advertisement
One might wonder what pointers the young Slash was taking away from those live records with regard to technique and playing style, but he wasn't quite there yet.
"It's hard to verbalise what was going on in my mind when I was picking up the guitar when I was fifteen. I was obviously super impressionable, but I didn't know anything about anything," he reasons. "I didn't know anything about technique, per se, I didn't know about technical jargon, gear, or anything. So you really just take if for what it sounds like and appreciate that, although you might be sort of trying to imagine what this is or what that sound is. I remember another guitar player telling me something about a guitar sound I heard, and they said, 'well, that's a this and a that' and I was 'Woah, whatever that is!' but you learn and you pick stuff up," he laughs at the memory. "When you're just listening to a record, it's all new and exciting. You don't know how it works, and that's the beauty of it. Once you find out exactly how everything works, that's when you get a to be a little bit sort of, I hate to say the word, jaded. I'd hate to think I'd ever get to that place. I think Keith Richards put it best; once you really become a musician, you forfeit the right to listen to music properly ever again - you're always analysing it!"
We're talking here about California in the early Eighties, when electric guitar playing was dominated by the influence of the jaw-dropping flash on one Eddie Van Halen.
"That's the thing, I was raised on music around my parents which was everything sixties and seventies, I was surrounded by tons of great music so when I got into playing guitar in around 1980, all my influences were from bands from the 70s and prior, so what was going on with what the eighties turned into didn't really have that much of an impact on me," he points out. "There was Motörhead and there was some Lizzy and some of the British metal bands, Judas Priest and so on, but for the most part I was into old school guitar stylists, so Eddie Van Halen was like "WOW!" but stylistically I always thought of Eddie as doing his own thing, it was his own gimmick and he came up with it and I never really tried to be that. I just stuck to my roots, and I watched all of my contemporaries fucking trying to be Eddie. Somebody like Rory who was just a total fucking purist was more my speed, with regard to what I was using to teach myself to play."
It wasn't just Gallagher's music either, his whole attitude had an influence on the young man.
"One of the things I liked about him was that he always seemed to be having a good time, doing what he loved, that was the impression I got, he was down to earth and he didn't put on any airs. I never met him until later and when I did, he turned out to be exactly that, and I had a great time hanging out with him. I'm really honoured to have had the experience that one time. I dug him because he seemed to be just into his guitar and into singing his songs and just doing what he did. There was nothing else important and that meant something to me."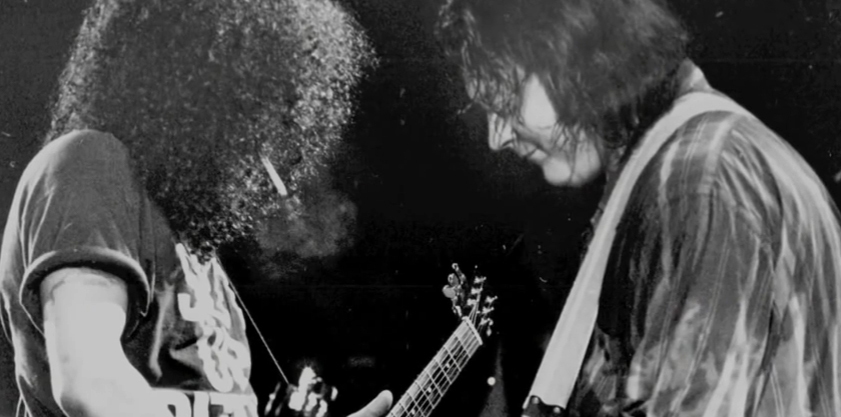 Advertisement
In Your Town
What Slash is referring to here is a now near-legendary night in 1991 when Rory Gallagher was playing The Roxy Theatre in Hollywood. Slash – then one of the most recognisable heads in Rock n' Roll – was in the crowd.
"I just went to the gig and someone came up - I don't even remember really - and asked if I wanted to jam. I was shocked, I didn't think Rory would know who I was. They were very gracious, I got up there and we had a great jam and then went back to the hotel afterwards, and we drank and hung out all night. It was just great. I really liked him and he really was more or less exactly like I would have imagined him to be."
You can hear Slash beaming at this memory down the line. The internet tells us that the two men played Chuck Berry's 'Nadine' and 'Promised Land', as well as William Harris' 1928 number, 'Bullfrog Blues', made famous on Gallagher's Live In Europe, which the young Slash had been purchasing using the five-fingered discount about ten years previously. Given his history with Gallagher, one might expect the man in the hat to have been at least a bit intimidated by the idea of sharing a stage, but he insists this was not the case.
"I think when you go up and jam with somebody like Rory, the music really just takes over. You're nervous for a second, but then you start playing. I'd had a few drinks and it was back in 'those days' so it is hard for me to remember. When I got up there, he was so gracious and enthusiastic so the intimidation factor just fell away and we just started playing. The one thing I do remember was the pure rock n' roll essence and the soul of it just locked me in straight away, and that's the best kind of feeling you can possibly have when you jam with another artist, live or in the studio. The music just takes over and it's not about thinking anymore."
As he says himself, the evening didn't end there, and the two men repaired to The Hyatt for a natter and more jam but, as might be expected by any of us who have enjoyed 'those days', Slash's memory is a bit hazy.
"We were at the Riot House as It was once called, we were in a room, there were other people in there, and he and I were just tucked away in a corner, playing acoustics and drinking whiskey - there was a lot of laughing but I don't remember what we discussed," he chuckles.
Advertisement
The Roxy is listed as having a capacity of about 500. It seems a shame, at this remove, that Gallagher was playing such small venues, but Slash reckons this kind of thing didn't really trouble Rory at all.
"Yeah, it's a tiny place, but prior to that I remember Rory had played in town a couple of times. I didn't get to go, but I think he played a sports arena so he had been in bigger places. I think Rory, for the most part as a headliner on his own, was pretty underrated, by American audiences especially, but that's one of the cool things about him, he just loved doing what he did. It didn't really phase him where it was, as long as he had the opportunity to do it, and do it every night if possible."
Under The Influence
Taking a casual saunter through Slash's recorded work, a song like 'Avalon' on 2014's World On Fire certainly betrays a knowledge of Rory, but the man himself reckons Gallagher has been more of a general influence on his playing.
"I guess 'Avalon' for sure because it's definitely influenced by that type of feel and chord progression," he concedes. "I'm sure I could dig up a song of Rory's with that somewhere. I can imagine it now that you mention it, he definitely left his mark on me, but it's actually more my playing throughout as opposed to being just a particular song here and there. He had an influence on the way that I play, period."
In November 2014, Slash was interviewed in Dublin by BBC hero Andy Kershaw, a man who knows a thing or two about a check shirt himself and still claims that the first gig he ever saw – Rory Gallagher at the Manchester Free Trade Hall in November, 1974 – changed the course of his life. Dónal Gallagher – Rory's brother and manager – turned up with that famous battered and bruised sunburst 1961 Fender Stratocaster (serial number 64351). You can see in the captured video that Slash was treating this relic with the reverence it deserved.
"That was a cool and a sort of interesting moment, because they told me about it and then I met with him and there was the guitar, but I didn't really play it because it almost felt like a holy grail kind of moment, where you leave well enough alone. I held it and I ran my fingers on the neck a few times, but I didn't want to get too attached!"
Advertisement
Remembering this moment leads us naturally on to Rory's passing in 1995, which knocked Slash for six.
"That totally took me by surprise, I didn't know if he'd had any health issues so it was just a shock out of the blue," he recalls. "I was on the road with Snakepit. I can't remember where I was but I just remember hearing it at the hotel. It was one of those moments where you were shocked and then really saddened because he was such a bright light. He really was an uptempo, easy-going, affable kind of individual. He was the kind of guy you thought would probably live forever, you know. He seemed to just enjoy doing what he did, he seemed to be very happy, it didn't seem like he wanted things to be real complicated. He liked to drink and he liked to do his thing and he did that all the way up until the time when he couldn't."
Cruise On Out
Before we get too maudlin, I ask Slash where he would point the uninitiated who want to know what Gallagher was all about. He responds with gusto, not as one of the most famous guitar players in the world, but as a gushing fan.
"I would just go for the ones that turned me on, they're all good, but Irish Tour '74 is awesome. That one alone should inspire you to go and listen to all his records. Both those live records I remember growing up - Live In Europe, I guess it was called? - those were both kick-ass records. Blueprint is a great studio record, and Top Priority. I would just go on fucking YouTube and look up Rory Gallagher!"
Advertisement
I suggest we stick to the canonical texts.
"Yeah, let's do them a favour, let's have people go buy his records! I take it back! Just go buy a couple of the live records and then go get pretty much all of them! All of his first studio records, all the way up, even the fucking more recent ones are good. Stage Struck is great, there's all kinds of cool shit, Deuce is another good one. Yeah, start with the live records, and go from there!"
One of the great things about those live records – 'Going To My Home Town' on Live In Europe, Tony Joe White's 'As The Crow Flies' on Irish Tour, and a whole set on the recent released and very great Check Shirt Wizard – was that they also shone a light on Rory's prowess with an acoustic instrument. Slash is quick to agree.
"That's one of the fucking beauties, I mean Rory is a great, great electric guitar player and when I think of the purest sound of a Stratocaster, I think of Rory, because his guitar playing was so much his fingers and the guitar and very little else to get in the way. Even if there was slide playing on a Tele, it was such a natural, organic sound. But then one of the things about Rory was that he was a great rock n' roll guy, he was a great blues guy, but he was also a great fucking traditional folk guy. He had such a handle on, I guess you'd call it, indigenous Irish fucking old school standards and stuff, it just made your heart sing. He played all these great instruments and he was wonderful on acoustic, slide steel string. He incorporated all that stuff into the studio records but also the live stuff. There were so many musical influences going on."
Slash continues, attempting to sum up what was so bloody marvellous about William Rory Gallagher.
"I think more than anything, and it's probably the most important fact about Rory as a player, is that he just completely played and sang from the heart, so regardless of all his influences, whatever it was, it sounded like him because he was so true to himself as a player and as a singer and as a songwriter. That's what you really were hearing."
There's been a lot of water - and probably a river of Jack Daniels - under the bridge since Slash first picked up a guitar and first heard Rory play, but he's still listening and still being knocked out by what he hears.
Advertisement
"Anytime that I sit and listen - there's a lot of material out there, a lot of live performances that I hadn't seen, things I had not heard him do before - you're just like "wow". It sounds like a lot but it's just him and the guitar and it never ceases to amaze me the breadth of sound that he created. I have a couple of CDs of his in the car that have been in there for a while. One of them is Irish Tour and, I can't remember what is was called, one of the later ones was it Photo something?"
Photo-Finish?
"That's it! Photo-Finish is one of the studio records that's a little bit obscure but it's got really cool stuff on it, and the live record? I'd die for that one, that's one of my favourite Rory releases."
Photo-Finish is one of those great late seventies records where he moved more into hard rock.
"I was just going to say, that's a good point. There's stylistic stuff on that record that is actually more akin to the metal guitar players who came after him. Some of the licks are the licks that I hear in Iron Maiden and shit like that. It's a trip!"
Something like 'The Mississippi Sheiks' is just a massive sound.
"Totally, so you can see why it's been hanging out in my car!"
Advertisement
Our time is almost up, so I thank Slash for taking our call.
"No worries, it was a pleasure, it's the only interview I've done in a while but I definitely wanted to talk about Rory. The people that are fans of him appreciate him as fully as you can appreciate anybody, because they really know, but he just didn't get the commercial success that you would hoped he would get, and that's actually part of his charm. He never tried to be hugely commercially successful, he just did his songs, put out his records, and went out and played, and If you were fortunate enough to know about him then you're lucky. But, if you didn't, it's guys like myself who are able to talk about it and tell people to go check it out."
"I just don't think he gets enough credit for being the amazing artist that he was."
__________
Read the full story of Rory Gallagher's Photo-Finish.
Advertisement
The Rory Gallagher: 25 Hot Press Playlist.
https://open.spotify.com/playlist/7o57QFfJkJeGmNvTt8Ww4U?si=JD7KSHWXTEulo5AxcrVu_w