"The Catholic Church deserves to be burdened with most of the blame. But lay people of secure position sang dumb and averted their eyes."
This is the travel document on which a seven-year-old from Derry, Bernard Kerr, travelled to Australia more than half a century ago. His next-of-kin is given as "The Superior, St. Joseph's Home, Termonbacca, Derry."
"Consent to my child/ward proceeding to Australia" is given by "Sr. M. Felice, Superior, St. Joseph's Home."
Then document is witnessed by "Rev. M. J. Rooney…Catholic Priest, St. Columb's College, Derry."
The priest attests to the right of the nun to send the child to the other side of the world.
"Is there any record of mental disease in the child?" – "No."
Advertisement
"Has he or she at any time been subject to fits?" – "No
John McCourt gave me the document. He was a "home boy" himself. He will be recorded as a key figure in casting light on clerical child abuse in the North.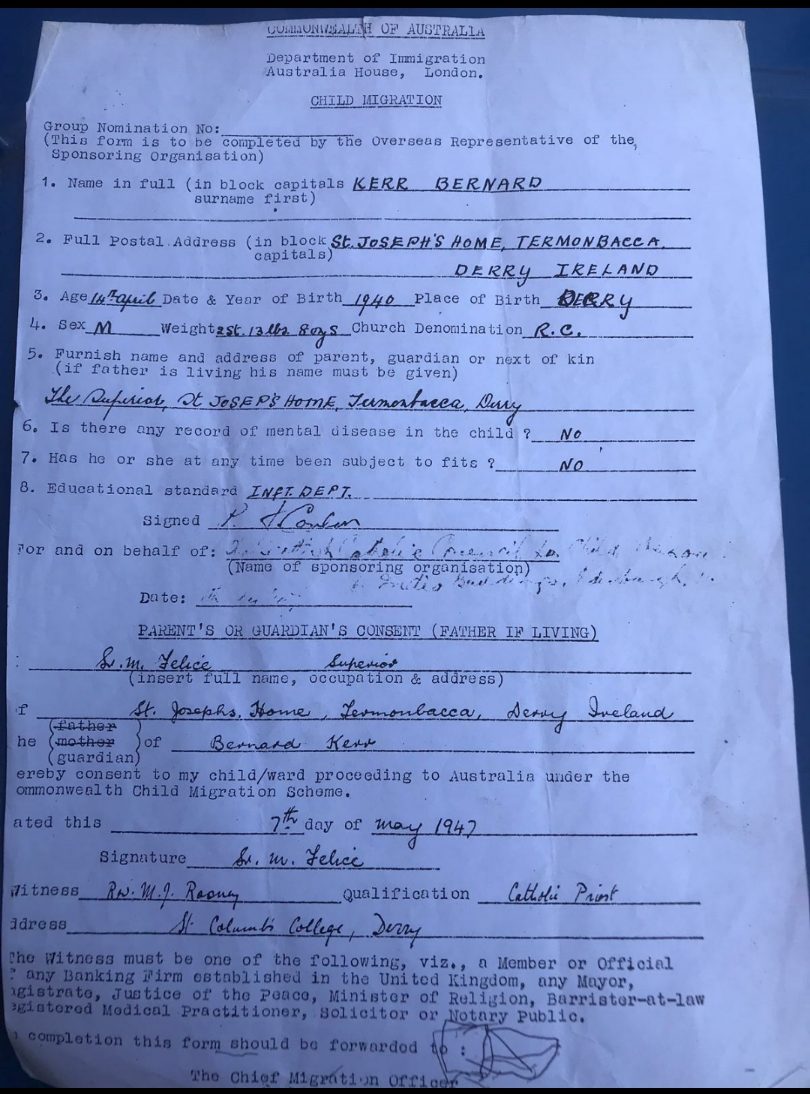 Jimmy called round to our house one afternoon maybe 15 years ago. We made a cup of tea and sat talking about this and that for around an hour. I had stuff to do and remember wishing he'd head off.
Jimmy had been taken "into care" as a child in Derry and lodged with the nuns. Months later, a social worker arrived, put him in a care and drove to Kircubbin in Co. Down, about 100 miles away. He was handed over to a De La Salle brother at the gate of Rubane House for Boys. The abuse started more or less immediately.
How long after he arrived?
"He took me straight into a room, he had my trousers off in ten minutes, maybe five."
Advertisement
He had been collected from a Church institution by a representative of the State and delivered into the hands of his abusers in another Church institution.
A few weeks after he'd called, someone phoned and said that Jimmy had been found hanging from a fire escape on the Northern Road.
Like, I suppose, everybody in these circumstances, I was overwhelmed by grief and guilt. That had been the first and only time Jimmy had called to our house. It must have been obvious something was wrong. But there's always something wrong. Really, how could you tell?
Christy Moore has a song, 'Everybody Knew, Nobody Said', about Ann Lovett, who died at 15 after giving birth alone in the open air on a winter's day, January 31st 1984, at a Marian shrine beside St. Mary's Church in Granard, County Longford. The life of her just-born baby drained away alongside her. The Blessed Virgin looked down upon them, stony-faced. St. Bernadette, child's hands clasped in serene prayer, gazed up.
I once talked with a woman who had given birth in the 1960s at a "home" run by nuns in Donegal. Like Ann, she had had no family or friends around her to wipe her brow or whisper words of comfort, but, instead, a nun at the foot of the bed telling her repeatedly: "Now you feel the pain of your sin." As soon as her baby was born, they took it away.
I have written before of Peggy Gibson from the Brandywell area, put into the care of the nuns at six or seven because her family's poverty was so dire they couldn't look after her. She was shipped in a consignment of 50 or so children to Perth in Western Australia.
Advertisement
Out on the ocean away from the world, she was given a new name, instructed to use no other name, told she no family, nobody ever to go back to.
"That's the worst," John McCourt said to me last week, "worse than anything, the sense that you have no self, no identity of your own."
Peggy could remember Pat, her brother, swinging her around, or the pair of them sitting on a wall at the Daisy Field on the Letterkenny Road, kicking their heels on a Sunday afternoon. In later years, she came back three times and eventually located him, too late. He'd died six months before she found him.
What would you have said to him, I asked her, presumptuously. "I would have said, 'I never gave up on you.'"
The Tuam babies we all know about, or think we do. We find now there's also a stack of small bodies moldering in the ground at Bog Meadow beside Milltown Cemetery in Belfast.
Misogyny and child abuse have always been cross-border phenomena.
The Catholic Church deserves to be burdened with most of the blame. But lay people of secure position sang dumb and averted their eyes. The nuns didn't snatch babies off the street. The victims were handed to them, sometimes by officers of the State, sometimes by parents of a daughter who'd broken free or just behaved as careless young ones have done since the dawn of time.
Advertisement
There's many to be held to account, but many, too, whose suffering can never be salved.
The thing to keep most vividly in mind is that everybody knew.