'Despite 73 years of attempted erasure, we remain steadfast': US-Palestinian activist Huwaida Arraf on the escalating violence in Gaza
In 2012, a UN report warned of the rapidly deteriorating situation in Gaza, stating that if conditions did not change, the Strip would become unliveable by 2020. Halfway through 2021, conditions have hit a new breaking point. "I honestly don't know how the people of Gaza are surviving. All the world does is watch," Huwaida Arraf tells Hot Press...
As Israel reportedly prepares troops on Gaza border and Hamas rocket barrages continue, the death toll in Gaza has steadily risen over the last week while the Western world watches on, seemingly without action.
Today, Amnesty International pleaded to Israeli forces and Palestinian armed groups in Gaza to halt violations of international humanitarian law leading to the killing and maiming of civilians. UN Special Coordinator for the Middle East Peace Process, Tor Wennesland, briefed Security Council members on the latest developments this morning after warning that Israel and Palestine were heading towards "full scale war". He added that "leaders on all sides have to take the responsibility for de-escalation".
The question remains: is "war" the correct language to use when one side holds all of the might of US, Iran and UK-funded weapons and a global intelligence network while the other doesn't have an airport? Is "conflict" the appropriate word to use when one side is a settler colonial power and Gaza has 95% poisoned drinking water? Is "clash" the term to utilise when one has the fourth most powerful army in the world and the other has a population where 70% rely on foreign aid for basic needs?
Is it just about religion when one side can offer passports to the territory to people who have never stepped foot on the land while the other cannot enter their own homes, let alone their country? When human rights organisations around the world have deemed Israel's control over Palestine as "an apartheid state"?
Hot Press spoke to American-Palestinian activist Huwaida Arraf, co-founder of the International Solidarity Movement, to dig deeper into life under Israeli apartheid and the inaction of the outside world - despite witnessing war crimes committed in real time against the Palestinian people.
Advertisement
As someone of both US and Israeli citizenship, Huwaida has incredibly potent ties to the current situation. Proud of her Palestinian heritage, Arraf has had to witness the destruction and demolition of homes in her homeland and the consistent, heartbreaking efforts to eradicate her culture.
"The assault is unrelenting. There are escalations in violence that manage to get the world's attention, but even when Palestine is not making the news, the attack on our existence is pervasive," Huwaida says.
"Israel, a nuclear power, with one of the most powerful militaries in the world is unleashing its military might on a largely defenceless population. Despite what people may be led to believe listening to the mainstream media, Palestinians do not have a military; they don't have tanks, helicopters or fighter planes. They have crude rockets in Gaza, again, a tiny, overcrowded strip of land that Israel has turned into an open-air prison. Israel is bombarding an impoverished civilian population that does not have anywhere to run and hide. As I write this, over 80 people have been killed, including 17 children."
"Targeting civilians and civilian infrastructure is prohibited under the laws of war. This is the fourth large-scale military onslaught against Gaza since 2008," Arraf notes. "In 2014, Israel launched a 51-day assault on Gaza which killed over 2100 people, including 535 children. Israel's attacks cannot be legitimized as self-defense because Israel is the initial aggressor."
"Immediate intervention is needed, to stop the military assault on Gaza and also to force Israel to lift the closure so that the people of Gaza can breathe," the activist affirms.
"I lived for many years in Palestine and, while it was difficult to witness these cruel policies and practices first-hand, it's almost more difficult to hear of them from afar. What is encouraging, however, is that, somehow, despite 73 years of attempted erasure, Palestinians remain steadfast. Despite poor Palestinian leadership and brutalisation from one of the world's most powerful militaries trying to get rid of us, we remain."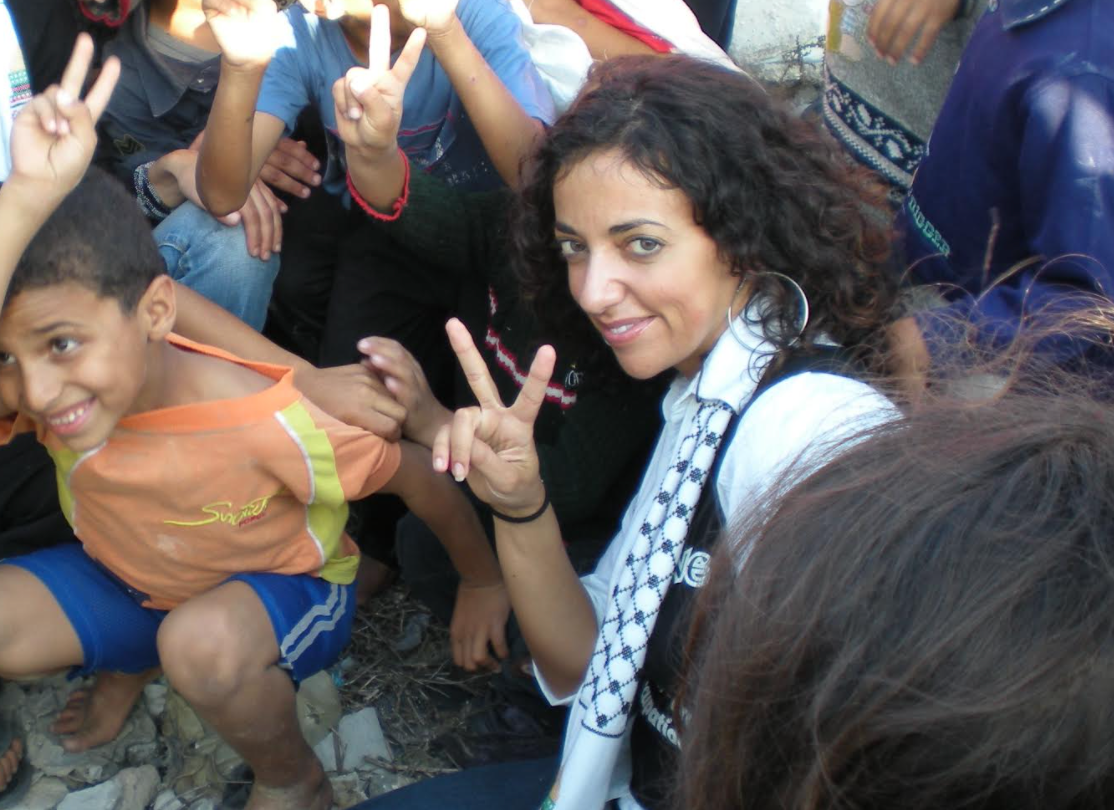 Advertisement
The COVID-19 pandemic only worsened the treatment of Palestinians, who were forced to sit back and watch as Israel only vaccinated its own population in a move dubbed "vaccine apartheid" by human rights groups. Not alone do they not have a functioning healthcare system, the justice system only exists to serve Israel.
"Israeli soldiers raid Palestinian homes and arrest Palestinians, including children, almost nightly. Palestinians do not have basic rights in Israel's legal system; they are subjected to a military court system where the prosecutor and the judges are members of the occupying military force; it's a court system that has a 99.4% conviction rate," Huwaida remarks. "Many Palestinians who are arrested by Israeli forces do not even get a trial; they are held in what's called 'administrative detention' for renewable six months periods. They are never convicted of anything, or charged, or even told what their alleged crime is."
The Israeli practice of demolishing homes, basic infrastructure and sources of livelihoods continues to devastate Palestinian families and communities in East Jerusalem and the 60 per cent of the West Bank controlled by Israel, according to the United Nations Relief and Works Agency.
Many of the people affected already live in poverty, and demolitions are a leading cause of their ongoing displacement and dispossession in the West Bank.
"Palestinian homes are consistently being demolished, even during the pandemic," Huwaida says. "Gaza, a small strip of land containing two million Palestinians, has been sealed by Israel for 15 years. This means that Palestinians cannot get in or out of Gaza without Israel's permission, which is often denied. Israel prevents necessary items from entering Gaza, including construction materials to rebuild homes bombed by Israel, and certain medical supplies or machines. Electricity is limited to only a few hours a day and the water is not fit for human consumption. Israel's policies have rendered the majority of the population food insecure and aid dependent."
'It is a policy of eradication, not just of our culture, but of our lives.
Thankfully, Huwaida Arraf is safe along with her family in the US, though this fact feels like a burden to the activist as a result of her guilt.
Advertisement
"One of the reasons that I am in the US is because Israel does not let my husband enter Palestine. They arrested and deported him back in 2002 and he has not been able to enter since. We had to spend many years living apart, only seeing each other a few times a year. They would not even allow him to enter the country to be with me for the birth of our first child. But despite poor Palestinian leadership and brutalisation from one of the world's most powerful militaries trying to get rid of our people, we remain loyal."
As a country with a seat on the UN Security Council, is there anything Ireland can do to help?
"What is needed is for Israel to face consequences for its actions. So far, not only have there been no serious consequences for Israel in continuing to occupy and colonise Palestine and oppress and dispossess the indigenous Palestinian population, but the international community, through aid programs, has made Israel's occupation cost-free," Huwaida acknowledges.
"Don't get me wrong, I'm not calling for the aid programs to Palestine to stop, but Israel is responsible for the health and well-being of the occupied Palestinian population. The international organisations that assist Palestinians are taking this burden away from Israel. The Irish people can engage in boycott and divestment campaigns against Israel and the companies complicit in Israel's occupation and colonial rule," Huwaida continues. "The United Nations has put out a list of companies that are specifically complicit in Israel's settlement enterprise. That's a good place to start. But, it should not only be settlements that are targeted because pressure needs to be brought to bear on the Israeli government and society as a whole. Academic, sports, and cultural boycotts can be very effective."
US President Joe Biden's statement last night that "Israel has a right to defend itself" from yesterday doesn't come as a surprise to Huwaida Arraf, yet the unwavering support from her current home at the expense of Palestine is a devastating blow.
BIG: Statement issued by US President Joe Biden after he spoke with Israel PM Benjamin Netanyahu. Condemns rocket attacks by Hamas and other terror groups against Israel. Conveys unwavering support for Israel's security and for Israel's legitimate right to defend itself. pic.twitter.com/ZN43hB9MfP

— Aditya Raj Kaul (@AdityaRajKaul) May 12, 2021
Advertisement
"Since 1967, Israel has been moving its population into Jewish only settlements built on land taken from Palestinians. There are over 700,000 Jewish settlers now living in illegal settlements on occupied Palestinian land. Seeing the lack of compassion in the Western media is not only hurtful but also infuriating and dehumanising," the lawyer says, noting the skewed coverage of the issue.
"It is as if Palestinians do not deserve the same rights as other people. As if we are less than others. What makes it even more horrific is that the US likes to portray itself as a beacon of freedom and human rights and yet its policies serve to deny those very things to Palestinians. Israel would not be able to continue persecuting, dispossessing and killing us if it wasn't for the unwavering military, economic, and diplomatic support of the US. Israel attacked one of the holiest sites in Islam, on the holiest time of the year and injured worshipers. If it was done anywhere else, it would be condemned in the strongest terms."
"Armed Jewish mobs are terrorising the streets of cities inside Israel chanting "death to Arabs" and lynching Palestinian citizens of Israel. There has been no decent coverage of this in the mainstream media, nor condemnation from the Biden administration. Views are only changing in the US because of the movement in the streets. It is a movement that is connecting with Palestinians on the ground and working to amplify their voices and experiences in spite of the social media censorship."
"It is a movement that is connecting struggles, across identity and geographic boundaries and showing that our struggles are intertwined as is our collective liberation."