By: Peter McNally
XMusic's flagship store at the Red Cow Retail Centre has been an essential site of pilgrimage for Ireland's music community since throwing open its doors in 2008. Conceived by music distribution professional Gerry Forde and Nigel Kinmonth of Musician Inc., XMusic is the largest retailer of musical instruments and equipment in Ireland. Hot Press spoke to Gerry Forde about XMusic's successes, early travails, navigating a global pandemic, and his own experiences with this issue's cover star, Rory Gallagher.
The 14,000 square feet, 100% Irish owned music superstore is stocked to bursting with the best in guitars, basses, amplifiers, keyboards, drums & percussion, microphones, headphones and DJ gear, stage lighting, PA systems, recording equipment, studio monitors and interfaces, folk instruments and accessories and much much more. XMusic has your every musical need covered.
Since the early 1990s, co-founder Gerry Forde has worked in distribution for major music brands. In that time he has served as the Managing Director of Roland Ireland, and as a Business Strategist for companies like Sennheiser and Quantum5X Systems Inc. His career with these international brands allowed XMusic to set itself apart from the very beginning, but also helped support the store during some difficult early years.
"We had to build XMusic from scratch," he tells us. "After a year of design, planning and construction, we had the unenviable luck of opening just as Ireland's economy crashed as part of the global recession." During that time Gerry continued to work abroad in Germany and the UK, which allowed XMusic to ride out the recession, build up its name, and establish itself as an indispensable resource within Irish music scene.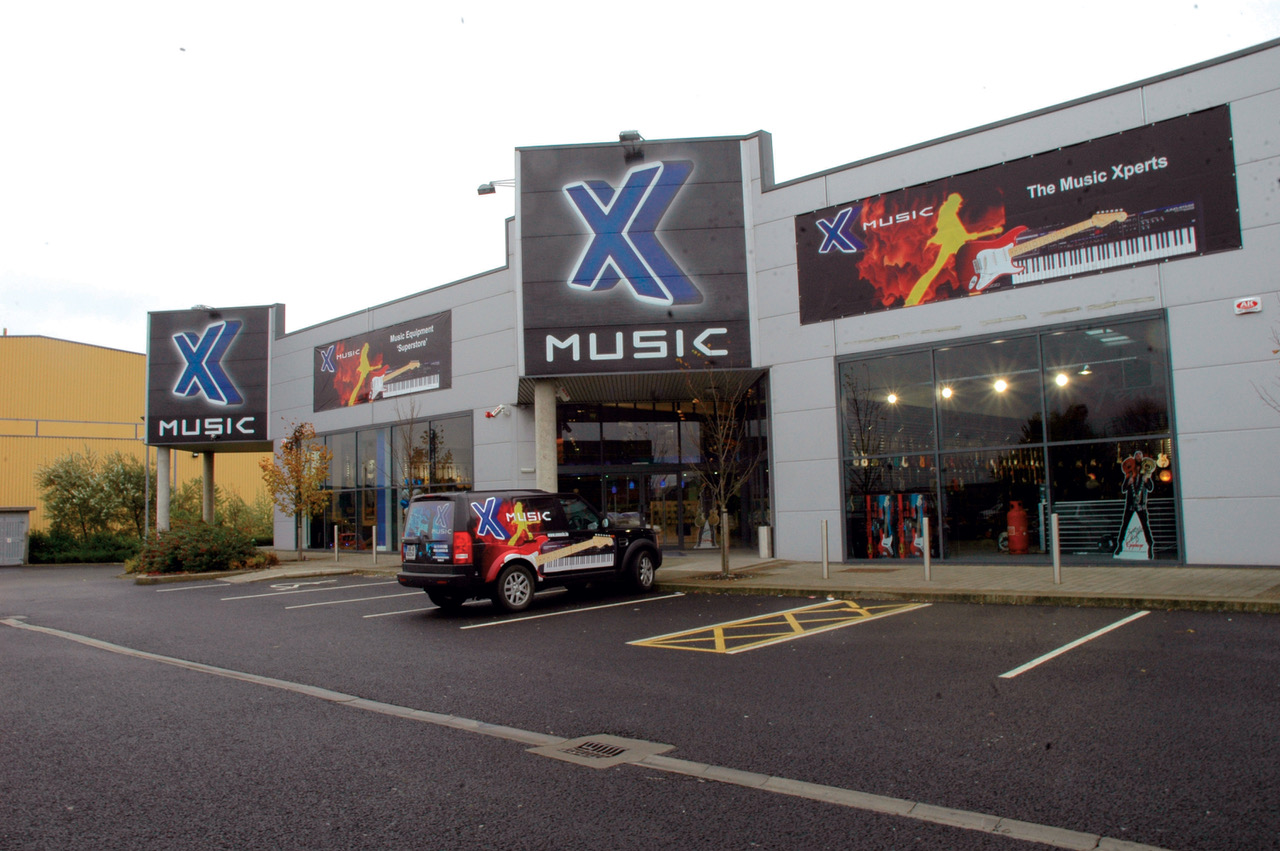 Now, with a worldwide pandemic forcing the economy into another decline, you'd be forgiven for expecting him to be understandably worried about the future of the industry. But, when Hot Press caught up with Gerry, just as Ireland entered Phase 2 of its gradual reopening, we found him in a cautiously optimistic mood. "In many ways it hasn't been as bad for the industry as the recession of the late 2000s. This time out the Government really came through with subsidies that have been a great help in terms of keeping our staff afloat. We also have an amazing landlady who has been incredibly understanding." And, while the store was forced to close at the outset of the pandemic, XMusic was sustained by an uptick in online sales, which Gerry handled himself.
Advertisement
"It was amazing to see the resilience of the music community," he says admiringly. "Suddenly we had a huge demand online for equipment that would allow musicians to stream and record content: microphones and audio interfaces were being sold in numbers we'd never seen before. You just can't extinguish people's desire to create and consume music."
There are, however, some things Gerry sees that could be done to help Irish retailers compete in terms of online retail with the UK and German stores that dominate the marketplace.
"It's a great relief to have the store open again, but recently I had someone tell me, 'You need to take the business totally online.' That's like telling someone to take up boxing with Mike Tyson as your first sparring partner! Irish stores will never be able to compete online with a VAT rate of 23%. That makes us uncompetitive by at least 4% against the largest European online retailers. The government needs to address that to make the industry competitive, that makes much more sense than handing out €2,000 grants."
From the outset, the community side of music is an ideal Gerry has always tried to foster at XMusic. The store is staffed by people who are gigging musicians or in school at BIMM and who have a wealth of music knowledge and experience. Their three in-house service engineers have worked with legends like The Rolling Stones and U2. "I've always wanted it to be an industry hub for people who struggle with finding premises." For example, Professional Audio, Ireland's leading distributors for key brands are also headquartered at the Red Cow store. But even more important than that, is the sense of community Forde hopes to foster in the customers who visit XMusic.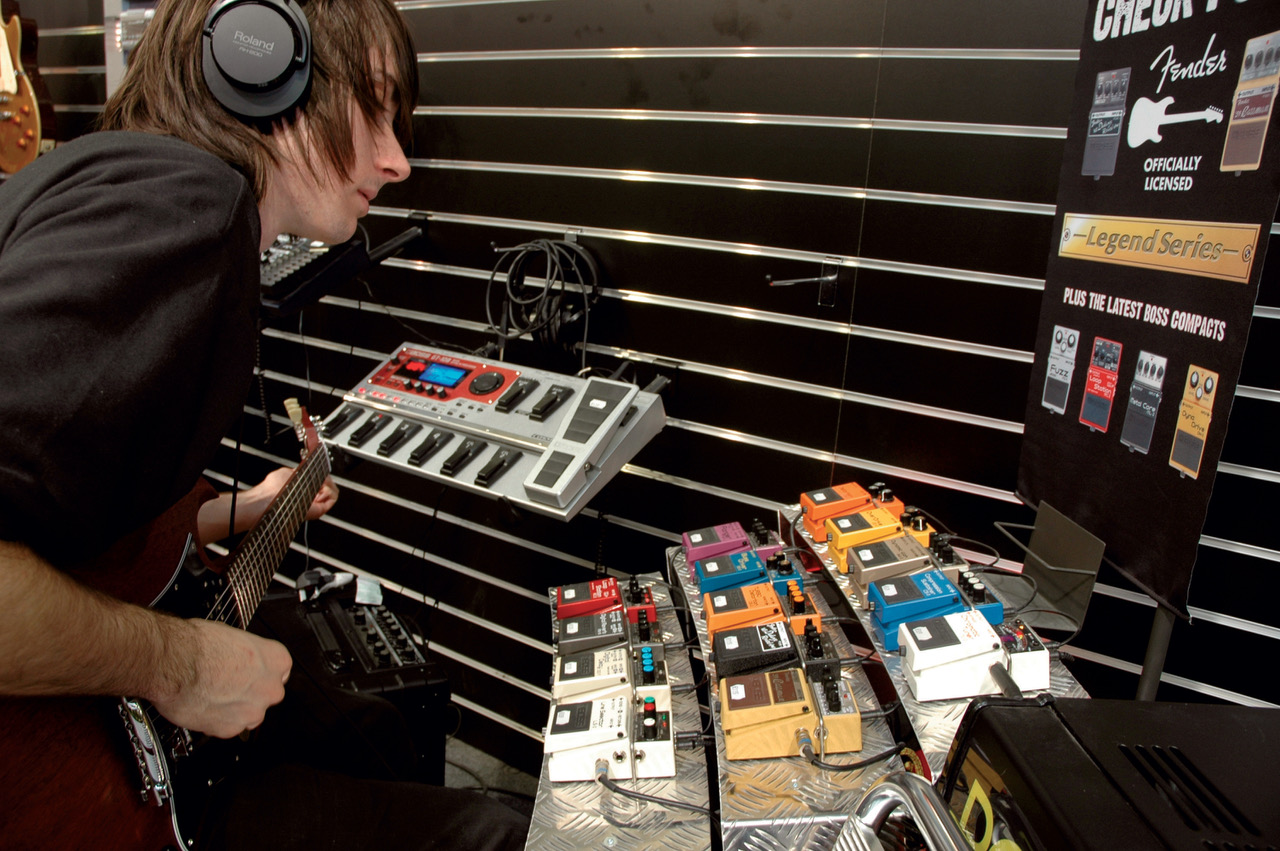 As a young musician himself, Gerry played guitar and keyboards with a promising young Dublin outfit called Eugene. The fledgling band chiseled their name in Hot Press history as the winners of the very first Stag/Hot Press Award for Best New Unrecorded Act. Their prize was a recording session with Thin Lizzy legend Phil Lynott and an opening slot at the 5th Hot Press birthday concert at Punchestown Racecourse. There they would share the stage with Lynott, another young Dublin outfit called U2, and Rory Gallagher.
"I got there early to set up my gear," Gerry recalls. "When I went to set up my guitar, I noticed another guitar in an open case sitting precariously on the head of an amplifier. I carefully closed the case and was about to set it down somewhere safe when suddenly the air was filled with expletives and I saw a man running towards me. That man was Donal Gallagher, who was rightly outraged when he saw some young punk touching what was, unbeknownst to me, his brother Rory's prized 1961 Fender Stratocaster!"
Advertisement
During his time in distribution, Gerry became friendly with the people who sold Rory that famous Stratocaster, reputedly the first in Ireland, at the since shuttered Crowley's Music in Cork. Gerry sees the importance of this single sale as a testament to the importance of the humble music shop to the Irish music scene and aspiring musicians. "Michael Crowley knew exactly what Rory needed in a guitar at that time and gave him the right advice at a very early age. That guitar was only Rory's second guitar and it stayed with him for the rest of his life. It's now a holy relic of Irish music."
It's for these reasons that he wants to make the customers' experience at XMusic as undaunting as possible. "Music stores used to be an unwelcoming place for a young punk like me," he laughs. "I hated going to music stores that had signs up everywhere saying, 'Don't Touch!' At XMusic we actively encourage our customers to experience the wealth of instruments that we stock. I get excited when I see a young person coming in for the first time with their parents. This is hopefully the start of a long journey for them, so why shouldn't they know what it feels like to play a €3,000 guitar?! What if Michael Crowley hadn't taken the time to get Rory the very best guitar for him back in 1963? That's the kind of experience we want to provide for musicians, whether it's with guitars, keyboards, DJ equipment etc."
There you have it, take it from the man who very possibly saved Rory Gallagher's prized possession from an ignominious fall that fateful day back at the Hot Press birthday bash in 1982.
XMUSIC is open for business at the Red Cow Retail Centre, Ballymount, Dublin 22.
Tel: 01 4111100. Email: [email protected] Online store: xmusic.ie.