Celebrating their 60th anniversary, the Irish folk band The Chieftains have released their 2012 album Voices of Ages on vinyl for the first time.
The Chieftains have an exciting announcement: for the traditional Irish folk band's 60th Anniversary, their 2012 album Voice of Ages will be available for the first time on vinyl.
Originally produced by T-Bone Burnett for the band's 50th anniversary, the collaborative album features a plethora of musical visionaries.
The genre-blending album includes indie-rock artists like Bon Iver, The Decemberists, The Low Anthem, Paolo Nutini, country and americana artists like The Civil Wars, Pistol Annies, Carolina Chocolate Drops, Punch Brothers, and Irish folk artists like Imelda May and Lisa Hannigan.
The new vinyl edition can be found in stores and online, released from Claddagh Records in partnership with Craft Recordings. It's a 2LP record available on 180g vinyl.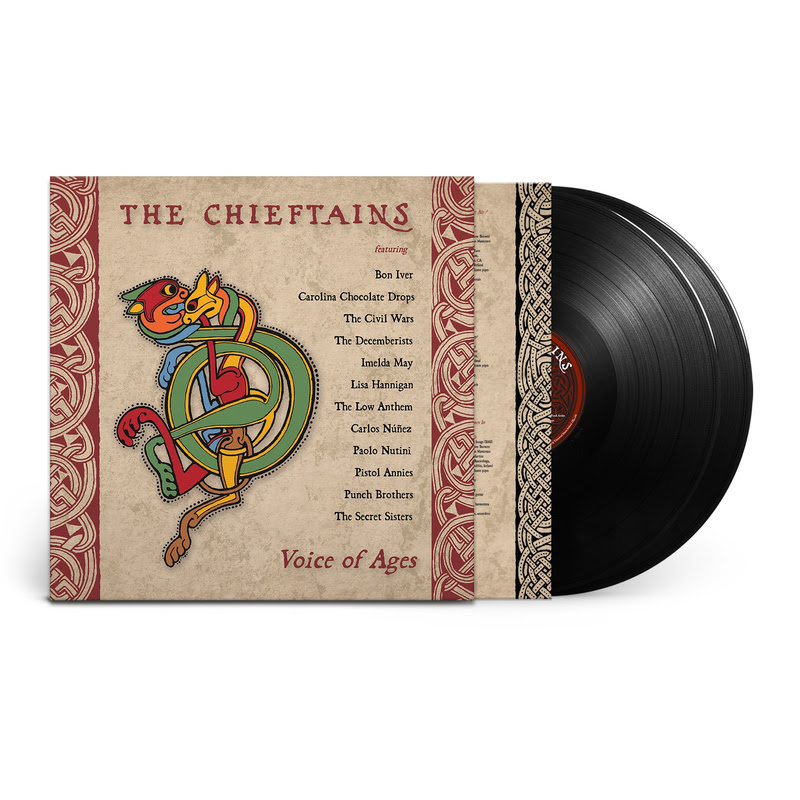 Advertisement
The Chieftains first formed in Dublin back in 1962 as a collaborative effort of Sean Potts, Michael Tubridy, and the late Paddy Moloney. The band would go on to become "Ireland's Musical Ambassadors" as of 1989 and win 6 Grammy Awards as they became prolific in Ireland, the UK, and beyond in the mid 70s.
Not only did they work on the Stanley Kubrick Barry Lyndon soundtrack, but they released successful records throughout the 70s and 80s. Luciano Pavarotti, The Rolling Stones, Madonna, Sinéad O'Connor, Roger Daltrey, and Van Morrison are all artists they've collaborated with over the years.
Also in celebration of their 60th anniversary was 2022's release of Chronicles: 60 years of The Chieftains, an album compiling their best music from over the years. The 40-track album is a retrospective look at their decades-long music-making journey.
Last year, the Chieftains also released Bear's Sonic Journals – The Foxhunt, The Chieftains Live in San Francisco, 1973 & 1976. The live album includes the last interview with The Chieftains' Paddy Moloney. It comes from The Owsley Stanley Foundation and Claddagh Records.
Order The Chieftain's vinyl edition of Voice of  Ages, here:
Listen to The Chieftains' s Voice of Ages, here:
Advertisement