The special tribute issue is out now – featuring powerful contributions from Bob Geldof, The Edge, Hozier, Denise Chaila, BP Fallon, Moya Brennan, John Reynolds, Kathryn Ferguson, Gary Lightbody, David Holmes, Dot Allison, Victoria Mary Clarke, Joseph O'Connor, and more.
Featuring moving guest contributions, powerful material from the archives, and more, the  special Sinéad O'Connor tribute issue of Hot Press is out now.
Inside the stunning issue, you'll find heartfelt tributes from U2's The Edge, Hozier, and more – as well as in-depth reflections from those who knew and loved Sinéad and her music.
Bob Geldof looks back on his close friendship with Sinéad – and the complex, tragic feelings unleashed through her life and her premature death.
John Reynolds – Sinéad's first husband, long-time collaborator, and father to her eldest child Jake – reflects on a remarkable journey through music, fame and life with the incomparable Irish singer.
Author Joseph O'Connor celebrates his sister with his piece, 'Voice'.
Acclaimed producer David Holmes discusses working with Sinéad, and her incredible life and career.
Denise Chaila reflects on Sinéad's seismic musical and cultural impact.
Kathryn Ferguson, the director of the widely acclaimed documentary Nothing Compares, shares her thoughts.

Hot Press editor Niall Stokes looks back on Sinéad's unique artistic, social and political impact.
Irish artist, designer and writer  Victoria Mary Clarke recalls her close friend's fearlessness, motherly warmth and trailblazing attitude.
Celebrated musician Jah Wobble looks back on his work with Sinéad.
Moya Brennan recalls Sinéad's prowess as a songwriter, her incredible stage presence, and her activism
Having performed alongside Sinéad on Massive Attack's 2003 world tour, Scottish singer Dot Allison shares her admiration, and remembers the warm and friendly person she got to know backstage.
Gavin Friday recalls collaborating with Sinead on the 1993 hit 'You Made Me The Thief Of Your Heart', his friendship with the singer, and her enduring cultural impact.
Renowned designer Jim Fitzpatrick discusses his friendship and creative collaborations with Sinead.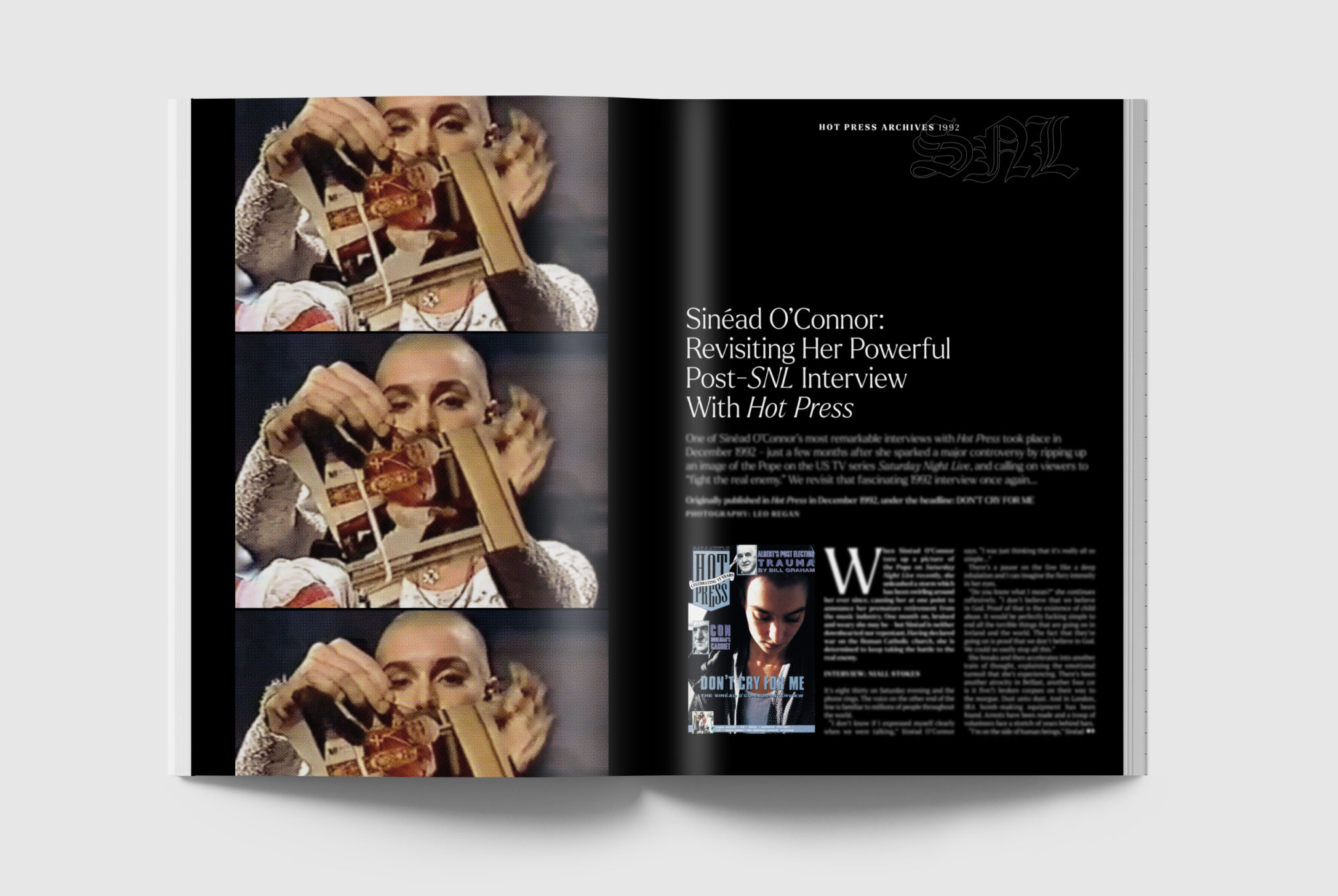 The tribute issue also features:
An early interview with Sinéad by her long-time friend, BP Fallon.
The late Hot Press great Bill Graham's interview with Sinéad for her debut album, The Lion And The Cobra.
A 1991 interview with the late Nigel Grainge, who discusses signing Sinéad to her first record deal
The '92 interview in which Sinéad reflects on the international controversy caused by tearing up a picture of the Pope on Saturday Night Live.
Sinéad's 2020 conversation with Stuart Clark, for what was her final interview with Hot Press
Lucy O'Toole and Pat Carty's reflections on her extraordinary musical output – with a special focus on some career highlights
Plus – more material from the archives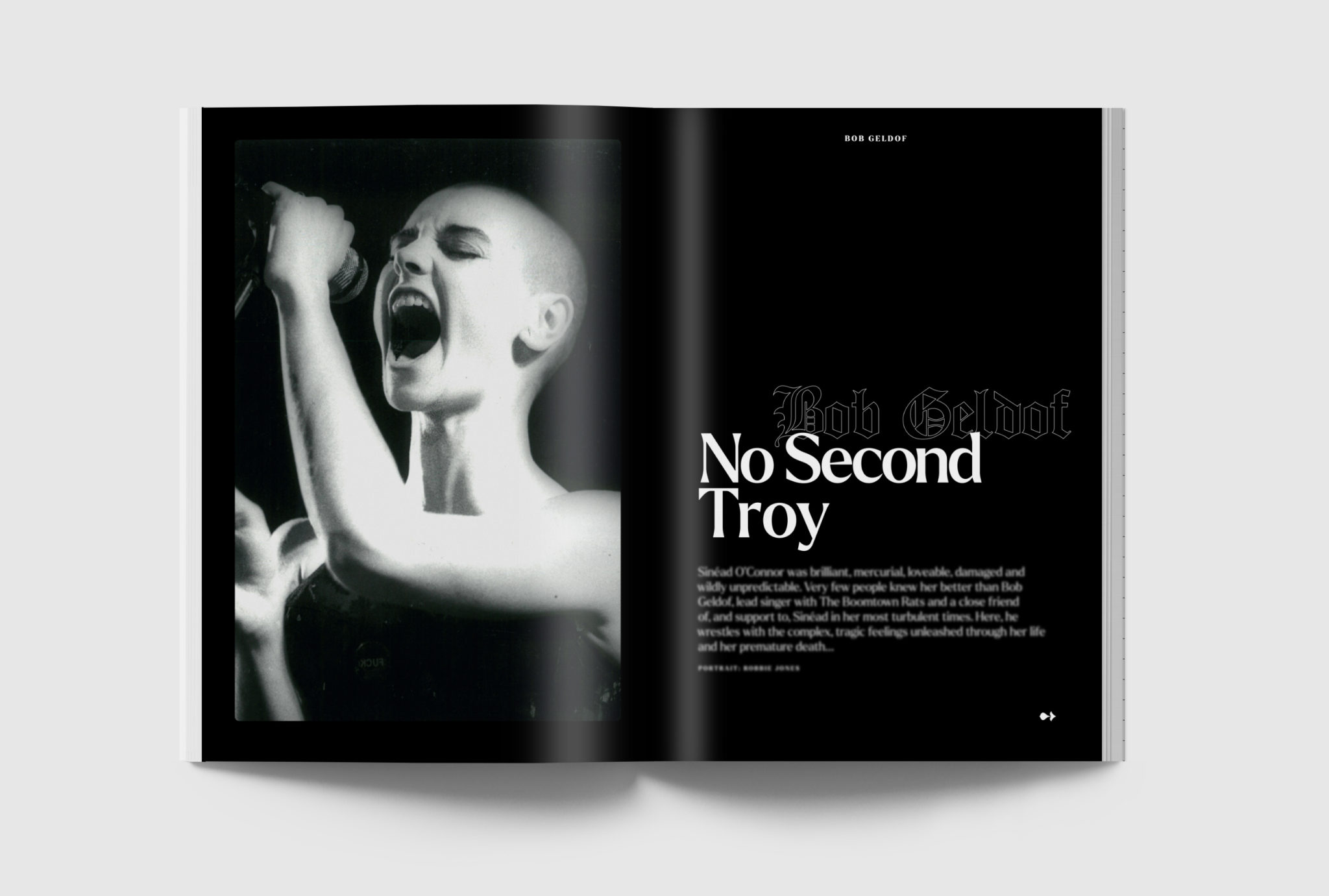 "Sinéad was one of the most important Irish artists of the past 50 years," Hot Press editor Niall Stokes says. "She was a singer, songwriter and performer of transcendent ability and huge emotional range and depth. Her voice was an amazing instrument, capable of moving from a whisper to a banshee wail, traversing the full spectrum of where the human spirit can take us. Her music made an enormous impact, inspiring people and touching so many of them to the very core. Her extraordinary legacy demands that we mark it in an appropriate way."
This special one-off tribute edition, dedicated to Sinéad O'Connor, is in shops now – and is available to order online below: