Replica of Rory Gallagher's Fender Stratocaster presented to winner of our special competition – celebrating the Irish guitar icon
Kevin Herron of emerging Irish band Rowan was presented with the stunning prize at a ceremony in Cork's Rory Gallagher Music Library today. Pictured from L–R: Niall Stokes, Kevin Herron, Eoin Gallagher, Helen McGonagle (executive librarian of the Rory Gallagher Music Library in Cork) and Dónal Gallagher.
After serious deliberation, one of our most hotly contested competitions in recent memory has come to an end – with the winner of our special Rory Gallagher competition finally presented with his prize: a magnificent Rory Gallagher Signature Stratocaster from Fender's Custom Artist series.
The winner, Kevin Herron of up-and-coming indie-rock trio Rowan, was presented with the fantastic prize at Cork City Libraries' Rory Gallagher Music Library today – at a ceremony attended by Hot Press editor Niall Stokes, Dónal Gallagher, Eoin Gallagher and Helen McGonagle, the executive librarian of the Rory Gallagher Music Library.
We received thousands of entries for competition, which coincided with the release of our Rory Gallagher 25th Anniversary Special Issue. Each entrant offered up their own pitch, explaining why they felt they deserved to win the remarkable guitar.
The Rory Gallagher Signature Stratocaster – worth €5,300 – is beautifully modelled on the original Fender guitar that the Irish guitar legend himself played.
The detail is flawless: from the distressed three-colour sunburst alder body, maple neck and rosewood fingerboard, to the five Sperzel and one Gotoh tuners. The minutiae even get down to the 12th-fret dot marker, which is white plastic rather than the original clay.
Advertisement
The to-die-for Fender guitar also features three custom-wound '60s single-coil pickups, aged chrome hardware, 21 medium jumbo frets and a synthetic bone nut. It's a powerful homage, created by Fender, with the collaboration of Dónal Gallagher, to a true and truly-missed master.
To mark the 25th anniversary of Rory's sad death in 1995, Fender donated a Rory Gallagher Signature Stratocaster to Hot Press as a prize. Fans and budding guitar wizards alike were in with a chance of getting their hands on this much sought after guitar – but there could only be one winner!
"It was absolutely fantastic seeing the entries flooding in from all over the world," Niall Stokes says. "That was a reflection, of course, of the huge globe-spanning impact that the great Rory Gallagher had with his music. He really was a guitar genius – who also happened to write truly brilliant and lasting songs. Rory's contribution to the development of music – or of rock music, if you prefer – in Ireland was immense, and absolutely pivotal. We knew that a Rory Gallagher Signature Fender Stratocaster is an instrument that any musician would treasure – and so the sheer volume of entries proved.
""It was no surprise when we whittled the thousands of entries down to a 'long-list', and then a short-list, that the standard of the entries, from a musical perspective, was really high. But when it came down to the final reckoning, after lots of listening and discussion and re-listening, I'm glad to say that the judges decision was unanimous."
As Niall goes on to note, the judges hoped that "the guitar would end up with a very special player – and that's the way things have panned out."
Advertisement
"We were familiar with the band Rowan – a really talented and, as it happens, Cork-based band about whom Hot Press has written on numerous occasions as we kept abreast of their burgeoning rock 'n' roll adventures," he continues. "But what the band's guitar player Kevin Herron stepped forward and delivered his entry, there was a consensus that he was – or rather he is – a wonderfully talented guitar player.
"And so it is a real honour to be able to present Kevin Herron with what is one of the most sought after guitars in the world – a Rory Gallagher Signature Fender Stratocaster. Listening to his wonderfully subtle, gorgeously melodic playing – and seeing too that he can let it rip brilliantly when the mood warrants it – we know that this guitar is in more than capable hands. A big congratulations to Kevin. We look forward to seeing the guitar onstage at 3Arena very soon!"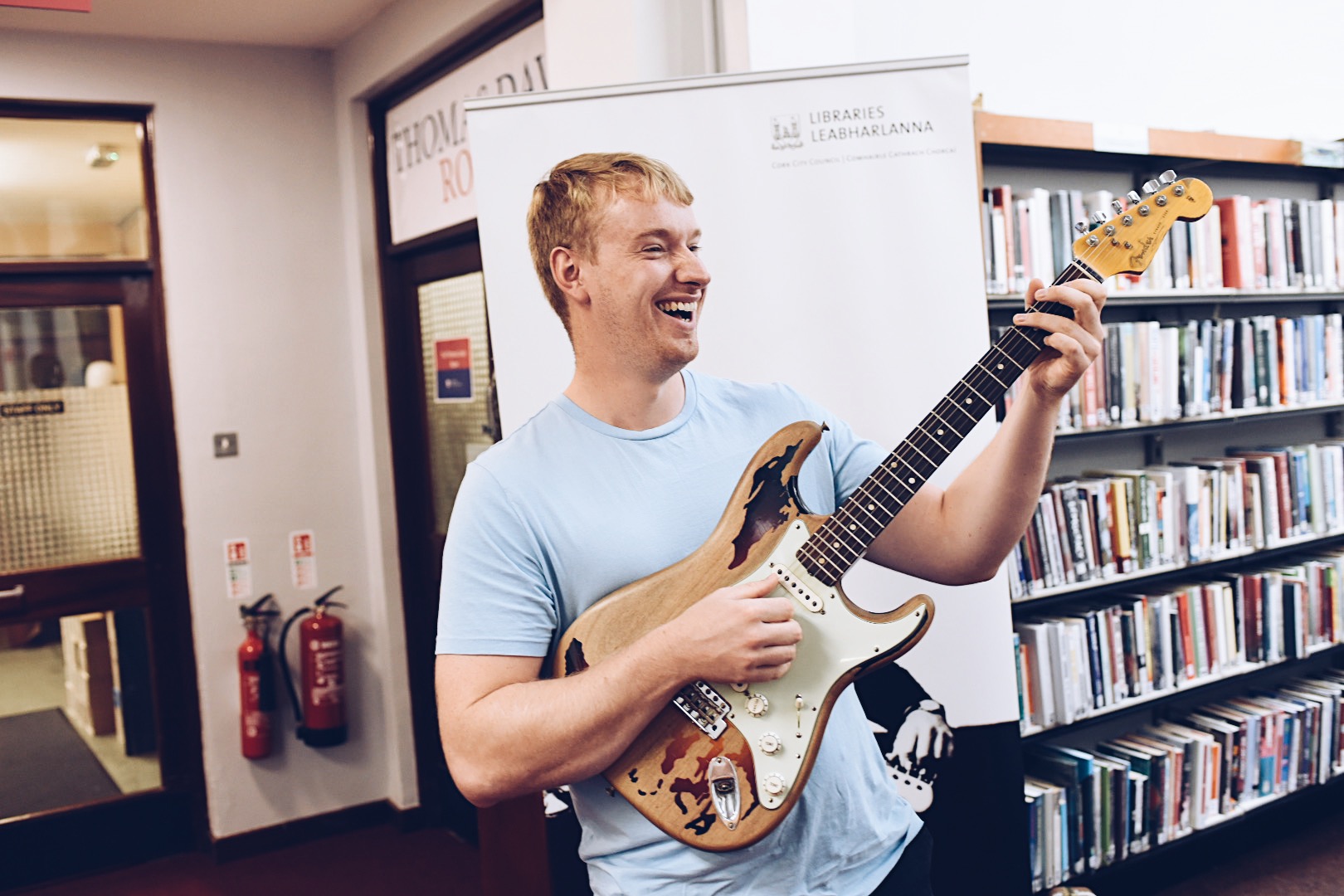 Our Rory Gallagher Special Issue wasn't the only landmark release celebrating the guitar icon in recent months. On September 3, a special 50th Anniversary Edition of Rory Gallagher's eponymous 1971 debut solo album was released via UMC/UMe. The five-disc deluxe box set of the album includes a brand-new mix of the original album, 30 previously unreleased outtakes and alternate takes, a six-song 1971 BBC Radio John Peel Sunday Concert, plus four 1971 BBC Radio Sounds of the Seventies session tracks, all mastered at Abbey Road Studios.
Our thanks to everyone who entered the competition – and for the inspiring quality of so many of the video entries from those who were shortlisted. Also to Dónal Gallagher and Daniel Gallagher, who have managed the extraordinary legacy of Rory Gallagher and his music with such inspiration and dedication. And our thanks also to Fender guitars for facilitating the competition; and to Cork City Council for hosting the presentation in the Rory Gallagher Library.
The 50th Anniversary Edition of Rory Gallagher's self-titled debut solo album is out now.
To read what Slash, Johnny Marr, Imelda May, Mumford & Sons, Jethro Tull, The Edge, Steve Van Zandt, Bernie Marsden, Dónal Gallagher, Eleanor McEvoy, President Michael D. Higgins – and loads more, including Neil Whitcher of Fender – have to say about Rory, order a copy of the Hot Press 25th Anniversary Rory Gallagher special below:
Advertisement
RELATED