The musician tapped her fellow former Saucy Monky member Annmarie Cullen to make a cameo appearance in the clip.
American singer-songwriter (formerly of Irish-based indie-pop duo Saucy Monky) Cynthia Catania has unveiled the stunning new video for 'Frames', premiered below by Hot Press.
The song, which at its core delves into love and self-esteem, debuted on Fiachna Ó Braonáin's Late Date radio show.
The visuals were filmed at the incredible, otherworldly location of Bombay Beach, in the vast California desert. Sue Ann Pien is the talent behind the concept and overall direction, having worked extensively with her partner Cynthia in the past.
Exploring vast landscapes, beach views and dry desert as well as a domestic environment with sunflowers and even a gas mask, the creativity beams through every frame of the single.
'Frames' was performed in the recording by Cynthia Catania and Brad Gordon with Steve Giles.
Advertisement
"You know me and you see me / in painter's frame with a master's name / you know me and you show me all the beauty that you see / it's missing when I'm looking at me," the chorus declares, with a minimalist acoustic guitar accompaniment.
Catania's husky, raw vocals tell the story of struggling with confidence until a lover illustrates the light within the darkness, injecting self-worth into their life. It's about being appreciated for just being yourself, ultimately.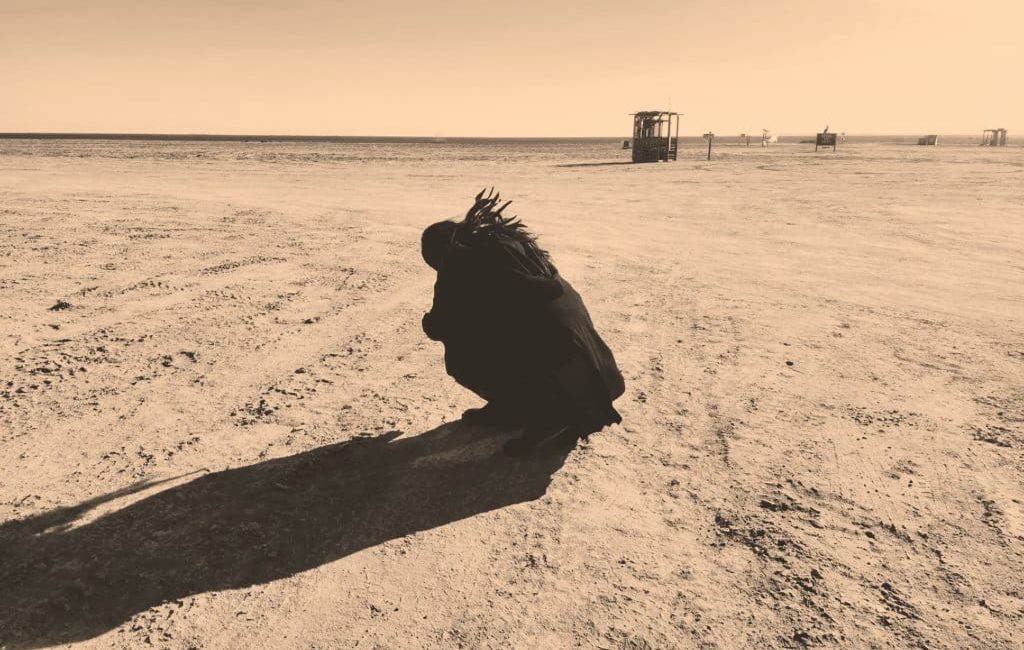 "Love songs with interesting storylines and sentiments are tricky to capture," says the singer-songwriter-producer, Cynthia Catania. "I attempted to relive the moment when one first feels that connection to another human being. Safe to say it's something (many of us) crave at one point or another. The love I tried to convey is about being witnessed - feeling loved and seen for who we really are. Experiencing that beauty through someone else's eyes - it's humbling and expansive. 'You know me and you see me in a painter's frame with a master's name' (excerpt from the song). Aren't we all works of art?"
Cynthia released her previous single 'Something Better' last summer, which reached a particularly wide audience in Ireland. Cynthia also toured and supported The Riptide Movement during sold-out shows in Galway and Cork, as well as OURS (Jimmy Gnecco).
The Los Angeles-based artist has a long history of presenting music in Ireland. First, with her band, Saucy Monky, formed with Dublin native Annmarie Cullen - who appears in the 'Frames' video.
The pair shared festival stages with well-known acts such as The Cure, B-52s, PJ Harvey, PINK!, Wilco, and more as they played to crowds of 100,000 plus at OXEGEN, O2 in the Park festivals and also made an appearance on The Late Late Show.
Advertisement
In 2019, Catania's single 'Phones' garnered rave reviews and substantial radio play. Her music videos are often vivid collaborations with her filmmaker-actress partner Sue Ann Pien, who is starring in the critically-acclaimed, ground-breaking Amazon show As We See It.
Cynthia Catania discovered her voice as a singer/songwriter as a young teenager, influenced by Aretha Franklin, Ann Wilson (Heart), U2, Aimee Mann, Elliott Smith, Red Hot Chili Peppers, and The Pretenders.
Delving into her experience of coming to Ireland, it all started when Tom Dunne took a liking to Celebrity Trash, Saucy Monky's first album.
"We went to Ireland for a radio tour and our debut show at Whelan's," Cynthia recalls. "For me, Ireland was magic. We were in Hot Press magazine, our CDs were in Tower Records near Grafton Street, and Irish radio opened its arms to us — it was a dream come true! I've always found Ireland to be welcoming to me, personally.
"When I came back in 2019, after a long hiatus, it was the same," Catania adds, warmly. "My friends booked us great gigs, my single was played on Today FM and RTE Radio One - it was almost as if no time had passed. I've even signed up with IMRO. I'm back on track building that dream career across the pond. To me, there's no better place to play live music."
Check out the new video for 'Frames' below.
Advertisement