43 years ago today, U2 shared their debut release, Three. The three-track EP, recorded at Windmill Lane Studios, included 'Out of Control', 'Stories for Boys' and 'Boy/Girl'. To mark the occasion, we're looking back at the early years of U2...
The inside story on the early years by Jackie Hayden.
Working in record marketing in Ireland in the late 70's offered, amongst many dubious pleasures, the opportunity to sit in judgement on panels for talent competitions. I say dubious because although a splendid time could be had at someone else's expense (usually my employers, CBS) listening to a lot of good and a lot of bad music, it was a dangerous vocation at the best of times.
In fact, I eventually decided that I didn't have the calling for it after adjudicating a talent competition in the now defunct Talk Of The Town in Aston Quay, Dublin. After the results had been announced, the parents of a losing seven-piece accordion band, tackled fellow judge RTE DJ Larry Gogan and myself about our credentials. There is a saying, that a gentleman is someone who knows how to play an accordion, but doesn't. These were no gentlemen!
Proving that the line between cowardice and pacifism is almost invisible, Larry slipped out the back leaving me to explain matters to fourteen disgruntled parents. Eventually the police had to be called and I was escorted, B.P. Fallon style, to my car.
Not that there hadn't been good times too. In particular I remember sitting on the panel of a folk competition in Tralee as part of the Rose of Tralee Festival. The jury were comfortably ensconced in a bank office overlooking the town square, where the various groups played to a large crowd from a stage, positioned so that we, the jury, could see the acts, but fortunately they couldn't see us.
Advertisement
With typical Kerry hospitality, the room was heavily stocked with a variety of drinks, and after a while more attention was being paid by the panel to the comparative merits of the alcohol on offer, than to the skills of the performers. By about the fifth act, most of the panel were either drunk or asleep and I think the final decision was made by the bank's overnight security man.
After all that, I don't know how I allowed myself to be talked into sitting on the panel for a Limerick Civic Week pop/rock competition on St. Patrick's Day 1978, but I did. Maybe I just fancied a few days out of Dublin or perhaps I thought fellow panellist Billy Wall from RTE Radio, would offer better protection than Larry Gogan had. Either way, there was something significant at stake this time - the winning act would get the chance to audition for the CBS label.
Not that many of the performers seemed to care, mind. After listening to about twelve appalling acts, I began to wish that the lads in Tralee had organised this one. In all I think we listened to about thirty-eights acts, out of which only a couple had something to offer.
One was a band called East Coast Angels, who had already enjoyed some publicity in the Sunday World and were an amalgam of Gary Glitter, Slade, Mott The Hoople and Magic. Another band to impress contained four young looking kids from Dublin. They called themselves U2.
While the overall acoustics and sound system worked against many of the bands, U2 exuded a determination to play and perform despite the technical problems. They did three numbers, including one in Irish, possibly an early incarnation of An Cat Dubh.
I remember Bono impressing me most, with a superbly confident stage presence, even though a tired throat produced overtones of Rod Stewart. I remember his "I'm not moving, feet apart" stance, which has become legendary, and he wore a tight grey polo-neck sweater. He was neat. The rest of the band looked serious and went about their respective jobs in a workmanlike fashion. They knew they were good and both Billy Wall and myself liked them instantly.
Later that evening the chosen finalists had to return to the same hall to perform again, this time in front of an audience. From discussions I had with Billy Wall, it seemed almost certain that either the East Coast Angels or U2 would win out, unless some of the other acts pulled some miracle from a yet-invisible hat. We also agreed that the overall standard had been disturbingly bad.
Advertisement
We could not understand this, since there was a top prize of £500 (not bad in 1978) plus the remote possibility of joining ABBA, Dylan. Springsteen and Geraldine Brannigan in the CBS camp.
Finally, the moment of truth arrived and when the points were added up, U2 were the outright winners. Then with an act of cowardice reminiscent of Larry Gogan, Billy Wall suggested I should make the announcement and hand over the prize. Thanks Billy!
Being quite aware that a Dublin man presenting a prize to a Dublin band on a Limerick stage might not be the most popular man in town, I indulged in a spot of emergency thinking as I made my way to the stage.
I congratulated U2, made an unpopular reference to the obvious lack of rehearsal by some of the acts, and expressed the hope that maybe U2 might someday achieve even some measure of the success enjoyed by that great local Limerick act Reform. That last reference was a master stroke, and it was the nearest I ever got to a standing ovation in my life!
A few weeks later U2 were booked into Keystone Studios in Dublin for their audition to fulfil the agreement CBS had made with the Limerick Civic Week Committee. Some of the band have since been understandably critical of aspects of that session. However, I don't think that they fully understood that the practical intention was to record about eight or ten numbers live, so that CBS could assess the band's repertoire in a way that would not be possible if we'd spent too much time concentrating on just two or three songs. After all, it was their first recording date, they were extremely nervous and no one was expecting miracles. And for the record: subsequent claims by Bono that the band were not allowed into the control room are pure fantasy. (Sorry, Bono).
Anyway the evening ended quite abruptly when Larry Mullen's Dad arrived to take an indignant Larry home. Larry was only fifteen at the time and his Dad felt that school next morning was far more important than this recording session.
Advertisement
The end product from that session was unimpressive of itself, but nevertheless I was getting to like the material and the band more and more. U2 had a particular way of concentrating on the job in hand, which I found lacking in most Irish bands at the time, although I recall their overall sound was not helped by the tuning problems Dave Edge had with his guitar.
Some weeks after this session, Adam Claylon and Paul Hewson (now Bono to you and me) called to my office. They were looking for a CBS recording deal. While nobody else at CBS Ireland was remotely interested in the band, I was keen for a number of reasons to keep up the contact, even though I thought Adam Clayton a little too demanding for my liking! Since they had no manager at the time, I sent Adam a copy of a standard CBS Ireland contract for them to consider.
At a further meeting in my office, Adam explained the band's position. "We don't want to sign this particular contract, there are quite a few things we don't like about it, and since we are all so young, we think we can wait a while before committing ourselves". I explained that the situation was not negotiable, that at that time CBS UK were of the opinion that CBS Ireland should not be signing acts at all, and that was that.
Before leaving the office, Adam asked me, "If we don't sign with CBS now, will that mean that you won't want to have anything further to do with us?"
I told him, no, I was more than happy to keep in touch with the band and I wasn't going to take their refusal to sign personally. What many people don't realise is that individuals in my position gain little and lose nothing, whether record companies sign bands or not.
In the weeks that followed, I had several more meetings with the band and got to know a lot about them. Larry Mullen appeared to be the only one who could actually read music, which probably stemmed from his father being a keen jazz enthusiast. They also joked about the fact that it was originally Larry's band, explaining that when Larry had asked Bono to join, the singer had refused. Then when they did get together at a later date Bono's personality was so dominant that the Larry Mullen Band temporarily became the Bono Hewson Band.
I also learned that their name had been suggested by Steve Rapid, whom I knew from the Radiators From Space. During one of these discussions it was suggested that maybe I should take over the management of the band, but this was an area of the music industry in which I had little interest. Even at that early stage some of the band's later heavily-publicised interest in politics and social issues came through in conversation. I can recall on at least one occasion having to improvise a diplomatic soft-shoe shuffle in response to their misgivings about CBS' involvement with the singer Geraldine Brannigan whose visits to South Africa they saw as support for that country's evil apartheid regime.
Advertisement
Some time later I had a telephone call from Paul McGuinness who informed me that he was now managing U2 and wanted to meet me. I was already slightly familiar with Paul from his involvement with the Irish folk rock group Spud, and his championing of the American singer songwriter Thom Moore, who was then resident in Ireland. When Paul and I met it was obvious that we shared a natural enthusiasm for U2, both as people and as musicians.
I continued to go to see U2 as often as I could, and I can remember some really good gigs at the Project Arts Centre, The Baggot Inn and the now legendary Saturday afternoon gigs at the Dandelion Market of St. Stephen's Green. I remember songs like "Trevor", "Cartoon World" and "Jack In The Box", which impressed me enormously. But I always maintained to Paul McGuinness that the band would need a very sympathetic producer to transfer the excitement they created at a live gig, on to tape. Paul later played me a demo produced by Barry Devlin, (formerly of Horslips), which was certainly infinitely better than the audition tape I had produced. There were three songs on Barry's session, "Street Missions", "Shadows In Tall Trees", and "The Fool". However, much as I liked these new recordings, I still felt that there was a major gap to be bridged between U2 live and U2 in a recording studio.
Around this time I bumped into Bill Graham of Hot Press, at a gig in the Project Arts Centre at which U2 were supporting a Dublin band called The Gamblers. Bill was equally enthusiastic about U2's future, and was one of their earliest and most fervent media supporters. (indeed, it emerged that it was Bill who had introduced the band to Paul McGuinness). Our support was vindicated as U2 emerged as the heroes of a special twenty four hour marathon gig at the Project Arts called Dark Space, at which a number of Northern and UK bands played.
Unfortunately, my championing of U2 was not exactly scoring points for me within CBS, where the tradition in Ireland had been to favour recording MOR acts like Geraldine Brannigan, Roly Daniels, Twink and Alma Carroll. As you can imagine, U2 did not fit comfortably into that roster and it was also openly expressed to me, that my efforts could better be spent promoting some more sales of Leonard Cohen records.
My main argument for U2 was based not just on the quality of their material and what I saw as their obvious commercial potential - I was also keen that CBS should pick up a major Irish international act. Horslips, Chris de Burgh. Rory Gallagher and the Boomtown Rats had all been missed out on by CBS UK, before going on to bigger things. I also argued that there was a real danger that CBS as a major international company might even be seen to be anti-Irish.
Advertisement
Eventually, as a result of the sterling efforts of Paul McGuinness, we were able to persuade CBS to send Nicky Graham from their London A & R division, over to hear U2 playing live. Nicky was sufficiently impressed to keep up a dialogue with Paul and he even came back again to a specially arranged private performance one lunchtime at McGonagles.
I remember discussing the songs with him afterwards and "Cartoon World" was one he fancied as a single. Although he may not have admitted it to Paul McGuinness lest he weaken his negotiating position, I knew Nicky Graham was keen to sign U2 to CBS UK.
On the local scene the buzz about U2 was reaching fever pitch and I knew that some other companies were sniffing around, encouraged no doubt by Paul McGuinness. Eventually it was agreed that CBS would send Chas de Whalley over to Windmill Studios to record some serious demos. I felt we were getting somewhere at last.
When I heard the demos of "Boy Girl", "Stories For Boys", and "Out Of Control", I was astounded.. In fact to this day the opening bars of "Out Of Control" are as spine-tinglingly exciting as they were then. A couple of days later I saw the band play another amazing gig at the Dandelion Market. Something was definitely happening.
During the next week I spoke to more CBS people trying to convince them that this was a real buzz and not just hype. I then began to hear rumblings that certain members of the CBS UK hierarchy felt that U2 could be a worthwhile band, but that they needed a better drummer. This was a laughable idea since Larry Mullen was undoubtedly the most accomplished individual musician in the band at the time and Nicky Graham had already expressed to me his view, that any producer working with U2 would have one simple problem: persuading Larry to play within himself rather than playing to the limits of his capabilities.
It was around that time that I obviously did something wrong with my mouth, because I had a call from a CBS UK executive, telling me more or less to mind my own business and that the CBS A & R division could "Take care of U2 and Paul McGuinness."
Advertisement
Then I had a shattering phone call from CBS in London. "We're passing on U2", they said. I couldn't believe it. Apparently at a CBS A & R meeting at which various tapes were played, the U2/Chas de Whalley demo was given an airing. The legend has it that CBS UK Chairman, Maurice Oberstein, demanded to know if U2 would make money for CBS within a year. An A & R man, probably Nicky Graham, argued that U2 would probably take two/three years to really develop. Oberstein repeated his question and when Graham answered "no ... but" the die was cast
Back in Dublin an urgently arranged meeting with Paul McGuinness took place. We discussed the new situation. We talked about the Irish market and the role it might play in launching U2 onto the international scene. We talked about the various marketing ploys currently being used in the UK, including multi-coloured discs, see-through vinyl. oddly-shaped discs, twelve-inchers, the lot. I said that if the U2 release in Ireland was going to work, it would have to be seen to be anything but another Irish single by another Irish rock band destined for the bargain bins.
At a further meeting I suggested that we should put out a three track twelve inch limited edition of one thousand copies, with each record individually numbered. I argued that as far as we knew the idea of numbering a limited edition had not been done in the UK. Paul bought that one, and added his own suggestion: that we should have a simultaneous release of a seven inch version of the same tracks in a picture sleeve, designed by Steve Rapid.
A meeting was set up with David Duke, General Manager of CBS Ireland, to work out a deal for signing U2 to CBS for Ireland only. In the meantime I went to London and spoke to Nicky Graham. I argued that since CBS UK had paid for the three track demos and were no longer interested, could they not give those tapes to CBS Ireland for us to release. He checked and the relevant authority in CBS UK said, "Yes".
Paul and I also agreed that there would be two key elements in our promotional strategy. One was Hot Press and the other was Dave Fanning. At that time Hot Press was becoming an increasingly important factor in communicating to the rapidly growing rock market, and Dave Fanning with his rock show on the fledgling Radio 2 was equally critical. Fortunately, my relationship with Dave and with Niall Stokes, the editor of Hot Press, had been positive and amicable. Different proposals were put to each. We asked Dave if he would play all three tracks of the proposed single and ask his listeners to choose what should be the A-side. Separately Paul and myself spoke to Niall Stokes, editor of Hot Press. We were asking for him to put U2 on the cover with an interview inside. This was unheard of. A band with no recording history had never featured on a Hot Press cover. With characteristic immodesty I argued that since some people were prepared to lay their necks on the line for U2, those people deserved Hot Press support. As it was, critical support for U2 among the writers of Hot Press was already well-established at this point. Niall Stokes checked with Bill Graham and spoke to others, before phoning back to confirm: we had lift off!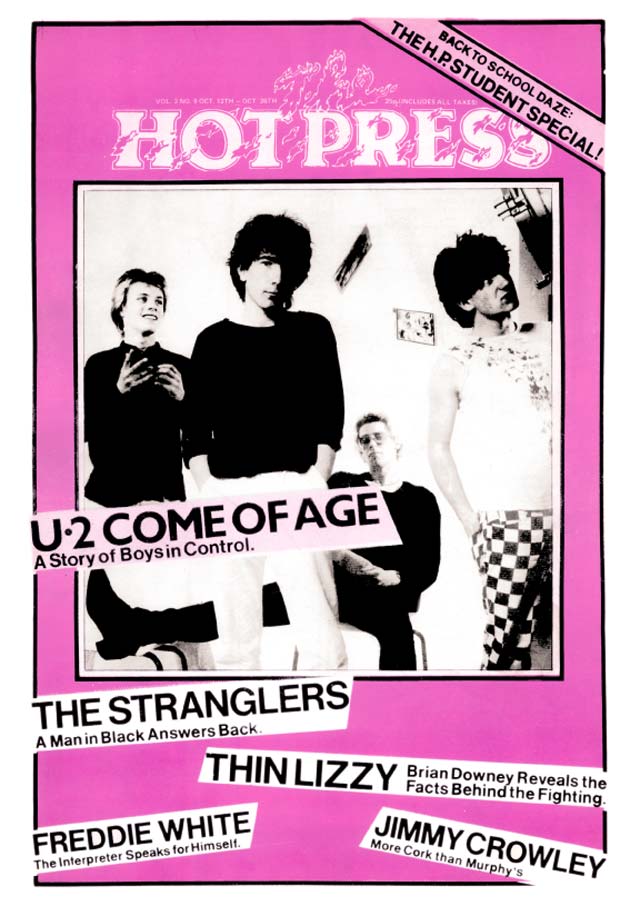 To further ensure that this record should be regarded as something very different, a special listening session was set up in Windmill Lane, where the entire CBS staff met the individual members of the band and heard the tracks for the first time. Since it was normal practice in the record industry to ignore sales staff and stores staff, the psychological benefit of this approach was enormous - everyone felt that they were part of the plan and enthusiasm ran high.
Advertisement
When stock arrived from the local pressing factory, personally set about numbering each individual copy from I to 1,000. In the process I contacted some of the people I knew in the most rock orientated record shops and used the special numbering ploy to extract orders from them. For example, Pat Egan was at first reluctant to take a risk on a large quantity but when he was promised numbers one to twenty-five he agreed to take them. Similarly, other shops got special numbers, such as 500 and 999.
Three days later, "Out Of Control" became the biggest selling twelve inch record ever in Ireland. Radio 2 DJ's right across the board got behind it and soon all 1,000 limited edition pressings were sold and the seven inch was beginning to sell in high quantities. Obsessed with the proof that I had been right all along, I telexed CBS London to the effect that they should reconsider, their decision to pass on U2. I don't recall the exact wording of the telex, but Paul McGuinness claims to have a copy of it "in safe keeping". I never got a reply.
Soon after the success of the single, U2 signed to Island Records, to whom they are still contracted, although CBS still retain the group's records for Ireland only.
Not that it should be assumed that all was forever sweetness and light between the band and CBS. There were numerous flashes of conflict between Paul McGuinness and David Duke of CBS.
At one point CBS Ireland considered dumping the band. The incident which brought things to a head occurred after I'd left CBS in 1980. Apparently the band were quoted in an interview with a now-defunct Irish magazine as feeling that CBS were not getting them enough publicity - the irony was that the interview had been arranged by CBS staffer Mary Duane who had taken over some of my responsibilities after I left. Besides, it was the kind of negative publicity that David Duke, CBS MD at the time, wanted like a hole in the head.
Fortunately, common sense prevailed and CBS have continued to issue U2's material in Ireland right up the present day - a substantial coup in that the local company picked up a major international act, having invested very little money to begin with: that investment must by now have been repaid a hundred fold.
For their part what CBS did do was to give U2 an initial footing on the ladder that eventually led to their international success. Of that everyone who was involved in the company at the time can still feel justifiably proud.
Advertisement
Originally published in Hot Press in June, 1985.
RELATED