On July 20, 1965, Bob Dylan released his iconic song, 'Like a Rolling Stone', as the first single from his upcoming album, Highway 61 Revisited. The deeply influential track has gone on to top multiple lists of the greatest songs of all time, and, at over six minutes in length, had a revolutionary impact on music industry norms. To mark the anniversary of 'Like A Rolling Stone', we're revisiting an extract from an interview with Greil Marcus – originally published following the release of his acclaimed book about the song...
Originally published in Hot Press in 2005...
'Like A Rolling Stone' may not be the song the baby-boomers, peaceniks or political activists would prefer to remember Bob Dylan by, but as a recorded performance, its downright mean energy has ensured that to this day it remains the most anticipated ritual in his live show.
When Greil Marcus's publishers suggested a book to commemorate the 40th anniversary of the song's recording, the writer rejected the idea almost out of hand. Marcus's best books, as anyone who's read Mystery Train, Lipstick Traces or Invisible Republic will attest, are usually too ambitious, unruly and overarching to stay put within such a linear pitch. Yet once implanted, he couldn't get the idea out of his head, and almost before he knew it, the book was completed.
Like A Rolling Stone: Bob Dylan At The Crossroads is, by Marcus's standards, a spontaneous blurt rather than an epic discourse (although his forthcoming treatise on prophesy and the American voice sounds like a major work-in-progress).
The book's most interesting revelation results from Dylan's management granting the author access to tapes of the original Tom Wilson-produced recording sessions that took place in Columbia Records' New York studios in June 1965.
Advertisement
What Marcus heard was not a strategic attempt to nail the song so much as a rag-tag bunch of session pros, plus new bloods like Mike Bloomfield and Al Kooper, fumbling and stumbling toward that single ark-of-the-covenant take, and thereafter struggling – and failing – to repeat the spark. The knowledge that the song only really came alive one time, with no out-takes of note, retrospectively imbues the recording with a dramatic sense of event.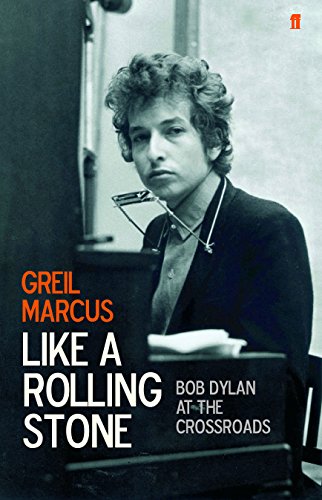 "It's the last thing I expected," Marcus says, headquartered in the Faber & Faber offices for the duration of his London promotional trip, looking exactly like what he is – a 60-year-old professor of popular music, white-haired, craggy and pleasant-featured. "When I heard I was going to be able to listen to a tape of the whole session over the two days that they were trying to record this song, I knew that I would end the book with that. And before I heard what you just described, that they fumbled their way toward it, flailing around, I never would've expected this sense of terrible suspense."
It's worth pointing out that the Pollock-like nature of Dylan's creative process was not lost on Martin Scorsese (whose Bob biog No Direction Home was one of the music-television highlights of the year). The director used the song as a motif in one of his most overlooked works, the Dostoevsky-inspired, Richard Price-scripted 'Life Lessons' segment of New York Stories (the other two episodes of the 1988 film featured Woody Allen and Francis Ford Coppola on auto-pilot). Scorsese's 40-minute piece depicted Nick Nolte as a big bear of a hard-drinking abstract expressionist painter, tormented by sexual jealousy, savagely hurling paint on the canvas as a live version of 'Like A Rolling Stone' blares through his studio.
"The heart of the book for me is that 'Like A Rolling Stone' has a total sound," says Marcus. "One of the metaphors that came to me when I was writing was a ship pitching on the sea in the middle of a terrible storm, that's how it feels. It's a sense that nothing has been predicted, that these are people playing in the dark in a way."
Advertisement