For those who couldn't make it to San Francisco to see this live, there is hope! A film immortalizing the exceptional performance will be screened in select Irish cinemas on October 9.
Metallica and San Francisco Symphony: S&M² is celebrating the 20th anniversary of the two giants' original performance together.
The stellar collaboration between legendary band Metallica and widely acclaimed San Francisco Symphony was such a success at the time, that it was documented by an M&S album which went on to win a Grammy award.
That is how special and memorable this performance was at the Berkeley Community Theatre, back in spring 1999. Directed by late Michael Kamen, the unique concert had blown the audience away.
This time around, twenty years later, the anniversary concert took place at the new Chase Center in San Francisco, showcasing the band and the orchestra's talents once again, along with plenty of pyrotechnics and other captivating visual effects.
This was the first time in twenty years that the S&M arrangements were performed live again, along with first-ever, exclusive renditions of songs which were written and released since the original show.
Advertisement
S&M² also featured new orchestral charts by Bruce Coughlin and a special appearance of legendary conductor Michael Tilson Thomas who is on his final season as San Francisco Symphony Music Director.
All of this very special performance will be available for you to relive through the film brought to you by Trafalgar Releasing, which will be screened in cinemas around the world on Ocotber 9.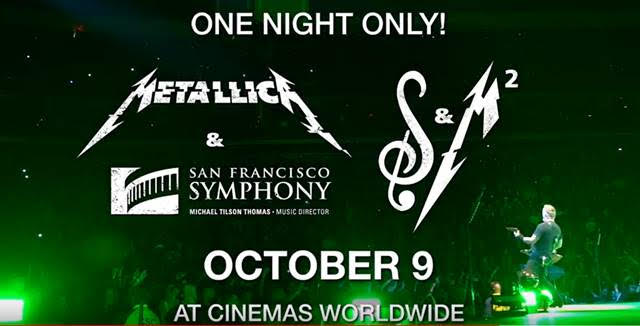 You can watch the official trailer here to get a taste of what this explosive show has to offer.
"Trafalgar Releasing is excited to give Metallica fans around the world a chance to celebrate this anniversary concert together in local cinemas in October," said Kymberli Frueh, SVP for Programming and Content Acquisitions at Trafalgar Releasing.
"The original collaboration between two San Francisco legends—Metallica and San Francisco Symphony became a true moment in music history two decades ago. Reuniting again to perform S&M² is a salute to the legendary collaboration and creates a special moment for Metallica fans to see this iconic pairing," she added.
Having sold nearly 120 million albums worldwide and generating more than 2.5 billion streams, Metallica was and remain one of the most infuential rock band in history. They have collected countless awards during their flourishing career and have secured millions of fans across all continents.
Advertisement
Founded in 1911, the San Francisco Symphony is an orchestra which has won not less than 15 Grammy awards in the past 26 years. There was no doubt that the combination of such talent would make a mark.
One incredible experience which may not be available again.
Tickets are on sale here.
RELATED