For our 1000th issue, we sat down for a special discussion with one of Ireland's most exciting young acts, dark electro-pop duo Sylk. Up for discussion: Lady Gaga, rock vs pop, Berlin techno, the role of drugs in music, and the background to the group's industrial banger 'Cigarettes & Sex'.
Over the storied history of Hot Press' 1,000 issues, we've received new music from countless up-and-coming bands. Of the class of 2019, one of the most impressive young acts have been Dublin-based duo Sylk, who specialise in a brilliantly atmospheric brand of dark electro.
Especially excellent was the track 'That's On You', a throbbing, industrial-tinged effort featuring MC Daragh Locke. Sylk's visual aesthetic was also perfect, with the visuals containing elements of everything from witch-house to the stark moodiness of Nine Inch Nails and The Cure. We were intrigued, excited – and we wanted to know more.
Thus it is that we find ourselves in the eerily calm surroundings of St. Audeon's Church in Dublin, where Sylk – comprised of groove technician Beibhinn and vocalist Taylor – strike poses in the medieval courtyard. Photoshoot complete, we retire to a nearby bar to discuss Sylk's career to date. Fittingly, the duo's origin story involves an electro-pop icon.
"We met at a Lady Gaga concert about 10 years ago," explains Taylor. "I told Beibhinn I loved the Lady Gaga disco stick she'd made! Then a year later, we were going to London to see Gaga again, with a bunch of mutual friends, and we remembered each other."
"When we first started making music, it was around October," notes Beibhinn. "That's our time of year. It's dark."
Where does that darkness in Sylk's music come from?
Advertisement
"It arrived by accident," replies Beibhinn. "We love hearing that type of music, but when we began writing, we didn't even have in our head what it would sound like. It wasn't like, 'Let's do something like such-and-such a band' – it just came out. And aesthetically, it's the kind of image we like. With dark electronic music, you can create a lot visually."
Talk of early influences leads to Crystal Castles being mentioned, specifically the first incarnation when Alice Glass – one of the most brilliant and charismatic performers of her generation – was still in the group. Sylk have notable similarities in their live show, with Beibhinn cranking out punishing beats behind a wall of electronic gear, and Taylor stirring the crowd out front with anarchic punk antics.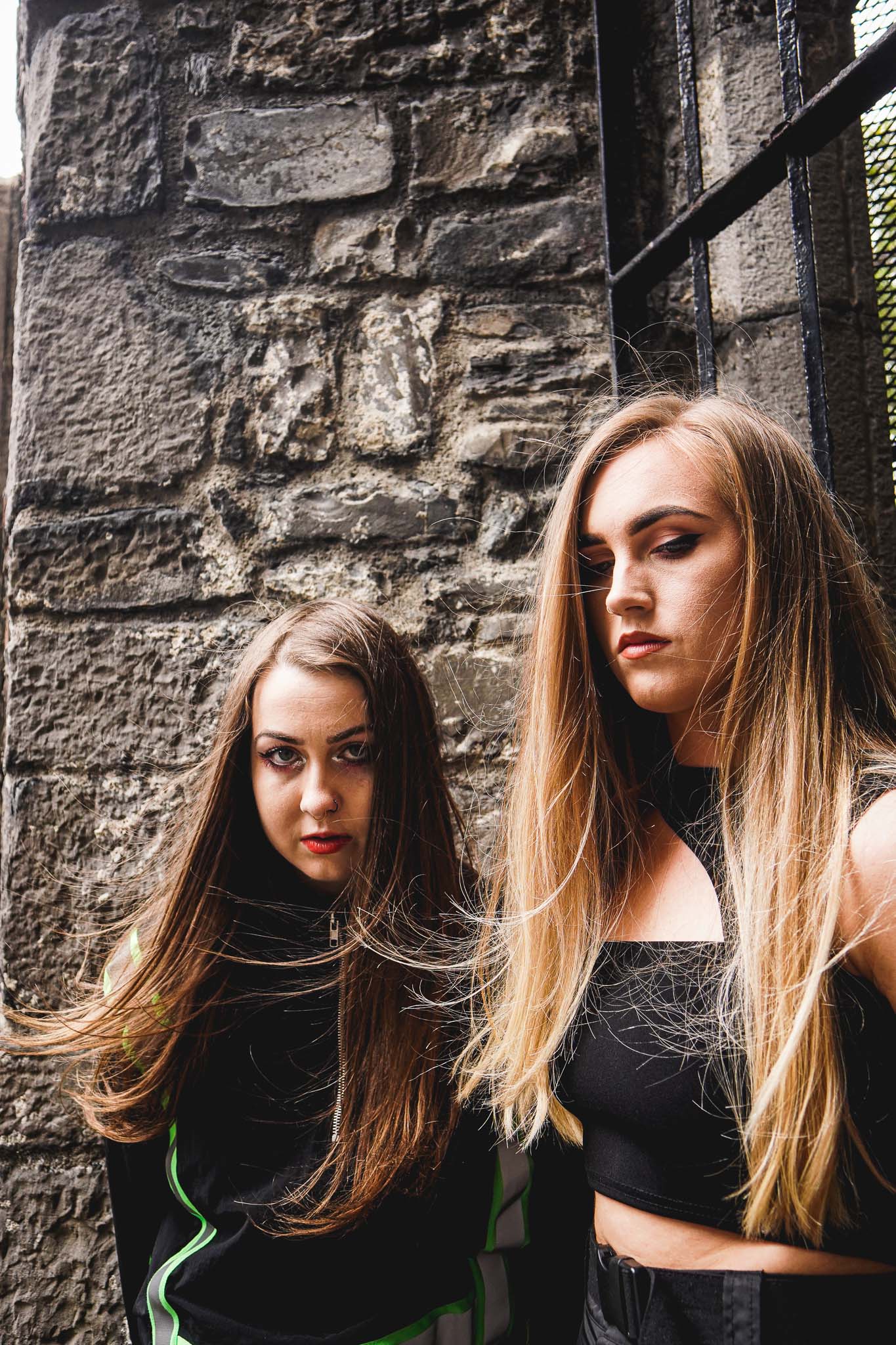 "Visually, they were definitely an inspiration," reflects Beibhinn. "We went to see them together at Metropolis and we went, 'This is insane.' It was so intense. Some people would be like, 'That's a bit much', but I love when something is that powerful. When we're writing music, we also think about how it's going to work live. We love strobes. We want it to be full-on."
"They had the new girl at Metropolis," adds Taylor. "She looks similar and they do the same songs. But Alice Glass can never be replaced!"
Of course, the Crystal Castles story took a dark turn a few years back, when Glass alleged that her bandmate Ethan Katz had behaved abusively towards her over a long period.
"It's really sad," says Beibhinn. "In the creative industries, more and more stories are coming out. It's so sad the way power works. With people like Chris Brown, it's very hard to just listen to the music for the music."
Have the group themselves experienced sexism in the industry?
Advertisement
"I don't think so," responds Taylor. "Not much here, although obviously it is a thing. In Dublin, we haven't really experienced it first-hand ourselves. For me, people have been fair. Maybe other people's experiences are different."
"There's a festival in Whelan's, We've Only Just Begun, which has an all-female line-up," says Beibhinn. "We played it last year and it was unreal. It was a cool concept. Personally, I wouldn't have been that aware of the subject of sexism in music, but then you see those festival posters online with the male acts removed, and there's hardly anyone left. I wouldn't have noticed that it was mainly guys, but that stuff opens your eyes."
"There was one festival this year and there were only three or four females in the whole thing," notes Taylor. "It's crazy when you think about it. But it's good that you see these initiatives now where there are 50-50 bills – it's nice people have that opportunity."
Returning to their live shows, Sylk work hard to deliver consistently ferocious performances.
"Our live show developed in tandem with our records," Beibhinn reflects. "Fiach, who shoots all our stuff, he turned up to our first rehearsal with lights and a mixing desk. He was like, 'Wait 'til you see this!' He had all these mad strobes going while we were practising. From the very start, that was part of our show. The lights and the visuals are fundamental to what we do."
The intensity of Sylk's shows is matched by the group's lyrics, with one track notable for Taylor's seething declaration, "I can fuck you up any time I please".
"We wrote that song with the idea of doing something random and fun," says Taylor, a tad cautiously. "It was like taking on a persona – it was about someone fucking with your head and vice versa. It was like, why not? I love that track; it's fun to perform it and put on that persona.
Advertisement
"That's part of the pleasure of creating," Beibhinn chimes in. "Something like that, it's very different to how we actually are. But it's cool to explore that stuff. We're very open to it."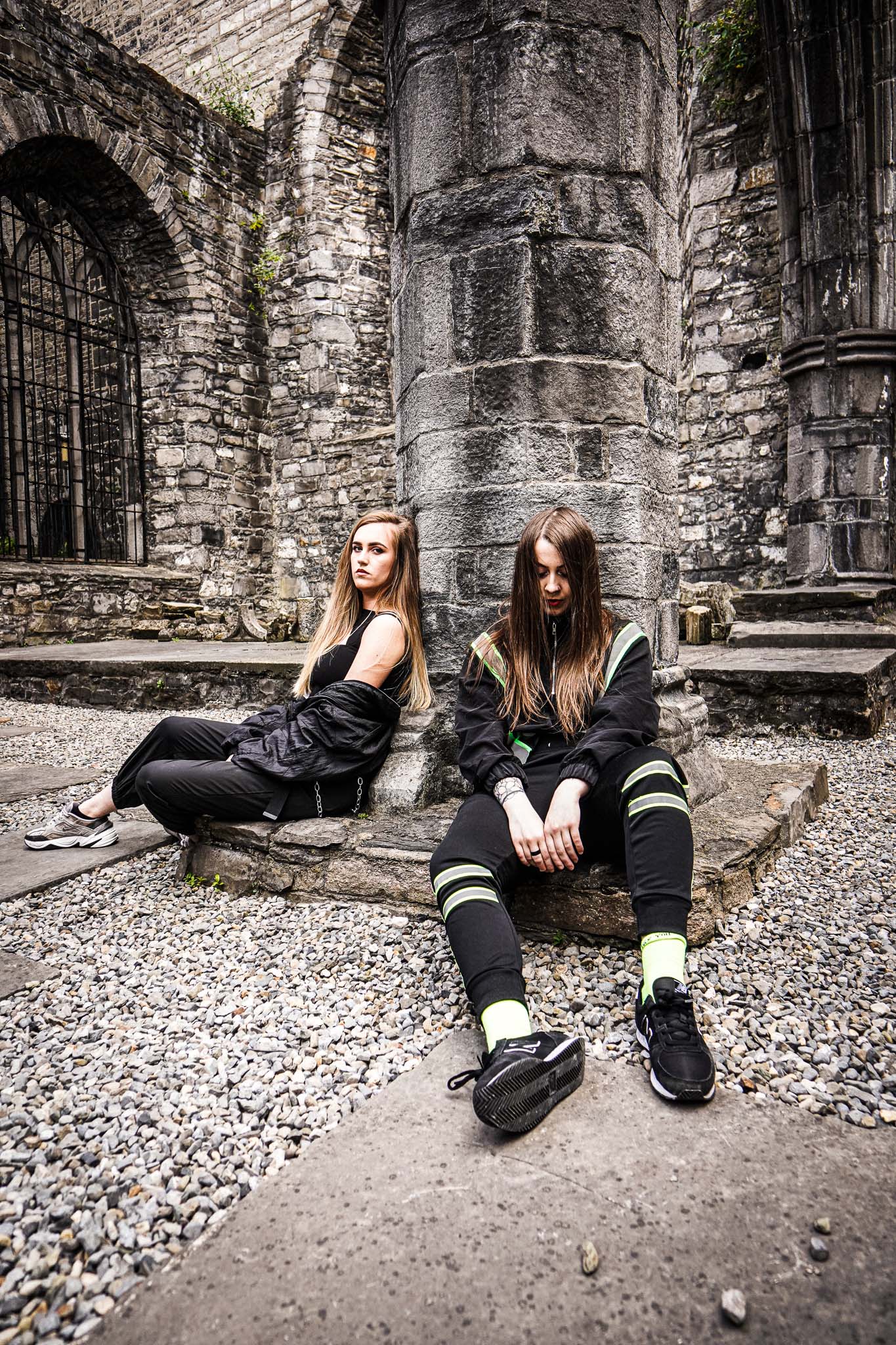 Well, mind games are part of life.
"That's it," nods Taylor. "We write about stuff that comes from experience in some way. Like, someone might be messing with your head and you'll throw it in there. We draw inspiration from different areas of life."
Another of the group's tunes is titled 'Cigarettes & Sex' – is that what the song is actually about?
"The verses are really deep," replies Taylor. "And then the chorus is 'cigarettes and sex'. I mean, it makes it fun. You have to be daring – it wouldn't be such an exciting show if we were just sitting there, singing depressing songs.
"You know... It's actually my dad's favourite song! (laughs uproariously). He rang me yesterday and I told him we had a gig. He was like, 'Are you doing my favourite song?!'"
Advertisement
"We exaggerate things to get our point across," Beibhinn emphasises. "At our live shows, we want it to be intense and for people to get swept up in it. There's a rave vibe."
When the Pet Shop Boys first arrived in the '80s, Neil Tennant made a point of expressing the group's preference for the technicolour excitement of pop over the dull worthiness of classic rock. Asked recently if it was a battle he still felt passionate about, he replied, "No – because pop won."
Sylk definitely fall on the pop and electronic side of the debate – so what are the origins of their love for electronic music?
"One of the most inspiring things I ever came across was a module I did in college in London," reflects Beibhinn. "It was about the development of music since the war. That's where electronic music began, in Germany and France; you had music concrète and elektronische musik. In music concrète, they'd manipulate the sound of trains, or record on a track and reverse it.
"And in elektronische musik, they'd create sine waves with these massive machines that were the size of a room. I just remember being blown away. They were creating music because it was a sad time after the war. They didn't want to be creating this happy classical and romantic music. That wasn't the spirit of the times.
"I was so taken by all that and I always come back to it. I also think it's maybe where some of the darkness in our music comes from. But we also have pop melodies – it's moody but you still want to dance."
An enquiry about which guitar bands, if any, Sylk currently listen to prompts Beibhinn to mention The 1975, of whom she is a huge fan. She was unaware of frontman Matt Healy's stint in rehab for heroin addiction, which leads to a wider discussion of drugs' relationship to music generally. Certainly, they have a notable role in the history of dance music, in particular the widespread use of ecstasy during acid house.
Advertisement
"It's an interesting topic," says Taylor. "When people listen to our music, we want them to feel like they're on drugs – we don't necessarily want them to actually be on drugs. Even after the gig last night, a random guy came up to me and said, 'I've never seen you guys before, but your music made me feel like I was on drugs.' I was like, 'Thanks so much, that's exactly what we want.'"
"Some people say they do it for the creative process. Then you had The Beatles taking acid and stuff like that. I was so fascinated by The Beatles."
We talk on, about Sylk's delight at playing the Pride festival in Cork among other things, before ending on a chat about Berlin techno – one of the most exciting scenes in the world currently. Leading the way, of course, is Berghain; evolving out of the city's '90s gay scene, the club – famously located in a converted power plant – has become a mecca for techno fans from around the world, with acts like Prince Of Denmark and Ben Klock responsible for some of the most exhilarating music of recent years.
"It's one of the top places we'd like to go," enthuses Beibhinn. "The kind of stuff that gets played in Berghain, it's some of the best music to lose yourself in – 'immersive' is probably the best word. You're in your world. It's surreal. The mad thing as well, when you think of it, is that the sounds aren't even real or organic – they're created. It's amazing."
Sylk's latest single, 'All In Ur Head' featuring Daragh Locke, is out now. They play with Vokxen at the Coven night in the Sunflower Bar, Belfast on October 18.  Access to St. Audoen's Church courtesy of the OPW. For more info see heritageireland.ie.
Photography by Zoe Salvucci
Advertisement