The rising star's new charity single, 'Love Is A Compass', is out now.
Disney is already leading the race for the heartwarming Christmas ad of 2020 – but the real standout of the festive tearjerker, released earlier today, is the voice of UK-based artist Griff. Soundtracking the ad with 'Love Is A Compass', which has also been released as a charity single in support of Make-A-Wish, the rapidly rising star has further established herself as one of the most exciting new talents in international pop.
"It was a bit surreal when I first heard about it," she says of her appearance in the ad. "I was trying to not believe it was real."
"It was a new thing for me, to sing a song I hadn't written," she adds. "The song was written by these guys PARKWILD, and it just suited the ad so much. It was perfect. And when it came to this ad, it wasn't necessarily about me – it was about the Christmas message of bringing families together, and the Make-A-Wish kids."
Her appearance on the ad is just one of many 'pinch-me' moments Griff has experienced since releasing her debut single, 'Mirror Talk', just last year.
"I'm so new to releasing music, so I've felt like I've had to pinch myself at every step," she smiles. "Even just releasing a song or putting out a music video or doing live shows – everything still feels super surreal."
Advertisement
Although aged just 19, Griff's lyrics, paired with her soulful vocals, have marked her as a unique force in modern pop – exploring everything from negative body image on 'Mirror Talk', to her relationship with the children her family have fostered on 'Good Stuff'.
"It feels natural to write about your own experiences – that's how you achieve the most authentic music," she considers. "And that resonates with people. People can tap into similar emotions that they can relate to as well. When I write a song, I just try to approach it by writing things that feel real to me."
Ahead of her appearance on the Disney ad, her talent had already been recognised by The Ivors Academy – picking up a nomination for the Ivor Novello's new Rising Star Award, and earning a spot on their mentorship programme.
"Everyone around me was like, 'Griff, do you realise this is super prestigious?'" she recalls. "It was mad – to be a year into releasing music, and to be recognised for what I'm putting out."
She was assigned award-winning songwriter Camille Purcell as her mentor – who has worked on singles for the likes of Sam Smith, Rihanna, Anne-Marie, Stormzy, Dua Lipa and more: "It's sickening, how can she write that many songs!" Griff laughs. "She's really cool."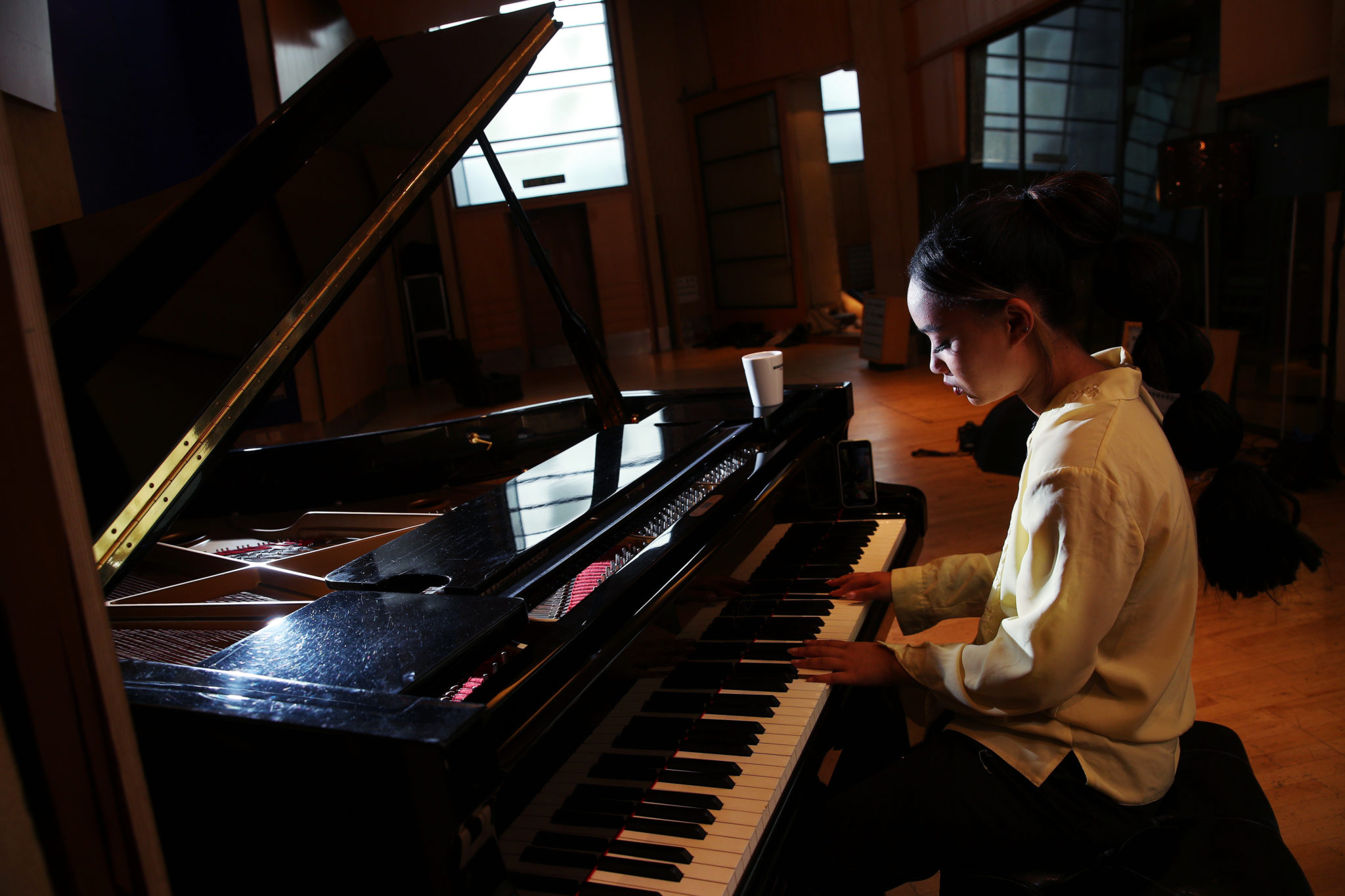 Through her involvement in mentorship programmes such as this one, Griff is happy to see the position of women in the music industry beginning to change.
Advertisement
"I produce as well – and a lot of people still seem to be really shocked by that," she says. "I don't know why, but there aren't that many girls who produce. But I've definitely had a lot of conversations over the past year, where publishers and record labels are trying to get more girls to be in sessions, and write, and do everything. Hopefully I can be one of those people doing that."
Griff also finds that her upbringing in an English village in a mixed heritage family has shaped the way she approaches her career.
"I've grown up in a village called Kings Langley, which is very quintessential British," she explains. "So I was one of the only people of colour in my school, or in my friendship group. Growing up, I've been used to standing out a little bit, and being the odd one out. So that's definitely influenced the way that I feel comfortable in making music, and doing things that are a little bit different. I can separate myself from the crowd."
While she admits that rising to prominence with her music as a teenager has brought a certain amount of pressure, ultimately, she argues: "I put the pressure on myself."
"And I don't have to," so continues. "I have to remind myself to enjoy every single step. I try to take in each moment, and celebrate all the little wins. It feels like this year has been transformed into a bit of a write-off, but actually, there have been so many wins that happened this year, including this Disney ad!"
Of course, lockdown has arrived at an awkward point in Griff's career. Just as she's getting ready to play for larger audiences, venues around the world are shuttered.
"I'm just trying to tell myself that it will all be waiting there, when we go back to normal," she notes. "What's comforting is that everyone's in the same boat."
Advertisement
Like many artists, she admits that finding creative inspiration during lockdown hasn't been easy.
"I started off writing songs by myself – producing in my bedroom," she says. "So at the beginning of lockdown, I was like, 'This is great, I can go back to the way I started getting into music, and I can write loads of music'. And then it came to it – and I just wasn't inspired to write that much music. I don't think many creatives were. It's hard to feel that pop music, or writing about a break up, is significant – when the whole world is kind of turning upside down.
"But that's why opportunities like the Disney thing have been really great," she continues. "It takes your mind off it – and it makes you feel like your music and your talent has a broader purpose."
Watch Disney's new Christmas ad, featuring Griff performing 'Love Is A Compass', below: