Loved by the likes of Dave Grohl, the cult of the Dublin-bound Ghost continues to grow. We meet mainman Tobias Forge to get his thoughts on that Slane performance and discover that the lines between fact and fiction remain as blurred as ever for the rockers.
Whenever anyone tells me that there are "no great rock/metal bands anymore" I always order them to seek out Ghost. Formed in Sweden in 2006, they exploded on the scene in 2010 with Opus Eponymous which effortlessly proved that the devil still has the best tunes whilst quickly establishing themselves as one of the most creative and downright catchiest acts around.
For those who have not yet welcomed Ghost into their homes (for the record, I'm not angry if you haven't, just disappointed...) there's quite a bit of mythology I need to unpack first. You see, for the last decade, they've been building a rich (and entirely fictitious) back story which revolves around a string of satanic popes who have been given the task of trying to convert souls for the dark lord (that'd be Lucifer by the way, not Simon Cowell) via the medium of heavy metal.
Each album, they're led by a once mysterious figure known as Papa Emeritus. After each cycle ends, they're usually disposed of (live onstage) for failing in their mission to turn the whole world into devil worshippers and locked away forever with the Best Of Cliff Richard playing on a loop for punish them for their (lack of) sins (I've made that last part up). Each Papa has their own look/personality traits despite being all played by the same person and all was going as planned until April 2018 when fans were thrown a curveball-Ghost would have a new leader, the cheeky upstart known as Cardinal Copia in a bid to "inject fresh blood into their cause."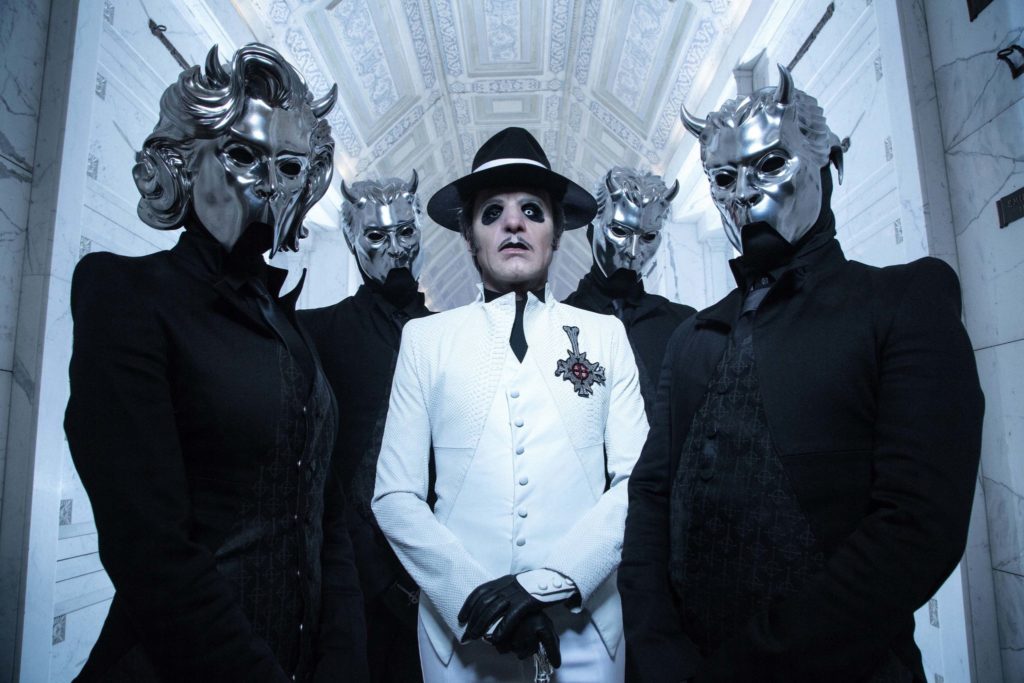 Still with me? Good. Up until late last year all of Ghost's interviews were carried out in character. Journos would talk to Papa Emeritus I, II or III or sometimes with one of the Nameless Ghouls (the other, mask clad musicians in the group). They all lived their gimmick and in an era of warts and all "reality" their mysterious nature was a breath of fresh air. But then something happened. Due to some legal wrangles with former Nameless Ghouls and various online whisperings, the mastermind behind the band ended up being outed as one Tobias Forge who, in an infamous public interview last Christmas, confirmed that all the stories were true.
Advertisement
This year has seen the Swede conduct press commitments as himself and when Hot Press catches up with him on tour in the States promoting their mainstream buckling fourth album Prequelle he tells us he is already cooking up the next instalment of the Ghost saga.
"Life is good," he tells us with a chuckle when we ask him how he feels to have cracked America. "I don't dwell too much on the present though, I'm always planning what's next and after this tour I'm back working on a new record. The Metallica leg we did was very productive. It's definitely opened up a lot of doors for us. It was a dream come true and it was also a very ground breaking time in terms of us reaching out to a lot of new people."
And some of those "new people" included the pilgrims at this year's Slane. Performing as special guests on the aforementioned Metallica jaunt, it marked their long awaited Irish debut. And when I tell Tobias that I feel Slane is Ireland's answer to Donington (i.e. a world famous rite of passage for any rock fan), the charmer disagrees. He thinks Slane is better.
"Slane was on my bucket list for a long time. Before it appeared on the itinerary for Metallica I was definitely not entertaining the idea of us playing there any time soon. I actually think it's more of a thrill to play Slane than Donington. It's not just an extremely beautiful, historic spot. But it also isn't in frequent use. Besides Metallica, the last time the venue was used was for Guns 'N' Roses two years ago. The odds of playing there are low, which makes it a really cool thing to do. Hundreds of bands have played Donington, but the list of those that have played Slane Castle is not that long. It's almost like a hall of fame. We didn't headline, but that's cool. Who knows what the future will bring? We've got a great photo of us playing with the castle in the background that I just love. It was a great day."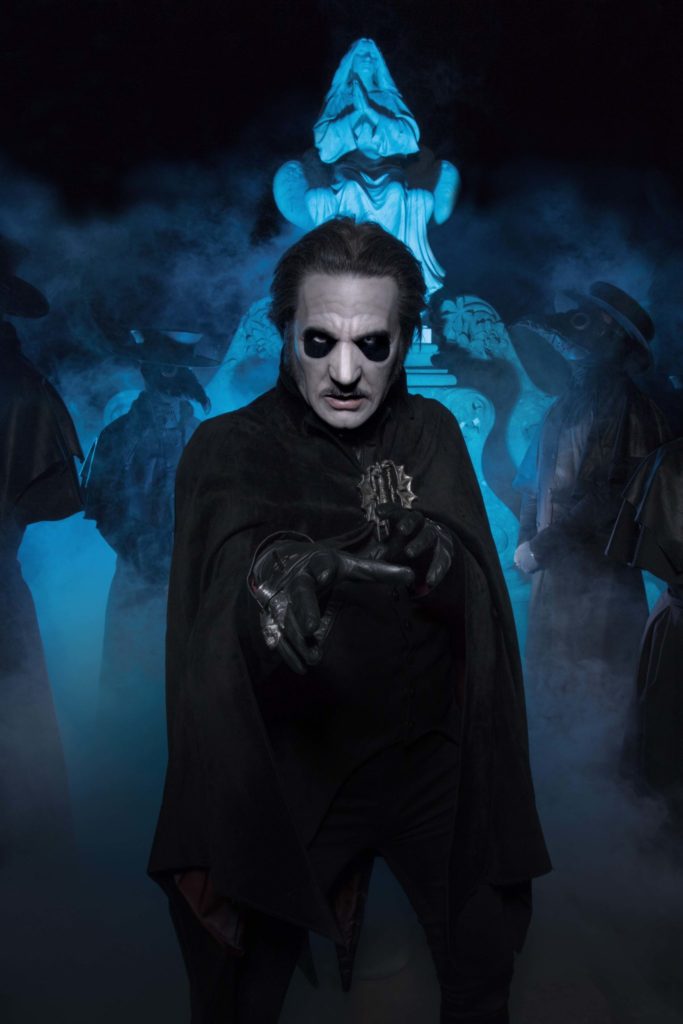 At the time of our interview, Ghost surprise released 'Seven Inches Of Satanic Panic,' a so called "lost recording" from the '60s. Lead track 'Kiss The Go-Goat' tells a classic tale of boy meets girl (only in this case the boy is the devil) and the hook laden, super melodic, organ driven number calls to mind The Crazy World Of Arthur Brown. When I ask Tobias about it, the line between mythology and reality begins to blur. "This release was in 'the plan' about a year and a half ago. Obviously it was recorded 50 years ago. So it's not as 'new' as it appears. I dunno, I can't really talk about it - I'm 38 and the track is 50 years old so I wasn't around when it was made. I guess it sounds a little like Arthur Brown, they were sort of contemporaries of Ghost back then."
This sudden shift from fact to fiction leads me to my follow up question - after playing Papa Emeritus for so long, does Tobias find it hard to separate himself from his character?
Advertisement
"Not at all. I'm not a whole lot like any of my characters. Well, maybe if I sink five margaritas I might be, but I don't do that," he begins. "One of the luxuries of being Papa or the Cardinal is that I'm able to literally hang that character on a hook and just be myself and wear my own clothes and face afterwards. There's a lot of singers, actors and comedians who are expected to be exactly who they are onstage in real life and that can be very draining."
Was "the mask" getting in the way, we probe?
"There were a few things that were getting to be uncomfortable, but not in a physical way. The anonymity was never due to me being shy. I've wanted to be a famous rock star as much as anyone. It was, and is, a means to enhance my vision."
And that vision has paved the way to the arenas of the globe and earned him a legion of fans including Duff McKagan and Dave Grohl who, if urban legend is to believed, was briefly a Nameless Ghoul himself. This November, Dublin is finally graced with Ghost and Tobias is thrilled that fans will experience his eye-popping show.
"I said for years I wouldn't come unless we can present ourselves in the right way. I don't want to short change people and want to them to see the full show. I'm so stoked we finally got over to your beautiful country earlier this year and Dublin is definitely the one night I'm looking forward to the most on this whole European leg."
• Ghost play the 3Arena, Dublin on November 20.