Elvis Presley, The Beatles, Rory Gallagher and Vegas, baby, were all on the agenda when Hot Press met Brendan Bowyer
The showband legend, who passed away today, was in sparkling form in 1995 when he met Joe Jackson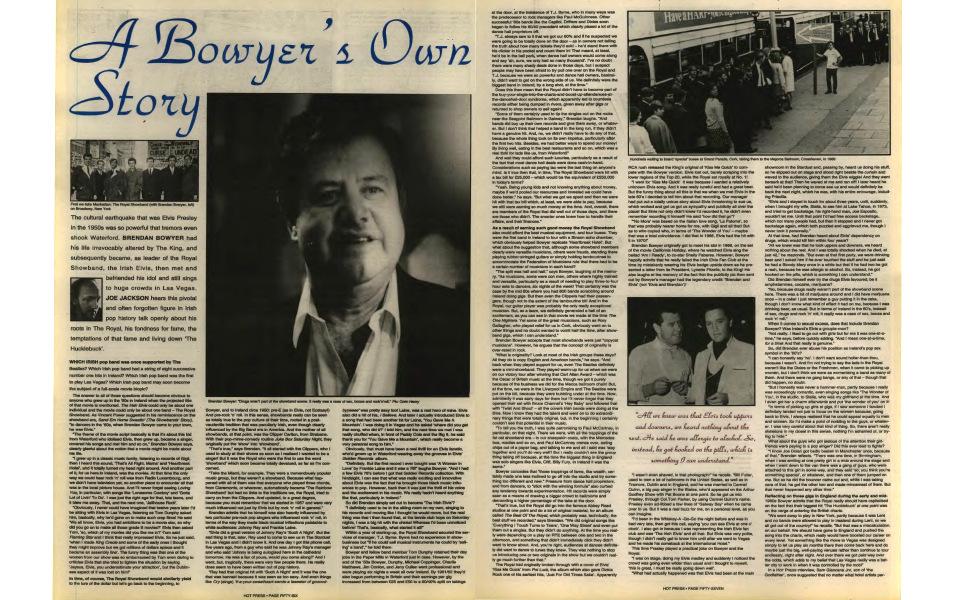 A BOWYER'S OWN STORY
The cultural earthquake that was Elvis Presley in the 1950s was so powerful that tremors even shook Waterford. BRENDAN BOWYER had his life irrevocably altered by The King, and subsequently became, as leader of the Royal Showband, the Irish Elvis, then met and befriended his idol and still sings to huge crowds in Las Vegas. JOE JACKSON hears this pivotal and often forgotten figure in Irish pop history talk openly about his roots in The Royal, his fondness for fame, the temptations of that fame and living down 'The Hucklebuck'.
Which Irish pop band was once supported by The Beatles? Which Irish pop band had a string of eight successive number one hits In Ireland? Which Irish pop band was the first to play Las Vegas? Which Irish pop band may soon become the subject of a full-scale movie biopic?
The answer to all of those questions should become obvious to anyone who grew up in the '60s in Ireland when the projected title of that movie is mentioned. The Irish Elvis could only be about one individual and the movie could only be about one band - The Royal Showband. As Vincent Power suggested in his reminiscence on the showband era, Send Em Home Sweatin' (The Showbands' Story), "to dancers in the '60s, when Brendan Bowyer came to your town, he was Elvis."
Advertisement
"The theme of the movie script basically is that it's about this kid from Waterford who idolised Elvis, then grew up, became a singer, covered his songs and met him and so on," Brendan Bowyer says, clearly gleeful about the notion that a movie might be made about his life. "I grew up in a classical music family, then I heard this sound, 'That's All Right, Mama' and 'Heartbreak Hotel', and it totally turned my head right around. And another part of it, for us here in Ireland, was the movies. At that time the only way we could hear rock 'n' roll was from Radio Luxembourg, and we didn't have a television yet, so another place to encounter all that was in the local picture house. And I'll never forget Loving You, in particular, with songs like 'Lonesome Cowboy' and 'Gotta Lot Of Livin' To Do'. I was just the right age for that, late teens, and it blew me away. That, and the next one, 'Jailhouse Rock'.
"Obviously, I never could have imagined that twelve years later I'd be sitting with Elvis in Las Vegas, listening as Tom Dunphy asked him, basically, why he'd gone on to make such crap films! He said: 'We all know, Elvis, you had ambitions to be a movie star, so why did you go on to make all those grade B movies?' Elvis then asked Tom, 'So, which of my movies did you like me in?' Tom said Flaming Star and I think that really impressed Elvis. So he just said, 'when I made King Creole and some of the early ones I thought they might improve but we got millions of dollars apiece and it became an assembly line'. The funny thing was that one of the women from our show was so embarrassed by Tom even daring to criticise Elvis that she tried to lighten the situation by saying 'Jaysus, Elvis, you underestimate your attraction', but the Dublinese aspect of it was lost on him."
In time, of course, The Royal Showband would similarly yield to the lure of the dollar but let's go back to the beginning, to Bowyer and to Ireland circa 1950: pre-E (as in Elvis, not Ecstasy!) And pre-rock 'n' roll. In this sense, showbands really can be seen as totally true to the pop culture of their time, rooted in a post-vaudeville tradition that was peculiarly Irish, even though clearly influenced by the Big Band era in America. And the mother of all showbands, at that point, was the Clipper Carlton, from Strabane. With their pop-mime-comedy routine Juke Box Saturday Night, they originally put the 'show' into 'showband'.
"That's true," says Brendan. "It all started with the Clippers, who I used to study at their shows as soon as I realised I wanted to be a singer! But it was the Royal who were the first to use the word 'showband' which soon became totally devalued, as far as I'm concerned.
"Take the Miami, for example. They were a tremendously popular music group, but they weren't a showband. Because what happened with all of them was that everyone who played three chords, from Claremorris, or wherever, automatically became 'The Rainbow Showband' but had no links to the traditions we, the Royal, tried to carry on from the Clippers. And updated, to a great degree, because you must remember that we started in 1957 and were very much influenced not just by Elvis but by rock 'n' roll in general."
Brendan admits that he himself was also heavily influenced by two particular pre-rock pop singers, in terms of the ways they made black musical inflections palatable to white audiences: Johnny Ray and Frankie Laine.
"Elvis did a great version of Johnny Ray's 'Such A Night'. But the sad thing is that, later, Ray used to come to see us in The Stardust in Las Vegas and I didn't know it. And one day I got this phone call, five years ago, from a guy who said he was Johnny Ray's manager and who said 'Johnny is being eulogised here in the cathedral tomorrow. He was a fan of yours, would you come along?' And I went, but, tragically, there were very few people there. He really does seem to have been written out of pop history.
"Ray had the original hit 'Such A Night' and it was the one that was banned because it was seen as too sexy. And even things like 'Cry' (sings) 'if-a-your-sweetheart-sends-a leeeeter of gooood-byyeeee' was pretty sexy too! Laine was a real hero of mine. Elvis also did a hit of his, 'I Believe'. And later I actually introduced Elvis to a song that had been another hit for Laine, 'You Gave Me A Mountain'. I was doing it in Vegas and he asked 'where did you get that song, who did it?' I told him, and the next time we met I was really chuffed when, in front of Paddy Cole and the Big 8, he said thank you for 'You Gave Me A Mountain', which really became a very personal song to him."
Obviously, that must have been a real thrill for an Elvis fanatic, who'd grown up in Waterford wearing away the grooves in Elvis' Golden Records album.
"Definitely. But the first record I ever bought was 'A Woman In Love' by Frankie Laine and it was a 78!" laughs Bowyer. "And I had a few Elvis 78s before I got that Golden Records collection. With hindsight, I can see that what was really exciting and innovative about Elvis was the fact that he brought thodr black music influences to pop. However, back then it was just the thrill of his voice and the excitement in his music. We really hadn't heard anything like that, particularly In Ireland."
Advertisement
So did Brendan simply set out to become 'The Irish Elvis'?
"I definitely used to be in the sitting room on my own, singing to his records and moving like I thought he would move, but the real thing was that I then found that, at the tennis club hops on a Saturday nights, I was a big hit with the chicks! Whereas I'd been unnoticed before! That's, basically, what started it all!"
Within a year of starting-up, the Royal Showband secured the services of manager, T.J. Byrne. Byrne had no experience in showbusiness but "If he could sell musical instruments he could try 'selling' a band'," he told them.
Bowyer and fellow band member Tom Dunphy retained their day jobs in the Paper Mills in Waterford just in case. However, by the end of the 50's Bowyer, Dunphy, Michael Coppinger, Charlie Matthews, Jim Conlon, and Jerry Cullen went professional and were playing six nights a week all over Ireland. By 1961/'62 they'd also begun performing in Britain and their earnings per gig increased from between £25 and £50 to a 60/40% split on takings at the door, at the insistence of T.J. Byrne, who in many ways was the predecessor to rock managers like Paul McGuinness. Other successful '60's bands like the Capitol, Drifters and Dixies soon began to follow his 60/40% precedent which clearly pissed a lot of the dance hail proprietors off.
"T.J. always saw to it that we got our 60% and if he suspected we were going to be totally done on the door - as in owners not telling the truth about how many tickets they'd sold - he'd stand there with his clicker in his pocket and count them in. That meant, at least, he'd be in the ball park when dance hail owners would come along and say 'ah, sure, we only had so many thousand'. I've no doubt there were many shady deals done in those days, but I suspect people may have been afraid to try pull one over on the Royal and T.J. because we were so powerful and dance hall owners, basically, didn't want to get on the wrong side of us. We definitely were the biggest band in Ireland, by a long shot, at the time."
Does this then mean that the Royal didn't have to become part of the buy-your-single-into-the-charts-and-boost-up-attendances-at-the-dancehall-door syndrome, which apparently led to countless records either being dumped in rivers, given away after gigs or returned to shop owners to sell again!
"Some of them certainly used to tip the singles out on the rocks near the Seapoint Ballroom in Galway; Brendan laughs. "And bands did buy up their own records and give them away, or whatever. But I don't think that helped a band in the long run, if they didn't have a genuine hit. And, no, we didn't really have to do any of that, because the whole thing took on its own impetus, particularly after the first two hits. Besides, we had better ways to spend our money. By living well, eating in the best restaurants and so on, which was a real thrill for lads like us, from Waterford!"
And well they could afford such luxuries, particularly as a result of the fact that most dance hall deals were done cash-in-hand. Considerations such as paying tax were the last thing on anyone's mind. Is it true then that, in time, The Royal Showband were hit with a tax bill for £25,000 - which would be the equivalent of £250,000 in today's terms?
Advertisement
"Yeah. Being young kids and not knowing anything about money, maybe if we'd pooled our resources and invested we could have done better," he says. "But what we got we spent and then we were hit with that tax bill which, at least, we were able to pay, because we still were earning so much money at the time. And, overall, there are members of the Royal that did well out of those days, and there are those who didn't. The smarter ones knew how to handle their affairs, and their finances."
As a result of earning such good money the Royal Showband also could afford the best musical equipment, and tour buses. They were the first band in Ireland to tour with a Binson echo chamber, which obviously helped Bowyer replicate 'Heartbreak Hotel'. But what about the suggestion that, although some showband members clearly were versatile musicians, others were frauds, standing there playing rubber-stringed guitars or simply holding tambourines to accommodate the Federation of Musicians rule that there had to be a certain number of musicians in each band?
"The split was half and half," says Bowyer, laughing at the memory. "As musicians, some were con men, others were highly trained and versatile, particularly as a result of needing to play three-to-four hour sets to dancers, six nights of the week! That certainly was the case by the mid-60's where you had 800 bands scrabbling around Ireland doing gigs. But then even the Clippers had their passengers, though not to the extent of the tambourine bit! And in the Royal, our guitar player was probably the only really exceptional musician. But, as a team, we definitely generated a hell of an excitement, as you can see in that movie we made at the time The One Nighters. Yet some of the great musicians, such as Rory Gallagher, who played relief for us in Cork, obviously went on to other things and no doubt wanted to vomit half the time, after showband gigs, which I can understand."
Brendan Bowyer accepts that most showbands were just "copycat musicians". However, he argues that the concept of originality is over-rated in rock.
"What is originality? Look at most of the Irish groups these days? All they do is copy English and American bands," he says. "Back when they played support for us, even The Beatles definitely were a mini-showband. They played warm-up for us when we were on our victory tour after winning that Carl Allen Award - which was the Oscar of British music at the time, though we got it purely because of the business we did for the Mecca ballroom chain! But, at the time, we were in the Liverpool Empire and The Beatles were put on the bill, because they were bubbling under at the time. Now, admittedly it was early days for them but I'll never forget that they opened their set with Bruce Channel's 'Hey Baby' and followed that with 'Twist And Shout' - all the covers Irish bands were doing at the time. Now I know they had the talent and went on to do extraordinary things that were totally original, but, in the beginning I certainly couldn't see that potential in their music.
"To tell you the truth, I was quite patronising to Paul McCartney, in particular, on that night. There we were, with all the trappings of the fat cat showband era - in our sheepskin coats, with the Mercedes bus, roadies and so on, and Paul McCartney comes over, eating chips out of a paper bag, and talking to me and all I said was 'stay together and you'll do very well.' But I really couldn't see the group thing taking off because, at the time the biggest thing in England was solo singers like Elvis, Cliff, Billy Fury. In Ireland it was the same."
Bowyer concedes that "those trappings of fame, like wealth, certainly made one less inclined to go off into the studio and try something too different and new." Pressure from dance hall proprietors, and from dancers, to "stick with the winning formula" also curbed any tendency towards experimentation. Hit records were simply seen as a means of drawing a bigger crowd to ballrooms and demanding a higher percentage of the take at the door.
Advertisement
"That's true, but the Royal did go into the famous Abbey Road studios at one point and do a lot of original material, for an album called The Best Of The Royal, which probably technically, was the best stuff we recorded," says Brendan. "We did original songs like 'Everything I Touch Turns To Tears', 'One Way Street' and even put them out as singles. But they didn't do anything. At the time you really were depending on a play on RTÉ between one and two in the afternoon, and something that didn't immediately click they didn't want to know about. And, you're right, audiences at dances definitely did want to dance to tunes they knew. They was nothing to stop us introducing one or two originals in the show but we couldn't realty go much further than that."
The Royal had originally broken through with a cover of Elvis' 'Kiss Me Quick' from Pot Luck, the album which also gave Dickie Rock one of his earliest hits, 'Just For Old Time's Sake'. Apparently RCA rush released the King's original of 'Kiss Me Quick' to compete with the Bowyer version. Elvis lost out, barely scraping into the lower regions of the Top 20, while the Royal sat royally at No. 1!
"I went for 'Kiss Me Quick' because I wanted a relatively unknown Elvis song. And it was really tuneful and had a great beat. But the funny thing about all this is that we when we met Elvis in the late 60's I decided to tell him about that recording. Our manager had put out a totally untrue story about Elvis threatening to sue us, which worked and got us got us sympathy and publicity all over the place. But Elvis not only didn't know I'd recorded it, he didn't even remember recording it himself! He said 'how did that go'?
"No More' was based on the Italian love song, 'La Paloma', so that was probably nearer home for me, with my love of classical music and all that! But as to who copied who, in terms of 'The Wonder Of You' – maybe that was a total coincidence. I did that in 1966, Elvis had the hit with it in 1970!"
Brendan Bowyer originally got to meet his idol in 1966, on the set of the movie California Holiday, where he watched Elvis sing the ballad 'Am I Ready', to co-star Shelly Fabares. However, Bowyer happily admits that he really failed the Irish Elvis Fan Club at the time by mistakenly wearing his Elvis badge upside down as he presented a letter from its President, Lynette Fitzelle, to The King. He also laughs at the memory of the fact that the publicity sent out by Bowyer's manager had the legendary credit: 'Brendan and Elvis' (not 'Elvis and Brendan')!
"I wasn't even shaved, in that photograph," he recalls. "Billy Fuller, used to own a lot of ballrooms in the United States, as well as in Tramore, Dublin and in England, and he was married to Carmel Quinn, a big pop singer in the States, who'd appeared on the Arthur Godfrey Show with Pat Boone at one point. So he got us into Presley, through Col. Tom Parker, by using Carmel Quinn's name. Presley even ad-libbed a few lines of 'Galway Bay' when he came over to us. But it was a real buzz for me, on a personal level, as you can imagine.
"I'd been in the Whiskey-A -Go-Go the night before and was in bed very late, then got this call, saying 'you can see Elvis at one o' clock'. I also got in because I was representing the Irish Elvis Fan Club and was 'The Irish Elvis' and all that. But Elvis was very polite, though I didn't really get to know him until after we went to Vegas and he made his comeback at the International Hotel."
This time Presley played a practical joke on Bowyer and the Royal.
"I was on stage, doing my Elvis medley and suddenly I noticed the crowd was going even wilder than usual and I thought to myself, 'this is great, I must be really going down well'. What had actually happened was that Elvis had been at the main showroom in the Stardust and, passing by, heard us doing his stuff, so he slipped out on stage and stood right beside the curtain and waved to the audience, giving them the Elvis wiggle! And they went berserk at that! Then he waved at me and ran off! I later heard he said he'd been planning to come see us and would definitely be back the next night, which he was, with his entire entourage, including Priscilla.
"Elvis and I stayed in touch for about three years, until, suddenly, when I brought my wife, Stella, to see him at Lake Tahoe, in 1973, and tried to get backstage, his right-hand man, Joe Esposito, wouldn't let me. Until that point I'd had free access backstage, which not many people had, but then it stopped and I never got backstage again, which both puzzled and aggrieved me, though I never took it personally."
Advertisement
At that time, had Brendan heard about Elvis' dependency on drugs, which would kill him within four years?
"All we knew was that he took uppers and downers, we heard nothing about the rest. And I was totally shocked when he died, at just 42," he responds. "But even at that first party, we were drinking beer and I asked him if he ever touched the stuff and he just said he had a Bloody Mary once in a while but that if he had two he got a rash, because he was allergic to alcohol. So, instead, he got hooked on the pills, which is something I can understand."
Did Brendan himself ever try the drugs Elvis favoured, be it amphetamines, cocaine, marijuana?
"No, because drugs really weren't part of the showband scene here. There was a bit of marijuana around and I did have marijuana once - in a cake! I just remember a guy putting it in the cake though I don't know what kind of effect it had on me, because I drinking beer, as usual. But in terms of Ireland in the 60's, instead of sex, drugs and rock 'n' roll, it really was a case of sex, booze and rock 'n' roll."
When it comes to sexual excess, does that include Brendan Bowyer? Was Ireland's Elvis a groupie-man?
"Not really. I liked to go out with girls but for me it was one-at-a-time," he says, before quickly adding. "And I mean one-at-a-time, for a time! And that really is genuine."
Advertisement
So, did Brendan ever abuse his position as Ireland's pop sex symbol in the '60's?
"I can honestly say 'no'. I don't want sound holier-than-thou, because I wasn't. And I'm not trying to say the lads in the Royal weren't like the Dixies or the Freshmen, when it came to picking up women, but I don't think we were as womanising a band as many of them. And there were no gang bangs, or any of that - though that did happen, no doubt.
"But I honestly was never a hammer-man, partly because I really was exceedingly romantic, even singing songs like 'The Wonder Of You', in the studio, to Stella, who was my girlfriend at the time. And I even got her a charm afterwards and put 'the wonder of you' on it
"In terms of picking up girls at gigs, if I saw someone I fancied I definitely tended not just to focus on the women because, going back to Elvis, I always realised that he could appeal equally to men and women. So I'd make a point of nodding to the guys, or whatever. I was very careful about that kind of thing. So, there aren't really skeletons in my closet in this sense, nothing I'm ashamed of, or trying to hide."
What about the guys who got jealous of the attention their girlfriends were paying to a pop singer? Did this ever lead to fights?
"I know Joe Dolan got very badly beaten in Manchester once, because of that." Brendan reflects. "There was one time, in Birmingham, when I was smiling at one pretty girl in a mob around the stage and when I went down to the van there was a gang of guys, who were attached to this girl in some way and they said 'so, you think you're something special', or whatever, and then one of them jumped on me. But as he did the bouncer came out and, while I was taking care of that, he got the other two and made mincemeat of them. But that never happened any other time."
Reflecting on those gigs In England during the early and mid-1960s Bowyer admits that the Royal really should have capitalised on the fact that their biggest hit 'The Hucklebuck' at one point was on the verge of entering the British charts.
"We went away to play in New York, partly because it was Lent and no bands were allowed to play in Ireland during Lent, so we all got out of the country!" he recalls. "But that was a miscalculation, on our behalf. We should have gone to England and pushed the song into the charts, which really would have boosted our career on every level. Yet something like the move to Vegas was designed simply to let us play six months there then come back here and do maybe just the big, well-paying venues rather than continue to tour endlessly, night after night. And over there we got paid way over the odds, which adds to my belief that Las Vegas really was a better city to work in when it was controlled by the mob!"
In a Hot Press interview, Sam Giancana Jnr. son of 'the Godfather', once suggested that no matter what hotel artists performed in during the '50s and '60s in particular, part of the profits always "went to the boys upstairs."
Advertisement
"I'm sure that's totally true. The Stardust was still run by the mob when we were there. And when we played in the Aladdin, later, we were actually flown, by one mobster - who has since gone to jail - in two private jets to play for his son's birthday party in St. Louis. We were told to take the week off. We were paid for what we lost at the Aladdin and paid to do the party. And we stayed at the top hotel in St. Louis and were paid an extra week for staying there! But a lot of the top Aladdin guys later went to jail.
"We didn't have any direct dealing with these people, though we knew some of them were fond of us. The impression I got was that the mob didn't care what they put out, in terms of payment to entertainers, freebies in relation to food, rooms, whatever - as long as they could skim in the casinos, the main thing was to get the people gambling."
This, apparently, was one of the reasons why Presley ended up hating Las Vegas and never performed the song 'Viva Las Vegas' in that city - particularly after his manager fell into debt with casino owners. Indeed, it has been suggested that Parker ended up as a gambling addict. Was Brendan ever hooked by the same tendency?
"I was, yes, and still can be, particularly in terms of poker machines! And eventually it does become an addiction because even though you win occasionally you lose more often. But Vegas has changed now, with corporate concerns taking over, where the mob once ruled. Now they have theme parks for families, and hotels with 5,000 rooms, geared to the same market. So the whole scene has changed, though we still get a pretty good living out of performing there - even if the money is nothing like it used to be. And away from the strip, Las Vegas is just like any suburb of Los Angeles, so my wife and kids have a relatively normal life."
At the beginning of the 70's, the band who had recorded the hit which summed up the swinging '60s more than any other Irish pop hit at the time were finally torn apart by tensions over money. Greed ruled, OK, and Bowyer admits he was not immune to its charms. The trouble began when he admitted he was disillusioned with the Royal. Enter a consortium of Dublin-based businessmen who made a bid for him to leave the band and go solo. They apparently wanted to use the Bowyer connection to gain access to Las Vegas for their other acts.
"I began to be disillusioned as far back as 1966, because I felt I was neglecting my recording career,", he says. "I don't know if the alcohol was taking over then, too, but when I'm asked about regrets, my major regret is that I just wasn't making good records at the time. 'The Hucklebuck' was good, and huge for us all over Europe. And while I'm talking about that, I really should admit, finally, that although I covered Frank Sinatra's version of that song, I'd also seen the Clipper Carlton do it and realised 'that'd make a great record'. So they really should get credit for that! But even 'No More' I messed up by trying to put a beat to it. Overall, we probably were more interested in the money than we were in making the show. And that's why I went for the deal offered by those businessmen, which included Noel Pearson, Mick Quinn, Dan McGrattan, who were Tribune Ltd., and managed a lot of groups."
Is it true that Bowyer first said 'yes' then 'no' which led to him being sued by this consortium, and losing the case?
"That's what happened, yeah," he recalls. "I wanted an XJ6 and a thousand pounds a week, which was a lot in 1970, and they said 'okay, will you sign that?' I didn't think it was a contract, but it was later judged to be so. And, looking back now, I do accept that that started the tension that led to the break up of the Royal Showband. When the lads heard I got this offer it was agreed I'd get an extra half share in the Royal, at a time we had all been on equal shares. And that was the downfall, really.
"Partly because we weren't a manufactured band, like the Capitol, the Freshmen and the Miami," he adds. "People like Dickie Rock got the lion's share of the earnings and the band were just paid a flat rate. But we, in the Royal, were all friends who had grown up together in Waterford, so it really was seen as an equal thing. To tell you the truth, I hadn't thought of it 'till today - but the beginning of the end was when I agreed to take that extra share.
"From then on there was tension there. Jim Conlon announced that he was leaving in 1971 and Tom Dunphy said he was going to go. And then Bill Fuller said he'd take Tom and I, and as he had the Vegas contract we went ahead with that. But, as you say, maybe the Royal was the 1960s here in Ireland and their time had come to part. That did close an era, though another opened for me, which went right through to the mid-'70s, with the Big 8, which, I thought was a really terrific band."
It was around this time that Brendan Bowyer also yielded to the attractions of alcohol. His downward journey in this direction was accelerated by the death of his mother in 1974 and the death of Tom Dunphy in 1975.
Advertisement
"When Tom died I went down to Fuller's Hotel in Ballybunnion and drank myself into the ground. I was feeling sorry for myself and wanted everybody else to feel sorry for me. I also was feeling terribly insecure about growing old. I was afraid I was losing the young people in my audience. These are the questions that trouble pop stars, in particular. And I only finally got out of this blackness, nearly ten years later, when I realised you have to call on a higher power - which doesn't have to be religion, as in Jesus Christ. It can be Mohammed, whatever, as long as you realise there is something bigger than you out there, you can't do it by yourself - though for me, that force actually was Christ."
Brendan's "moment of revelation" came in 1983. He ended up in a hospital after drunkenly crashing his car at a busy junction in Las Vegas. Afterwards his doctor told him he would be dead within six months if he didn't stop drinking. He submitted himself to detoxification in an intensive care unit.
"The accident woke me up, but I couldn't give it up because I used to get withdrawals and the shakes and everything but by the time I was finished in the care unit, I learned how to handle it by talking to other drunks, like myself," he reflects. "Then I stumbled into Alcoholics Anonymous, which I can't really talk about because part of the twelve step programme is that you don't publicise it. They hate someone like Don Johnson saying he's a member of Alcoholics Anonymous then being thrown out of a club for being drunk! But I have a handle on it now, though, to quote one of the many clichés from that programme, I do think 'never say never again'. And I really do regret that I lost virtually the entire '70s because of alcoholism, and suddenly found I was in my 40s. I also neglected my family, though I told myself I didn't at the time. And that affected my marriage, obviously. I wasn't there for my children, all the time. They never witnessed me in drunken rages, because I'm a sedated drunk, a sentimentalist. But I was absent from parts of their childhood, to a great degree. And it was Stella who held it all together."
Does Brendan suspect his children may have been irrevocably scarred by his alcoholism?
"It's hard to know. They appear to be lovely kids. Even though Brendan, who's 26, doesn't even drink he had his experiences with drugs among his peers in school, or whatever. He told me afterwards he was helped in this by remembering that I'd kicked alcohol. And I really do now feel I've arrested the problem. And I know I have an addictive personality and that can be in terms of alcohol, gambling, whatever. So I really do have to watch myself."
Las Vegas is also hardly a city that offers its artists and entertainers any form of artistic freedom. So, does he intend to stay there in what might be described as 'an elephant's graveyard' or might he move back to Ireland to try salvage his recording career, perhaps?
"I'll stay there for the foreseeable future, because, despite what you say about Vegas, one thing I like about the city is that the audience changes all the time. I don't know if I could cope with the monotony of playing to the same audience night after night all the time in some venue in Ireland, though we do enjoy doing Clontarf Castle every year. And I do want to retire to Ireland someday, though I wouldn't go back to Waterford because both my mother and father are dead and, last year, I finally sold the family home. I'd probably live in Dublin.
"In terms of recordings, I definitely would like to do even one more song by which people remember me. It doesn't have to be an original, just something that'd mean, in the end, I won't only be remembered for 'The Hucklebuck', though it was a great song! Maybe something like 'I Only Have Eyes For You', and build an album on that. That's really the only ambition I have left, In this business.
"Apart from that I still count my blessings in terms of remembering how far I've travelled ever since I discovered Elvis and rock 'n' roll back in Waterford. And the buzz breaking through with the Royal in the 1960's really was the highpoint of it all."
Advertisement