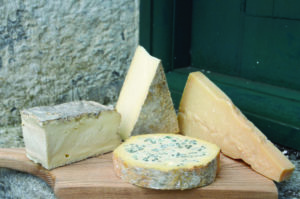 No shots have been fired, but make no mistake; Ireland is in the grips of a food and drink revolution that has permeated every parish, and changed the way we eat both at home and when we go out to the veritable United Nations of dining establishments that we now have to choose from.
Driving the revolution is our produce, which whether Connemara Hill Lamb, Carlingford Lough Mussels, Wexford Farmhouse Camembert, Achill Island Sea Salt, Dungarvan Red Ale, Cork Single Spot Still Whiskey, Wild Wicklow Garlic or Armagh Cider Apples, ranks alongside the finest in the world. 
As folk legend Luka Bloom somberly notes elsewhere in Best Of Ireland, this wasn't always the case. Up until the 1980s when cheese counters made their appearance here, those in need of a frommage fix were often limited to Calvita, Dairylea, Kilmeaden and a form of 'parmesan' that smelt like old rugby socks, and came in a sawn-off toilet roll painted red.
Many of our more, ahem, mature readers will also recall the choice of wine in even upmarket restaurants being a stark "Blue or Black?" Great if you were a Blue Nun or Black Tower afficianado, but not so good if you're vin de choice was a cheeky Chateauneuf-du-Pape.
Advertisement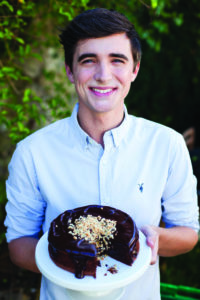 There were, however, some important voices in the wilderness.
"I'll probably be accused of family bias, but Myrtle Allen was talking about how wonderful our produce was and cooking up a storm in her West Cork kitchen back in the 1950s,"  smiles Rachel Allen who's married to her grandson, Isaac. "What I realised when I went to Ballymaloe first, as a student, is that Darina's passion for food filterd down from her mother who is 93 today and still going strong!"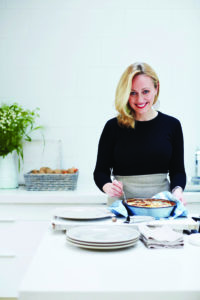 Asked to list her other foodie heroes, Rachel lets out a long sigh and then says, "Oh, there are so many! I've huge respect for those people who get up at six in the morning all-year round to man a market stall. Three of my favourites are Mahon Point Farmers Market, which takes place on Thursday and the Middleton Farmers Market and the Limerick Milk Market, which are both on Saturday. As a city, Limerick gets a lots of undeserved negative coverage in the media, but they adore their food there and really get behind their local producers."
Advertisement
  Clodagh McKenna's first best-seller was 2006's The Irish Farmers' Market Cookbook, a celebration of the country's artisan food producers that took her from Mizen Head to Malin Head.
"My perfect Sunday off in Dublin is piecing together brunch at the Dún Laoghaire Market in the People's Park, and then going to Dalkey for a pint in Finnegan's where Bono had lunch with Michelle Obama and the kids, and from there on to the Guinea Pig, which is a brilliant fish restaurant," she tells us. "In addition to Dún Laoghaire I adore Temple Bar Market on Saturday. In Cork, you've got Mahon Point and the Middleton Market on Thursday and Saturday respectively, and also on Saturday there's the Galway Market outside Sheridan's Cheesemongers on The Square. That'd be my weekly top 5."
Now that we have all this wonderful food and drink it's only right that we should shout about it – which is where Fáilte Ireland comes in. Along with their other work promoting tourism around the country, they've been responsible for developing the Wild Atlantic Way, Ireland's Ancient East and Dublin: A Breath Of Fresh Air, all 'experience brands' that have gripped the imagination of not only overseas visitors, but also Irish people who previously mightn't have been fully aware of what these areas have to offer. Needless to say, food is at the heart of all of these hugely successful initiatives. 
"On the Wild Atlantic Way, the food and drink scene is very much terroir-based," reflects Sinéad Hennessy from their Food Tourism team. "We're looking at visitor experiences that are totally shaped by the sea, and developing a strong seafood influence on that side of the country, such as Taste The Atlantic, a seafood trail which presents our world class mussels, oysters and smoked salmon as well as the people and places that make it. Visitors should be able to taste the scenery – which is sheep on the hills and fish in the sea – as they stop off along the route.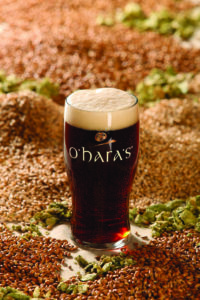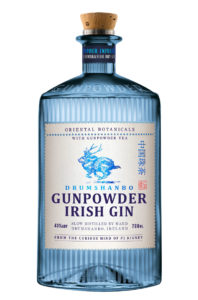 "In Ireland's Ancient East, the food and drink story is very much about tradition and the likes of your ancient grains for distilling and brewing. It's the bounty of Ireland; that geographical area has the most food production. The soil quality is exceptional, so the root vegetables are really good, as is the grass-fed beef. Dublin is about this emerging food and drink scene. You've excellent bars and restaurants popping up, including unusual concepts like Eatyard. It's become a food capital on a par with anywhere in Europe. 
Advertisement
"Whether you're visiting for a weekend or a fortnight, there are enough breweries, distilleries, shops and places to eat to plan your holiday around." 
Asked to sum up what's central to the Irish food and drink experience, Sinéad shoots back: "Produce, place and people. We're truly spoilt in all three areas, and it's getting more exciting by the day."
The health of the Irish drinks industry was evident last week as the brewing, distilling and cider-making clans gathered at the Conference Centre Dublin, for the latest Alltech Craft Brews & Food Fair. Established names like Wicklow Wolf, Galway Hooker, 12 Acres and Rye River rubbed kegs with such brew kids on the block as Larkin's and Ballykilcavan, who are only just up and running.
The craft beer way has been cleared for them by the likes of Seamus O'Hara who quit the sciences/healthcare industry to set up the Carlow Brewing Company.
"It was challenging when we started in the 1990s because, apart from the occasional import, people here weren't used to new beers or ones that had a pronounced hop flavour," he reflects. "They'd be a Guinness drinker or a Heineken drinker. Fast-forward to now and you've over a hundred breweries on the island and countless beer styles. Craft is still only 3.5% of the total Irish beer market compared to over 20% in the States, but the industry has really matured. One of our newest markets is Croatia. It's a tough old slog because you're competing against some excellent local beers, but the Irish brand is very strong internationally."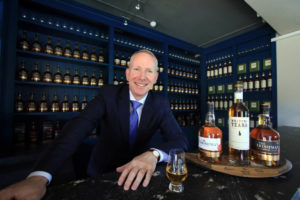 Meanwhile, what's striking about the modern Irish spirits industry is its diversity. On the one hand you've boutique operations like County Waterford's Anchor Spirits, who've gradually built their operation – the makers of Thin Gin recently unleashed a punky new upstart, Spike Island Spiced Rum – and on the other you've Diageo lavishing €25 million-plus on a new distillery at St. James' Gate, which should be on stream by early 2019. With Teeling whiskey and the Pearse Lyons Distillery already up and running in Dublin 8, and the €15m Liberties Distillery making its bow on Mill Street later in the spring, the capital is looking more and more attractive as a whiskey tourism destination. 
Advertisement
Reflecting on the fast-moving nature of the industry, the Chairman of the Irish Whiskey Association, Bernard Walsh, says: "Six years ago there were only three fully operational distilleries in Ireland; now we have over 20. We're the fastest growing whiskey producer in the world, and have been given our own geographical indication, like Champagne and Cognac, in order to protect it and the strict quality guidelines that make Irish whiskey so special and unique."
Based in Carlow, Bernard's Walsh Whiskey operation now exports its premium, triple-distilled Writers Tears and The Irishman brands to 40 countries worldwide. The dawn of a new year has found them distilling the world's first ever Organic Single Pot Still Irish Whiskey, which will be released in 2023 at the earliest. An important part of Walsh's business is the welcoming of visitors to their distillery at Royal Oak in Carlow where the giant stills, which weigh five tonnes apiece, are the stars of the show. They're not alone in honing their visitor experience.
"We've noticed a sharp increase in producers looking to diversify into tourism," Fáilte Ireland's Sinéad Hennessy resumes. "Someone who's blazed a bit of a trail in that department is Siobhán Ní Ghairbhith from St. Tola Cheese who's been welcoming people to her beautiful farm in the Burren for a number of years. You get to meet the goats and see the cheese being made; it's a fantastic day out. All of our artisan producers have a unique story to tell."
When I tell Sinéad that the new man in the Fitzwilliam Hotel, Andy McFadden, has St. Tola's Goats Cheese on the Glovers Alley menu, she notes that, "Andy is part of this new wave of incredible chefs who are re-imagining Irish food in brilliant new ways. I was at Adare Manor yesterday, where they've really given creative licence to their young chef, Michael Tweedie. People like him and Andy are following in the tradition of Ross Lewis in Chapter One and JP McMahon in Aniar, who have been innovating for years."
With the likes of Sea Bass with Dublin Bay Prawn, Thai Spices & Lime on the Adare Manor Tasting Menu, we'll be heading down soon to Limerick, where a pint of Treaty City Brewing's Harris Pale Ale will also be had.
"I think it's brilliant that somebody can go to, in this case, Limerick, ask 'Are there any local beers, whiskies or cheeses?' and be told, 'We have these really lovely ones for you to try,'" Sinéad adds. "This sense of, and pride in, place is key to developing food tourism."
Let us not forget the part the multiples are playing in the Irish food revolution with Tesco, Dunne's, Aldi and Lidl noticeably upping their Irish food offerings over the past 12 months.
Advertisement
SuperValu have gone the extra yard by linking up with Bord Bia and the Local Enterprise Office Network to create the Food Acadamy mentoring programme. Among the 300-plus homegrown producers of varying sizes on SuperValu shelves at the moment are Scotts Irish Cider, who've benefited greatly from the in-store tasting sessions they've done.
"Whenever you do a tasting you're guaranteed to have somebody say, 'All ciders are the same, aren't they?' and then go, 'Wow, that's different!' when we give them some of ours to try," Jonathan Scott told us after a recent visit to a SuperValu store in Kells. "It'd be the same if they'd only tried the one type of bread or chocolate bar. Once you give people a sample and tell them a bit about it, they realise that every cider has its own unique characteristics."
Scott is also a big fan of the local food festivals that have been popping up around the country like mushrooms (the folk from Ballyhoura grow some of our favourite Irish ones!).
"Taste of Cavan is one of the biggest and best events we attend," he resumes. "There were 40,000 people there last year, all of whom were majorly into supporting their local producers. Another great one is the Sheridan's Irish Food Festival that takes place in May in Pottlereagh near Virginia, which being at the end of the M3 attracts a lot of Dubliners."
2017's food festival debutantes included June's International Food Truck Festival in Limerick; the BBQ-flavoured Meatopia, which took place at Guinness' Open Gate Brewery in July, and Tiger Street Eats, which was staged later the same month at the Creative Hub in Dublin 8. 
Making their bow this year are BelFeast, which is showcasing Northern Irish produce in Belfast's Cathedral Quarter from March 23-25, and the Eatyard Crisp Festival, which takes place next to Dublin 2's Bernard Shaw pub from June 15-17  – and that's just for starters!
A great place to catch up with Ireland's increasingly diverse range of chefs is TV3's The Six O'Clock Show, which has recently had Kwanghi Chan, Derry Clarke, Yvonne Connolly, Aisling Larkin, Sophie Morris, Kevin Dundon,  The Happy Pear twins and Patrick Hanlon and Russell Alford, AKA the GastroGays, rustling up tasty fast-eats in its kitchen.
Advertisement
"We started off doing a food and travel blog as a hobby and bit by bit it's turned into a full-time profession," Russell enthuses. "The Six O'Clock Show asking us on was a huge shock. Suddenly we were in a TV kitchen thinking, 'What the hell are we were doing?' It's live, so if you spill hot oil over yourself they can't edit out your screams! The propensity for disaster was huge, but we muddled our way through and the next day had strangers coming up to us and saying, 'You were great last night on the telly!' which was a massive buzz. For us, it's 100% about promoting quality Irish ingredients and products."
Asked for their current must-tries, Patrick shoots back, "How long have you got? Russell's a Clonakilty man, but I adore the Inch House Black Pudding – it's so smooth. Cheese-wise, Cashel Blue or Crozier Blue, preferably cut fresh from the wheel rather than pre-packed. The 15 Fields Cheddar made by Knockanore and aged by Sheridan's is amazing, as is Durrus and the Toonsbridge Mozzarella – they basically assembled their own Italian buffalo herd so they could take on the Neapolitans! We've 30 or 40 gins at home at the moment, but our absolute favourite is Bertha's Revenge from County Cork."
Using whey alcohol from local dairy farmers – hence the name! – this small batch gin has made its way into many a hipster cocktail, but, in Best Of Ireland's book, is is best sampled neat. The only rule when it comes to Irish gin is that there are no rules – as part of their 'Ginteresting' series, Glendalough have thrown locally harvested beech leaves into the copper pot while Drumshanbo Gunpowder Gin follows an old monastic recipe that calls for the adding of tealeaves.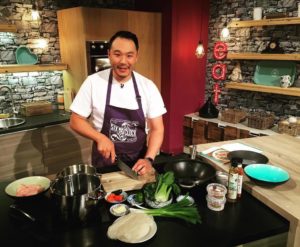 Like the GastroGays, Roz Purcell started out with a food blog, naturalbornfeeder.com, which has lead to her penning a best-seller of the same name, and developing healthy food options for Greens & Co.
"Our food culture is something people here should really cherish," she asserts before picking out some of her personal favourites.
"McCarthy's pub in my hometown of Clonmel is great," Roz resumes. "They do really good pub grub. I love Caviston's out in Glasthule. Fallon & Byrne in the centre of town is also really good. They're probably my top two food shops. In terms of markets, I love the People's Market in Dun Laoghaire. They have lots of fruit, vegetables, natural yoghurt, different types of spice mixes – and you can get fish there. There's also a really good farmers market in Clonmel where I pick up all my eggs, fish and breads."
Advertisement
Supplying us with another shopping list is Donal Skehan, the former boy-bander who's become a TV regular at home and abroad and made it into supermarkets with his Skoff range of meat pies – having sampled 'em all, we reckon the Prime Beef & Stout one is best. But, then again, we do love the Hearty Pulled Pork and Tender Chicken & Ham ones!
"Burren Smokehouse is fantastic – I love the hot smoked salmon, it's one of my addictions," Donal enthuses. "Knockdrinna Farmhouse Cheese I absolutely love, and Young Buck in the north do a stunning blue cheese. Highbank Orchards do an amazing apple syrup, which is great on pancakes, and Cockagee from the Cider Mill in Slane is a fantastic alternative to champagne and cava."
Rachel Allen is eager to add another name to the Irish Cheese Roll of Honour.
"I'm totally in awe of Giana Ferguson, the wonderful lady in the most south-westerly tip of Ireland who's behind Gubbeen Cheese," she proffers. "Her drive and passion are inspirational. She has a book, Gubbeen: The Story Of A Working Farm And Its Foods, that you absolutely have to read."
There's more food for thought in this We Are The Champions! special as we meet the new Michelin man in the Fitzwilliam Hotel, Andy McFadden; renew acquaintances with another chef who's bagged himself a star, Dylan McGrath; introduce five of Ireland's new food champions; and bring you 15 Great Irish Things To Eat…