Lifestyle & Sports
17 Dec 21
Children can explore a new place every month with Paddington's Postcards from UNICEF
To sign up to Paddington's Postcards with a monthly donation of just €21, visit unicef.ie/donate/paddington 
UNICEF has enlisted the help of a beloved children's character, as it strives to build a world in which every child can be happy, healthy and safe. That's right: Paddington Bear™ has joined the UNICEF team.
Christmas is a perfect time to spread the UNICEF message – and to play your own part in making the world a better place. You can now offer your support to the global humanitarian aid agency while enabling your children to discover wonderful people and places around the world, in a way that will broaden their imaginations – and hopefully yours too!
It has never been more important to understand how people in different parts of the world live their daily lives – especially in places that are less well off than where we live, or that have been hit by natural disasters or ongoing conflict. The good news is that UNICEF has created a fun way for kids to have their eyes opened to new places and fresh experiences.
A Surprise in the Post Every Month 
Here's how UNICEF's unique gift idea works. You sign up for a monthly direct debit payment of just €21 to the world-leading charity. When you do, Paddington – yes, the famous bear! – will send your child a personalised postcard, along with some other treats, every month as a way of saying a heart-felt 'thank you'.
Advertisement
Paddington's Postcards make an ideal gift for children aged 4-10. They are also a great way to teach young adventurers about how other families and kids live around the world. Each monthly-pack allows a child to explore a different country with Paddington – and to learn about the lives of people who live there. It is a great way of discovering new places every four weeks.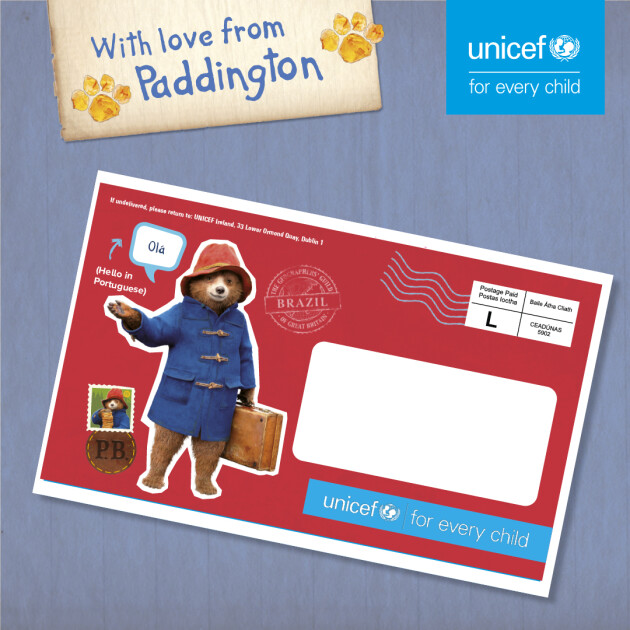 The journey begins with the arrival of a welcome pack, featuring a letter, world map poster, travel journal, stickers and a postcard from London.
Over the following months, you can build up a collection of stories, pictures and fact-sheets that bring to life the diverse traditions and languages that Paddington has encountered since leaving Peru, and there are recommended educational activities that will spark your child's imagination. These playful activities can all be logged in the travel journal. There'll also be lots of fun stickers in the Paddington Postcards monthly pack, for children to put in their journal and mark on the map, as they learn about their peers around the world with the beloved bear.
UNICEF receives 100% of the monthly donations, and the money goes towards helping children around the world – especially those in trouble-spots or places hit by natural disasters or war – to survive with dignity and receive the care they so desperately need.
UNICEF: the Paddington Connection Explained
Paddington Bear is an iconic character. His kindness, tolerance and perseverance, in the face of many an amusing mishap, make him the perfect champion for children – and an ideal symbol of what UNICEF stands for. The agency works in over 190 countries and territories – to save children's lives, defend their rights, and help them fulfil their potential, from early childhood through adolescence. Your donation will help UNICEF to fulfil these goals, while offering your child a fulfilling learning experience with the beloved bear.
Advertisement
The kindness of strangers is needed now more than ever, with children's rights at risk of being eroded, every day as a result of war, climate destruction, famine and disease. Paddington's link to refugee children is well-known, with Michael Bond once explaining that the bear's story was partly inspired by his memories of seeing Jewish children arriving at Reading Station in England, having escaped from Germany on the kindertransport.
Michael Bond's much-loved tale of a bear who must leave his native land to find a new family and home in a strange country resonates now as strongly as it did when it was first published – and perhaps even more so, as a result of the precious links with UNICEF.
• To sign up to Paddington's Postcards with a monthly donation of just €21, visit unicef.ie/donate/paddington 
RELATED
Lifestyle & Sports
22 Apr 22