Boasting incredible historical and cultural attractions – including a world famous techno scene – Berlin is an absolutely essential destination.
Where exactly is it?
The German capital is located in the country's northeast. The Spree river snakes throughout the city, resulting in many lakes throughout the western and southeastern boroughs. About a third of Berlin is composed of green areas, creating a beautiful oasis intertwined with the hustle and bustle of the city.
What language do they speak?
While residents of Berlin primarily speak German, you're almost guaranteed to find an English speaker anywhere. Especially within areas that cater more toward tourists, people will be able to speak at least the basics. Signs and menus will also usually have English translations. Still, it is a good idea to learn a few basic German words just in case – like 'Danke', which means 'thank you'.
How do I get there?
Advertisement
Flights between Dublin and Berlin are quite easy to find – a round-trip flight through Ryanair can cost as little as €50. You'll fly into either Tegel or Schönefeld aeroport, the latter being the destination for most budget airlines.
How can I get around?
Germans are famous for their efficient public transportation, and Berlin is no exception. The city is well-connected through a network of U-Bahn and S-Bahn trains, trams and buses. The trains run from 4 a.m. to 1 a.m. on weekdays and 24 hours on weekends, while the trams and buses have options available 24/7. The bike lanes are also incredibly efficient in the city, giving you the option to sightsee while cycling around (or riding a scooter, as the city just introduced e-scooters in autumn).
When should I go?
Berlin truly comes alive in the summer. As soon as the weather begins to approach 20 degrees, the entire city migrates outside with a lifted mood. It's a great time to go swimming in one of Berlin's beautiful lakes, take a hike, or relax in one of its green spaces, like the abandoned-airport-turned-park Tempelhof. It's also the only season you can experience Berlin's vibrant open-air culture. There are daytime parties and street festivals – a quick Google search will help you find out what's going on every day. Biergartens and rooftop bars, like Klunkerkranich at the top of a parking garage, are normally only open during the warmer months.
What's the food like?
You can't talk about Berlin without bringing up Döner Kebab. The inexpensive Turkish-German dish, consisting of meat and salad stuffed inside a wrap, are available on just about every street corner. Locals will argue for ages about which stand has the best Döner, but Mustafas Gemüse Kebap in Kreuzberg is a cult favourite – just get ready to queue for a while. Right next door is Curry 36, another legendary fast food joint offering up the city's iconic Currywurst – sausage seasoned with curry ketchup.
Advertisement
For those who'd rather avoid the meat, the city is also filled with vegan specialty restaurants (PETA even called Berlin the European capital of cruelty-free food) and delicious falafel on every street. Markthalle Neun is another absolute must-try. The indoor food market offers a wide variety of cuisines, plus "Street Food Thursdays" with even more options than usual.
What are the local drinks like?
Like every other German city, Berlin has its own beer company, called Berliner Kindl, with bottles available almost everywhere you look. The company also offers a sour, cloudy beer called Berliner Weisse usually mixed with flavoured syrup. Radlers, consisting of half beer and half lemon/lime soda, are almost guaranteed on every drinks menu. Berlin is also home to a growing number of microbreweries. For cocktails, Monkey Bar offers international drinks with a view of the zoo, and bartenders dressed as whimsical characters sling crazy cocktails at the Fairytale speakeasy.
What are the touristy things to do?
Museumsinsel, or Museum Island, is a must-see. The tiny island near the city centre boasts five world-renowned museums. The Pergamonmuseum is home to a massive reconstruction of an altar, set to reopen soon after six years of renovations, and the Ishtar Gate, one of the original Seven Wonders of the World. Walk along the East Side Gallery, the longest preserved piece of the Berlin Wall covered in iconic murals, to see a unique intersection between history and art. Checkpoint Charlie is another important landmark. The former crossing point between East and West Berlin now hosts a museum devoted to the city's tumultuous Cold War history. One of the more fun ways to see the city and learn about its history is through a boat tour on the river. It's also worth a quick trip to neighbouring city Potsdam, which is home to some magnificent palaces.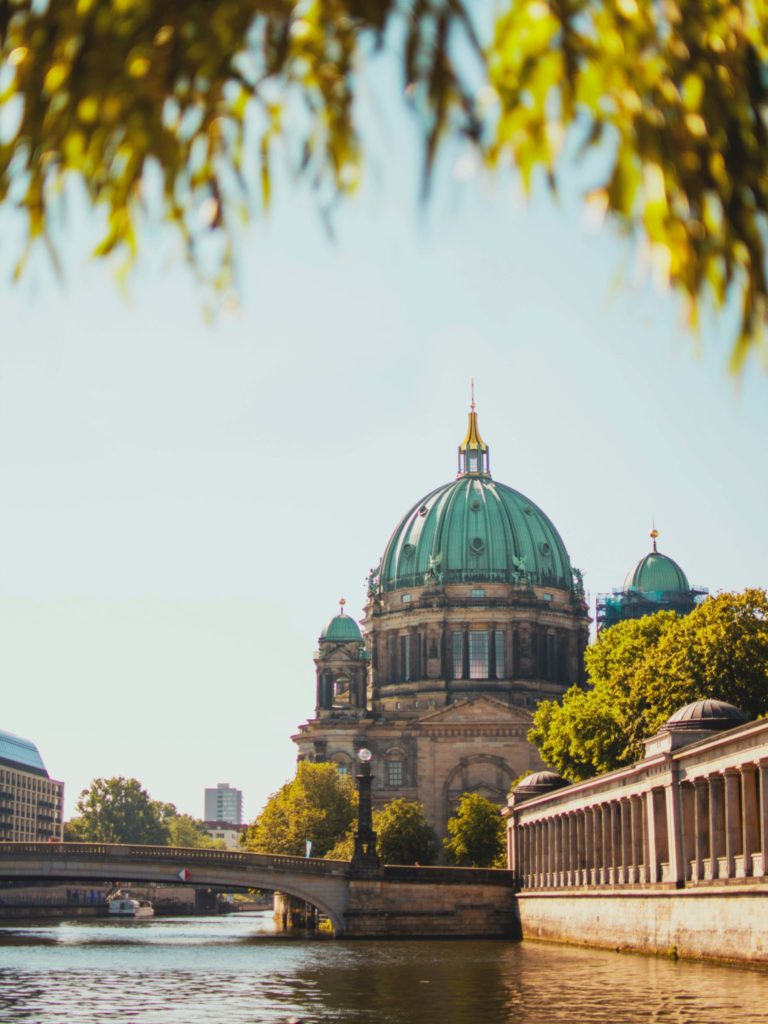 What's the nightlife like?
Advertisement
The techno capital of the world, Berlin is iconic for its chaotic nightlife. Some clubs will stay open for days on end, with hardcore fans staying for more than 24 hours. Highlights include the world-famous Berghain; converted apartment block Salon Zur Wilden Renate; and the waterfront club Kater Blau. But almost any club will be an unforgettable experience. Check Resident Advisor before heading out to see what DJs are playing, and pick your techno poison for the night. And if techno clubs aren't really your thing, the city caters to other tastes too. Clash in Kreuzberg offers cheap beer in a punk atmosphere; 8mm hosts gigs almost every night, focusing more on the post-punk and new wave crowd; and there are numerous jazz clubs throughout the city. No matter how you're trying to spend your nights (or days…), the city's nightlife offers something for everyone.
Anything else?
There are some great places for vintage shopping around the city, notably Garage, where most pieces are assigned prices by weight. Hike through a maze of paths up to Teufelsberg, a manmade hill with a Cold War-era, abandoned listening station on top, boasting some of the best views of the city. Or take a tour through Spreepark, an abandoned amusement park. And on a warm day, you really can't beat getting a beer from a corner store, or Spätkauf, and watching the sunset over the river.