Lifestyle & Sports
20 May 22
Hot Press Summer Drinks Special: Refreshing Glass Acts To Keep You Cool As Temperatures Sizzle
From craft vodkas and premium mixers to award-winning gins and anti-Putin stouts, the Hot Press Summer Drinks Special is packed with glass acts that will keep you cool as the temperatures sizzle!
Summer is here and with it comes the opportunity to spend quality time with family and friends and generally get back into the social swing of things.
No matter what the occasion is, the Hot Press Summer Drinks Guide will ensure that you have something cold and cheeky to celebrate it with!
Despite all the difficulties posed by Covid, the past couple of years have seen an explosion in Irish spirits that are as delicious neat and on the rocks as they are with a mixer or in a cocktail.
Making its debut in April was istil38, a premium craft vodka, which has Pippa O'Connor as its Creative Director and a marketing team behind it with over 80 years of drinks industry experience.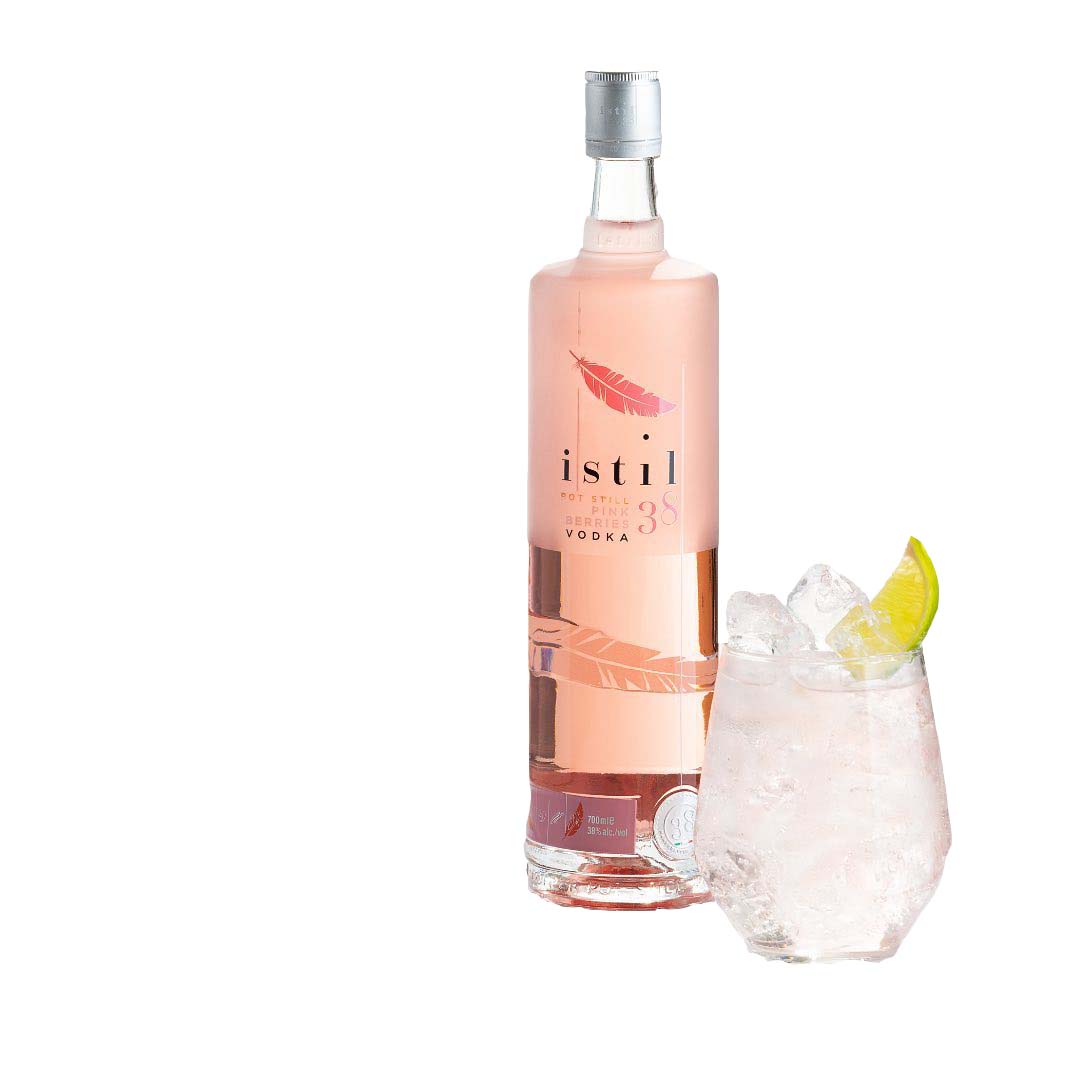 Available in Pot Still, Pot Still Pink Berries and Pot Still Vanilla varieties – the last on the list has led to a major upping of our Espresso Martini game – they're looking to emulate the success of Ború, which at one point during the noughties was the second best-selling vodka here behind Smirnoff.
The bubble burst when the independent was taken over by an American conglomerate, but it shows that given the choice a lot of people prefer to buy/drink Irish.
Not content with winning double Gold at the San Francisco World Spirits Convention last month, Bertha's Revenge Gin celebrates summer with the launch of its 5.3% Bertha Summer Cup and 7.5% Bertha & Tonic premixed cocktails.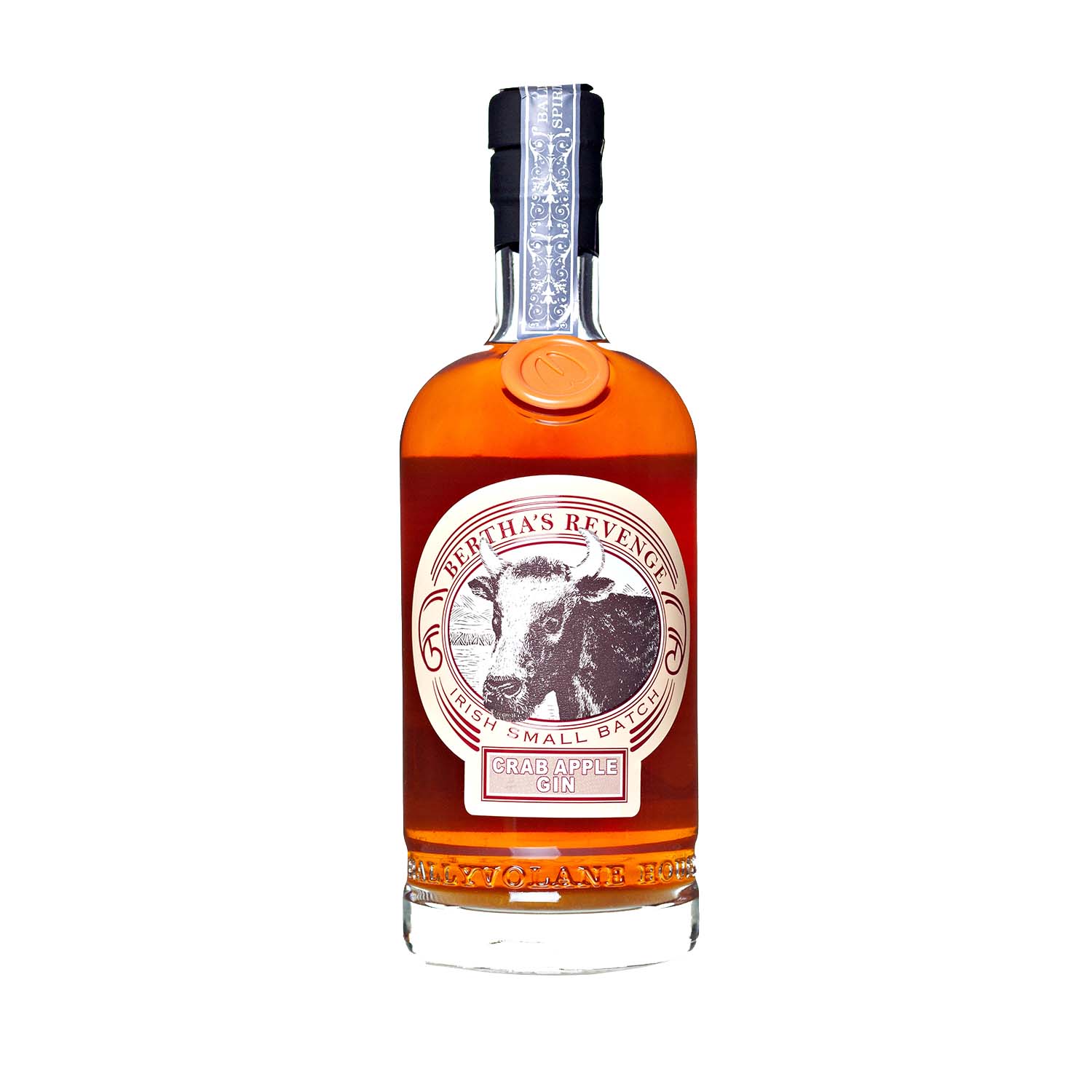 The Castlelyons, Co. Cork microdistillery also gets top Hot Press marks for its spicy 31% Crab Apple Gin Liqueur. For a tantalising twist on a classic Italian Negroni, mix it with equal measures of Capri and Sweet Vermouth, add lots of ice and a spiral of orange peel and ecco qua! ballyvolanespirits.ie.
If you're firmly of the DIY persuasion, it's worth remembering that premiums gins call for an equally premium mixer, which is where Schweppes comes in.
Born 239 years ago in the part of France that was then the Republic of Geneva, their tonic, bitter lemon and tonic have been much-rivalled but rarely if ever bettered.
Meanwhile, Team Hot Press' devotion to uisce beatha took us recently to the Slane Distillery where Lord Henry and Alex Conyngham were celebrating the second release from their new Wood Series.
Presided over by their new Master Distiller, Dr. Gearóid Cahill, Slane Extra Sherry Wood is blended using virgin American white oak caskes, seasoned Tennessee casks raised by hand at the Brown-Forman cooperages and Oloroso sherry casks from Spain. Not surprisingly, it tastes divine and is designed for both sipping and cocktail-making.
If you'd like to try it in its natural habitat, the Slane Distillery gates are firmly open again with details of tours and other visitor experiences to be found at slaneirishwhiskey.com.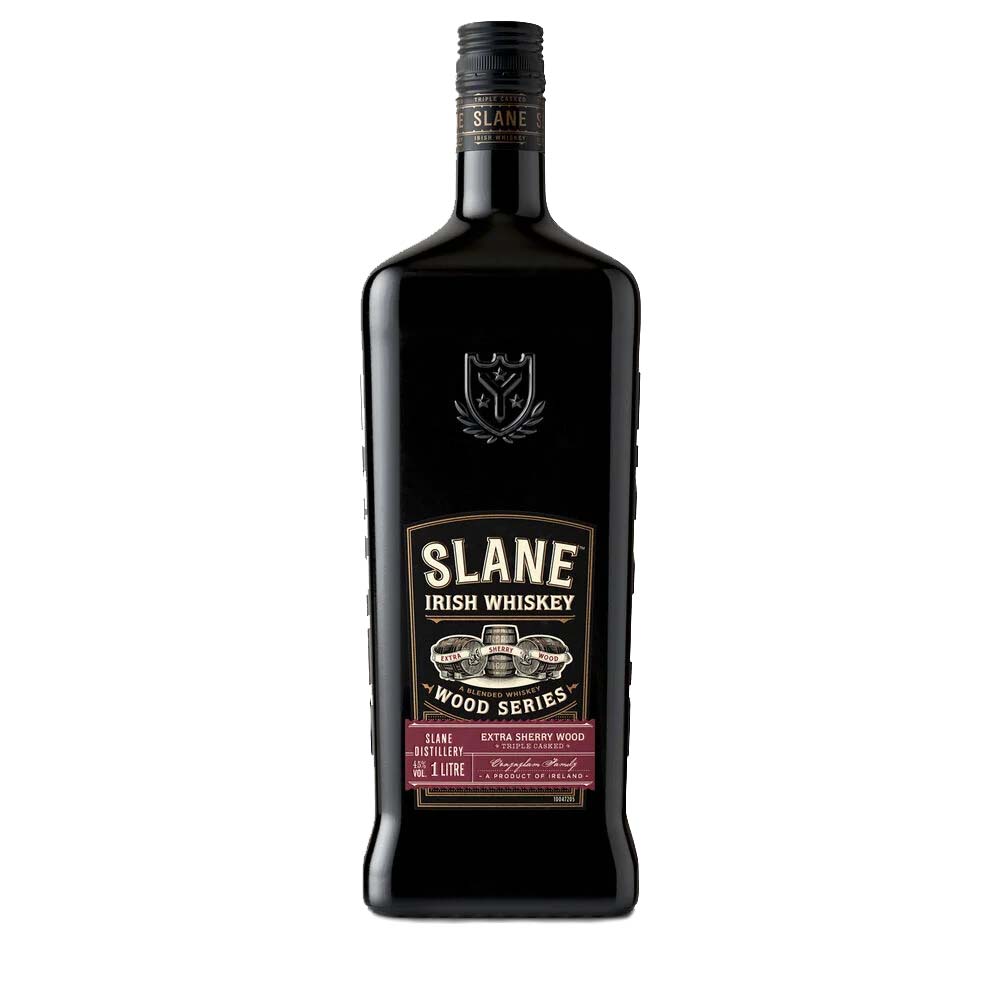 Hot Press was also delighted to renew acquaintances in March with our friends from Southern Comfort when we threw the mother of all Mardi Gras parties together in Dublin's Lost Lane.
With DJs Frank Jez and Jaz Keane, Melina Malone, Booka Brass and Bobbi Arlo among those providing the music and bespoke New Orleans-inspired cocktails from the Southern Comfort mixology crew, it was quite the celebration! southerncomfort.com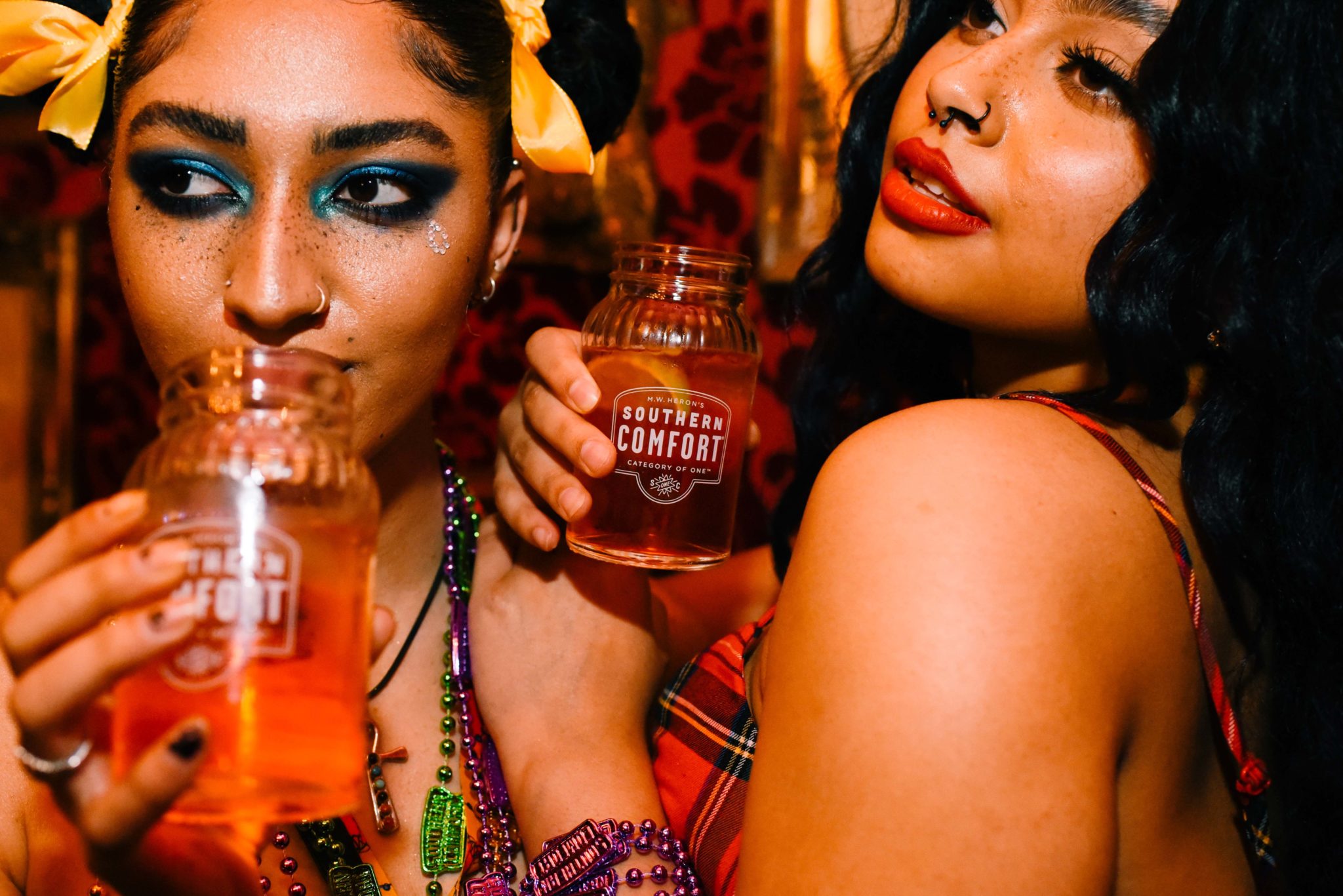 Anti-Imperial Stouts
A doff of the Hot Press headphones goes to Elbow Lane in Cork, Otterbank in Muff and Ballykilcavan in Laois who've all produced Resist Anti-Imperial Stouts to aid the Red Cross' relief efforts in Ukraine.
The brews are based on a recipe supplied by Kyiv's Pravda Brewery, which includes beetroot for a unique earthy sweetness.
We're delighted to report that the beers are as delicious as the cause is worthy.
Let us also pay tribute to the fine drinking emporia around the country fighting the good fight like Mother Macs in Limerick, which has such quality beers as as White Hag's 5.7% Tangerine Shebeen, Wicklow Wolf's 6% Far Far Away, Galway Bay's 12% Sixty Ships Down and Treaty City's locally produced 4.2% Sarsfield Stout and 5% Harris Pale Ale on tap.
Add in an equally impressive array of bottled and canned brews and 150-plus whiskeys and you'll understand why we always make sure to pay 9 High Street a visit when we're in town. mothermacs.ie.
'Tails You Win
If anything good came out of lockdown it was the renewed appreciation of the amazing food and drink we have in Ireland and a willingness to pay a little bit more for premium local products.
Hot Press was delighted to be among the cheerleaders as businesses came up with ever more innovative ways to reach customers during Covid. Our near Green Street, Dublin 2 neighbours Bar 1661 went the premixed craft cocktail route with their Raspberry Negroni, Pornstar Martini and Strawberry Daiquiri the pick of the very fine craftcocktails.ie bunch.
What started as a temporary pandemic side-line now provides fulltime employment with further expansion planned.
Another reason for summertime celebration is the return of Hagstravaganza, the way out west gathering of the beery clans in the White Hag's Ballymote, Sligo HQ on August 6th.
Along with their own wares, the Hagsters have invited such esteemed international guests as Sierra Nevada from the US, Sweden's Stigbergets, Spain's Basqueland, France's 99bpm, Croatia's Garden Brewery and over a dozen more to join them.
If you're passing through Dublin Airport this summer, White Hag have taken up residence in Terminal One with Tap+Brew, which is the only place in the world where you can sample their 4.8% Altitude Pale Ale.
Juicy Fruit
This is also a golden age for soft drink lovers with a delicious range of healthy options to be found in Just Juice bars in Athlone, Cork, Galway, Cork, Kilkenny, Limerick, Waterford and all over Dublin.
From Boosted Smoothies like their Amazon Superberry (Strawberries, Banana, Apple Juice, Natural Frozen Yoghurt, Acai) to such Vegan Smoothie delights as the Cacao Calling (Cacao, Peanut Butter, Almond Water, Maple Syrup, Banana), it really is all good!
Another great Irish success story is that of Laura Murphy and her range of SynerChi Kombucha fermented tea drinks, which are made with much love in Gweedore, Co. Donegal.
We're currently having a passionate love affair with their Organic Ginger & Lemongrass, which is as lipsmackin' on its own as it is with a generous measure of gin!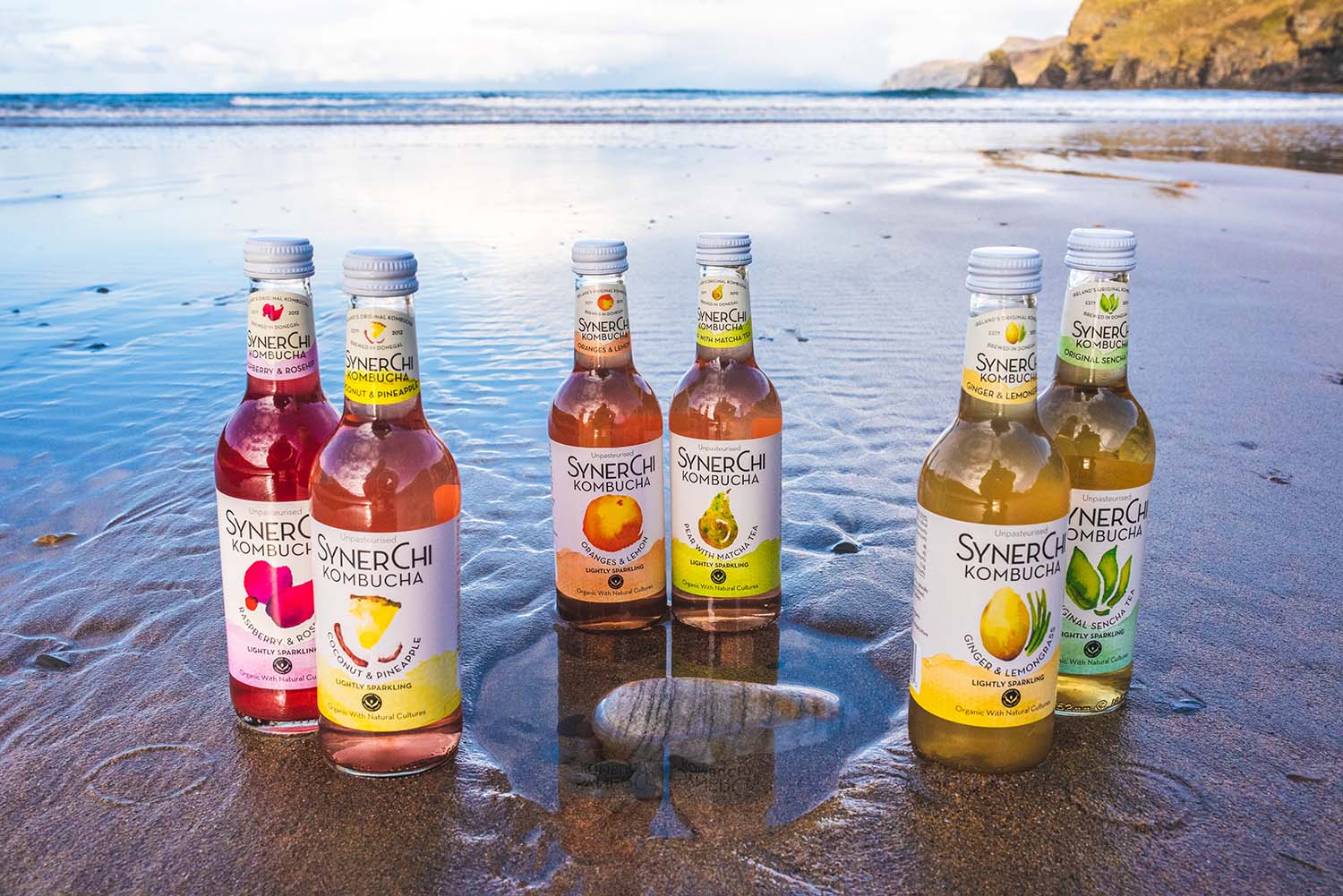 The Drinks Are On:
Our guide to the best summer thirst-quenchers and where to find them!
SynerChi Kombucha
SynerChi Kombucha was created in 2012 by company founder Laura Murphy who has the distinction of being Ireland's first commercial kombucha brewer.
Close to both Mt Errigal and the Atlantic coast, their Gweedore, Co. Donegal 'kombrewery' is a beautiful, wild and natural place to make their fermented tea drinks, which are available in such delicious flavour combinations as Coconut & Pineapple, Raspberry & Rosehip, Ginger & Lemongrass and Pear with Matcha Tea.
SynerChi Kombucha is authentically brewed and never pasteurised, which ensures that it contains the live cultures, raw enzymes and polyphenol antioxidants – all the 'gut' stuff – that are so beneficial to good health.
This summer sees the re-launch of their Synerchi Kombucha Low Sugar range, which have a new improved flavour, are less than 20kcal per can, and available in Ginger & Turmeric Lemonade, Traditional Cola and Apple & Elderflower Press varities.
Also keep your tastebuds peeled for the Raspberry & Hibiscus 250ml cans that will soon be joining them.
Find out more and order from their online synerchi.ie/shop.
Mother Macs
One of Limerick's most iconic buildings, Mother Macs Public House was first referenced back in 1787, meaning that an appreciation for quality beers and spirits is integral to its DNA. Located adjacent to the popular Milk Market on High Street, the pub opened in December 2015. Before this, it served its purpose as a grocery shop and whiskey, wine and tea merchants. Mother Macs has slowly but surely become renowned for its large offering, with 20 draught products including rotational and seasonal beer taps; more than 40 packaged beers; and over 150 Irish Whiskeys. Staying respectful to its roots, the pub is one of a handful of bars in Limerick without a TV. All are welcome to socialise in a friendly, authentic environment with fantastic service and a brilliant beer selection. mothermacs.ie.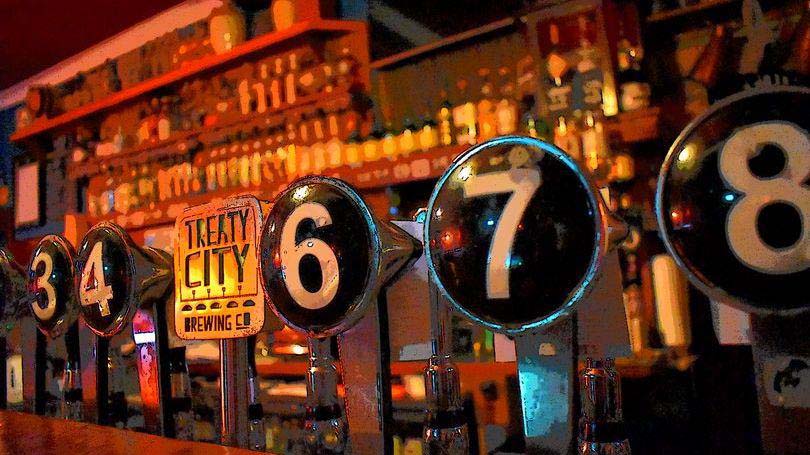 Jump Juice Collagen Protein Smoothies
It's your chance to Stretch, Flex and Sparkle this summer as Jump Juice launch their limited-edition range of Collegen Protein Smoothies.
Available from all of their Cork, Dublin, Waterford, Galway, Limerick and Athlone outlets there are three different varieties – Pineapple Stretch, Berry Flex and Green Sparkle – to choose from or add a Collagen Protein Shot to your favourite smoothie from the extensive Jump Juice menu.
Collagen is the most abundant protein in the human body, making up almost a third of its total protein content.
It's the greatest structural protein in connective tissues like muscles and joints, and helps with flexibility and the muscle's ability to stretch.
Collagen also aids muscle growth and repair; promotes healthy skin, hair, nails and joints; and can play a role in digestive health.
Tag @jumpjuicebars on social media to let them know if you try one of their delicious Stretch, Flex & Sparkle Collagen Smoothies. jumpjuicebar.com
Bulmers: Ireland's Largest Solar Rooftop Farm Makes Great Cider!
Bulmers is renowned as a great summer drink – and for good reason. The cider's reputation is built on craft, care, innovation, quality – and great natural ingredients. Which is why the folk at Bulmers understand the importance of nature – and are doing their best to ensure that the perfect Irish conditions for apple growing are preserved and sustained.
With that ambition in mind, Bulmers' have created the largest solar rooftop farm in the country at their facility in Clonmel, Co. Tipperary. That means that 100% of the electricity used in that facility is generated from renewable sources.
So, next time you're enjoying a refreshing sip of Bulmers, you can raise a glass to sustainability! You can also be satisfied in the knowledge that Bulmers is 100% Irish – made using 17 varieties of Irish apples, fermented for up to 18 months, and produced in Clonmel. No matter which of their range you choose this summer, enjoy the moment – it's been 18 months in the making, and worth every second…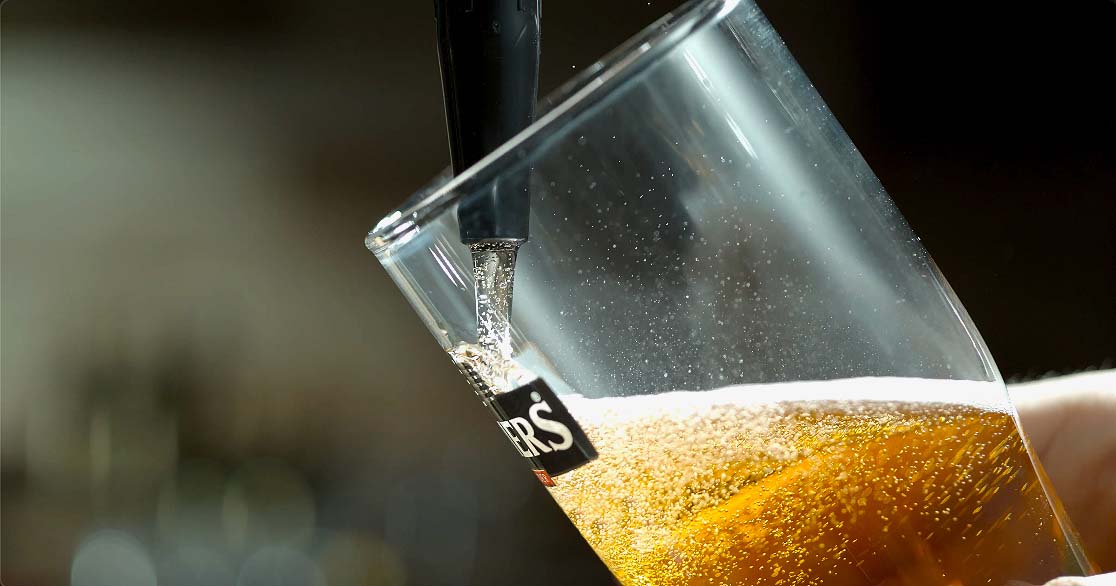 Southern Comfort Berry Sour
Created in 1878 and one of America's most iconic drinks ever since, Southern Comfort makes brilliant cocktails. Try this very special one, road-tested (and loved) by Hot Press' finest aficionados...
50ml  Southern Comfort
100ml Cranberry Juice
50ml Lemonade
Lemon Wedge squeezed and discarded
3-4 Cranberries (optional)
Add Ice, and pour in all ingredients
Squeeze lemon, Garnish with Rosemary sprig
Gently stir and serve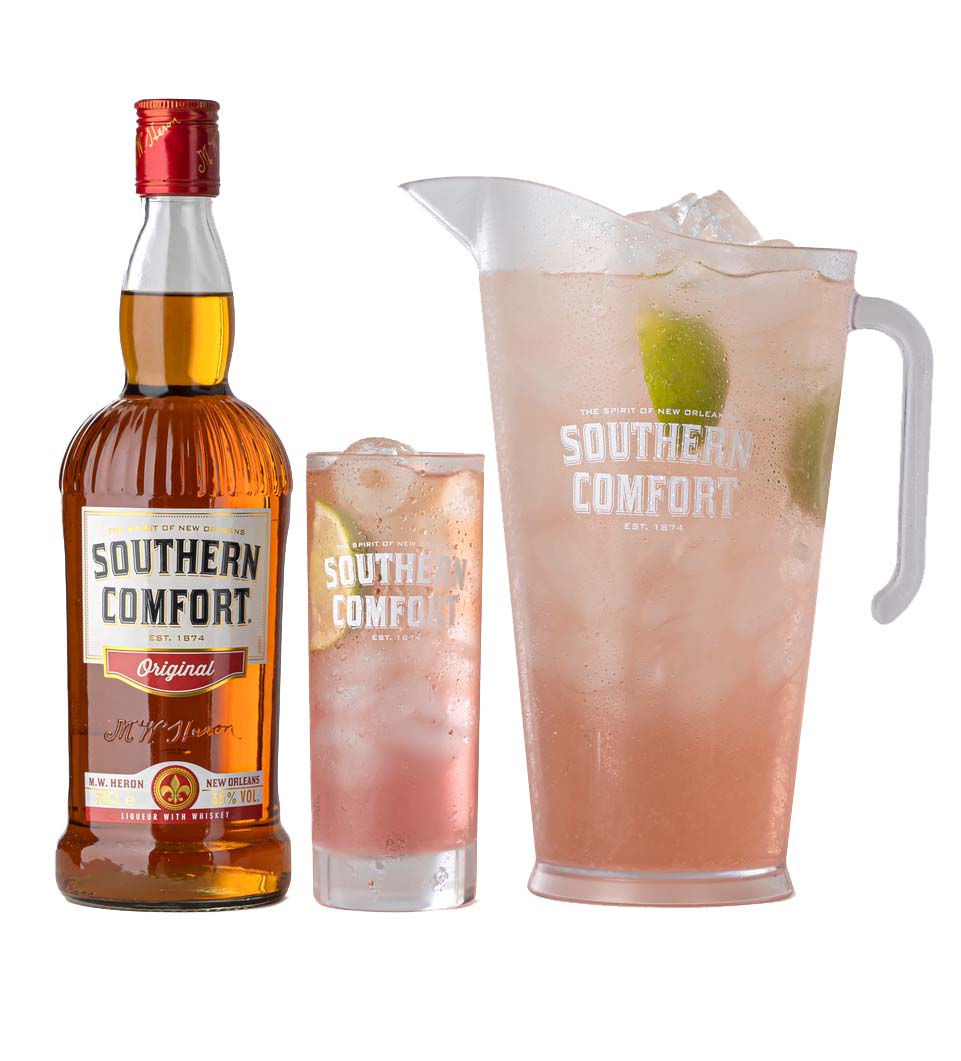 Lambay Licious
Watermelon and Irish Whiskey? Sit back and savour the summer with this super refreshing tropical Lambay Whiskey cocktail.
Lambay Small Batch Blend is triple-distilled and cognac-cask finished with subtle spice, flora and citrus notes, combining perfectly with the summer trend of watermelon flavours!
50 ml Lambay Small Batch Blend
5x 1inch Watermelon Cubes
20 ml Lime Juice
Pinch of Sea Salt
15 ml Agave Nectar
Soda Water
Fresh Mint
Add all ingredients into a shaker, add ice and shake hard for 10-15 seconds. Strain into a Cream Soda glass with ice and top with soda. Garnish with Watermelon and Mint. Serve and enjoy!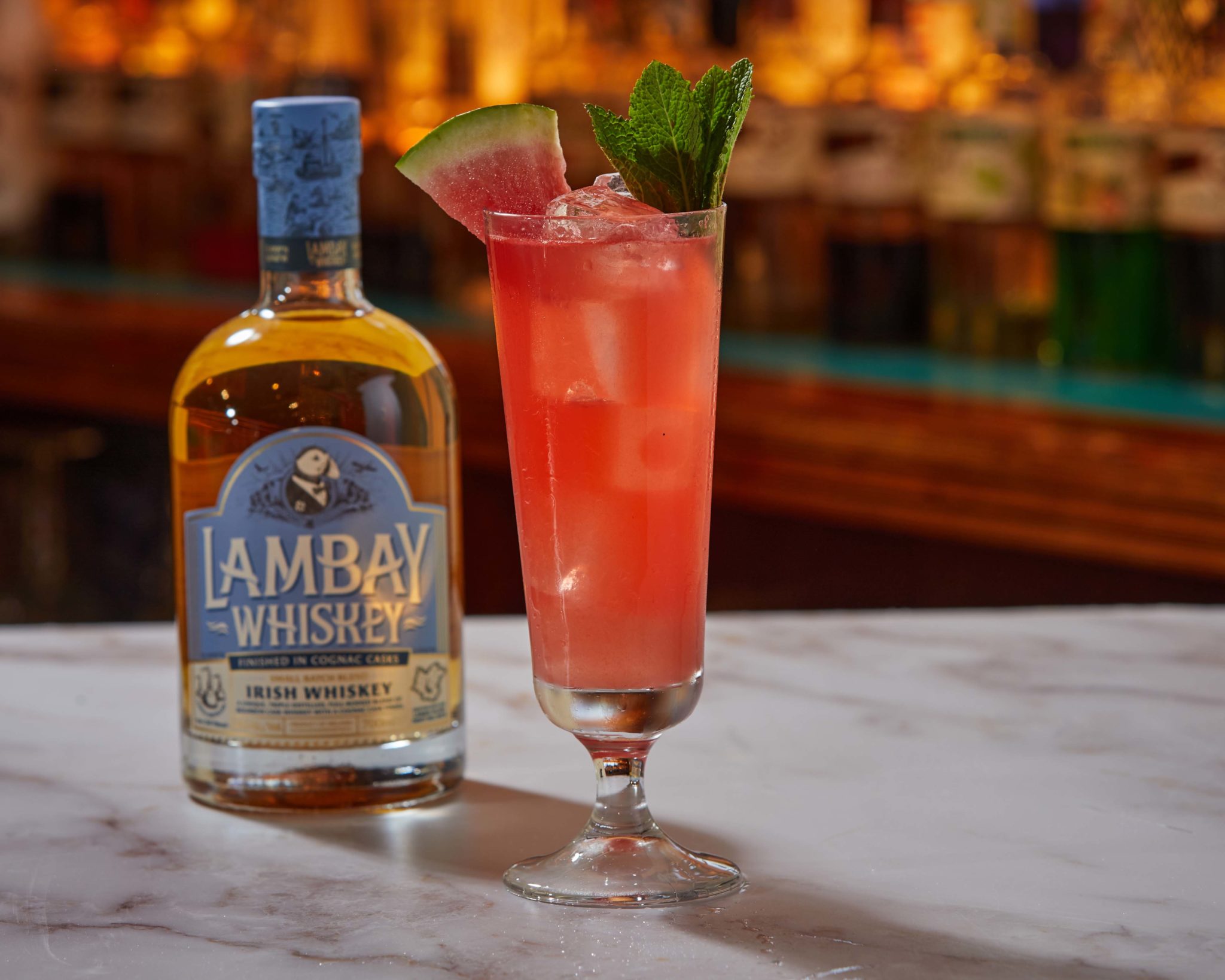 RELATED
Lifestyle & Sports
03 Feb 23
Lifestyle & Sports
01 Feb 23