It's "happy tenth birthday!" to the Exchequer, the tastiest of Dublin gastrobars, which also pours a mean cocktail. Stuart Clark meets mainman Peter Rock.
The champagne corks will be popping in D2 in October as The Exchequer gastrobar, with its craft beer, even craftier cocktails, cool tunes and amazing food, celebrates its tenth birthday.
The bar is located in the heart of the Creative Quarter, the culturally rich area stretching from South William Street to George's Street and from Lower Stephen's Street to (most importantly!) Exchequer Street. A great place to dive into and explore, it's home to an eclectic mix of shops; award-winning hairdressers and make-up artists; galleries; cafés; the Powerscourt Centre; and George's Street Arcade, a stunning red brick building dating back to Victorian times.
"It's a really vibrant area with some stunning architecture," agrees Peter Rock (above centre), the owner of The Exchequer and its sister Exchequer Wine Bar in Ranelagh. "We opened during the recession when places were closing down, so we wanted to support neighbouring businesses and Irish suppliers and producers like the then emerging craft beer breweries. Pub food in 2009 was either slap-up meals or toasties, so we decided to give people higher quality at an affordable price."
Advertisement
From a bartending background himself – "I did a stint in a Long Island cocktail bar, which really opened my eyes," he notes – Peter is generous in his praise for Exchequer mixologist Karim Medhi.
"Creativity and innovation wise, Karim has taken things to a whole new level. He's from France so comes at things from a different perspective, which is really exciting. There's a massive trend at the moment for lower ABV and non-alcoholic drinks so he's reflecting that too.
"Our most famous cocktail would be the Smoky Old Fashioned," he continues. "It's a drink that's been around for decades, but we've put our own spin on it using wood chippings to create this marvellous smoke."
Having selflessly worked our way through the cocktail menu on your behalf, we can heartily recommend the Hello Sailor, Gin N Sin and Garrigue.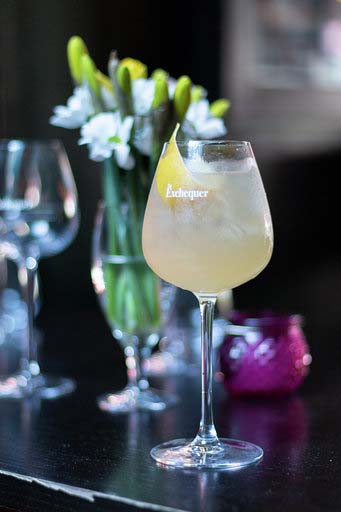 Food-wise, The Exchequer is renowned for its Sunday Roast, which finds a cooked to order roast rack of pork, roast chicken, rib of beef or roast of the season brought to the table with all the trimmings – and a carving knife!
"We've taken a traditional Irish dish and really upgraded it!" Peter resumes. "We often get grandparents, their kids and the grandkids coming in for their Sunday Roast, which makes for a really lovely atmosphere."
Advertisement
At the weekends, there's a lively pre-club vibe to The Exchequer with the volume on the sound system getting turned up a couple of notches.
"They'll have their dancing shoes on ready for a big night," Peter smiles. "We also get a lot of people coming in before and after gigs in the Olympia who are good neighbours of ours."
Along with Bar Bites and an extensive Dinner Menu, which includes J.J. Young Aged Sirloin Steak with Teelings Whiskey Pepper Cream & Fries and Tempura-Battered Haddock & Chips with Mint Gribiche, Rocket & Red Pepper Olive Salad among its standouts, the Exchequer is really pushing the envelope in terms of small plate dining.
"People look at the menu now and want five, six, seven different things, so we've small plates like Wild Red Tail Prawns, Scotch Egg, Bubble & Squeak Gnocchi and Crispy Pork Crubeens, which often get shared around the table."
The sharing concept has taken off big time in The Exchequer Wine Bar in Ranelagh where the Prawn Pil Pil, Dressed Crab & Goat's Cheese Salad and Beef Carpaccio top the Best Of Dublin 'recommended' list.
They're also one of the best places in the capital to sample wine by the glass.
"We use this brilliant new system, which allows you to extract the wine without removing the cork," Peter concludes. "It means you can sample a far wider range of vintages than was possible before. We also do a Regional Series in the Wine Bar, showcasing different countries' wines. The main difference between now and ten years ago is that people are far more willing to experiment with what they eat and drink. In fact, they demand it, which is great for us because we love to be innovative."
Advertisement
•The Exchequer 3-5 Exchequer Street, Dublin 1 Tel: (01) 670 6787 •The Exchequer Wine Bar 19 Ranelagh, Tel: (01) 421 5780 theexchequer.ie/theexchequerwinebar.ie