Lifestyle & Sports
28 Feb 22
Careers Special: Discover Your Potential with Lidl's Graduate Programme
With opportunities for both personal and professional development, Lidl offer a unique programme, tailored to each graduate.
For ambitious college graduates looking for a career in a dynamic and growing sector, Lidl's Graduate Management Programme has fast become the top choice.
The 18-month programme is the only City & Guilds/ILM Accredited programme in Ireland, and features a series of modules specially designed to give participants hands-on experience in the retail sector.
As part of the Graduate Management Programme, participants receive a bespoke training plan, designed around their career path and current skills. They spend some time in Lidl's stores and warehouses to gain a thorough understanding of the key business areas, before entering their chosen department. The programme gives them the opportunity to develop personally and professionally, through on-the-job training and a blended learning approach.
Lidl understand that new graduates won't immediately have all the answers. So, to help their graduates settle in, they've developed and perfected top-class training programmes, to teach their new recruits everything they need to know about working for Lidl.
Throughout this part of the programme, graduates are supported by trainers at every level of the business – assisting them through a combination of hands-on experience and formal training sessions on key topics relevant to their new role. As well as helping graduates learn the business from the ground up, Lid's training programme is designed to help them expand and develop their problem-solving and business management skills.
Sales Graduate Lee Jordan notes that the programme allowed him to lead, deliver and roll-out real-world projects from day one.
"The experience I have gained is one of a kind," he comments.
As well as exposing graduates to all areas of the business, the programme offers excellent opportunities for career progression – and a very competitive salary, which is set to increase to €37,500 from March 2022.
Last September, Lidl announced their decision to increase their entry level hourly rate up to the new Living Wage rate of €12.90 – coming into effect on March 1. An investment of more than €2.5 million, the decision has had a positive impact on thousands of employees.
More recently, Lidl also announced a further investment of €10 million for all salaries across the business. As such, all employees will benefit from an increase from March.
They offer more than competitive salaries, too. Other benefits include training and development opportunities; 20 holiday days a year; the Lidl Pension Scheme; 20 days paid sick leave; wellness initiatives; maternity, paternity and adoption leave top-up; a Bike to Work scheme and more. Lidl has also introduced a hybrid working model, which enables office-based colleagues to work remotely up to two days each week.
There's a broad spectrum of roles within the business, at an array of different levels. In Lidl's head office in Tallaght, you'll find multiple departments, ranging from Customer Service to Accounting & Finance. With their planned expansion over the next few months, they're actively recruiting, with a specific emphasis on their stores and warehouses. From the age of 16, youth workers can begin their career in Lidl's warehouses. Like all other employees, they'll also be provided with ongoing development, allowing them to keep progressing in their career.In other exciting news, Lidl have announced that they're recruiting over 750 new employees this year, as they continue to grow their business.
"Lidl's decision to hire an additional 750 staff this year is a real vote of confidence in the company's existing teams here and indeed the retail sector and the Irish economy as a whole," says the Tánaiste and Minister for Enterprise, Trade and Employment, Leo Varadkar, who visited Lidl's head office in Tallaght to welcome the news. "There will be a variety of roles, catering to a wide range of skills. I'm particularly pleased to see Lidl is awarding a pay increase to staff, meaning they will continue to offer a living wage."
So, do you think you have what it takes to join the Lidl team? Applications for Lidl's Graduate management Programme open in early September each year.
• For more information see jobs.lidl.ie/students-graduates.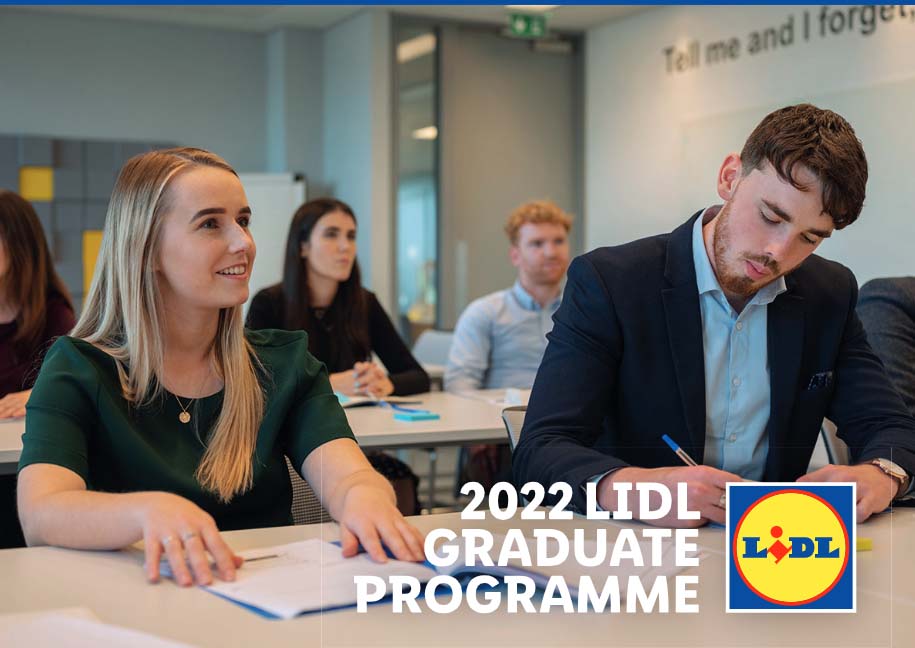 Essential qualifications for Lidl's Graduate Management Programme:
· An expected or achieved 2.1 Honours Level 8 degree
· Full driver's license
· Flexibility to travel or relocate within Ireland
· Motivation and drive
· Strong personal skills
· Work experience or experience abroad
· German is an advantage but not a necessity
What you can expect from the programme:
· €37,500 salary per annum (from March 2022)
· Up to 2 days remote working per week
· 20 days holiday per annum
· Private employee medical insurance
· Initial training and on-going development from experienced team member
· Excellent opportunities for career progression
· Bespoke training plan depending on current skills and career path
· One-to-one coaching from certified coach in the business
· Training opportunities from in-house training catalogue
· Masterclasses with business experts
· Director and graduate mentorship programme
· On-site gym and canteen
· Sports and social clubs
Other Programmes for Students and Graduates at Lidl:
Feed Your Mind Degree:
Lidl's two-year Level 7 Foundation Degree in Management Practice with Specialism in Retail is aimed at retail and operations professionals and offers a blended approach to earning your degree. Applications open on June 1, 2022.
 Internships:
These paid internships each come with a bespoke structured training plan for the duration of the placement, support from your Line Manager, and Manager Development opportunities
Trainee Buyer Programme:
A 12 months programme in this fast-paced and exciting area of our business, you will be given a structured and comprehensive training plan which will enable you to develop the skills required in order to assist in the development and management of product categories through detailed market and consumer behaviour analysis. This will involve continuously sourcing new suppliers, promoting product innovation and ensuring a top-quality offering at the lowest possible price for our customers.
RELATED
Lifestyle & Sports
01 Feb 23