One activist describes the Dubin housing crisis as "worse than a horror film" as protests restart the fight to reclaim vacant properties to house the homeless.
A collection of housing activist groups occupied a vacant apartment complex to protest the Summerhill Park evictions and the Dublin housing crisis today.
"People shouldn't have to sleep on the streets and be kicked by the Guards in the morning because that's where people shop for high luxury goods," said one supporter. "That's not a society we have to live in anymore."
Protesters, who aim to draw attention to the scale and seriousness of the Dublin housing crisis, locked arms to protect fellow demonstrators as they broke into the property at 34 North Frederick Street. Multiple organisations were in attendance, including members of Dublin Central Housing Action and the Dublin Renters Union.
This event came on the heels of a 10-day occupation of a number of Summerhill Park apartments, following the eviction of 120 tenants in May. The High Court recently ruled that the occupiers had to vacate the premises by 8am this morning, but this didn't stop protestors from continuing elsewhere.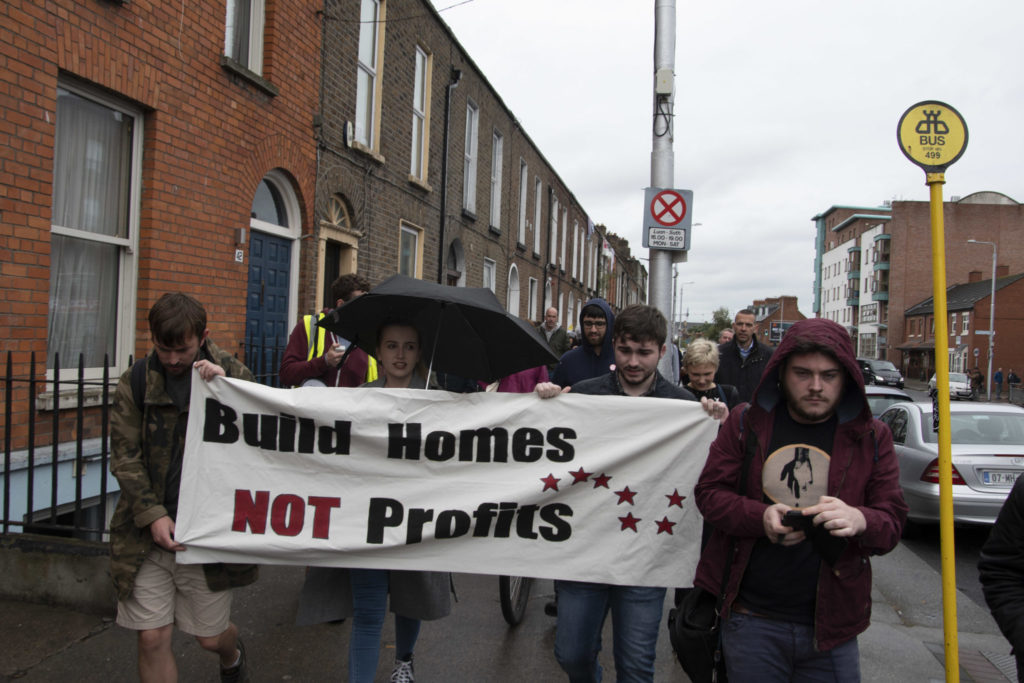 Advertisement
At approximately 12 p.m. the group departed from the front of the Summerhill property and began parading through the streets towards their next occupancy destination. Roughly 60 people marched in the middle of the street in the city centre, stopping traffic. This was the Dublin housing crisis brought to immediate, dramatic life.
"Homes for people, not for profit!" and "Housing is a human right, that's why we won't stop the fight!" the parade chanted.
When the march reached the destination, two individuals with Leo Vradkar masks were already perched on a balcony.The groups huddled around the front door and shared their frustration as more protesters periodically filed into the building. Peter Dooley of the Dublin Renters Union spoke about the imbalance in power between landlords and tenants.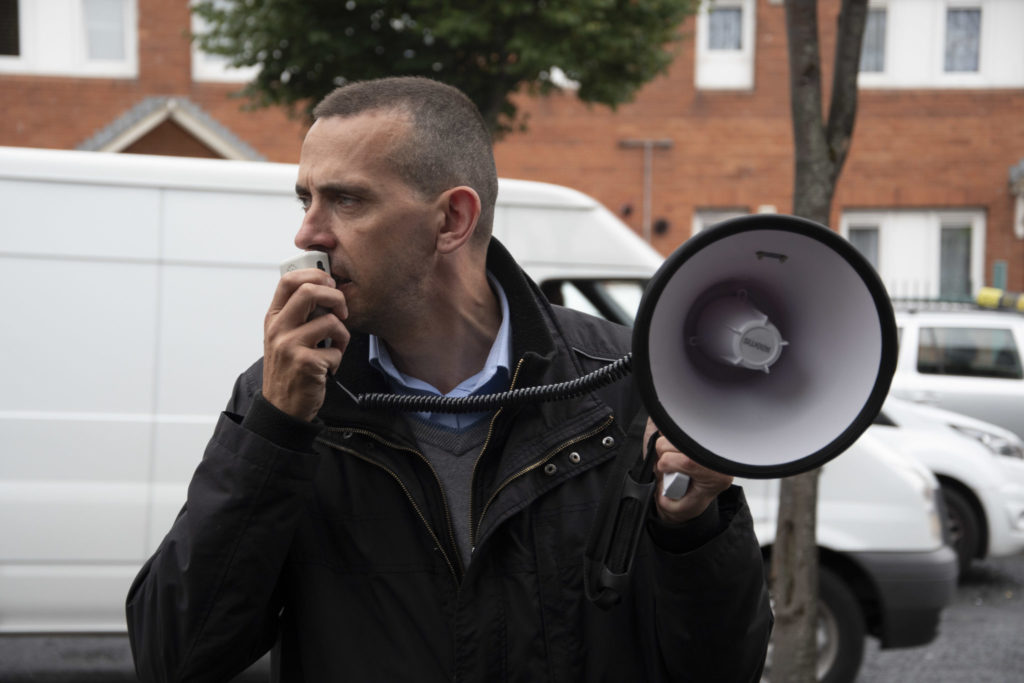 "It's an oppressive relationship where landlords have the strength," Dooley said. "They've a lot of legislation behind them and there's no real long-term leases for people renting. People need that security."
Other demonstrators took hold of the megaphone to voice their frustrations with the government. They were enraged primarily by the perceived misuse of numerous vacant buildings, privately owned, that could be utilised for some 9,874 homeless Irish people.
"The Dublin City Council gave away over 50 units of public housing to a private trust with no oversight from the government because they say there's no one to manage it," one noted. "Isn't that why we have elected officials and a Dublin City Council?
Advertisement
"We ask that we take hold of our Democracy and demand that human beings don't die in the street."
Another issue addressed was the mistreatment of immigrants, who often don't have the same rights as Irish citizens. Ion Tambac is a Romanian immigrant and father of five, who has been homeless in Dublin for four years. The government-issued nightly housing only allows his family to stay from 8 p.m. to 9 a.m. before they are forced out and stay in the Garden of Remembrance all day, regardless of the weather.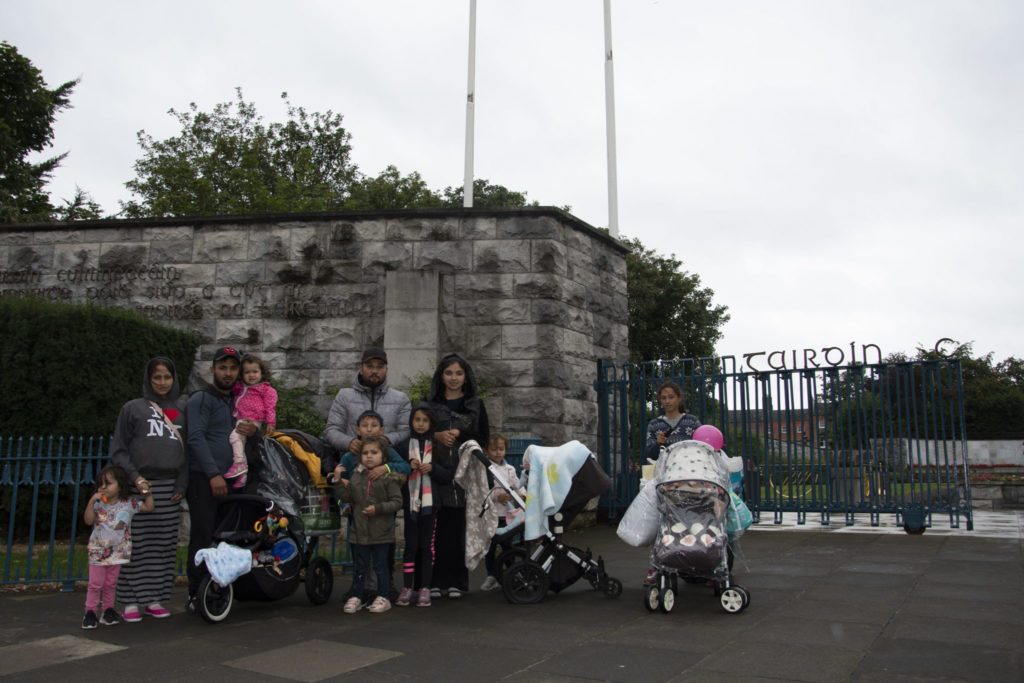 "It's so hard to find housing because they want me to pay over €1,000 and give them papers that I do not have," Tambac said. "My mother is in the hospital and my son has broken his arm. We really need accommodation but it is impossible."
Pansela Stocia is another Romanian immigrant, who has been homeless for a number of years as well. She has two small children and is currently eight months pregnant with no affordable housing in sight.
"I have to stand in the rain with my children while my one-year-old is sick," she shared. "I really need help from someone to get my family off the street."
The Dublin housing crisis activists outlined a number of demands that they wish to be granted by the government:
Advertisement
-House owned by Pat O'Donnell & Co Limited Retirement and Death Benefit Plan on Summerhill Parade (to) be compulsory purchased by Dublin City Council and given to the local community. Private and vacant properties should be put into public ownership as well.
-All vacant lands and properties should be put under public ownership immediately.
-Fair rent and security for all tenants.
-Ban evictions and reduce the cost of rent to 20 percent of the occupant's income or €300 per room maximum.
"Real Democracy Starts with people on the street demanding change," Dooley said "We don't achieve change through the structures they portray as Democratic, it's our responsibility to set the agenda for the government's action."
On October 3 the National Homeless and Housing Coalition are organising a national demonstration to promote legislative change in housing funding and regulation.