Taking inspiration from the darker realms of Irish culture and literature, designer Sara O'Neill counts the likes of Kylie Minogue and Liam Neeson amongst her fans.
Designer, stylist and founder of the Éadach fashion brand, Sara O'Neill has a completely unique style; her work is inspired by Ireland's darker stories and heritage of strong women. Notably, it perfectly blends luxury with a rock and roll bohemian edge.
"I wanted to be an artist or a designer from a very young age, about four or five," says O'Neill. "I was always drawing and painting, and sketching outfits. I loved 'the wheel of fashion' and making paper dollies. I've also loved vintage clothes since I can remember. There was a great vintage shop in my hometown, Abigail's Attic - I vividly remember getting Victorian petticoats there when I was a little kid.
"My mum knitted loads of our clothes, and my granny used to show me how to make little tutus and things. In the ı90s, I was very into punk and goth, and used to make a lot of my own clothes; I loved experimenting. My personal image was pretty extreme and used to provoke a strong reaction in a lot of people. Not everyone was open-minded back then! It made me realise how powerful image can be."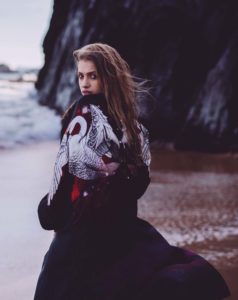 PHOTO: KHARA PRINGLE
Advertisement
O'Neillıs work on Éadach has earned her legions of famous fans. The brand is influenced by Ireland's cultural heritage, blending the designerıs signature pencil drawings with abstract imagery and coastal colours, to create richly coloured contemporary patterns. In a nod to Ireland's textile history, the designs are printed on silk. They are precious pieces of wearable art - limited edition scarves, kimonos, capes and dresses, with the garments made in Belfast.
"Rachel Hunter has a few of my pieces and really embodies the whole Éadach ethos," says O'Neill. "She wears the designs so well. Erin O'Connor also has a kimono, and Kylie Minogue has a couple of early pieces from when I was her body double/stand-in for a movie a few years ago. Liam Neeson and Kristofer Hivju from Game Of Thrones both have pocket squares as well."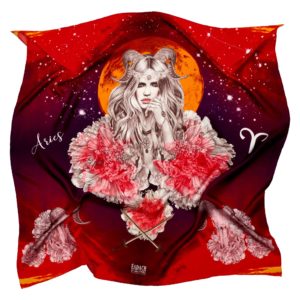 Pencil drawings are the backbone of O'Neillıs work, and she has embraced the intricacy of digital printing, which allows her to see her designs come to life on textiles.
"I love working with silk," she enthuses. "The movement, drape and flow works so beautifully with my prints and really brings them to life. I keep the shapes simple to allow the print and movement to be the focus of the garment. Just this year I also introduced hand-painted vintage leather jackets to the range, which has actually been really cool. It's always amazing to see someone wear my prints, but wearing my actual paintings is next level, like a wearable canvas."
O'Neill's most recent collection, "'The Merrion', is inspired by the Georgian Squares of Dublin, and the writers who lived there, like Yeats, Wilde, Sheridan Le Fanu and Stoker.
"For this print, I was inspired by the gothic side of literature and those writersı interest in the occult," says O'Neill. "I thought about the magic and secrets behind the beautiful, brightly coloured doors. The star of the print is the lion, who I've named George. It's taken from the door-knocker - the idea that the enchanted knocker came to life and is now prowling around the square."
Advertisement
The Éadach Merrion Collection is exclusive to The Marvel Room, Brown Thomas. The Myths and Legends collection and the Zodiac Series are online at eadach.com.