Northern Ireland lags behind in LGBTQ+ rights while Ireland has stalled, ILGA-Europe says
The Rainbow Map and Index ranks 49 European countries on their respective legal and policy practices for LGBTQ+ people, from 0-100%.
LGBT+ rights in Europe have reached a concerning "standstill", and the Republic of Ireland lags in 15th place, according to the annual Rainbow Map rankings.
Northern Ireland, however, was highlighted as regressing when it comes to LGBTQ+ rights, especially in the scope of transgender healthcare, gender identity and non-binary recognition.
This year's Rainbow Map revealed a "widespread and almost complete stagnation" on LGBT+ rights across Europe, reporting "almost no positive legislative change" since last year.
The Rainbow Map has been published by LGBT+ organisation ILGA-Europe each year on May 17th to mark International Day Against Homophobia, Biphobia and Transphobia (IDAHOBIT) since 2009.
The map gives 49 European nations a percentage ranking based on 71 criteria broken down into six key areas, including equality and non-discrimination, hate crime and hate speech, and legal gender recognition and bodily integrity.
Advertisement
Two additional criteria were added for this year: non-binary recognition and legal gender recognition procedures for minors, both included in the gender recognition and bodily integrity category.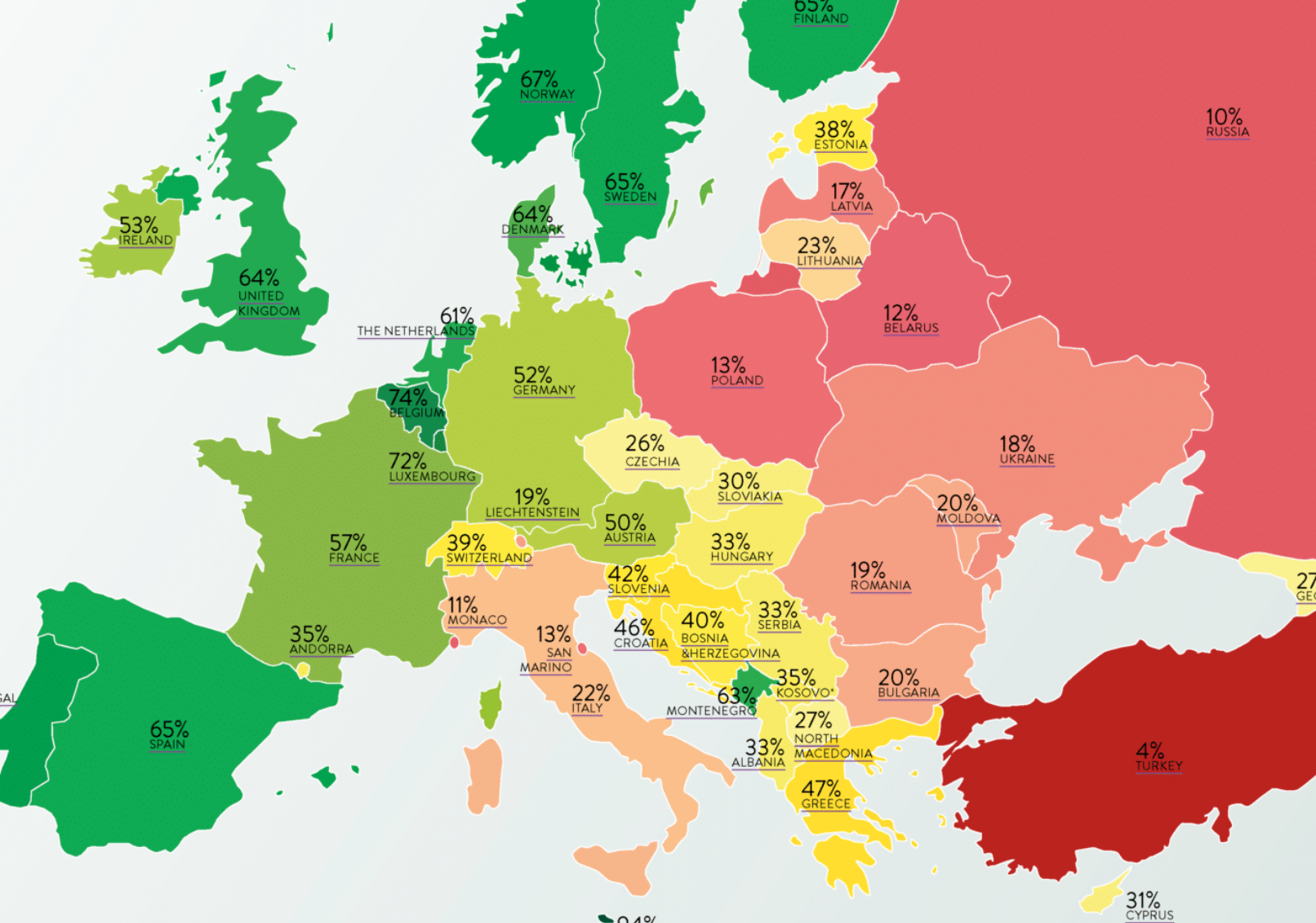 For the sixth year in a row, Malta continues to occupy the number one spot on the Rainbow Europe Map, with a score of 94%. Following on from the small European island was Belgium, Luxembourg, Portugal and Norway.
The three countries at the other end of the Rainbow Europe scale are Azerbaijan (2%), Turkey (4%), and Armenia (8%); exactly the same as last year. Poland has also continued to be the lowest ranking EU member for the second year. Norway was the only country to extend legal protection from hate crime, amending its Penal Code to add gender identity ground.
The Republic of Ireland, Finland Sweden, and Germany's Saarland region's action plans were the only new ones that received points this year.
However, Northern Ireland (UK) revoked all restrictions on LGBTI people for blood donation, making it possible for everyone to donate blood safely and equally.
"Trans-specific healthcare became almost impossible to access in Northern Ireland," ILGA-Europe noted.
Advertisement
"Activists' reporting has revealed that trans people are unable to access the medical reports required to go through these processes without paying for private care, thus creating a class barrier to accessing LGR."
Many trans are facing a five-year waiting list for healthcare in the Republic of Ireland, according to the Transgender Equality Network Ireland. A long-awaited report on transgender healthcare published in December made a number of recommendations including that psychological support for those under the age of 18 should be provided and delivered by the Irish health service, rather than in the UK as was previously the case.
Until this service is up and running, Teni CEO Éirénne Carroll told TheJournal.ie that the patients in question will "be re-referred back to the Irish new service, which does not currently exist".
Meanwhile, trans adults are travelling abroad for surgery they can't access in Ireland.
"It is deeply worrying to report an almost complete standstill on LGBTI rights and equality, especially at such a critical time for LGBTI communities," Executive Director of ILGA-Europe, Evelyne Paradis said.
"In the past year, we've seen increased political repression against LGBTI people, a stark rise in socio-economic hardship, and the spreading of LGBTI-phobic hatred on the streets and online across the region. Against this backdrop, the response from governments has to be more and better concrete action, to make sure people are more protected, not less. The human rights of LGBTI people simply cannot be something that you drop when circumstances are challenging."
Northern Ireland has worsened legal gender recognition rights, as Katrin Hugendubel pointed out.
Advertisement
"So many legislative processes have been stalled in Europe over the past 12 months, in countries including Cyprus, Czechia, Denmark, Finland, France, Italy, Kosovo, Lithuania, Moldova, Montenegro, the Netherlands, Sweden, and the United Kingdom. We also see the implementation of existing procedures, for example on legal gender recognition, worsening, including in Georgia, Spain, Serbia and Northern Ireland," Hugendubel, ILGA-Europe's Advocacy Director commented.
"It would be easy to blame it all on political attention being immersed in the public health response to COVID-19 and the ensuing economic fall-out, but the reality is a lot more complex. In too many countries, progress is stopped because there's increased political polarisation on LGBTI issues, because some elected officials no longer see gains to be made by supporting LGBTI equality, and because governments don't see it as a priority issue," Hugendubel adds.
"We do really need governments across Europe to relaunch their political commitments to see legislative processes through, and to give everyone the means to ensure full implementation."
Read the full Rainbow Map report below:
#RainbowEurope 2021 is live! @ILGAEurope benchmarks 49 European countries on their legal and policy situation for LGBTI people 🏳️‍🌈 https://t.co/aTIBONQOI3 pic.twitter.com/cZZhKbiT6K

— ILGA-Europe (@ILGAEurope) May 17, 2021
Photo credit: Unsplash/Margaux Bellott
Advertisement