New Portland-Based Music Festival Unites Locals and Refugees from the Bibby Stockholm
The festival will take place on Chesil Beach, in Dorset, England, on Saturday, September 16, from 12pm – 7pm.
Organised by Portland Global Friendship Group as part of the Portland Fringe Festival, Let Music Unite is a new music festival based in Dorset, England. Aiming to unite the local community and refugees who were being housed on the controversial Bibby Stockholm Barge at Portland Port, Dorset, the concert plans to bring positivity to Chesil Beach on Saturday, September 16, from 12pm – 7pm.
Heather, a member of Portland Global Friendship Group commented: "As a local resident I wanted to create a positive event for the community on our beautiful island. It's been an incredibly divided community recently, which as a local resident has been difficult to observe. This event is about bringing some positivity back to the island and bringing people together."
Let Music Unite hosts a variety of musicians and DJs from the area's pool of local talent or artists who were previously refugees.
The day-long festival line-up includes: Kurdish singer Mustafa Mamu, the unique Romanian Gypsy band Ochi de Mort, and Ricky Romain.
Speaking about the event, Romain commented: "It's so simple to understand the title of this event 'Let Music Unite' when we watch how people are moved by music regardless of age or ethnicity. The arts at their best, are the home we can all live together in without prejudice."
Advertisement
Portland councillor, Giovanna Lewis, added: "It's wonderful to see people in our community leading the way in promoting unity, co-operation, and respect for all with this music festival. I hope it goes a long way to creating the kind of cohesive and positive community that we all need both in Portland and everywhere, as we all face many local and global challenges ahead."
Tonnes of people involved in the event have been adding their voice to the importance of it, from musicians to activists.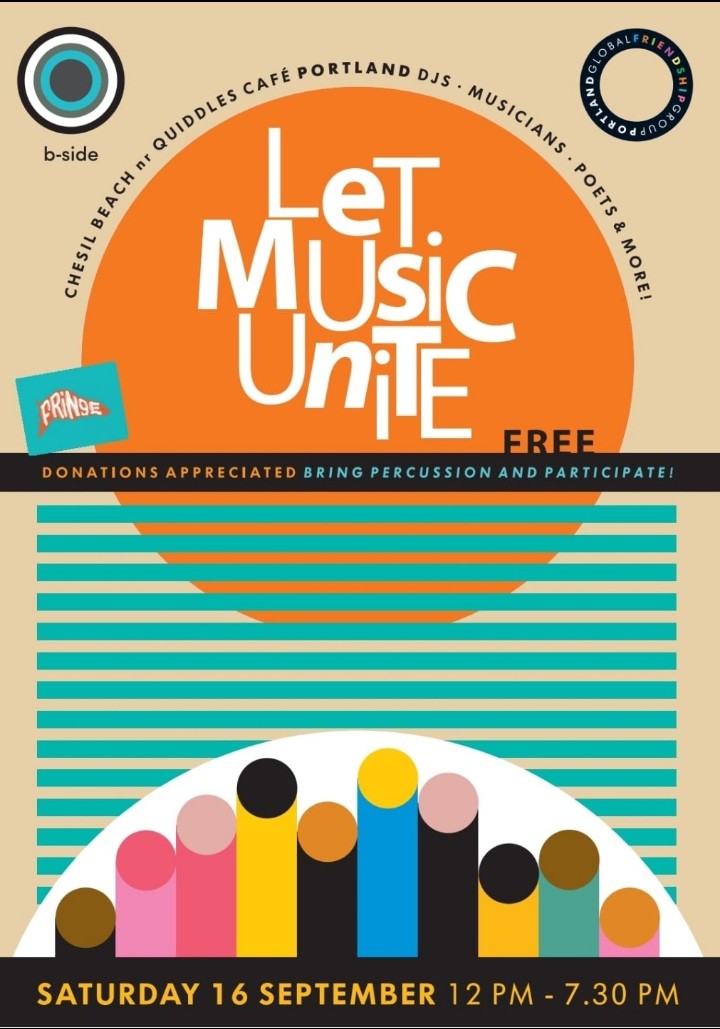 Rocca Holly-Nambi, director of B-side who are organising Portland Fringe festival said: "B-side is delighted to support Let Music Unite as part of our 2023 festival fringe program. We passionately believe in the power of arts, culture and particularly music- to bring people together and celebrate all of our stories of movement, migration, and belonging. With Chesil Beach as the backdrop and an exciting lineup of international acts, we can't wait to unite together, through music."
Love Music, Hate Racism, an organisation supporting the event added: "The asylum seekers on the Bibby Stolkholm are human beings and should be treated as such. We strongly oppose the existence of this inhumane, anti-refugee and dangerous initiative. These people are not our enemies but our extended family. We know full well that all people have more in common than they do different. Nothing demonstrates that more than the music we listen to. Do not listen listen to the divisive rhetoric about people seeking safety. This appalling narrative we hear from Tories is used to distract us from their handling of the cost-of-living crisis. The people on the barge should be allowed to sing and dance with us. We say it loud, we say it clear 'Refugees are welcome here'."
Dan Babei, from Ochi de Mort, a Romanian Gypsy band playing at Let Music Unite commented: "I'm a Transylvanian man living in Portland. Our band, Ochi de Mort, are delighted to take part in the Let Music Unite event and to show our support. It's a subject close to my heart."
"I am from the Afrin region of Syria. My area is occupied by the Turkish regime and the Syrian armed fractions," Mustafa Mamu, a Kurdish singer also performing at Let Music Unite, commented. "I love singing very much, I'm looking forward to participating in the event." 
Advertisement
DJ Crumpet Claire, who will be taking part in Let Music Unite, added: "As a global traveller with a passion for music, I am excited to be involved with an event to unify Portland in a show of hospitality not hostility... Nothing beats a shared experience dancing away to some great tunes. And on Portland we get to do it on the beach!"
Let Music Unite is free for all to attend and will take place on Chesil Beach, in Dorset, England, on Saturday, September 16, from 12pm – 7pm. For more information, have a look - here!