The announcement comes ahead of the release of a new single, 'Sure The Boy Was Green (Live 1980 Belfast Gigs Outtake),' tomorrow.
Iconic Irish band Horslips have announced a special 50th anniversary box set, More Than You Can Chew. The commemorative release will be available on July 29.
The set, which contains 35 discs, is full of film, music and words that span their career. In addition to fan favourites, over 252 of the 506 audio tracks are unreleased recordings, offering listeners a never-before-heard peek at the rock legends. It also contains 59 video tracks, two books — On The Record, a newly penned history of the group, and Lyricography — 5 signed, vintage 8x10 photographs, a folder of 70's fan club facsimiles and a poster.
On top of the unreleased content, More Than You Can Chew will house two newly digitised albums, The Host's 1983 Tryal and Breaking Star Codes by Barry Devlin, from that same year.
The set was curated by Colin Harper — who has previously done biographies for Bert Jansch and John McLaughlin — in close collaboration with the band. The two books were written by Mark Cunningham, who worked with artist Charles O'Connor to design the release. The film and audio was has been restored and remastered by IFTA winning engineer, Cormac O'Kane.
Ever-prolific, Horslips will be releasing a digital single tomorrow, March 17, to mark St. Patricks Day. The song, 'Sure The Boy Was Green (Live 1980 Belfast Gigs Outtake),' was recorded during a three night run at Belfast's Whitla Hall. The track was excluded from the original cut of Belfast Gigs, and now stands as the only surviving professionally recorded outtake from those sessions.
Advertisement
The single comes 5o years after Horslips' — composed of Eamon Carr, Barry Devlin, Johnny Fean, Jim Lockhart and Charles O'Connor — debut, Johnny's Wedding, which dropped St. Patricks Day 1972. The album is largely credited with inventing Celtic rock, weaving together two seemingly disparate genres into something entirely new. In the following eight years, the band toured the world and recorded 12 albums, finishing with a bang at Belfast's Ulster Hall in 1980. After a break, they found themselves performing in Derry in 2004, giving way to a reunion album that would bind the band for the coming years. After a ten-year run, which followed a 29-year break, the band decided to hang up their instruments in late 2019.
More Than You Can Chew is the groups final love letter to their fans, an all-encompassing account of 50 years of music. It's available to pre-order now here.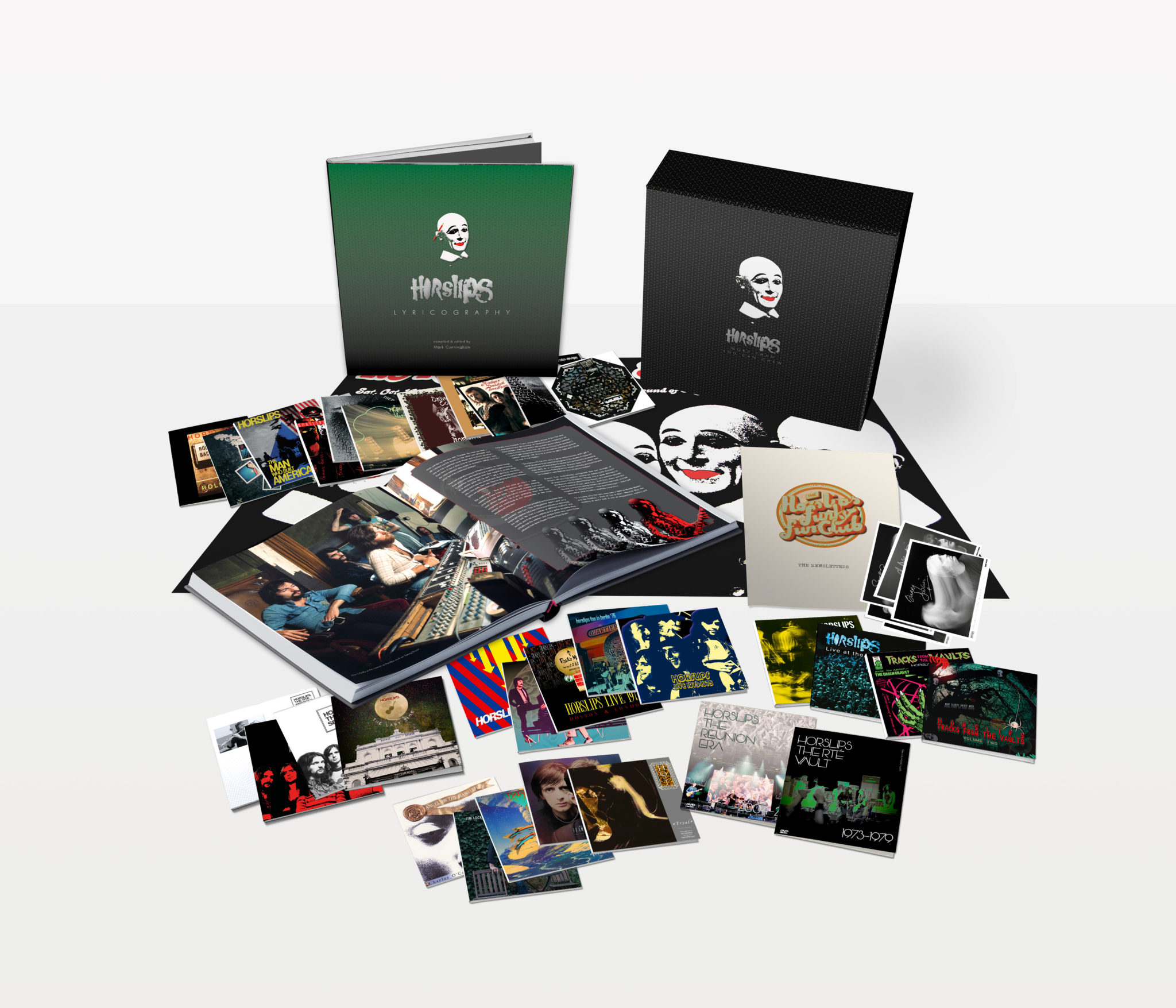 Check out the full breakdown of More Than You Can Chew, below.
• 13 CDs – all 12 original 1972–80 albums (Live being a double) in mini-LP slipcases, in their original form and newly mastered
• 1 CD – Tracks from the Vaults Vol.2 – all of the single mixes and non-album tracks not included on the original TFTV (1977) compilation plus previously unreleased outtakes
• 8 CDs – anthologies of previously unreleased live and rehearsal recordings 1973–80, including The Last Time – the stunning final concert at the Ulster Hall 8/10/80 in full
Advertisement
• 3 CDs – 2 reunion-era Horslips albums: (1) Roll Back / (2) Live at the O2 (double)
• 1 CD – RTÉ Sessions 1971 – all previously unreleased
• 1 CD – RTÉ Sessions 1972 – all previously unreleased
• 1 CD – RTÉ Sessions 2004–12 – almost all previously unreleased
• 5 CDs – selected post-Horslips adventures:
Barry Devlin Breaking Star Codes (1983) – unreleased on CD;
The Host Tryal (1983) and non-album single sides (1983–85) – unreleased on CD;
Advertisement
Johnny Fean & Eamon Carr Live & Studio 1984–86 – a new self-curated anthology of previously unreleased solo, duo and Host recordings from the period;
Jim Lockhart Picking Up The Pieces – a new self-curated anthology of his TV/radio soundtrack music (1980s-00s) – almost all previously unreleased;
Charles O'Connor's Resolution Suite Angel on the Mantelpiece (1995).
• DVD1 – The RTÉ Vault 1973–79 – c.160 minutes (50% previously unreleased)
• DVD2 – The Reunion Era 2004–2019 – c.160 mins (95% previously unreleased)