By: Jason O'Toole
As White House Press Secretary, Sean Spicer was given the thankless task of explaining President Trump's thought processes to the world. Following a series of major howlers – including the Presidential camp's inflation of the figures at Trump's inauguration and his comment that not even Hitler sank to using chemical weapons – Spicer eventually left the stage. In his most in-depth ever interview, he talks about life in a bizarrely dysfunctional administration.
There's a dramatic 10-second pause. We're halfway through a fascinating conversation with Sean Spicer and he's just been asked a straightforward question. "Is Donald Trump a loose cannon?"
For a moment, I wondered if the affable Spicer was about to let off some steam – just like Melissa McCarthy's parodies of him on Saturday Night Live. Why didn't he just immediately dismiss the question out of hand? Why was he giving the query so much thought? Perhaps he was thinking about going off-piste?
He digested that question for 10 long seconds. What was going on in his mind?
Surprisingly for such a high profile figure, this – I am informed – is Spicer's longest ever interview. According to his chief of staff, Kay Foley, the former White House Press Secretary doesn't like interviews to last longer than 30 minutes. But he's read some Hot Press stuff and Kay says he's happy to make an exception. Sean agrees to do 45 minutes. In the end, he goes over that allotment, making this his most in-depth interview yet.
At one point, it looked as if he might cut the interview short. I don't know whether this was because Spicer genuinely forgot that he was bending his own rules for Hot Press, or whether he simply didn't like the question about Donald Trump referring to immigrants as animals. It was met with a reminder that we'd gone over Spicer's usual 30 minutes and we now needed to wrap up.
Advertisement
"These next weeks are absolutely gangbusters," Spicer explained. But Sean is a good sport: when it was explained that 30 minutes doesn't cut the mustard for the Hot Press Interview, he gets one of his employees to kick the next meeting to touch. "Just keep going. I'll just tell her to push this back," he says.
Sean mentions that he'll be in Dublin when this edition of Hot Press hits the newsstands. "I'll go pick it up in person," he says.
As you can also well imagine, Spicer is accustomed to dancing around questions. But what he has to say – and how he says it – matters. As spokesman for the most controversial political figure in living memory, he was a vital figure in the Donald Trump administration. Sean Spicer is one of the few men on the planet who can talk with serious authority about the leader of the free world. So what is the US President really like? And what kind of people does he have around him? This interview offers a fascinating insight into both questions...
Jason O'Toole: Why did you decide to write this book?
Sean Spicer: There were two reasons. Number one is, I started to realise I'm speaking at different events, and people were asking me the same questions many times. And, also, in certain cases, sort of making assumptions about the answers, saying: 'I'm wondering about this event because I read that you felt this way'. And I finally got to the point where I realised that if I want people to know my story, then it was incumbent upon me to write it.
And secondly?
The second issue was that I looked back on the past two years and said to myself, 'There's been this non-stop pace at which so many of the things have occurred – whether it was the primary, the convention, the general election and those debates. Then there was the transition, election night, and obviously the first six months in the White House'. And I thought, 'There's a lot of really interesting behind-the-scenes aspects to all of these things, and I'm uniquely qualified to tell those stories'. And I thought, 'Do you know what? If I don't do it, who knows if it will ever get done'?
Advertisement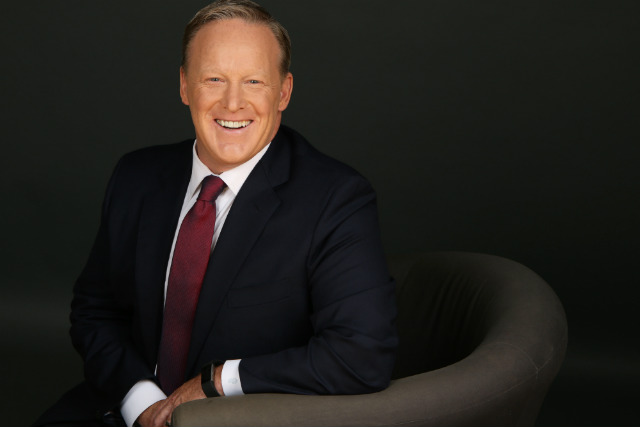 Has Trump read the book?
He has it. He and the Vice President have copies. Whether they've read it or not, I don't know. I know they've looked at it and that they both tweeted about it.
A tweet from Trump is worth a lot.
That's right.
Did Trump drive you up the wall with his tweets?
It was definitely something that I had to learn to adapt to. Because normally, most politicians would ask you to draft a tweet, or to draft a statement, or a message. And then say, 'What do you think of this? Let's talk about it'. He just did it. And it was a different dynamic than I was ever used to.
Advertisement
He was so unpredictable with his tweets.
Correct.
He could cause you problems.
Also, just the timing too, right? You didn't know. There wasn't like you got a heads-up.
Two-thirds of Americans 'dislike his use of Twitter', according to an ABC News/Washington Post poll – or is that so-called fake news?
I don't know. I mean, I think there are things that I look at sometimes, and it simply is what it is. You can like him or not like him, but it's just part of the current environment now, right? In that sense, it is what it is. He gets up, he tweets – and people are used to that becoming part of the dialogue.
You were on the back foot from day one.
Advertisement
That's right. There's no question about that. Exactly as you put it, I realised that after starting off like that, there was never going to be a way to turn it around.
Did Trump 'order' you to exaggerate the viewing figures for his inaugural ceremony?
He wanted pushback on the narrative. What I tried to do was figure out a way. I admittedly say this is not something… if I could've got a do-over on one day – that was it. Looking back on it, I was scrambling to create a message that tried to focus on support for Trump, as opposed to the number of people there. But he wasn't happy at all.
He was so unhappy that he phoned you immediately afterwards.
Yes. I think he was like, 'What was that?'
Were you forced into doing that? Did Trump pressurise you into doing it?
Well, yeah, I think there's a different… it's an interesting question, because I think there's no question that he wanted me to push back, right? But he wasn't very descriptive in the narrative. So it was sort of like, 'Get it done'. But he wasn't specific on how to do it.
Advertisement
There's a definition of a PR person as being, in quotation marks, a 'paid liar'. Is that what you were forced to become during your time in the White House?
No. I don't necessarily agree with that. Because I think that the goal was to say, 'Look, this is what he thinks'. So, it wasn't like I was getting up there and doing an analysis of it. I was saying, this is his view on the issue that you're asking about'. I wasn't out there saying… my job isn't to agree or disagree with his beliefs – it was to share them when he couldn't.
According to the Wikipedia page about you, during your tenure as White House Press Secretary, you made a number of public statements that were controversial and false. How do you react?
I think there's no question that there was a bunch of controversy. But I think that, again, I go back to the point – in many cases, they had an issue with the President's statements and then said, 'Well, because you're not denouncing them, therefore…' I just don't fundamentally believe that was part of the job for any spokesperson. Your job isn't to get up there and say, 'Here's where the person is right or wrong'.
But weren't you sometimes being misleading or putting out false information?
I feel like I represented what he wanted stated about a position. And, again, I understand people had issues. Again, I had this talk a million times: it's not the job of a spokesperson to get out there and say, 'Here's what he believes but let me give you my opinion on it'.
So you had to keep your opinions out of it?
Advertisement
But I've been doing this for 25 years – that's the role. It's not about your opinions or your beliefs. You're in the wrong line of work if that's the case.
Most people can see what the truth is – so why scream 'Fake News'?
I don't.
You don't, but somebody else that you know does.
He has his views on that. I've been very clear on my views, which is that I think there's some really good reporters. I name them by name in the book. And I think that there are some ones that aren't as professional. But I don't tend to paint everybody with one broad brush.
When criticising the Syrian government, you said, 'You had someone as despicable as Hitler who didn't even sink to using chemical weapons.' Did the thought not cross your mind at the time, 'Hold on – Hitler gassed the Jews!'
It's in the book. It's literally walked through in painstaking detail how horrible I felt, how badly I screwed that up and how painful it was.
Advertisement
So that's the most painful mistake you made?
It was, hands down. There is not even a close second.
Your critics will say, we didn't believe Sean when he was in government – why should we believe what he's written in his book?
I have gotten a lot of folks that said, 'We appreciate your candour'. I've had a full spectrum of folks read it and said, 'You were very candid in it'. I mean, the passage you just referred to – that is a very painful description of how bad that whole incident was for me.
It's a very stressful job being the White House spokesperson. Was it a lot more pressure than you were anticipating?
Unequivocally, it was much more stressful than I ever thought it could be. I mean, that's not even a close call.
When in that intense pressure cooker, did you ever feel, 'I'm sick of Trump. I'm sick working for him. I'm embarrassed. I can't stand him'. Did that ever run through your mind?
Advertisement
Not to the extreme that you're saying – but, look, these are very, very intense jobs and there are some days that are more difficult than others, and they run the gamut of emotion. I mean, there's no question that there are times that were extremely difficult, and there were times that were unbelievably fascinating and exciting. But that level of intensity and scrutiny of a job has a range of emotions and feelings that go along with it.
You wrote your resignation letter in May, two months before you handed it in.
Yeah. Basically, I knew probably even before that – that's just actually when I wrote it. I had become the story too often. And I didn't know when the moment was going to come but I wanted to be ready for it.
You knew you weren't going to last a long time in the White House.
You knew what direction the trajectory was going, right? It wasn't going upwards – it was going downwards. Look, you know this as a journalist, if you're becoming the story as opposed to what you're writing, that's probably not good. And I just knew, 'Okay, this is not going to end well', so to speak.
Was it a case of jumping before being pushed?
When you say pushed, do you mean pushed out? Yes, to some degree.
Advertisement
So you felt Trump was unhappy with you?
Like I said, when you're the press person and you're becoming the story – I wasn't happy with me. How many times can you go up to your boss and say, 'Hey, I know this is supposed to be about you, but I've got to tell you about another story that's come out about me'.
But he did ask you to stay on.
He did, yes. I was very conscious of the fact that it was over and that I might be able to hang on – but then all you're doing is prolonging the inevitable.
Resigning must've been the hardest decision you ever had to make.
It was, hands down. You're absolutely right. It was a recognition that the dream was over.
Did you shed a tear?
Advertisement
Not a tear. But there was a lot of emotion and sadness, yes – if your dream ends, I don't think that there's any other feeling. It was a recognition of a new chapter; that chapter of my life was over.
Do you think the press corp were glad to see the back of you?
I think it's a mixed bag. I think some clearly were. Because, again, it depends on who you are, first. Some of these guys that weren't part of the elite crowd – the big networks and stuff – a lot of them say, 'Hey, I appreciate the fact you always made time for us. You called on us'. And I get a lot of compliments from reporters along the lines of, 'You democratised the press briefing room' – meaning I would call on foreign press; I would call on local media; and niche publications that might not otherwise get called on.
Would Trump use a lot of bad language during your meetings with him?
I wouldn't say a lot.
Metaphorically speaking, was there blood on the walls? Would he be screaming and shouting?
No. Look, how about this: I'm just not going to get into that. I don't believe that you go into a private meeting and then have discussions about it afterwards. I don't believe you walk out of a meeting and tell people what happened inside of it – then they're never going to trust you again.
Advertisement
You boast in your book that your press briefings were 'must-see TV'. But would you accept that there was a lost of viewers tuning in out of disbelief?
I think there's a lot of reasons people tuned in. I've been out doing events for the last several months and there are a lot of people who literally said to me, 'Sean, I tuned in every day to support you'. You had, in many cases, somewhere like 2.5/3million people watching them. I think, again, going back to the point that I made earlier about how you shouldn't paint the media with a broad brush – I think to suggest that everybody who tuned in was…. A lot of folks I met around the country said, 'I tuned in every day to watch you because I loved the fact that you were fighting for our principles'. So…
You've said that the comedian Melissa McCarthy's portrayal of you on Saturday Night Live was funny. Part of you must've cringed watching it?
There was a little bit of realisation that now I was the story. Again, I spoke about this a moment ago: that, like, if you're the spokesperson and you're the story – that's not a good place to be. And so I recognised that, funny or not, it just wasn't good for my long-term career.
Let's look at the headlines this morning: Trump is accusing the media of lying. What Trump is doing is demagoguery – a hard word to pronounce – of the worst kind.
Like I said, I don't paint everybody with a broad brush. I think there's some really good reporters and there's some bad reporters. But we need a free and fair press in our democracy. But I think that you can praise the good and call out the bad. And being good doesn't mean that they write what you wanted – it just means that they're professional and fair.
But isn't Trump stirring up hatred of different groups? It could be any number, but today it was journalists.
Advertisement
I don't know if I agree with that assessment. I mean, I get the issue with the media. But I'm not sure that I agree with the other assessment.
But is he, with the media, stirring up hatred and hostility with his comments?
I think that he clearly feels under attack and he lashed out. As I said there, like, three times, I don't think that's the way I would address it.
I'm not being confrontational with you: I'm just asking you the question.
Oh, I know.
We're always fair and balanced with the Hot Press Interview.
I read your stuff. I agree. On this kind of issue, I've stated my position and sometimes people go, 'What about this?' And it's like, 'Okay, I get it'. As I said, I think there's probably a more effective way of dealing with it (than Donald Trump's).
Advertisement
What would you say to Donald Trump, if you were advising him today, in relation to his attitude to journalists and the media?
I would say that I think we should call out specific examples where we have a problem, as opposed to making it one lump sum. I think a much more effective task is to focus on the specific stories that you have a problem with.
Would he take onboard a lot of your advice, or would he drive you bonkers by going off in the opposite direction?
Some days he'd completely take the advice. Sometimes it was a mixed bag. And sometimes he would say, 'Thanks, I don't agree'.
It's widely presumed that Trump's wife, Melania is one of his closest advisors.
Yes, that's fair. That's very fair.
There's an impression that he's out of control; that he simply is not open to taking advice off people?
Advertisement
Yeah, that's just not true. He may not agree with you, but he definitely listens.
Is it fair to describe him as a loose cannon?
(Ten-second pause) No, it's not. Because, to me, I think a loose cannon is just going off. He knows what he wants to do. You may say, 'I don't know why he did this. Or, it could've been done better'. But it's not just for no reason, which is more of how I would define a loose cannon. To me, a loose cannon is just firing off. You may disagree with why he's doing it, but in almost every case, it's calculated.
And what about the other labels or accusations: Trump is racist. He is a misogynist. He is a liar. He is a bully.
The description I've used is: I think he's a fighter. And again, just so we're clear – and I say this in the book – I don't necessarily agree with every (word inaudible – JOT). But I don't think there's a politician that I look at and say, 'Hey, I agree with this guy 100 percent'. He clearly has his own style, right? I think we can all agree (laughs). In my 25 years in politics, this is not something that I've seen before. And my guess is that you, as a journalist, even from afar, have never seen anyone do this kind of stuff.
What do you make of his idea for a wall?
I get the need to protect our national security and our borders. I think we've got to figure out what's the most effective way to do that. And I really haven't spent a tonne of time thinking about it. I think every country has got to worry about its borders. But that's really not in my wheelhouse, to be honest with you.
Advertisement
What did you make of families being separated at the Mexican boarder?
I think obviously that could've been handled much better.
What does it say about American society that one in every 15 black men ends up in jail, compared to one in every 106 white men?
You know what, that's not something I've spent any time thinking about. It's an interesting criminal justice question, but it's not been my focus. I have no business talking about that.
Did you do a lot of soul-searching while working for Trump?
I don't know. I think part of the reason I wrote the book was to do that. It was going so fast and furious – I'm not so sure how much of it I did while I was there, as much as after the fact.
Trump said in a recorded conversation, 'Grab them by the pussy'. This info was released on the day you were planning for a big public debate.
Advertisement
Oh, I think it threw a lot of people off.
Did it put you into panic mode?
Yeah. I wrote about it extensively in the book.
But what ran through your mind when you heard the tapes?
For any other politician, you would think, 'This is it – game over!' But, I think, he had shown a level of resilience that no one else had previously shown.
If that tape had been leaked during the #MeToo period he would've been toast.
Yeah, I honestly think, again, these are hypotheticals that are really kind of interesting to discuss.
Advertisement
So what makes Trump so special that he can brush off controversies that would kill another politician stone dead?
That's exactly right. That's the point though. You're right. I don't know. That's what makes him unique and different. You do realise that if we knew the answer to that question, a lot of other people would be doing it.
In your book, you say about Trump: 'He is a unicorn, riding a unicorn over a rainbow'. What do you mean?
The point that I was trying to make is: I get asked a lot of times by groups that I speak with, 'Is this the new norm? Is this how everyone is going to be?' My point is to simply make the case that he is unique. He is truly unique in every facet and you're not going to see another candidate come along and just replicate that. It is truly that unique.
Obviously, Melania Trump must be very humiliated by all these stories leaking about hookers and porn stars.
I don't know. I never asked. And that's not really something that I would… I mean, that's between the two of them.
But when you look at Clinton and the Monica Lewsinsky episode, it does say that Americans don't like the idea of a womaniser in office.
Advertisement
Clinton survived.
Looking at the global image of America today, do you think the US would've been better off with Hilary Clinton as President?
I keep saying this – but, like, no! I've been to several countries where I would say – whether you go to Poland or Rwanda – who are very pleased with what this country is doing. But I don't think you can look at a country of the world and make a broad suggestion like that.
But, as a Republican yourself, would you have originally preferred a different candidate?
A decision I made working for the party was that you allow the voters to make that decision. I write very clearly that my job was to be neutral and to support.
On the subject of American presidents, Trump said that Obama was not a real American.
I don't know what that statement is. I don't remember, honestly. But my view is obviously (laughs) he's an American.
Advertisement
Does Trump come across to you as a religious man?
Now that's an interesting question. Here's the thing: I just don't think that's the kind of thing you should ever judge somebody on. I don't think I'd want somebody judging what my feelings are about my faith. And frankly, when it has happened in the past it offended. Because the relationship you have with God is between you and him. I've seen him do things that I think are very – for lack of a better word – Christian. And I don't think it's my place to judge what he thinks, or his relationship with God. Or yours. Or anyone else's for that matter.
What did you make of Michael Wolff's book?
I thought it was very sensational.
He wrote that on election night Trump's family were completely shocked and upset because they didn't want him to win. That sounded like BS.
I'd agree with you on that. I think your assessment is correct.
Do you accept that the hijacking of the data of 50 million Facebook users was central to a covert campaign to win the US Presidential election for Donald Trump? (Note: some reports now claim it's 'at least' 87 million users – JOT)
Advertisement
I've never heard it put in those terms. I mean, my understanding is they spent like a $100/$200,000. I think that's the number that I've always heard. I've not sure I've ever heard anybody ever talk about 50 million users!
But Facebook played a big part in helping to win the election.
I think obviously it was utilised. But to turn around and say that's why we won… that shows this mindset that I talk about in the book, which is: no matter what we did, what achievement we made – there's some excuse as to why it's not legitimate! We win the race – and then they turn around and say, 'Oh, well, here's probably why you won!' We actually ran a good race.
Should Facebook be regulated to prevent lying, deceitful, deliberately misleading advert campaigns?
I think that they should do due diligence. But there's also an issue of making sure that they don't continue to censor conservatives. So, you've got to figure out how can you protect people from getting false or misleading information, but also not using that as a means to censor conservatives' voices, which you've seen a lot of.
What did you make of Trump being forced to backtrack about comments in a press conference with Putin, when he seemed to take Russia's word over that of his own intelligence? He later said, 'In a key sentence in my remarks, I said the word would instead of wouldn't.'
I think he made the right decision. He needed to be crystal clear as far as what his views on Russia were and the support for our intelligence agencies.
Advertisement
So you would've been saying to him, 'Listen, you better go back out there and explain that you misspoke when you were with Putin.'
Yes.
In your book, you now admit that Paul Manafort, who is the focus of the investigation into the Trump campaign's ties to Russia, played a central role in the Trump campaign. But I remember you said before that he only had a 'limited role' for a 'limited time' in the campaign.
Correct. The point that I'm making clearly: at the point where that campaign was at the time, you had a handful of staffers who didn't have any real national experience. So, what I actually write in the book is that him coming along at the time was essential. And I don't think that there's a disagreement, or there's contradiction. So, if you understand what I'm saying, it's not a question of how long he was there or not. It's a question of, at the time, that there was a need for a level of experience. He had been in the game for 20 years. No, more than that – 30 years.
Do you think Trump can win the next election?
Yes.
Why do you think Irish people think Republican but vote Democrat?
Advertisement
(Laughs) I think it's very similar to what folks in New England – where I'm from – are like in a lot of ways. I think in a lot of parts that speaks to the Irish influence, especially in New England.
You were in the White House on Saint Patrick's Day.
There's a sense of pride that I've noticed. I mean, think about this: it dawned on me when I was in the White House, you had the Taoiseach come over to celebrate the Irish heritage in America – and I could be wrong – but I couldn't think of another incidence where that kind of tradition and bond existed. You don't have either the Queen or a Prime Minister flying over from England to specifically talk about the heritage. You don't have any other country – even the Canadian Prime Minister. You could pick any country you want. I don't think there's another example of a country where you've got this kind of a relationship, where you celebrate yearly the heritage at that level of prominence. Like, obviously we celebrate Greek heritage, and you name it, Mexican heritage etc, but when you think about the size of Ireland, it's a pretty big deal. There is a very strong, long-standing bond – not just between the two countries diplomatically, but really among our people. When you think about it, you can't go to a decent sized city in the United States without having a good Irish-American community, a good Irish pub. Ireland and the Irish people are woven into the fabric of our country.
In the summer of 2017, TD John Deasy was appointed as the Irish government envoy to the US Congress to work with the undocumented Irish in the US. Can you see Trump cutting a deal with him on immigration?
I don't think he's going to look at it by country. I think it would become a major problem if he started isolating different immigrants from different backgrounds.
What's next for Sean Spicer?
I have a podcast that I've launched. I've done a lot of public speaking at events. I've got a consulting firm. I'm senior advisor to the America First Action Super PAC. And I'm now on the board of a couple of veteran organisations. I'm telling you, it's actually busier – it's just not as intense.
Advertisement
Everybody focuses on the lows of your time in the White House. What was the high?
Hands down, the high was when I got to share it, especially with my family and friends. There were moments I got to bring them in to a share a moment or an experience, and they got to be part of it, as opposed to me just telling them about it. And when I got to share it, that was when I was excited. Again, it was knowing that that experience was something that they got to enjoy; they had a moment and a memory.
What was the most eye-opening experience in the White House?
Look, I grew up a working class Irish Catholic kid in Rhode Island. There wasn't a day that went by that I wasn't starstruck or awestruck just by being there.
So, it's really like being in an episode of The West Wing?
There's similarities. It's that sense that you never thought it would be possible.
The Briefing: Politics, The Press, And The President is out now, published by Biteback.
Advertisement