He may already be recognised as a peculiarly Irish kind of renaissance man, but the frontman with The Blizzards, Niall Breslin, keeps adding new strings to his bow. Last week, there was the premiere screening of the band's mockumentary, as a prelude to a brand new album. In October, there's his second children's book. And in the meantime, he has launched a podcast on mental health and mindfulness, entitled Where Is My Mind? The big question being: where the hell do you start?
"I'm absolutely shitting myself because it's the greatest piss-take you have ever seen." You can tell by the sound of his voice that Niall Breslin is not joking. The Blizzards frontman is about to sit down, with a couple of hundred other people at the Galway Film Fleadh, to watch the first public screening of The Blizzards mockumentary. The film is a spoof behind-the-scenes story of the making of their highly-anticipated new album, which is due later this year. It features an extensive and sometimes bizarre cast, including Stormy Daniels, Def Leppard, Perez Hilton, Snoop Dogg and Tommy Lee. No wonder he's nervous.
"We had to make the bulk of the film first, because it was hard to explain to people what we were trying to achieve," he elaborates. "All you can do in situations like that is ask agents – and we asked a lot! Some people said no but the odd person said, 'Yeah, fuck that, I think this is hilarious'."
That's a mind-boggling array of stars to have roped in! What was the wonderful, Trump-baiting Stormy Daniels' contribution?
"You'll have to wait and see," he says guardedly. "It's very funny. She took to the idea, and the part, very well."
Don't Chase Algorithims
Advertisement
A remarkable 11 years have passed since the release of The Blizzards last album Domino Effect. In the intervening time, Bressie has been a judge and coach on RTÉ's version of The Voice. He has released two solo albums; opened up about his own mental health in his autobiographical Me and My Mate Jeffrey; written his debut children's book, The Magic Moment (illustrated by Sheena Dempsey); and founded the Lust for Life charity. On the way are his second children's book, Take Five and a new Podcast dealing with mental health issues (more of which anon).
If Bressie has changed as a result of all this, so too has the world of music. Clearly, The Blizzards were facing a whole new set of challenges this time around, with one national radio station telling them that they are "too guitary." They wrote the song 'Who Would Want To Be In A Guitar Band' in response, and that was the trigger for the mockumentary: a spoof on how out-of-time guitar bands are (or are not, as the case may be).
"Promoting an album nowadays is one of the most difficult things to do unless you have a big machine behind you. The industry has changed so much since we released our last record – so we had to think differently."
And what can fans expect?
"The new album," he smiles, "is unadulterated power-pop, big choruses!"
Having formed in 2004, The Blizzards released their acclaimed debut album A Public Display Of Affection in 2006 and the follow-up in 2008. They took a break in 2009, before returning in 2015, releasing the singles 'Drop Down The Anchor' and 'Perfect On Paper' in 2016. Bressie has learnt much over the course of his 15 years in the business.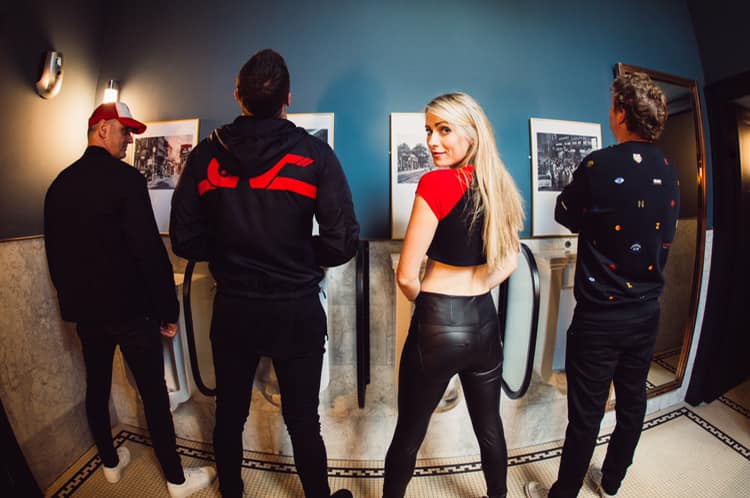 Advertisement
"I have come to realise that if you are in band or you are an artist, you really need to aim for what you are good at," he offers. "You have to shy away from trying to be something that you're not. I went through a period of that. I was trying to chase algorithms. Fuck that! Just do what you do, do what you love. In the music industry that's my biggest advice: don't chase algorithms, don't chase numbers, don't look at everybody else and what they're doing – because I did that and it didn't end well for me. I didn't enjoy it."
Cometh The Hour, Cometh The Podcast
Music adventures aside, Bressie has become a prominent campaigner on mental health issues in Ireland. In addition to launching Lust For Life, he went back to college and gained an MSc in Mindfulness Based Interventions. His new Podcast Where Is My Mind? Is based on what he learned.
"When I finished my MSc I was trying to figure out what platform would be best to put a programme like this on," he says. "I looked at everything – would a Youtube platform work, would a separate platform like your own website? But for me podcasting is potentially the single greatest way of getting into someone's head. It's a very intimate experience. I wanted to take the eight-week mindfulness programmes that we were studying and condense them into a digestible form. So the podcast itself is a six-week programme that people can do. Hopefully it will help them deal with stress."
Bressie has frequently expounded on the difficulties we all face, dealing with day-to-day life in the modern world.
"The reality is, we're all fucked up, but some of us are better at managing it!" he exclaims. "The world is absolutely overwhelming now and anyone who isn't slightly feeling the heat – whatever they're taking or doing, I want to know! If you look at the neuroscience and what is happening us, and how our brains were built and designed, I would say they are designed for a life, just not this one. We really do need to start taking this very seriously.
"There are some really simple things that we can do that aren't being done," he adds. "So, with this podcast I want to give people a way to help themselves, by becoming more aware of their internal world. And also what is going on around them and how it is affecting them."
Advertisement
Medication: The Great Conundrum
Mindfulness has been clinically proven to reduce depression and anxiety. Bressie believes that it's a crucial part of maintaining our mental health. In which regard, we don't seem to be doing enough here in Ireland. The statistics on suicide make for grim reading. We have one of the highest rates in Europe – with men accounting for 80 per cent of all deaths. "Actually, there was a report last week that revealed Irish women have the highest rate of depression in Europe," he adds. "I don't think women are very good at talking about their feelings either. They will talk about surface issues but not the deeper psychological, emotional issues that do a lot of damage. For example, things like rejection: that is really deep layered and often requires some support and help."
Whilst acknowledging the higher rate of male suicide, he maintains there should not be a gender distinction.
"Historically there has always been a larger number of male suicides and the reasons for that are complex and it is layered, so I think we have to be careful about how we explore the narrative," he states. "Men are terrible at talking about any feelings, never mind what lies beneath the surface. You can point to conditioning and sociology, but this is far too complex an issue to get across in a few lines. It is something I am interested in – but I am more interested in all of us. Why are we all becoming overwhelmed? Why is anxiety becoming the default mode in most human beings now? That is terrifying. We have to do something about it."
Globally, the rise in the use of antidepressants has led to criticism of an apparent overreliance on drugs.
"We have to be very careful about the conversation around medication because in many cases medication is absolutely required," he says. "Like in psychiatric care. But the reality is, if I were a GP and a young teenager came in, I know that if I referred them to a system where they could get psychological support and talk therapy it might take two years before they see anybody. And when they do see a counsellor, they then see a different counsellor every week. This is the reality of it. The system is a reactive model, which is expensive both economically and humanly."
Across The Great Divide
Advertisement
And then, there's the issue of waiting lists…
"We know, within the Child and Adolescent Mental Health Services that there is often up to 12 months to two years on waiting lists. So what do they do? We need to look at the research and the study and keep away from the often sensationalised headlines around this. This isn't the Kardashians, this is serious, serious stuff. We have to talk about it and we have to talk about it in context."
Niall feels that the need for attention-grabbing headlines and news-bites has degraded the conversation about mental health in the media.
"What has happened with the media, both new and old, is that context has become irrelevant," he declares. "People are reacting to headlines and they are not reacting to context. When it comes to mental health you have to look at the research. You have to look at the science. And you have to look at the context.
"I have learnt that the hard way because I was sucked in," he admits. "But having studied it closely now for two years, I realise we have to be much more open and stop shouting at each other. We have created this binary bullshit: if you have an opinion I don't agree with, I hate you. We have to talk about this and create a space in between, where we can all share ideas. In Ireland, we have had incredible social movement in the past few years – but what we also have is a heavily divided society. On the plus side, we aren't like America or Britain where there is a mass divide. We haven't become that way and I think we have to protect and honour that: it's really important."
Online Is Not The Place
Another mass media trope involves labelling. Phrases such as toxic masculinity have been bandied about carelessly without heed to their impact on younger individuals or people in distress.
Advertisement
"I think labels can be very, very powerful and I think therefore that we have to be very careful with them," he says. "We have a new generation, a younger generation, who are truly the only generation showing leadership in the world when it comes to social issues and what do we do? We label them snowflakes. Let's not do that. Putting a label on someone or something is very hard to remove.
"What we have to create around toxic masculinity is a narrative," he adds. "We have to create conversation and education. We have to figure out a way of coming collectively together. Labelling is an easy thing to do but it's not helpful. I think we need education."
Bressie also feels that the conversation is being impoverished by the fact that much of the debate now occurs online.
"Online is not the place to be having these conversations," he says. "I don't care what anybody says. If you look at research in communication, 7 per cent of what we say is ascribed to our words and the other 93 per cent is body language and tone. So that 93 per cent is missing when we are communicating online. It is not a place for very nuanced, sensitive matters. The 93 per cent is replaced by mental models and mood. Our mental model is what we think about the person, so if we don't like them we are automatically going to think what they are saying is bullshit.
"We are creating this dystopian, fucked-up world where we are just shouting at each other and it's not helping," he adds. "We need to try to see the world from someone's point of view and try to creative a narrative with them, to see can you convince them that perhaps the way they are thinking is a bit outdated. I think for me that is a far more progressive way to look at society."
I Think What The Fuck?
We are living through historic times in terms of gender relations. "What's happening now is that many men are in situations where they need to know more; and they have to do better. But we have to do it the right way. When a social movement like #metoo first starts, people naturally want it to move very quickly, but this is going to take time. And so is mental health. These are conversations that we only started having in the last few years and they are really important conversations.
Advertisement
"We can't rush this. There are generational issues, there are historical issues, there are conditioning issues and environmental issues. There are all sorts of complex layers. Conversation, narrative and civil debate is crucial to progressing everything."
Another significant factor in relation to mental health is the rise and proliferation of social media.
"It is what it is," he says "We have created this and it's not going away. We have two options, we can either educate and give them the tools to deal with it. Or we can get run over by it. The way I look at technology and social media is: it's part of our life. We have to work on managing it and dealing with it.
"Do I have the answers? Absolutely not," he states. "But we are going to have to do something about it because we know from the research that the effects aren't good. What is happening with social media is that it is diminishing our emotional intelligence. With so much interaction happening online we are missing that contact, that empathy and that gratitude.
"I am 38 years of age so I suppose I count myself as lucky to have grown up when I did. I don't do what I do just for me, I look at young people and think what the fuck? How are they dealing with this? How are they dealing with this world? What can we do to help them – because I don't know if I would have survived as a young person in world as it is today. And that's the truth".
The Iron Man Weepeth
So put down your phone and go to the gym! Is that the answer? The role of exercise in maintaining mental health is undeniable, but Bressie – who cried when he crossed the line to finish an Iron Man race in 2016 –cautions against overreliance.
Advertisement
"Over the years, I have realised how subjective all of this all is," he says. "Everybody has different approaches. With exercise, there is a fine line between it being helpful and it being obsessive. When you are using it to run away from something, that is not good. That means there is something in your life that you are finding difficult, and trying to mask it with exercise. Obsessive behaviour is never a good route.
"For me, there actually was a period where it was obsessive and I kept doing it because it stopped me dealing with what I couldn't deal with," he admits. "You need to find that line where you are able to use it for just releasing your energy and dealing with everyday life. Also, when you get older you come to realise that your chance of qualifying for the Olympics is diminishing, so you can chill the fuck out about things. The last particularly acute depressive episode I had was at an Iron Man in 2014, supporting friends. It was important that I was there for them – and I just couldn't be. So I always promised myself that I was going to go back to that place, to put some closure on what happened. That's where doing the Iron Man in 2015 and 2016."
And Finally On A Less Positive Note…
Another well-documented tool in the fight against depression and anxiety is the idea of positivity.
"We seem to be hung up on the importance of positivity and that is really dangerous," Bressie suggests. "Negativity is absolutely essential in your life. You need it: it is part of the human condition. We have reduced the world down to fridge-magnet philosophies. What I say to people is: it's not about not being negative, it's about holding your negative thoughts to account. So not every negative thought you have is right and that is the power.
"I do think, in terms of mental health, we have created this world where it's 'Just be positive!" And that is not good. As anyone who has suffered through a difficult mental health episode knows, those philosophies mean fuck-all to you.
"In the podcast," he says, "we make the point that you cannot be positive all the time. It is not real life – and forcing people to believe that they should be is actually causing more problems."
Advertisement
• Bressie's Where Is My Mind? podcast is available now